17 Nov 2014
---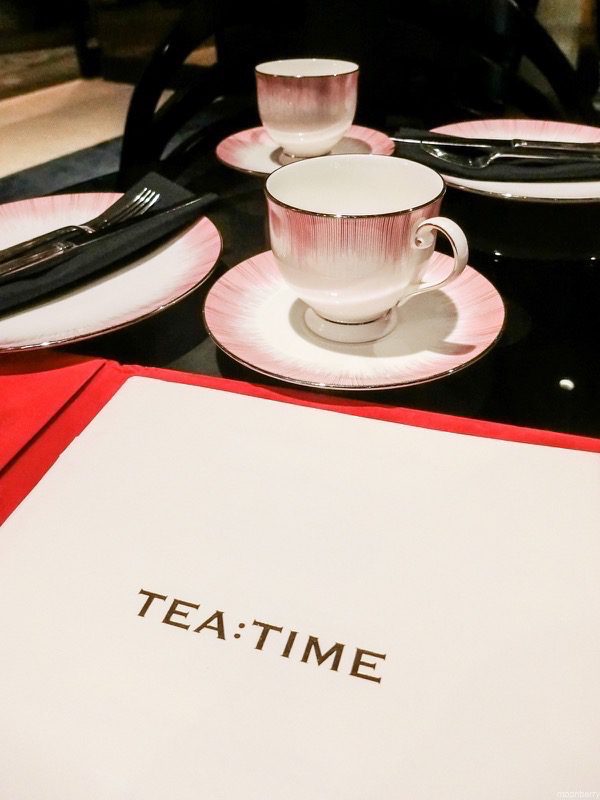 Eeps. I've been crazy swamped with a lot of work and development of new projects on the horizon lately, there doesn't seem to be enough days in the week for me! Whoever came up with "Tea is the finest solution to nearly every catastrophe and conundrum that the day may bring" has got the right idea, so I popped into Anti:dote last week (or was it the week before?!) to steal a couple hours off one afternoon to sip tea.
I wrote about the awesome bar bites and cocktails at Anti:dote not long ago, and I've been meaning to go back… 'cept I haven't had time (naturally). Imbibing alcohol in the middle of the day has never stopped me before, but that afternoon I was in for a different treat!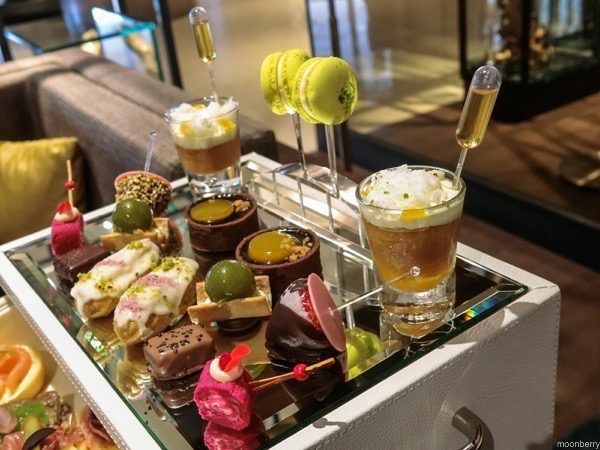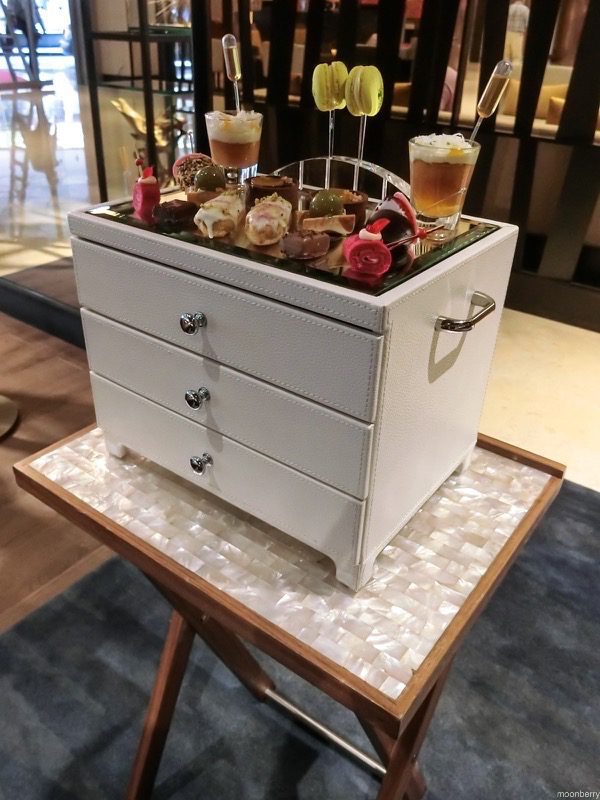 Served daily from 3pm to 5pm, the tea time offering at Anti:dote comprises of a beautiful array of savory canapés and elegant sweet treats that arrived to the table in a pretty leather jewel-box, paired with a pot of TWG tea of your choice. I love pretty much all of the TWG teas but because I'm supposed to stay away from green tea for the time being (reason: too "cooling"), I went for a pot of Holiday in Paris tea which is a "rare Yin Zhen and sweet vanilla blended as an ode to a leisurely promenade along the cobblestone streets of Paris; nard and wildflowers decorate this cup with their crisp, floral savour and leave a heady, perfumed aftertaste".
My, I wanna know who does the copywriting or TWG! Just look at that description… I was sold. A sip of Holiday in Paris tea effectively spurred on my desire of going to Paris again, although no one's got time for that in the next couple months. One's certainly allowed to daydream a little while sipping tea anyhoo. But the main attraction of the afternoon was the food, of course. The Anti:dote tea menu is simple, there are  four sets to choose from:
1. The Antidote tea (S$38)
2. The Oriental tea (S$38)
3. The Regal tea (S$75 w/a glass of champagne)
4. Children's tea (S$15)
All the sets, excluding the children's one, are basically the same except for one main item that's different. I had the first two sets listed above – Antidote tea set comes with black truffle scrambled eggs, while the Oriental tea set comes with a trio of dimsum (shrimp har gau, chive dumpling, scallop siew mai). The Regal tea set comes with smoked salmon, caviar, blinis, crème fraîche, and a glass of champagne – FYI.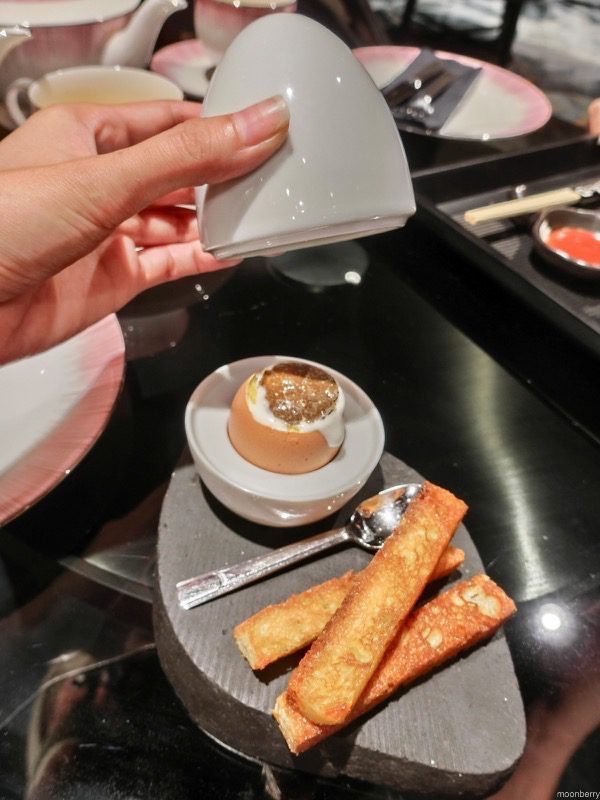 Black truffle scrambled eggs – with to-die-for brioche. THIS. WAS. SO. GOOD. (Bland, but good in a soothing, gooey manner that only someone overly stressed and short on time can appreciate. Like me.)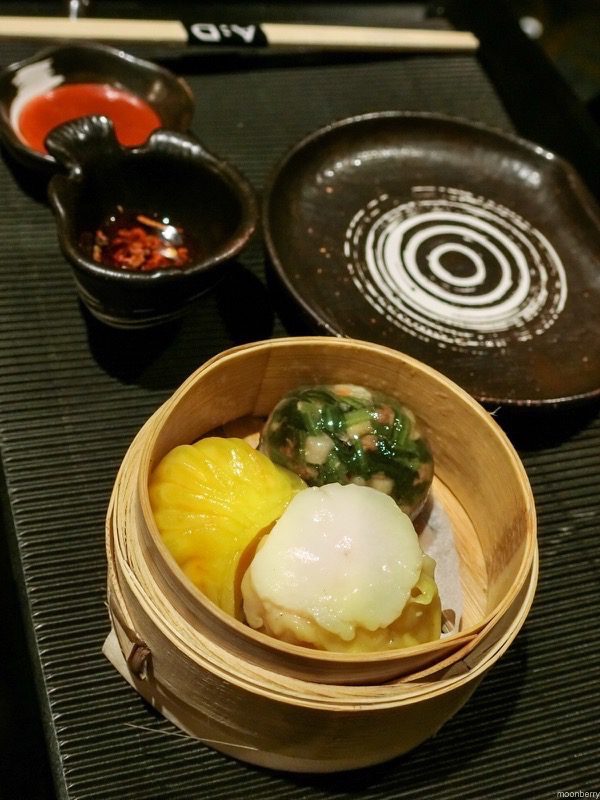 Dimsum of shrimp har gau, chive dumpling, scallop siew mai.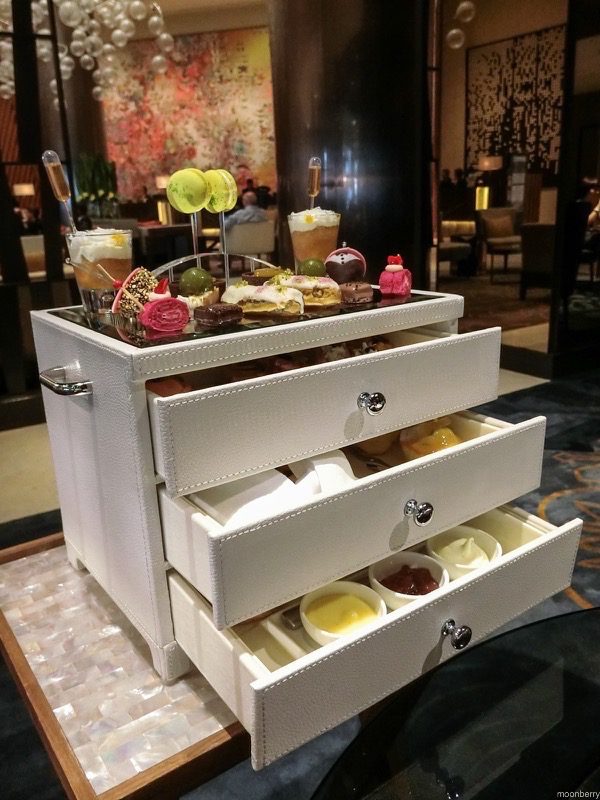 I wrote above about how the tea set is presented in a beautiful leather jewel box. The food items are tucked inside the drawers, completely removable to be placed on the table, as well as displayed on the top of the jewel box.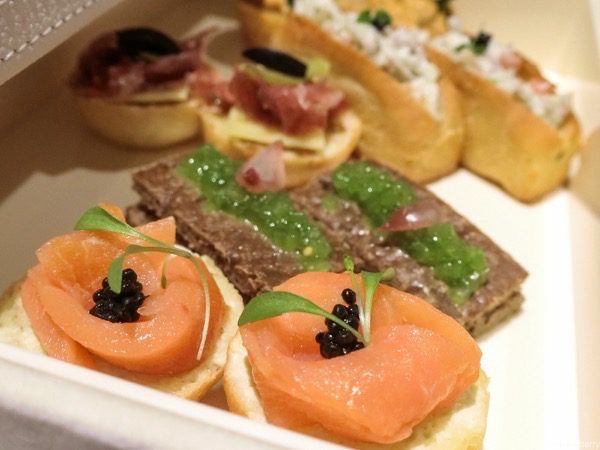 Smoked salmon, crème fraîche, caviar
Cucumber and dill salad, cream cheese
Prosciutto, onion jam, aged cheddar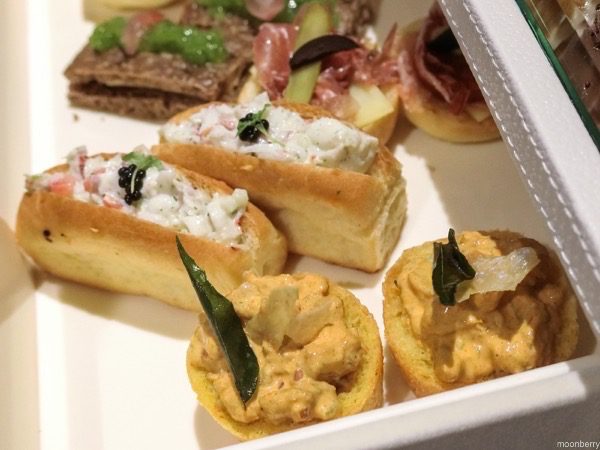 Boston lobster roll, herb mayonnaise
Coronation curried chicken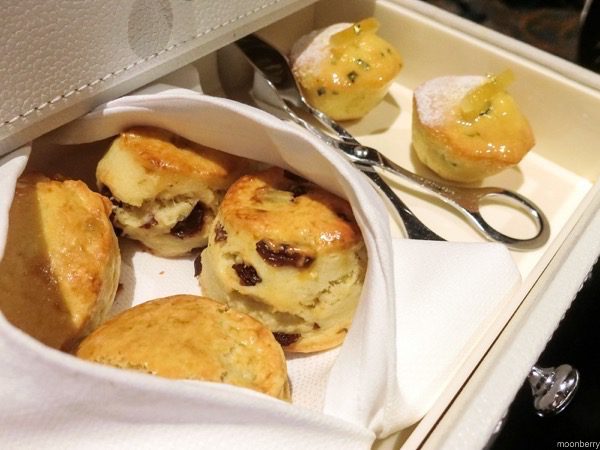 Warm raisin and candied ginger scones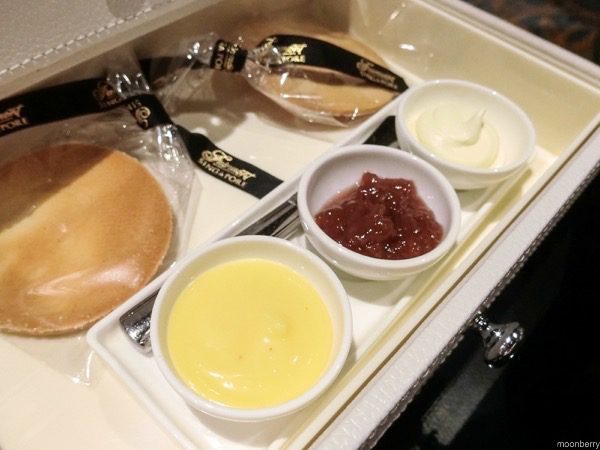 Homemade strawberry jam, Devonshire clotted cream, lemon curd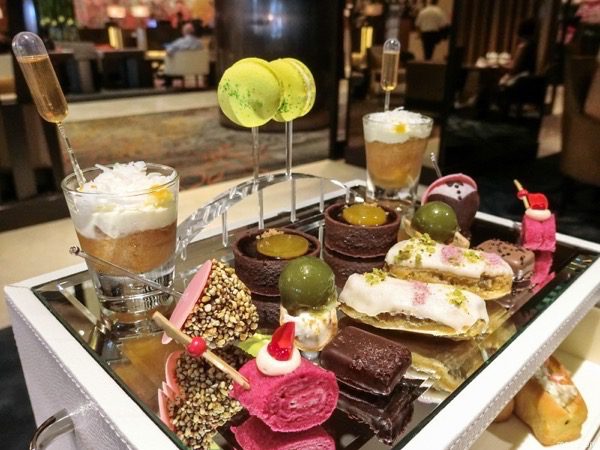 Strawberry gateau, raspberry, lychee pearl
Apple delight, almond crumble
Karukera chocolate mirror tart
Earl grey éclair
Anti:dote rum baba
Lemon, basil pound cake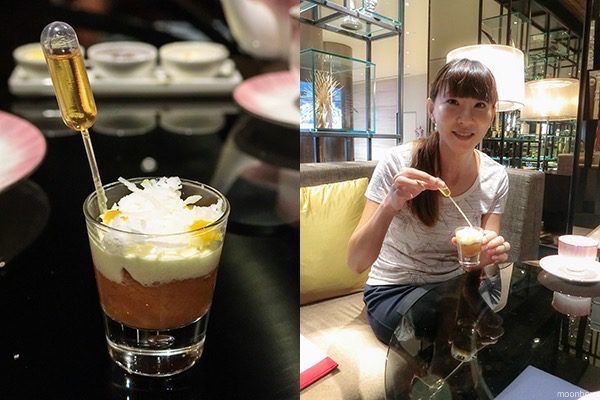 I don't know about everyone else, but the tea set was very filling! And all that food was just S$38/pax which I think is a pretty good deal. I couldn't finish all of the items, but I did enjoy the lobster roll and candied ginger scone tremendously. Even though I generally don't eat much desserts, I wasn't able to resist the ginger scone with clotted cream.  Warm flaky scone with the zing of candied-ginger, smothered in airy clouds of clotted cream…… *CHOMPS*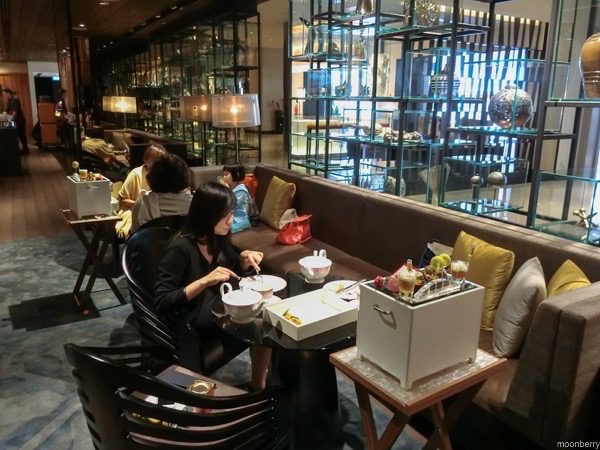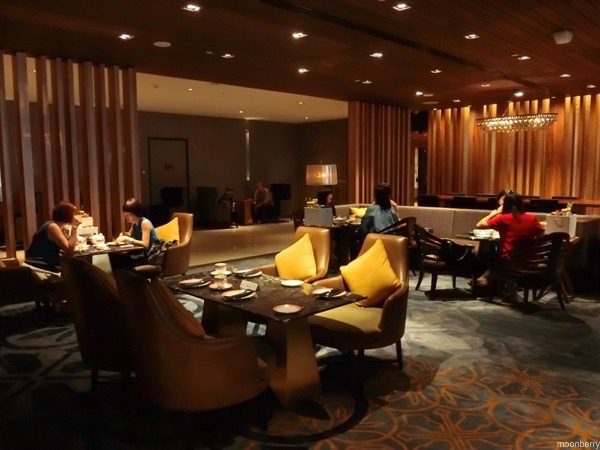 I glanced quickly around me and was turned off wondered, who are all these women having tea so leisurely on a regular weekday afternoon huh? Don't they have to work!!? Who do they think they are? Oh riiiiight, I was one of them just weeks prior. *sheepish grin* Before I got caught in the twister, that is.
Recently I've decided that going forward, my credo shall be WORK THREE DAYS, VACATION FOR THREE MONTHS. Or, "recess five days for every two days of work". Something like that, I'm still working out the exact ratio of productivity and dormancy that'd make me happy. Heh.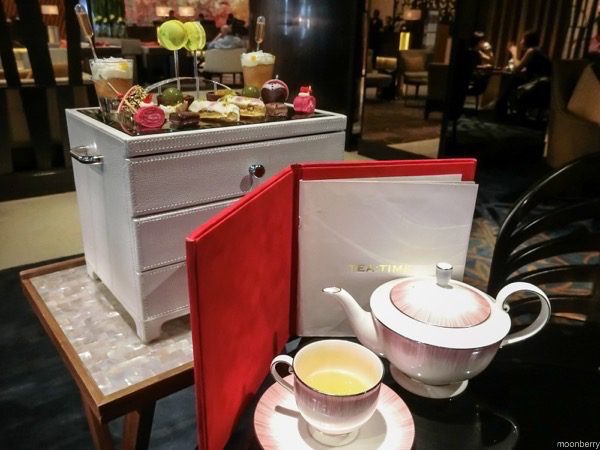 In the meantime, I'm on my productivity cycle at the moment therefore I am carrying on, sipping tea, and then slinking back into the dungeon. Busy, busy, busy, zzz.
Anti:dote Afternoon Tea – for reservations, please call +65 6431 5315 and follow on Facebook to receive more happening updates!
-MB.