5 Jun 2012
---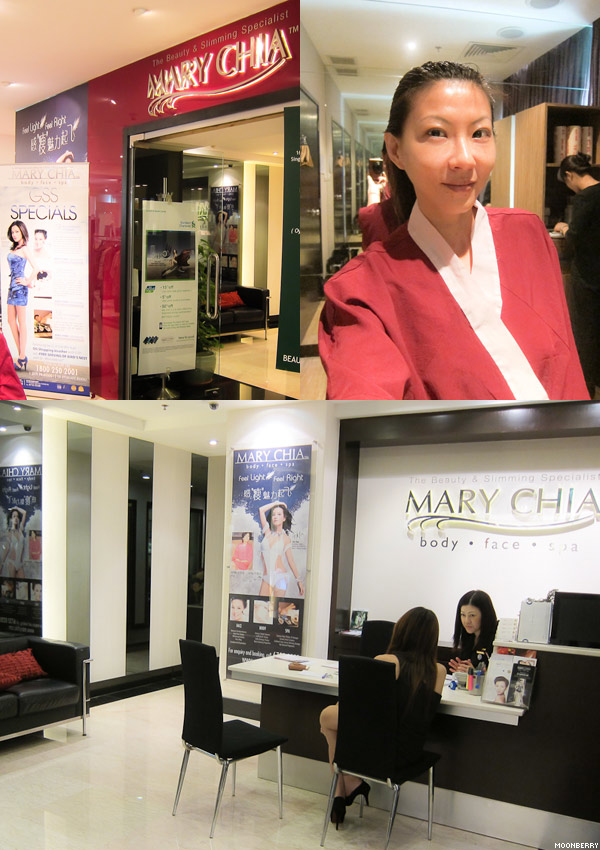 Recently I went over to Mary Chia Orchard Point for a body treatment. I was half expecting that the staff there would most likely discourage me from getting a body treatment because I appear skinny already to begin with. And I was right. They were hesitant initially about my decision to go for a body treatment. But as I had written in my Mary Chia Beauty Journey Chapter 1, I think anyone can always benefit from body refinement and contouring treatments. I know my body appears small but people don't see my sometimes jello thighs, the hideous stretch marks or the bloated tummy caused by the occasional water retention or overeating, heh! It happens. So I'm determined to find a quick cheat to a firmer, trimmer, more toned physique with curves in the right places. I say quick cheat because I am not hot on going to the gym and be on the treadmill for an hour. Are you?
The Mary Chia treatment I went for and reviewing today is called the Invigorating Cellulite Buster. It is a treatment that removes cellulite and reshapes the body without surgical intervention or medication. If you don't know what cellulite is, it's the orange-peel appearance of skin caused by the abnormal storage of fat. Usually this occurs around the hips, abdomen, thighs and buttocks. The ones I've discovered on my body are primarily on my upper thighs and a bit on the abdomen (thanks to my sedentary lifestyle, hahaha). The thing with cellulite is it's extremely difficult (if not impossible) to remove through exercise and diet. If you have ever gone on a drastic diet or intensive workout regimen, and successfully eliminated cellulite that way, good for you! I, unfortunately, do not have the discipline. :x
Anyway, let's take a quick look at my fat analysis from last week, compared to this week's.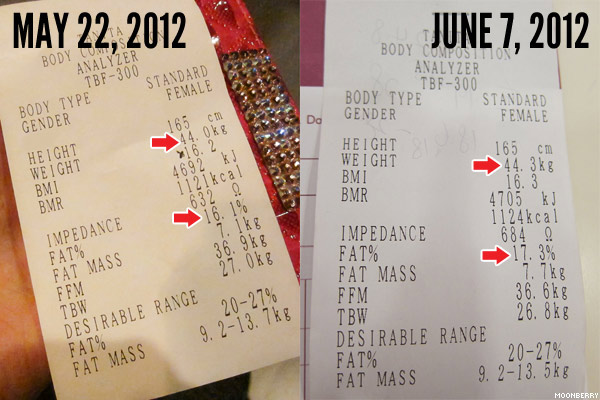 HMM… I've gained 300 grams (*gasps*) and my overall fat percentage went up from 16.1% to 17.3%. Even though I'm still way below the ideal range of 20-27%, an increase has definitely indisputably certainly surely clearly been confirmed right there in black and white. I have a suspicion this might have something to do with the jar of foie gras I pigged out on over the weekend. And perhaps the pain au chocolat I had for breakfast the morning of the treatment, kekeke. :P Either way I'm all for trying out the Invigorating Cellulite Buster treatment and finding out what it can do for me.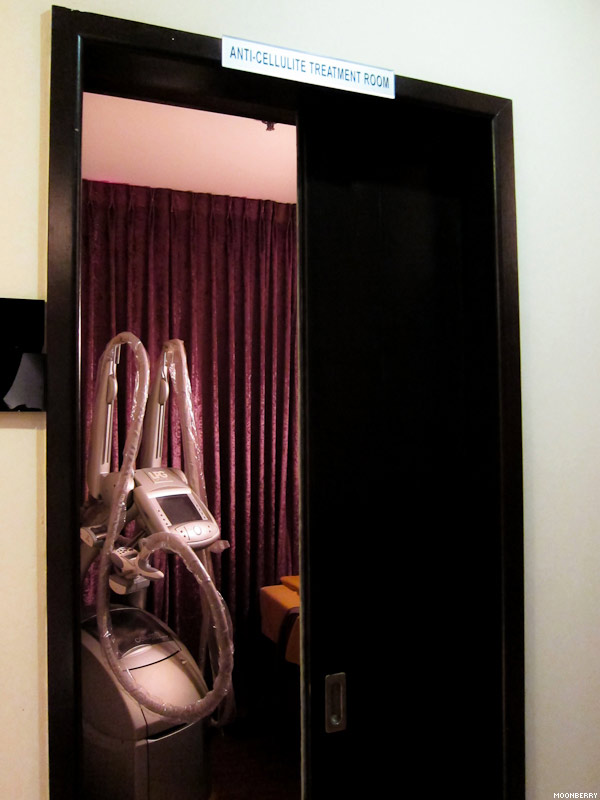 Welcome to the anti-cellulite treatment room.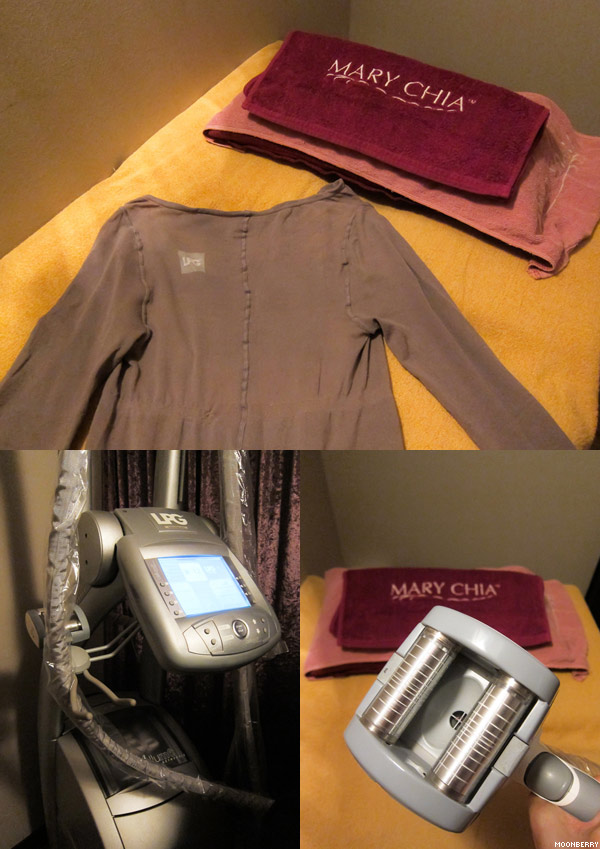 I had to put on a sheer nylon bodysuit before anything else, because this treatment involves using a manually-operated  'wand' that combines the dual action of pinching and rolling. The nylon bodysuit, which is kinda like pantyhose, provides comfort while the skin is being pinched and rolled.
In the short video, you can see the rolling motion and how the 'wand' is operated by the therapist. Uhm, that's my butt you're looking at. This treatment is about 30 minutes long and the intensity of the 'wand' can be adjusted based on your personal tolerance and comfort level.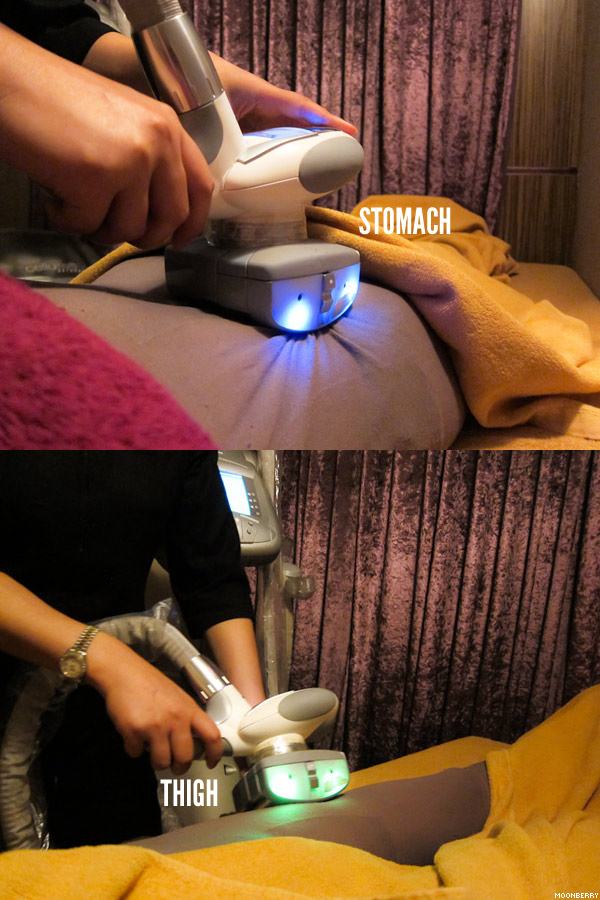 This treatment was done on both the front and back of my body. The therapist targeted mostly my thighs, butt, abdomen and also threw in a bit of bonus for my arm. Yes, don't forget the arms. The following happy thoughts started floating in my mind: Flat stomach! Perky butt! Smooth thighs! Toned arms! Whoohooo!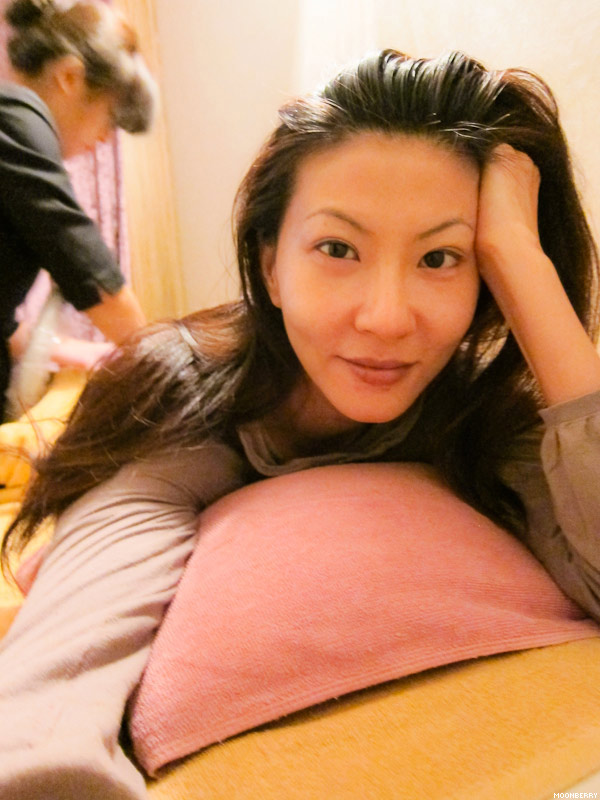 In case you're wondering does the pinching and rolling hurt? Is this treatment painful? Look at my face in the photo above, do I look like I was in pain?! Na-uh, I was totally enjoying every minute of this!!! Too bad it was only 30 minutes long, because I could totally use a full hour of this awesome treatment.  Easily addictive, I tell you. This pinching and rolling is akin to getting a deep-tissue massage. Soooooooo very comfortable. Meanwhile I continued to gleefully imagine little cellulite blobs being smacked around, mowed over, flattened and melted away by the wand… *muwahaha*. Not only does this treatment bust the fat and restructure the skin's connective tissue, it also stimulates blood and lymph circulation, facilitating toxin elimination.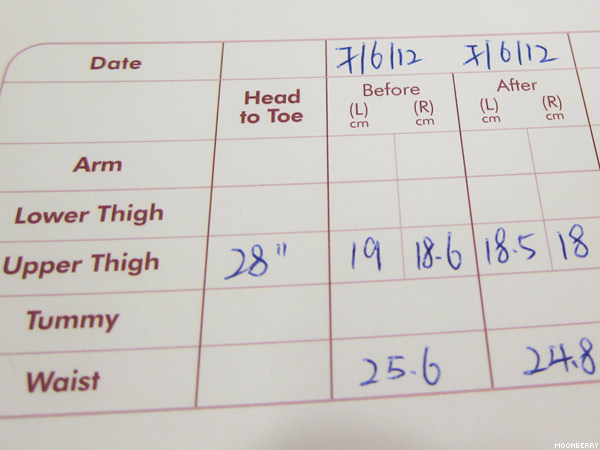 After the treatment was concluded, the therapist took out a measuring tape and measured my waist as well as both thighs. This was wh%n she happily announced that both areas had been effectively reduced in circumference!!! One word: REMARKABLE! Waist was 25.6cm before we began and it became 24.8cm after treatment. My thighs had each gone down by about 0.5cm each (umm, but don't ask me why one thigh is fatter than the other in the first place…?!)
---
Follow Moonberry's Mary Chia Beauty Journey ::

 Chapter 1 // Chapter 2 // Chapter 3 // Chapter 4 // Chapter 5 // Chapter 6
Find out more about Mary Chia BODY • FACE • SPA  | Website | Facebook Page

I am a Finalist in the SBA2012 Best Beauty Blog and Best Lifestyle Blog. Vote for me daily, will ya? Dankz, wuv u! *xo*