30 Apr 2015
---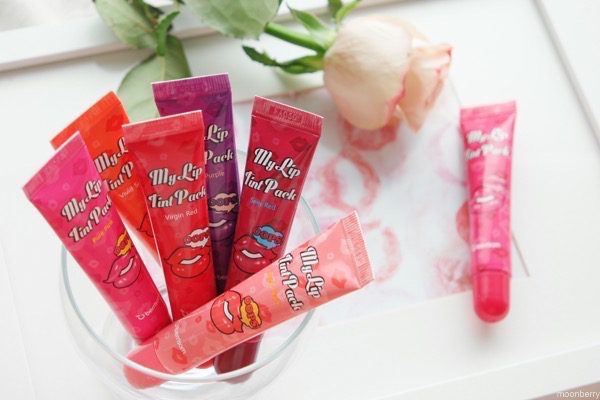 Has anyone heard of or tried Berrisom Lip Tint, aka lip tattoo from Korea? It's this super cool revolutionary peel-off lip stain that is completely smudge free and clings onto the lips for at least 8 hours without fading.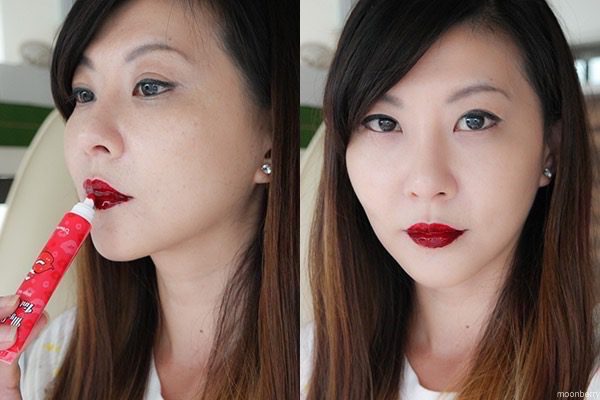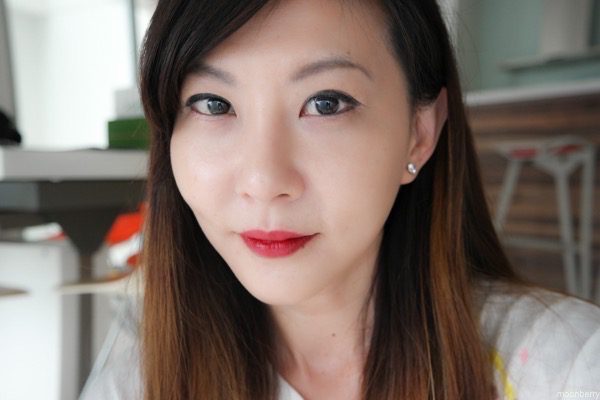 Berrisom Lip Tint (aka Berrisom lip tattoo or Berrisom lip stain) comes as fluid gel form in a tube with applicator. It's fun putting this on because the gel is so vibrant and shockingly saturated. But worry not, the color that comes out of the tube does not reflect the final result at all. The resulting color on the lips is way toned down than the gel color. For that to happen, you have to let the magic take place by allowing a few minutes of the colored gel to dry into a thin film-like layer that you peel off.
The film peels away to reveal newly-stained lips and believe me when I say this color does not budge. Not on cups, not on hands, not on other lips (hur hur). I got the entire set of Berrisom "My Lip Tint" Pack which contains six colors. There's a total of eight different colors made by the brand but honestly the packaging is so bright and bubblegum-y, I can't keep track of all and some shades don't work as well on my lips as others. I find myself using the Sexy Red shade most often.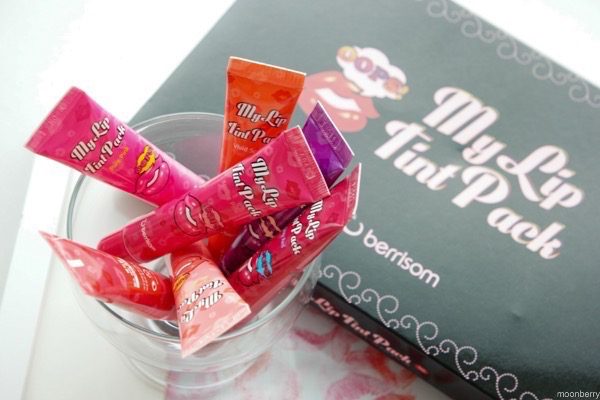 For the purpose of this blog post, I tried on Chic Purple and Virgin Red (not shown in chart above).
Here's the PURPLE.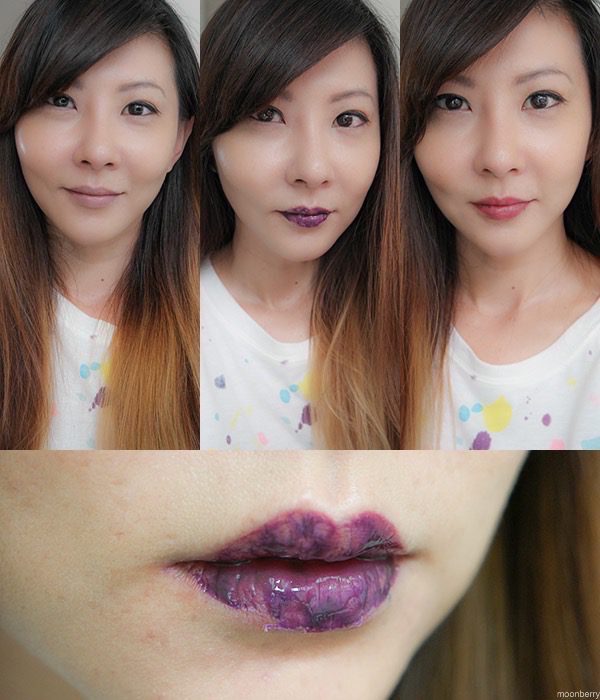 While the gel is drying, I wait until the outer edges start to pull away from the lips naturally and form a dry film. Can you see it? The end lip color doesn't even look nearly as dark as the gel color, which is ultra goth (I like that too). Anyhoo the result looks like a light wash of rosé wine. In other words, quite tame.
Now here's the RED.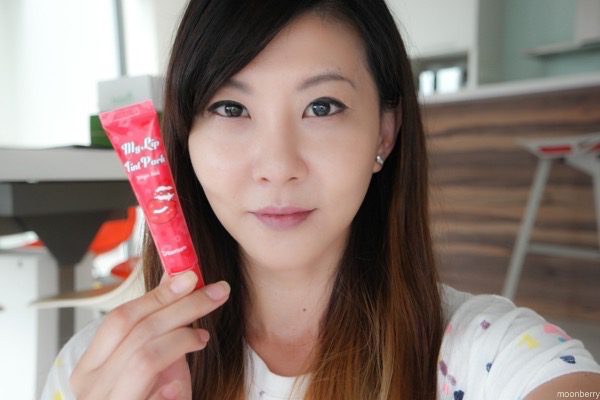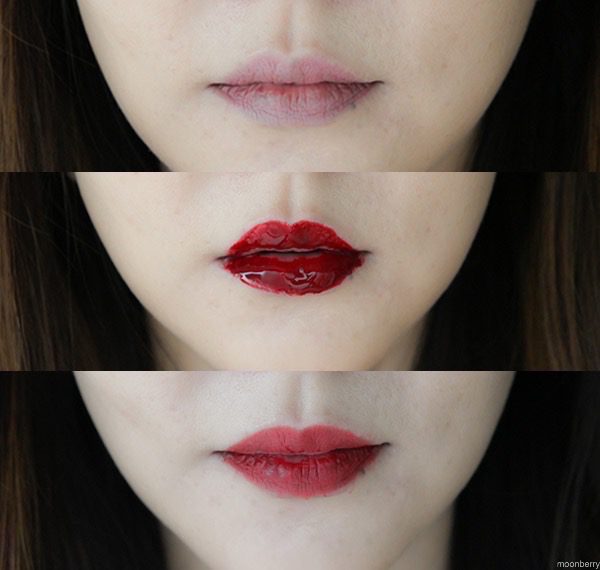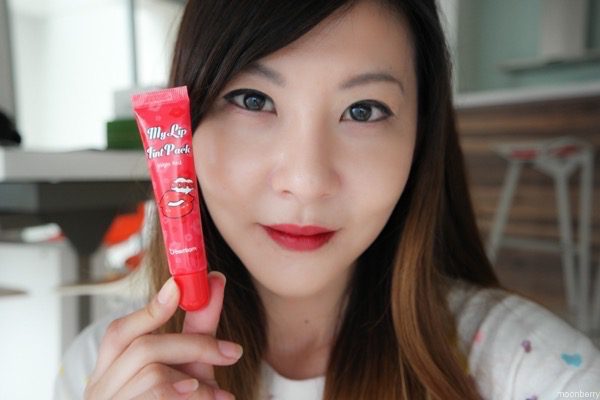 I'm quite liking the red; from appearing as though I've just sunken my fangs into someone's neck and drew blood, after the gel has dried my lips look like I've bitten into a strawberry at a cheery summer picnic. Striking, classy red. I complete the look by putting on a tiny dab of lip balm to give the lips a juicier appearance.
Where to buy: Amazon.com
or Qoo10.sg.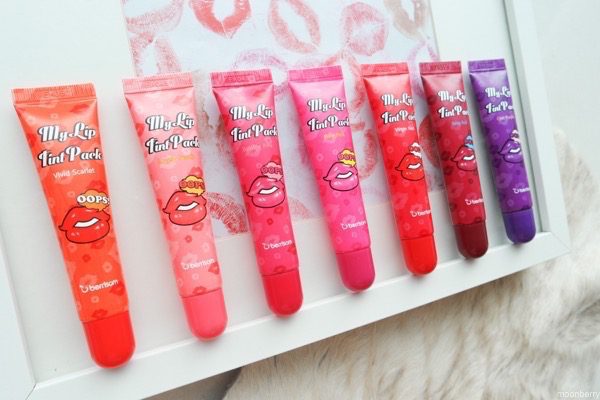 As fun as this Korean lip stain is to use, I don't do so too often because of two reasons. One, it takes time for the gel to dry and it can't be rushed, so when I'm in a hurry I end up smearing it all over my lips, make a mess, and stain outside the intended areas. Not cool. Two, they make my lips dry when I use it consecutively over two days in a row. :(
Thankfully, I received a sample of the new Laneige Lip Sleeping Mask, which works just like the Water Sleeping Pack but formulated especially for lips. One of the things I can't live without is lip balm. This is an incredible product as the hydrating formula hydrates and protects the lips, keeping them moist overnight until the next morning. Out of all the lip balms that I've used before – and I've used plenty, this one doesn't dry out in the middle of the night. I am most impressed that this lip mask stays on the lips until it's wiped off when I wake up the next morning. Just one application I go to bed and my lips stay hydrated throughout the next day too. This is the ultimate thirst quencher for lips. It has a mild berry fragrance too, which makes sense since this product contains Vitamin C-rish Berry Mix Complex, the brand's proprietary antioxidant mix of eight different types of berries – raspberry, cranberry, strawberry, goji berry, coffeeberry, blueberry, etc. Highly recommended, really good stuff.
Use twice or thrice weekly, apply a thick layer on lips before bedtime and leave overnight. A 20g jar retails at S$27 and is available at all Laneige counters in Singapore from 7 May onwards. I've written a blog post reviewing other best Laneige products, check that out.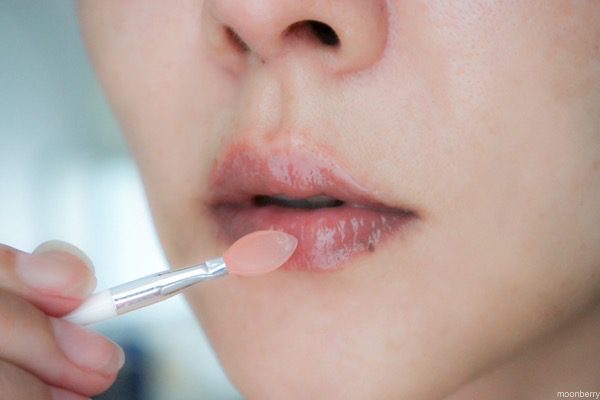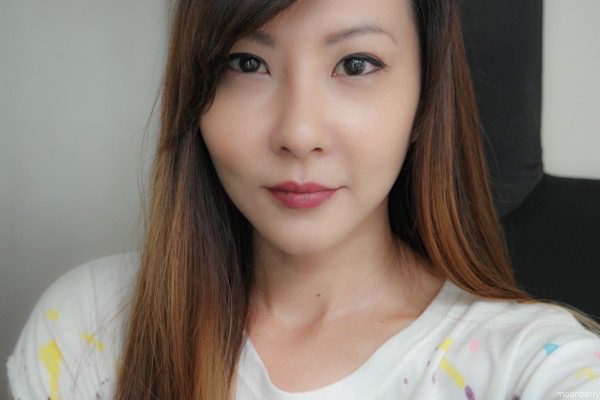 All images taken using the new Samsung NX500 – read the review here.
Puckeroo,
MB.