19 Feb 2010
---
It's been somewhat quiet in the beginning of this week post-CNY, as most people in Singapore were still in holiday mode and stayed in. I went to Oscar's at Conrad Centennial Hotel for brunch, as I was in the area to check out some folding bikes at Carrefour (I ended up not buying any). It was my first time in that area, called Millenia Walk and initially was going for the brunch buffet offered at Oscar's. But considering the CNY binge that had taken place a few days prior, I decided to to go with the ala carte menu and ordered a bowl of Laksa. I know, I know. I seriously was in the mood for some pancakes that day, but it wasn't on the menu so I went for something soupy and comforting instead.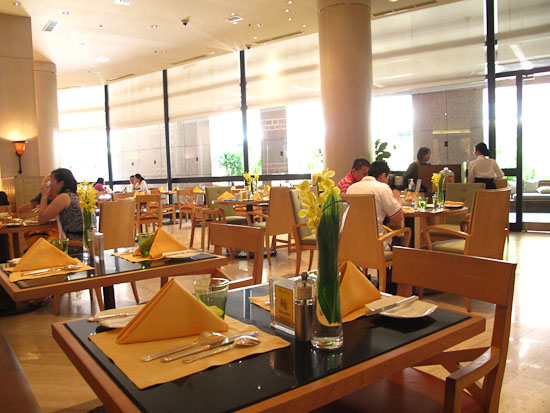 The sunshine yellow everywhere was cheery.
Simple and sweet yellow Moccara orchids bud-vase arrangement.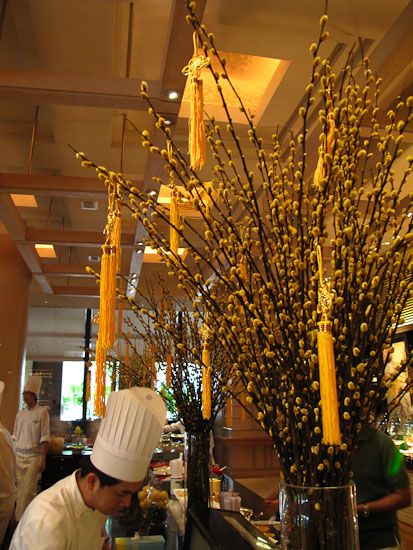 Pussywillow arrrangements dotting the buffet counters. I love how the pussywillow buds have been spraypainted yellow, to match the overall ambiance and decor of the restaurant.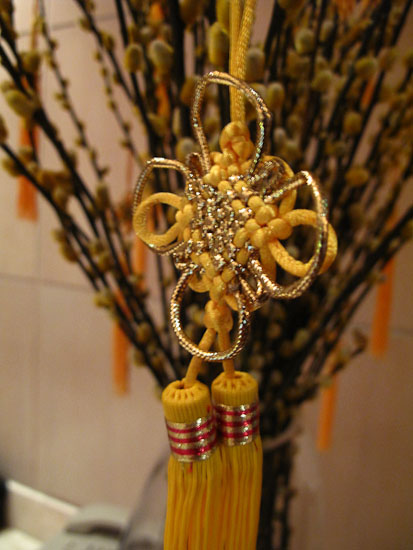 I see this everywhere, and only recently found out that it's referred to as "mystic knot".
Oscar's Burger with all the fixin's. HUGE!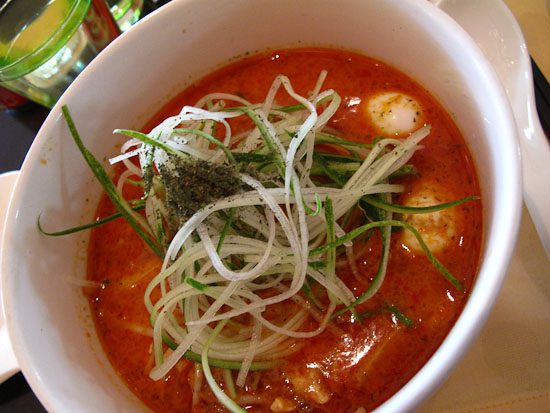 Oscar's Nonya Laksa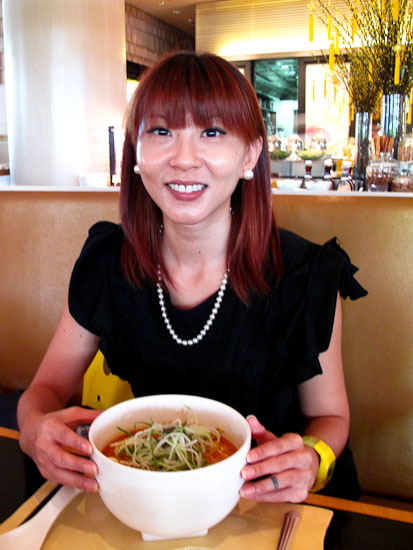 About to dig in!
I was pleasantly surprised that the laksa tasted really yummy. The addition of shredded cucumber added a very nice crunch to the overall texture of the dish and gave an added dimension to the layers of flavours already present in the dish. This was quite a rich dish, served in a deep bowl and it was packed with large prawns, shredded chicken, several quail's eggs and slices of fishcake. Super filling! This was different than the version served at 328 Katong Laksa; no cockles, no otahs. I thought Oscar's version tasted somewhat more sophisticated although the broth was kinda too heavy and creamy.