Category :
FOOD&TRAVEL
12 May 2013
---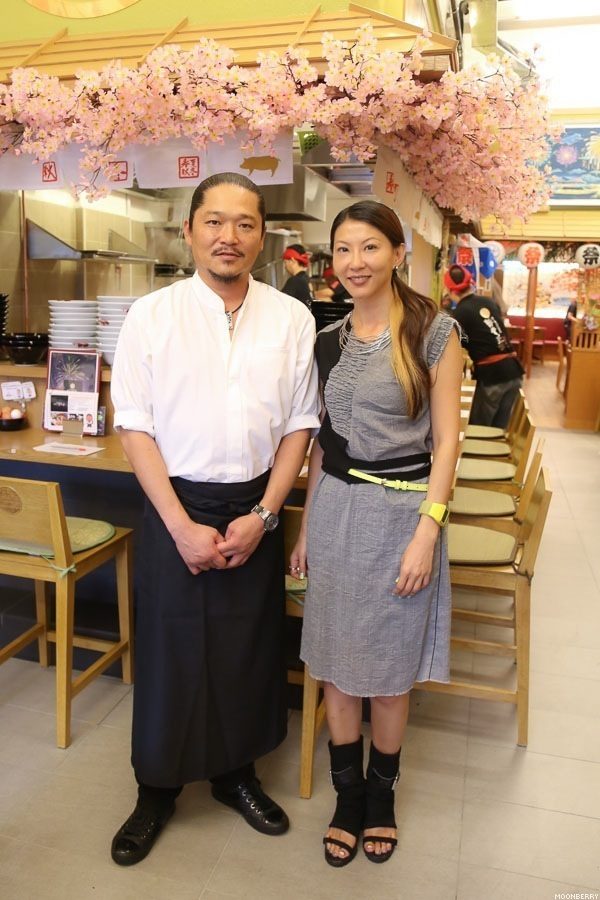 Chef Keisuke Takeda, Tokyo Ramen Champion winner, is back with his fourth ramen joint in Singapore – Ramen Keisuke Tonkotsu King Four Seasons at Bugis Village. The concept of his new ramen restaurant, as the name suggests, revolves around the four seasons which as we all know are a visceral delight in Japan. As you step into this 54-seater restaurant, you're welcomed by an interior which has been divided into four areas with distinct decorations that speak of each season. But of course, the heart of nature's inspiration lies in Chef Keisuke Takeda's new ramen creations.
Ramen Keisuke Tonkotsu King Four Seasons features five ramens with different toppings, of which are unique and unexpected — Spring Ramen, Summer Ramen, Autumn Ramen, Winter Ramen and King Ramen. All the ramens here are Tonkotsu broth-based; "tonkotsu" refers to pork bone broth and over here, the broth has been simmered beyond 11 hours overnight resulting in an undeniably robust flavor.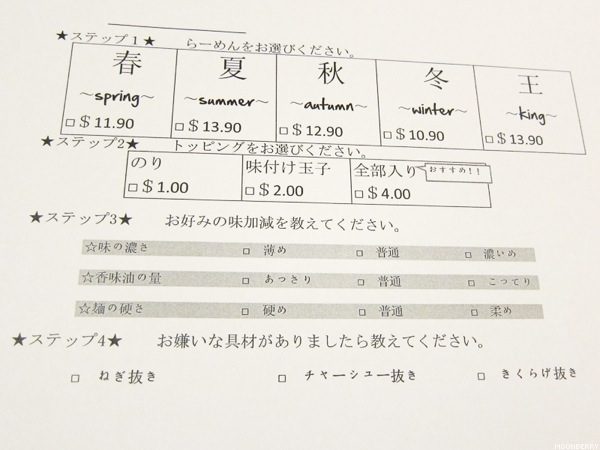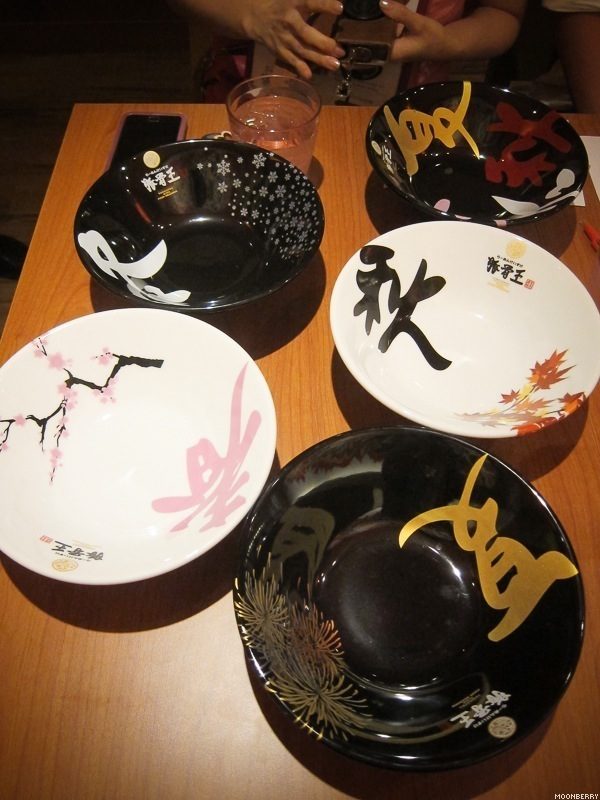 In keeping with the restaurant's theme, each ramen variety is served in original Arita porcelain bowls individually bearing the season's name in Kanji calligraphy.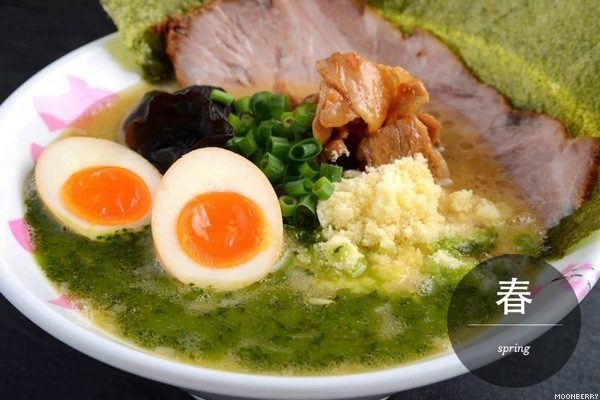 Spring Ramen (S$11.90) features a very interesting basil and cheese topping, which when mixed thoroughly with the broth creates an exceptionally unique flavor. I bet you've never tried ramen with basil and cheese before.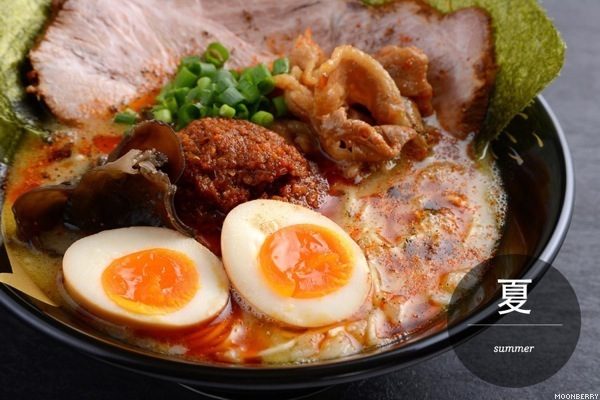 Summer Ramen (S$13.90) comes with a topping of minced spicy pork that's been seasoned with Szechuan peppercorns, Shichimi Japanese chilli powder and local Singapore chilli. This ought to be a huge hit for those who enjoy spicy food.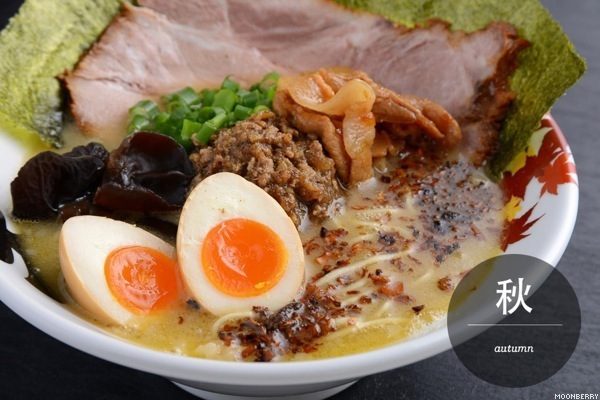 Autumn Ramen (S$12.90)'s unique topping is a mixture of ground pork, mushroom medley and bonito flakes. Japanese flavors for sure, but with a new twist.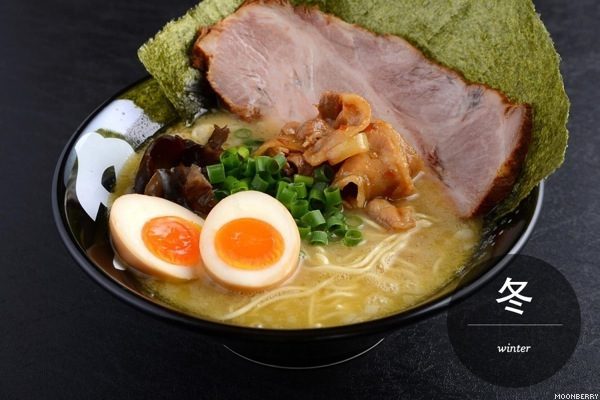 As for Winter Ramen (S$10.90) this is the option for ramen purists who just want to evaluate and enjoy the Tonkotsu broth goodness on its own without distractions. This is hardly a plain version though, as it comes with a huge slice of Japanese char siew, woodear mushrooms, pork-ginger stir-fry slices and tamago eggs (which, btw, are all included in the other ramens too as standard embellishments).
There is one other ramen – King Ramen (S$13.90) – not shown here, meant for heavyweight champion eaters as it includes all of the unique toppings mentioned above.
I sampled all the ramens with the exception of the King Ramen, and found each one to be different and delicious in its own way. It is imperative to mix all the toppings well in order to enjoy the unique flavors imparted from said toppings. For starter, the Tonkotsu broth sans topping in Winter Ramen is definitely flavorful and hearty; perfect to slurp this pipping hot. I am on the fence as to which out of the other three – Spring, Summer or Autumn, I like best. The cheese and basil toppings in Spring Ramen brought forth a very interesting flavor combination that's creamy and savory-sweet, however the basil component wasn't very detectable for me. I really enjoyed the Summer Ramen's spicy topping as it gives the ramen a nice spicy kick – but frankly it'd have been too spicy for me if I were to finish an entire bowl on my own. The Autumn Ramen has a pronounced bonito flavor which was nice but it got too overpowering for me after a few bites. Chances are the next time I return to Ramen Keisuke Tonkotsu King Four Seasons  I will go straight to the King Ramen so that I can have a bit of everything in manageable portions rather than being overwhelmed by any one topping type.
Just like at the other restaurant Ramen Keisuke Tori King, the serving portions here are generous and a bowl of ramen will make for a truly hearty meal. And if that doesn't fill you up, there is free flow hard-boiled eggs and marinated beansprouts for you to munch on also!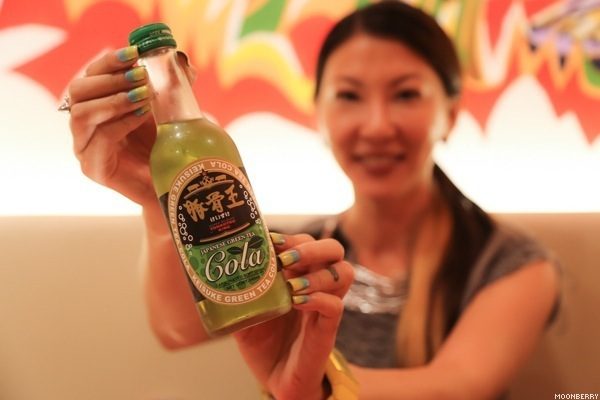 Newly introduced at Ramen Keisuke Tonkotsu King Four Seasons is the Japanese Green Tea Cola to quench your thirst. It's a green tea-flavored fizzy drink which is ultra refreshing and it isn't overly sweet.
(Btw, mucho thanks to DanielFoodDiary for the impromptu 'date' and taking pics of me.)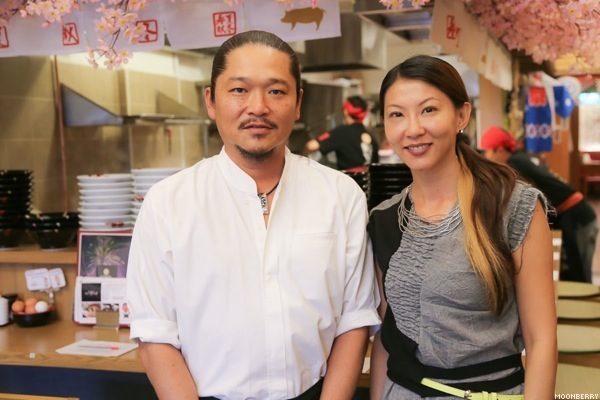 To celebrate its new launch, Ramen Keisuke Tonkotsu King Four Seasons is offering a special promotion for all of their customers. From 10 May to 10 June 2013, please take any creative photo (ramen, staff, interiors, you drooling over your bowl of ramen, etc.) when you visit the restaurant and upload it to their Facebook page for a chance to win:
☆ 1 x pair of Air Ticket to Tokyo!!! *kyaaa~*
☆ 10 x One Keisuke Four Seasons Original Arita Porcelain Ramen Bowl
☆ 20 x $50 Dinning Voucher
That's right. PROCLAIM YOUR LOVE FOR RAMEN KEISUKE TONKOTSU KING FOUR SEASONS NOW.
Ramen Keisuke Tonkotsu King Four Seasons
Bugis Village, 158 Rochor Road
Tel: (65) 6333-5740
.
Nomz,
-MB.
5 May 2013
---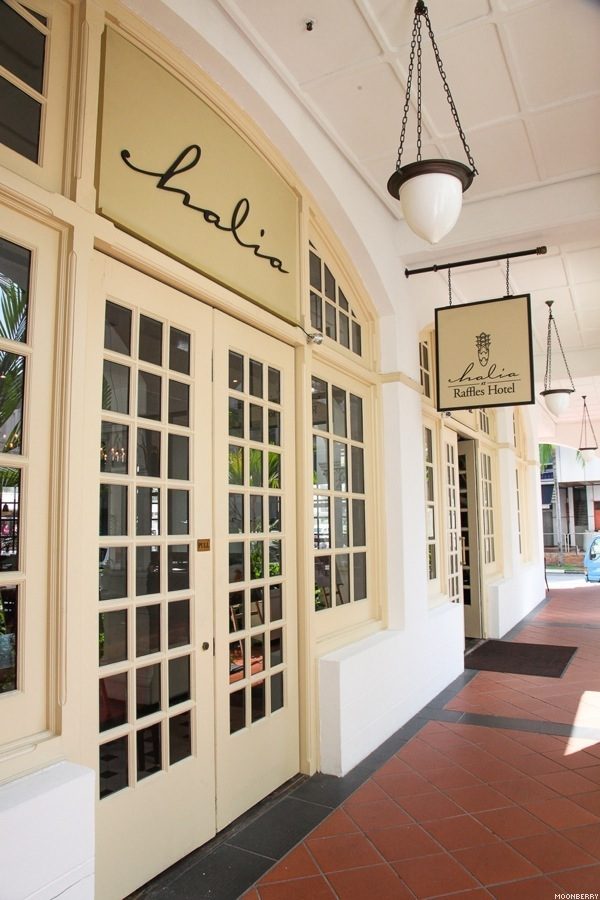 Start your weekend right with brunch at The Halia at Raffles Hotel, a new urban-chic sibling of the award-winning The Halia at Singapore Botanic Gardens. Situated on the ground floor of Singapore's most iconic hotel, weekenders can now relish in the lush indoor greenery and relaxed atmosphere while enjoying delectable brunch specials.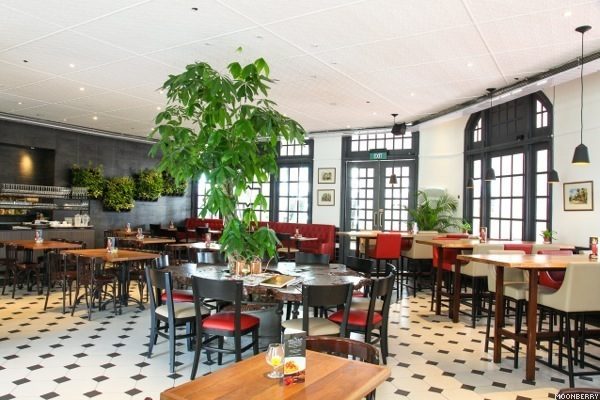 The interior of The Halia at Raffles Hotel is spacious and well-lit with natural light streaming in from the framed colonial-style windows all around. Along with the black and white subway tiles on the floor, and a vertical garden against a back wall near the serving station, this sets the canvas for a casual dining experience.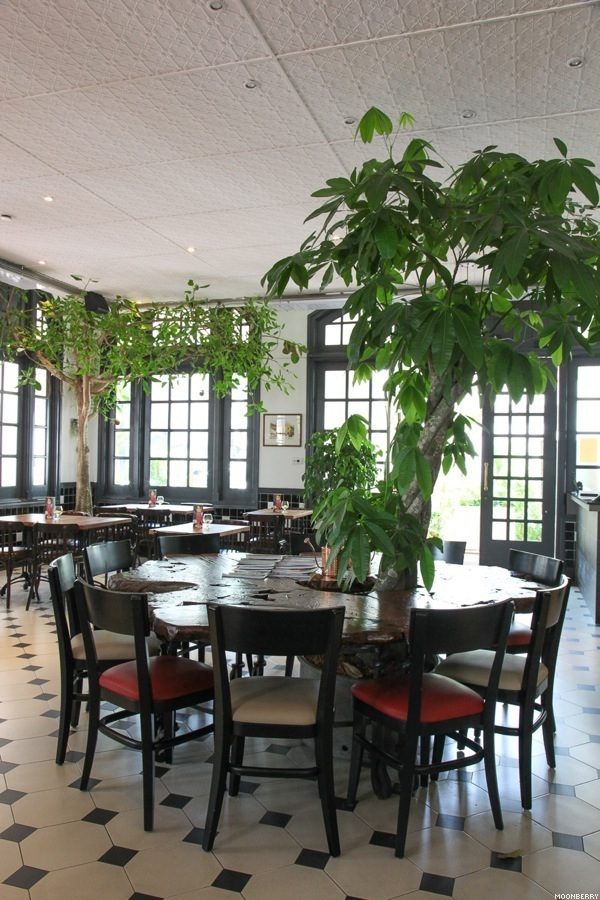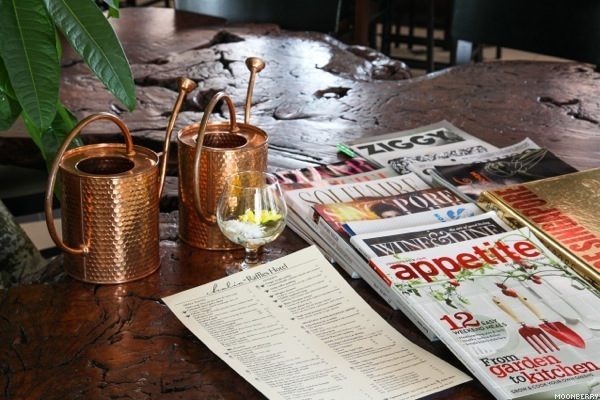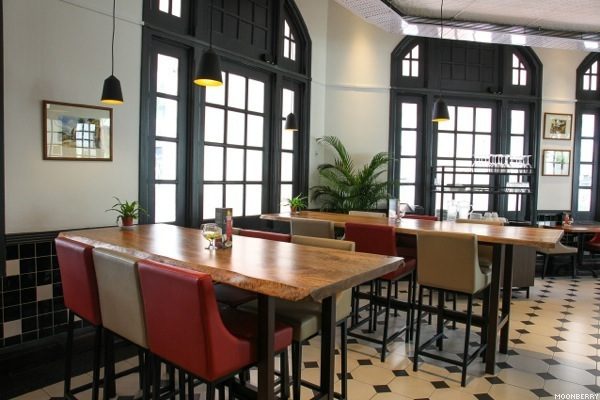 A live tree, a nod to the original Halia at Singapore Botanic Gardens, with a wooden table is the centerpiece of the restaurant that welcomes you when you step in. Tall wooden tables with backed leather bar chairs are ideal for a group of friends, while regular-height tables (some with upholstered banquettes) are family-appropriate – especially those with young 'uns.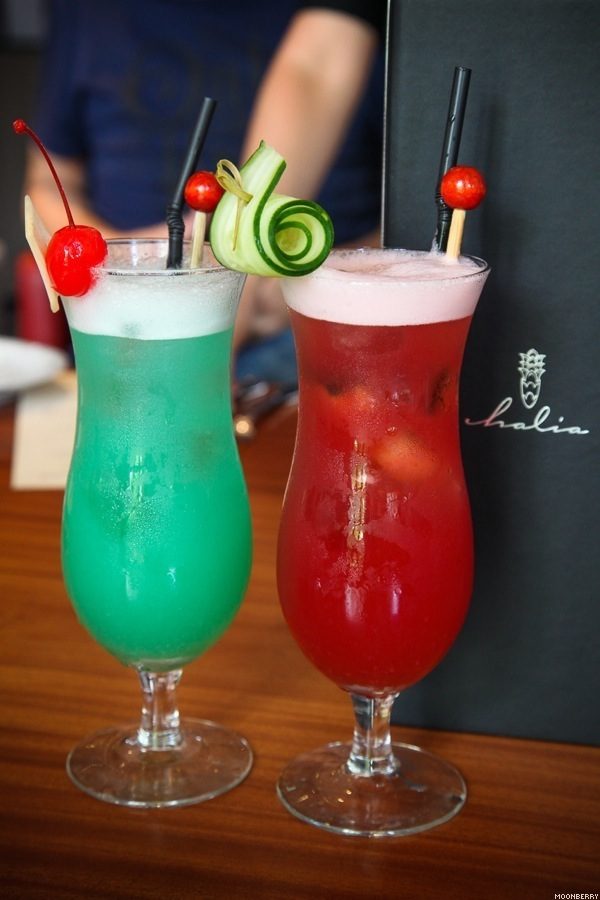 Start your brunch with a refreshing drink from the extensive drinks menu which includes Heavenly Halia (S$20) – a concoction of fresh ginger, pineapple, peach liqueur, Blue Curacao and sprite.
Or if you prefer, kick back with a tall glass of the restaurant's popular signature cocktail, Singapore Sling by Hendrick's (S$28), a tribute to and an adaptation of the iconic original creation (invented right here at Raffles Hotel decades ago). What makes Halia's version delightful is the addition of Hendrick's Gin, which has unique rose and cucumber infusions, and a secret orange liqueur. I think this version is better than the original, it's not as syrupy and the cucumber infusion adds an invigorating dimension to this sexy cocktail.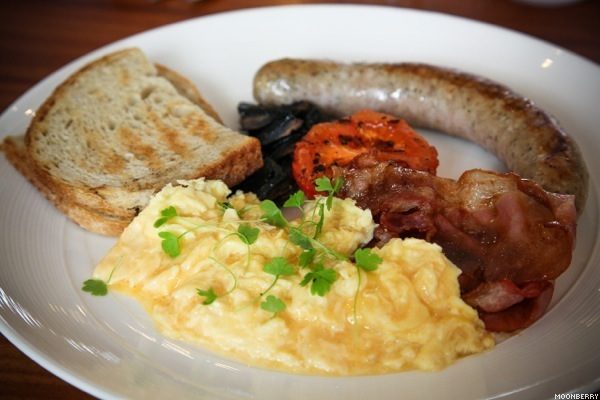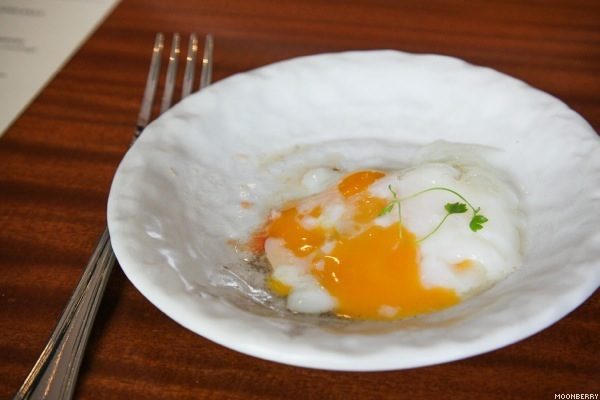 Brunch purists with voracious appetites and egg aficianados will be thrilled by the Grilled Breakfast with Any Style Eggs (S$23) – with an option to have it fried, poached, as an omelette or scrambled, accompanied with Italian pork sausage, sweetened bacon, Portobello mushroom, vine tomato and toasted sourdough. I'm all over poached eggs these days, like yolk on white yo. ;p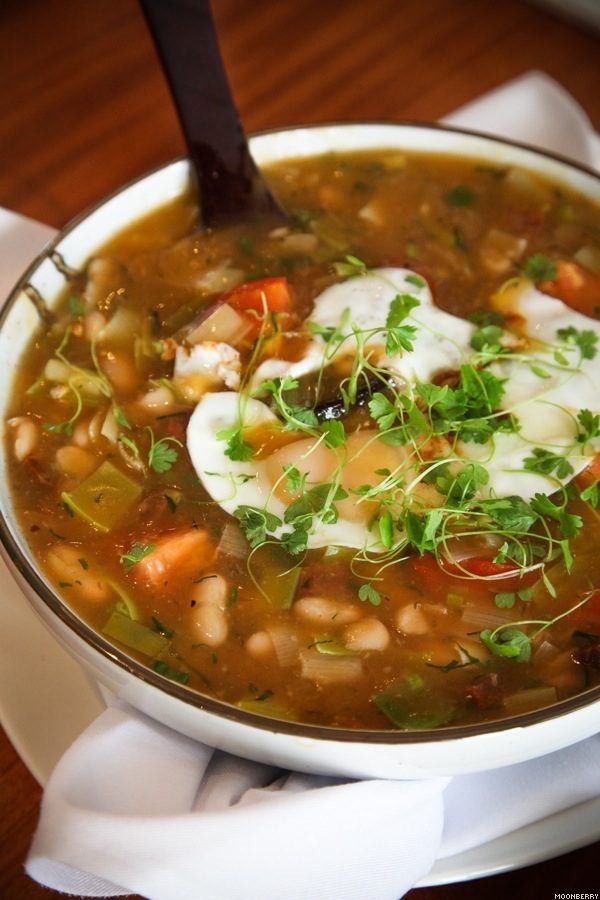 Another hearty option is the White Bean Iberico Chorizo Leek Stew (S$16) with egg sunny side up, smoked chipotle sauce, tomato and fine herbs. Not a common item on most brunch menus, the portion of this stew serves two or three people comfortably. Unlike most stews that tend to be heavy, this is robust without being too thick, and totally appropriate to dunk sourdough toasts into. The idea of having stew on a weekend morning is charming and I enjoy this very much.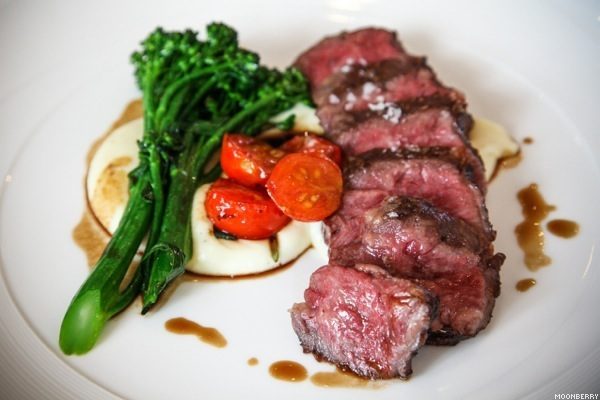 Look forward to the Sous Vide Wagyu Rump Cap (S$36) served with buttered brocollini, truffle mash, slow roast cherry tomato and drizzled with tarragon jus. The slices of steak are excellent – every bite is juicy and the texture is soft, while the truffle mash completely shines. MUST TRY!
Too many restaurants serve truffle this, truffle that and the overkill made truffle-anything passé for me very quickly. However, this truffle mash is delicate and elegant with the right amount of truffle perfume. It has effectively revived my appreciation towards truffle again.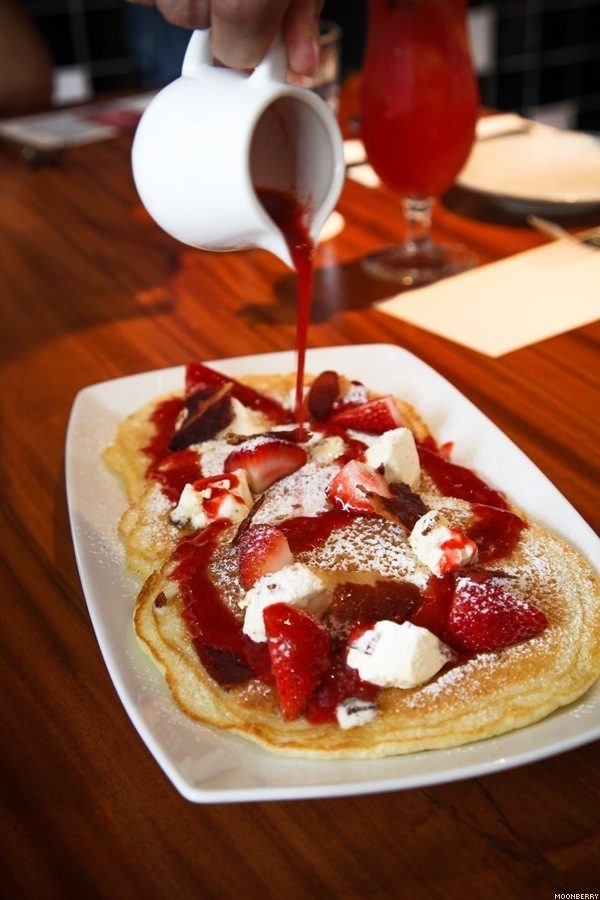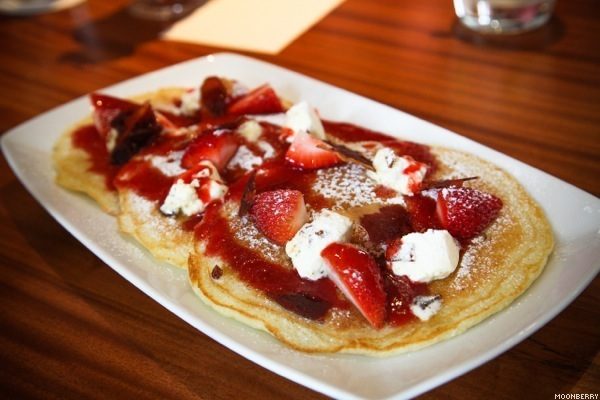 Another homerun for me is the Pancakes (S$12) with bacon butter, fresh strawberries and puree. Fluffy, airy and served in three pieces per portion, this tastes as good as it looks. I particularly enjoy the interesting sweet-savory combination of fresh strawberries and crumbled bacon – both in flavors and textures. This leaves me wanting more.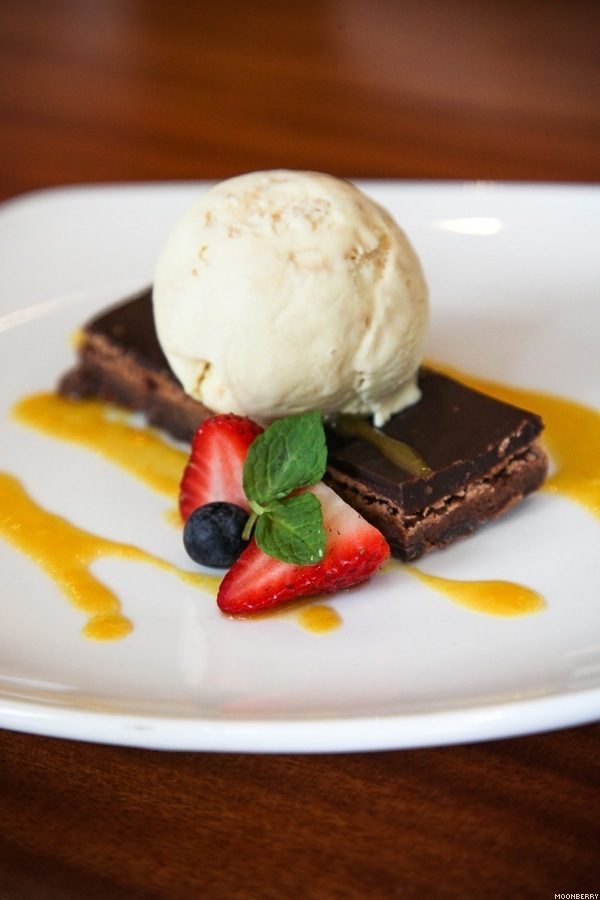 If you've got room for dessert (hey, it's the weekend – please make room), there's the Sticky Chocolate Brownie with Creme Brulee Ice Cream and Passionfruit Sauce (S$12). This brownie is a little bit like a denser version of a chocolate wafer and I personally prefer my brownie to be more cake-like, ie. thicker and less crunchy.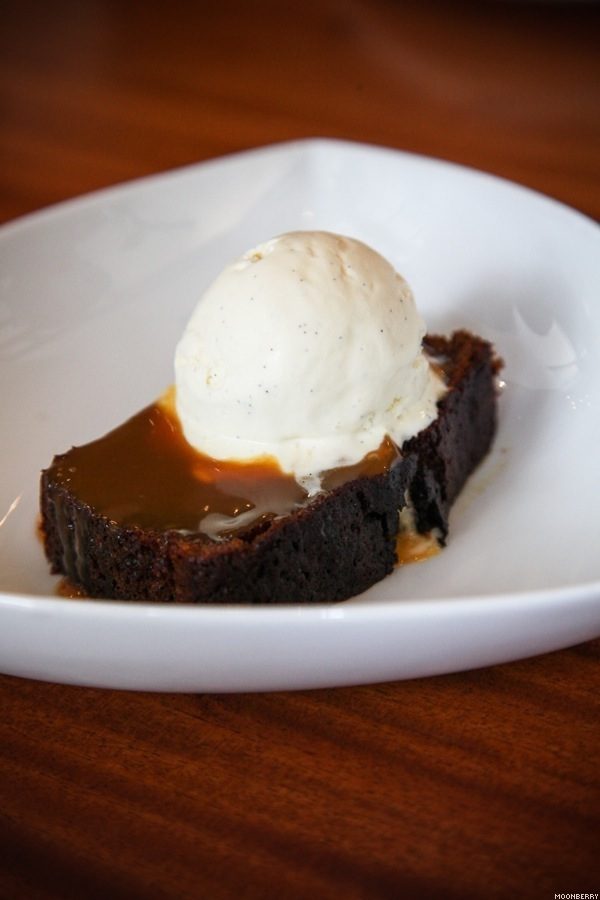 A definite MUST TRY is the Sticky Toffee Pudding (S$10), a simple yet beautiful dessert of fluffy pudding topped with vanilla ice-cream, butterscotch sauce and a sprinkle of sea salt. It's not as sweet as it sounds, the flavors are just right and it definitely hits the spot for me. The moist and slightly springy texture won me over  - it's like nothing I've ever had before – and I must go back to have this again.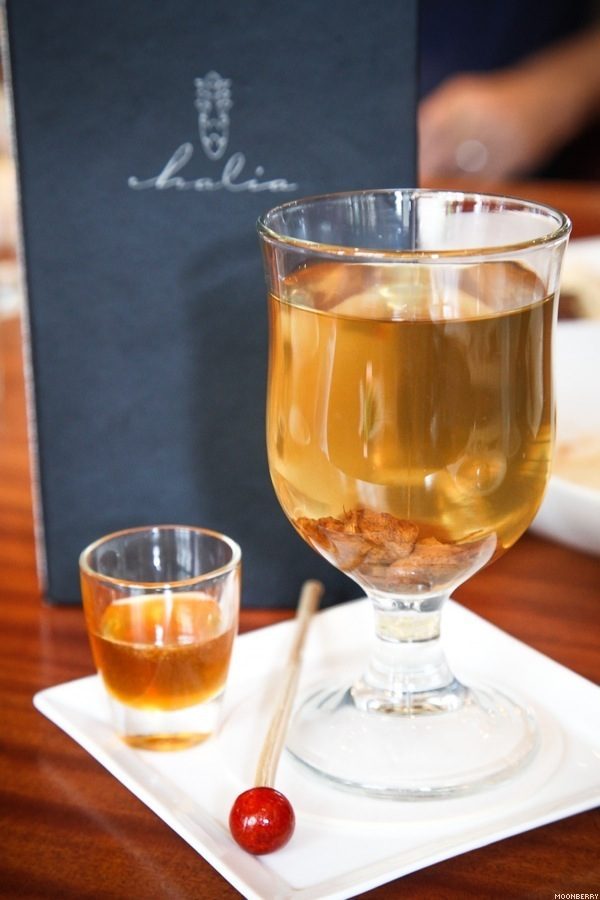 Halia's Signature Halia Infusion of Sundried Ginger and Wild Mountain Honey (S$10) rounds off brunch nicely – served cold or hot.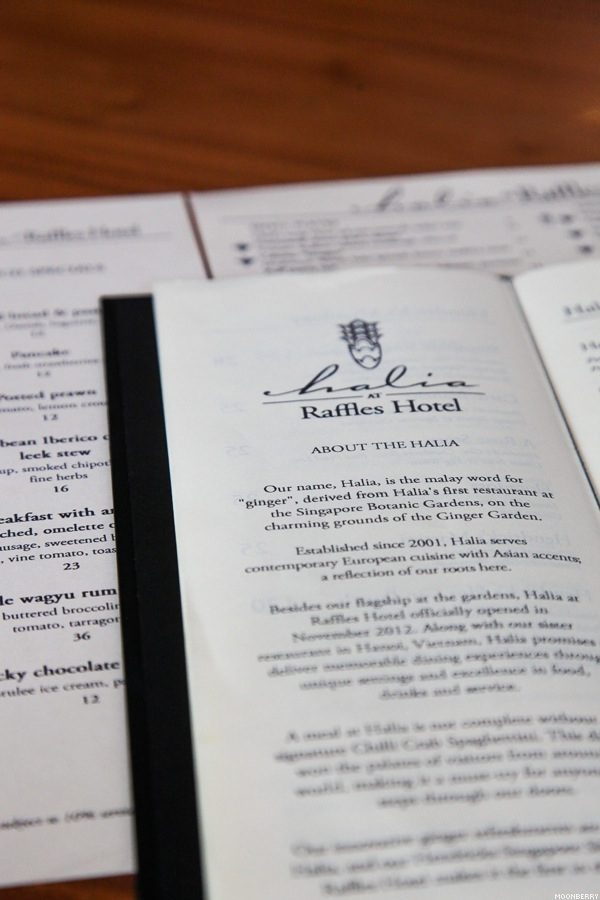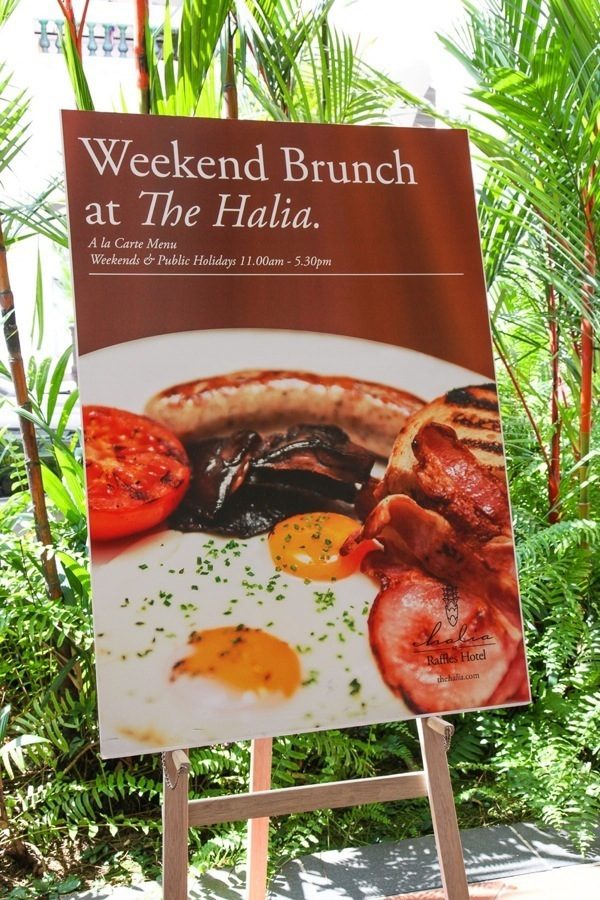 The simple brunch menu at The Halia at Raffles Hotel is certainly filled with surprises and out of the few which I featured above, I'd easily go back to the restaurant and order most of them again. Given the quality of food and serving portions, I think the prices are very fair. Brunch at The Halia at Raffles Hotel is served every weekend and on public holidays from 11AM to 5:30PM. I'm looking forward to returning soon!
The Halia at Raffles Hotel
#01-22/23, 1 Beach Road
Singapore 189673
Tel: (65) 9639-1148
3 May 2013
---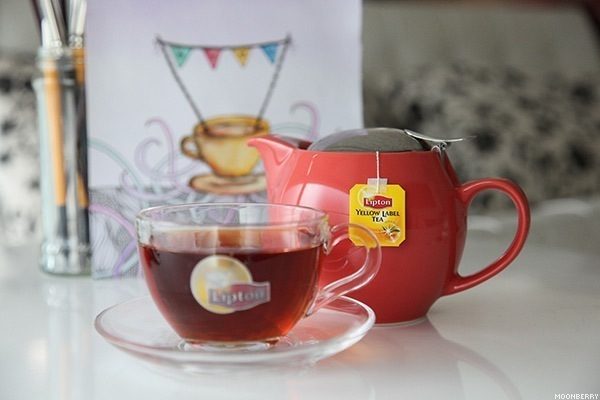 Lipton, everyone's favorite tea brand that's instantly identifiable by its bright yellow tag, is celebrating the feel-good moments of their tea fans with the launch of Lipton Moments Singapore. If you've been following my Instagram feed (hellopleasefollowmeyaythanks), you may have noticed that I've been posting several photos with the hashtag #LiptonMomentsSG. It's an Instagram photo sharing contest where you share images that capture a positive moment and inspire others to do the same through this online social media channel. Plus you also stand a chance to win great prizes including a trip to Bali and a luxurious spa experience at Hyatt Hotel! :)
Lipton Moments Singapore comes at a time when Lipton is encouraging new and younger consumers to drink tea on a more regular basis to provide that much needed lift during their hectic daily lives. This campaign reminds all of us that Lipton Moments are all about happy and positive times. So brew a cup of your favorite Lipton tea, kick back and enjoy the moment.
I am a big tea drinker so I'm thrilled to have stumbled upon this photo sharing contest because I totally am in sync with the idea that drinking tea is a positive sensorial experience. Tea is calming for me and I associate drinking it with happy moments, especially the tiny ones throughout the day. Let me share with you some of my fave feel-good moments below.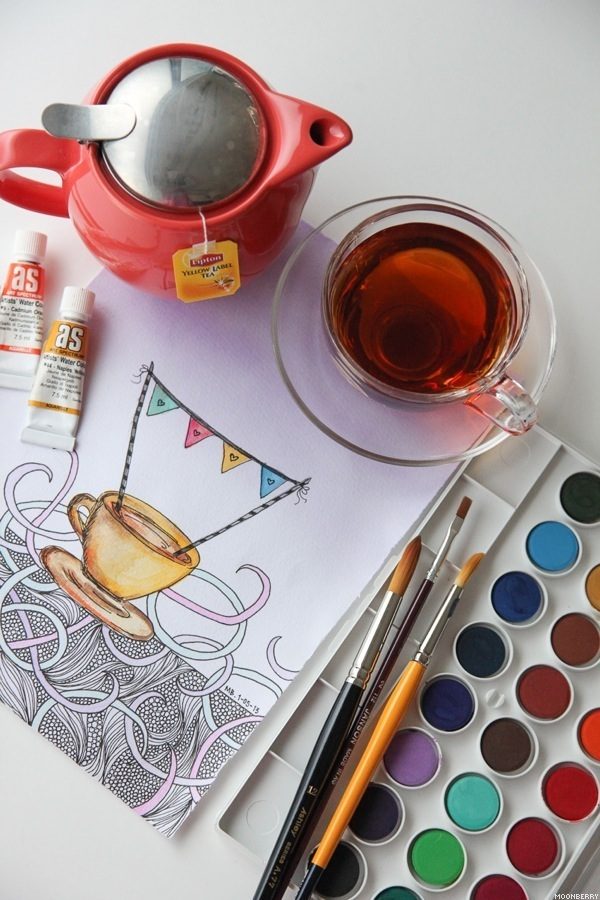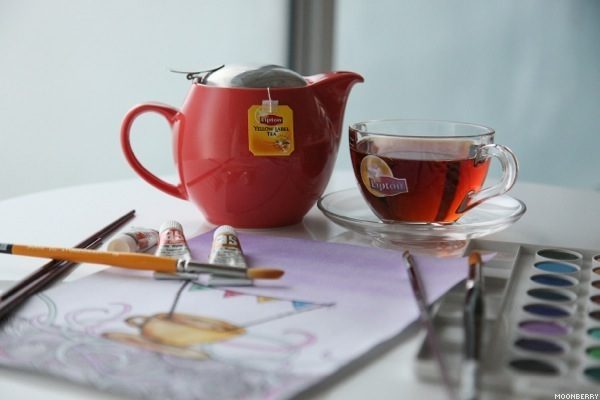 ME time = art time. The time to push myself creatively and explore the different processes to express this. Okay, that first part of the sentence sorta came out wrong. I don't like thinking of it as pushing myself, it should ideally flow effortlessly through me while I surrender myself to an enjoyable experience and lose track of time. Thing is, I often kick myself for not doing enough of this. I know that for the most part, it's due to the peripheral grievances that I've received whenever I bring up the importance of ME time. I get this little voice in my head reminding me how it's hurtful to people who feel neglected and ignored, and then I feel guilty for having the desire to escape into my own imaginary world.
Meanwhile I see all these beautiful inspiring creations from talents all over the world and I ask, why am I shortchanging myself because of the way others perceive ME time as being selfish? I can't always be responsible for the way others feel, especially particularly specifically when I am not out to be malicious or hurtful. Why, I guess being ME is hurtful to some? Well then… :[ I can only be who I am and trying to be the best ME that I can be. Sorry, I digress – as I was saying earlier… Curating ideas/inspirations isn't nearly the same as actually creating something. I believe that as with other endeavors, time for creativity requires dedication and discipline. The more frequently I immerse myself in it, the more effortless it will be. At least in theory, we'll see… I hadn't touched my watercolors in a while – still wrestling with love-hate issues - but the other day I thought, what the heck if I don't make small steps to reconcile, I will never break out of this glass ceiling that I put over my own head. Met with some hurdles initially, of course, lotsa crappy shit came out and my inner critic mercilessly reminded me how much I sucked when it comes to watercolor.
*shrug* I dunno. I suppose slowing down, stepping away and taking a breather when it got way too self-deprecating helped. Came back feeling less defeated and tried again. Then again. And yet again. Doodled mindlessly on the side. Sipped tea on the side. Decided to combine watercolor and ink, sorta looked like something nice was happening and finally I ended up with this painting/drawing/doodling combo you see above of a teacup with bunting. My inner critic was about to say something about that but I decided that it should STFU for now and let me have my feel-good moment. I'm happy and that's that.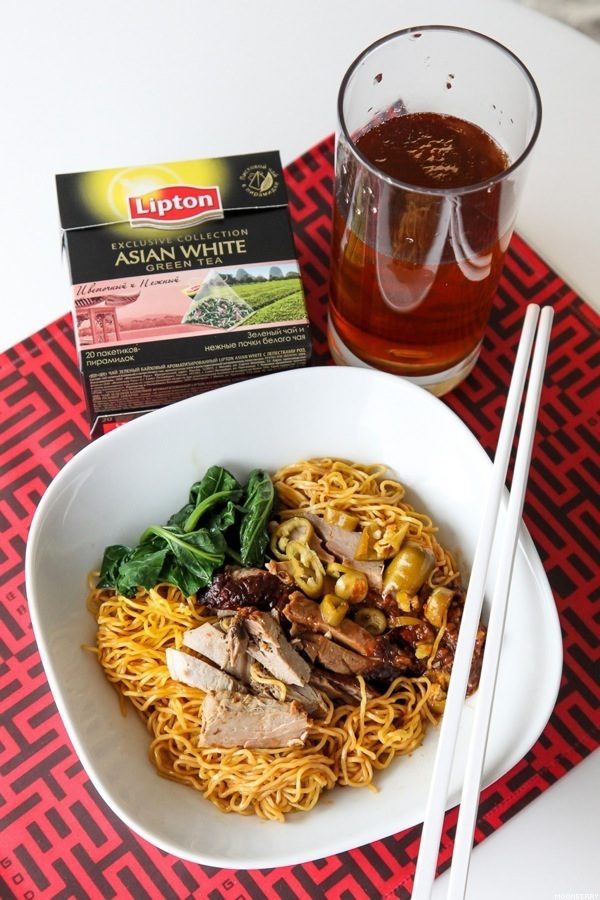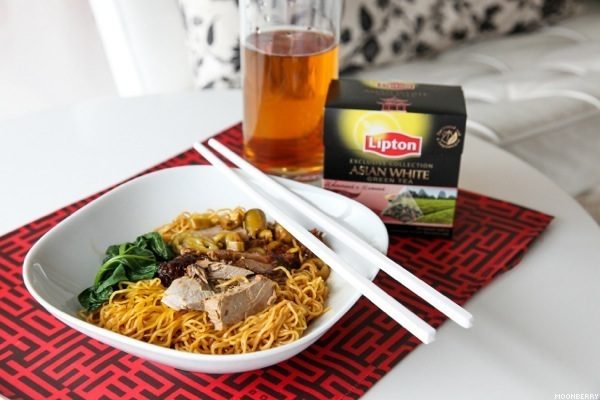 A plate of roast duck noodle with a side of Lipton Asian White Green Tea. What can I say, I love food – and I am aware that I don't eat regularly enough. But that's a-okay. Whenever I do eat, I enjoy my food and I like to cap my meal off with a cup of tea whenever I can. I don't know if this is considered weird, but I don't like to mix eating and drinking together. I mean, I'd eat, eat, eat and then drink to finish the meal… instead of sipping a drink in between eating/chewing – unless the food is really salty or spicy. Is that weird??? Most of the time I'm too full to have desserts or fruits (oops!) so the cup of tea is my palate cleanser and mock-digestif. It also assists in slowing me down mentally and wrapping myself around the food coma that usually follows after a satisfying meal. Mmm~ moments like these definitely count as a feel-good moment and life is good.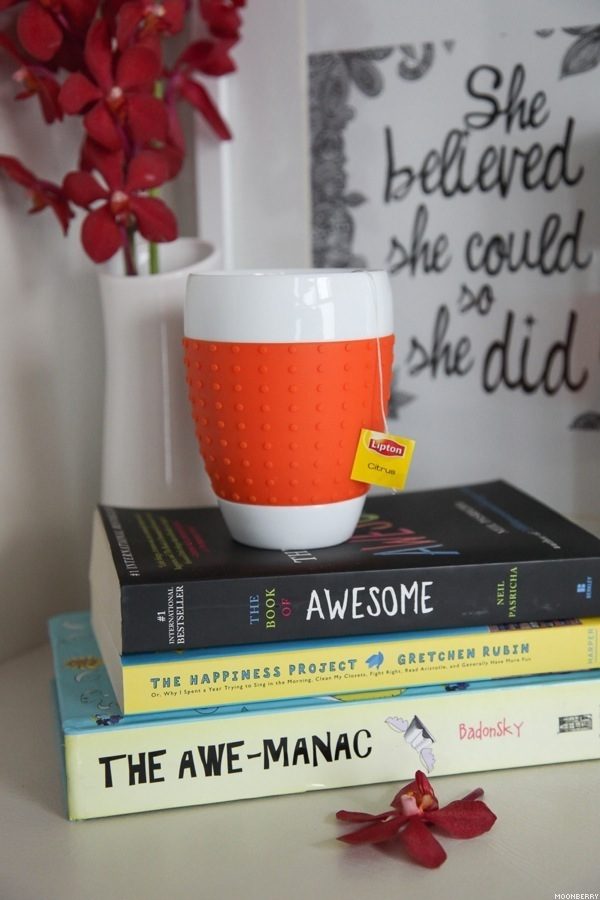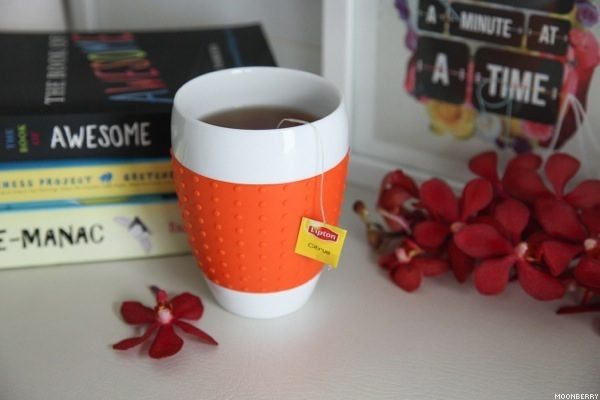 Inspiration can be found everywhere. Aurally via sounds, visually through images and also from words on paper. I don't read as much as I should anymore (oops again!), but I do have a stack of feel-good boosting paperbacks that I flip through from time to time in my pursuit of positive living and spiritual wellness. Life can be hard to navigate sometimes and people often suck. I, for one, enjoy being a self-sufficient hermit, while having minimal interaction with people and mindfully keeping my distance from toxic situations. But of course no (wo)man is an island and I like to get reminders that the world is filled with loads of awesomeness even when there are way too many unnecessary passive-aggressions going around.
For example: "B!t¢h, you owe me money since last year and you don't return my messages, whatdafug!!!". True story.
In the meantime, I drink tea to keep calm. :)
It feels good to extract oneself from the piss pool that other people shoved you into. Rise above it, rise above it. That, my friends, is enlightenment.
On a separate note, lately I find myself feeling crushed and having a lot of doubts. Like, should I really be doing what I'm doing? Am I on the right path? What the fudge am I doing and why the hell am I doing this again? And so on and so forth. Dark clouds of feeling discouraged, not a happy state of mind. It happens, I guess, especially when one's a juggler. I guess this is why drinking a cup of hot tea has a calming effect because you can't rush the action lest you want to scald your mouth. It forces me to slow down, sip slowly and mindfully being present in the moment while I sort this out slowly in my head is a positive thing. There's no other way around it. Doesn't quite feel as good during the process of mulling over these shitty thoughts, but it sure feels damn awesome when the breakthrough moment arrives. Enlightenment? That's what I'm talking about.
.
#LiptonMomentsSG – a photo contest to share and connect.
I'm sure you experience plenty positive moments in your daily life too, yah? Lipton fans in Singapore are invited to creatively and visually share uplifting moments for the chance to win great prizes, including weekly spa vouchers from Hyatt Hotel Singapore (worth SG$ 184.89 each) for the first three weeks, and a Grand Prize featuring 3D2N trip to Bali (worth SG$826.00 for 2 pax!!!) in the fourth (and last) week.
The contest is running now through 20 MAY 2013.

An image can convey so many sentiments, whether it's exuding excitement, posi-tea-vity (heh), spontaneity or brightness, images can capture a positive moment and inspire you to feel the same way. Sharing #LiptonMomentsSG photos via Instagram gives people the chance to socially experience that much needed lift. No Instagram? No problem! Alternatively, you can also upload your photos using Lipton Moments app that can be found on Lipton Singapore Facebook Page. Wheee~
So, what's your Lipton Moment? :)
TGIF with mucho lurv,
-MB.