9 Jan 2015
---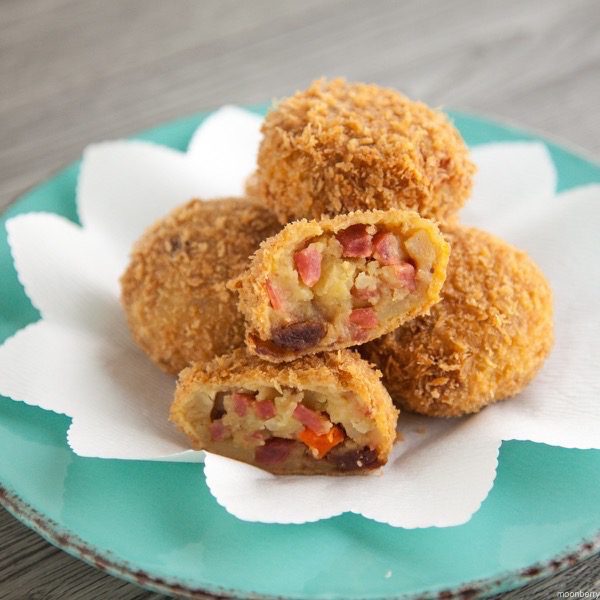 Lup Cheong, ie. Chinese smoke-dried pork sausages that's been sweetened and seasoned with rice wine and soy sauce, is ubiquitously Asian and to me, it's connotative of families gathered around the dining table having a humble home-cooked meal together. I respect tradition but I can't help wondering why the ways they've been served are so predictable.
I am a big proponent of breaking the mould and tapping on two pre-existing ideas to create a new one. As a third-culture kid, fusion cuisine is one such creative expression that I love and perpetually intrigued by. So following the Caramelized Onion and Leek Tart with Lup Cheong and Chevre which I made last year, I came up with another twist on using Lup Cheong, and recently made Curry Croquettes using this much-loved Chinese sausage.
I'm aware that there are plenty varieties of Chinese sausages out there, and generally speaking, the ones from Hong Kong are crazy greasy and I can't taste the pork so much. I do love the Taiwanese ones as they are chewy and sweet. Very fragrant when grilled and eaten with thin slices of raw garlic. Golden Palm is a Singapore company and all their products are made locally, and I've taken to using this brand because I find they are a lot less fatty, less salty and less sweet than the normal varieties I grew up eating (ie. from NY Chinatown, imported from Hong Kong).
For this recipe, I used two different kinds of Lup Cheong from Golden Palm brand. The red one is a lean pork variety, while the darker-colored one is called "yun chang" 潤腸 made with duck liver. It's not much of a looker, I don't really know why it's so dark-colored, but guess what, it doesn't care what you think because it tastes effin' awesome – to me, anyway, especially coz I go apeshit when it comes to eating animal internal organs and spare parts. You should too. Heh.
Anyhoo, these turned out to be phenomenal! The crust is super crunchy and crispy, all thanks to the coating of egg, flour, egg again, and then finally panko breadcrumbs. You can't skim over this tango because you want the breadcrumbs to adhere to the patties as much as possible before deep-frying. The best part is after deep-frying these babies into golden nuggets and you crack a piece open… ZOMG, the delicious aroma of mild curry and smoky, porky, sweet Lup Cheong wafts into your nose and you just wanna sink your teeth into the croquette immediately.
Without further ado, here's the recipe.
Curry Croquette with Lup Cheong
Ingredients
Lup Cheong
5 medium potatoes
1 cup frozen vegetables, thawed
Salt & pepper
1-2 teaspoons curry powder
1/2 cup flour
1 eggs, beaten
Panko breadcrumbs
Canola oil, for deep frying
Method
1. Steam lup cheong until plump, set aside to cool then dice.
2. Peel potatoes and cook in boiling water until soft. In a big bowl, mash potatoes well.
3. Mix potatoes, diced lup cheong and frozen vegetables. Season with salt and pepper to taste. Add curry powder. Let it cool.
4. Divide potato mixture and make oval patties. Refrigerate for an hour.
5. Coat with egg, flour, then egg again, and finally panko.
6. Heat deep frying oil to 350-375F, and fry the patties for 3-4 minutes each side.
7. Serve.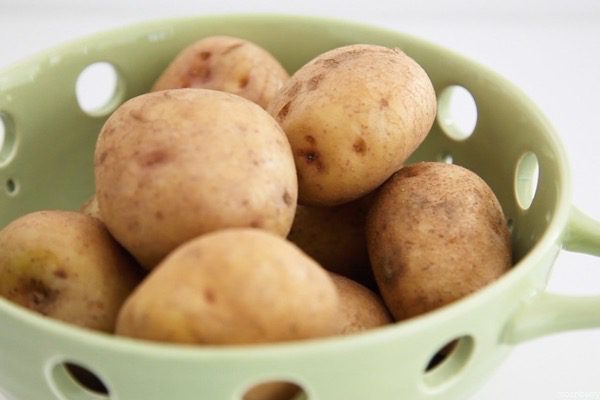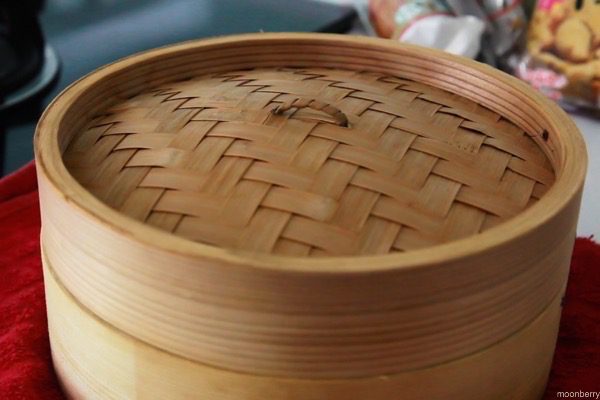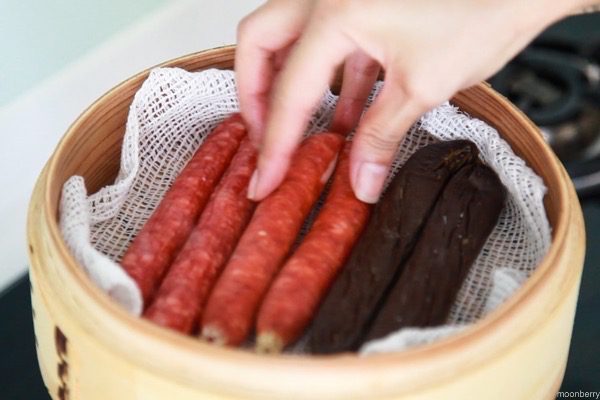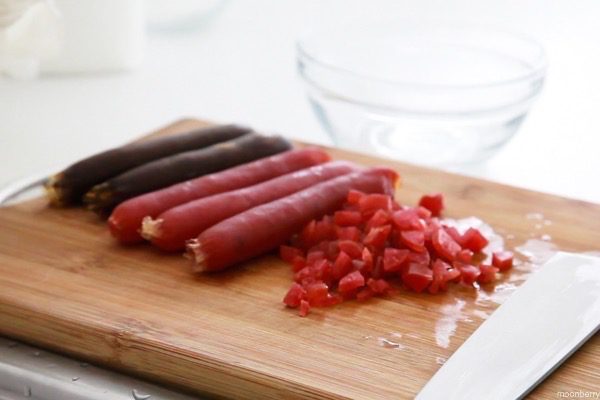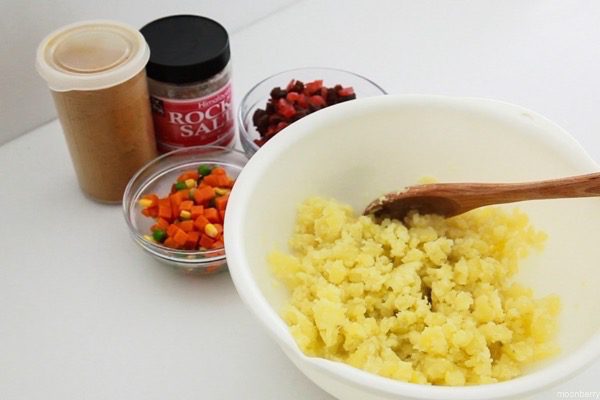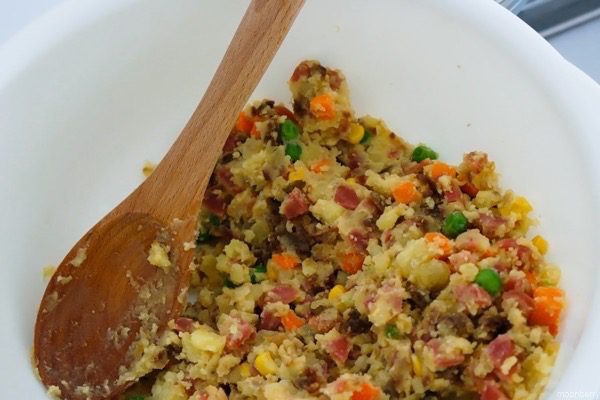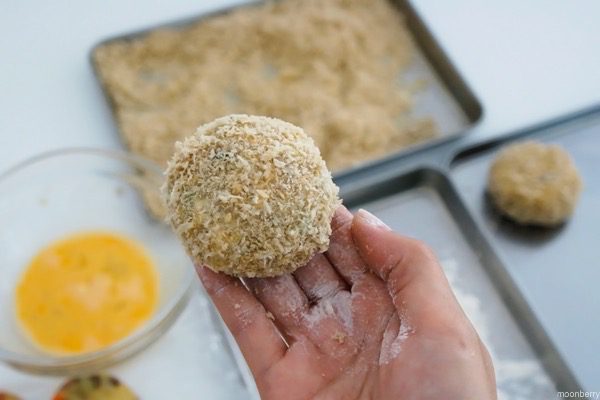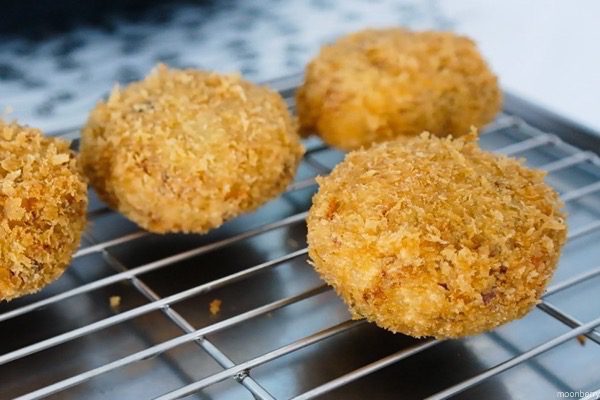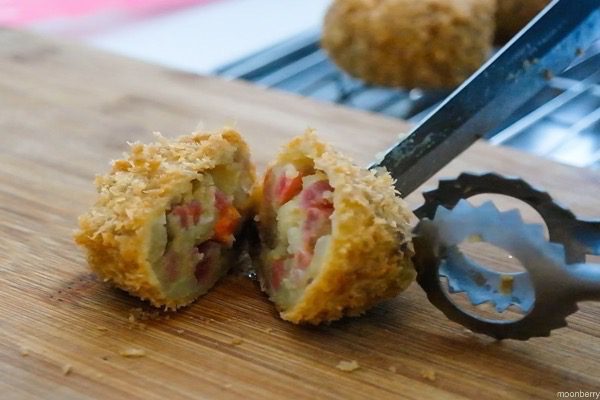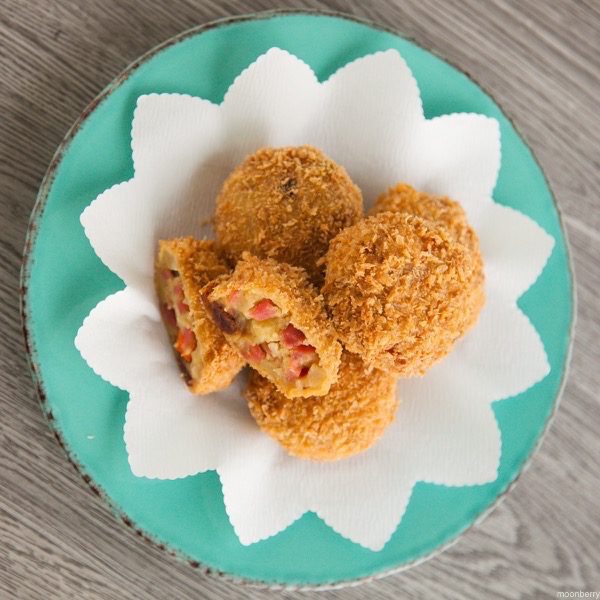 Lately I've been cutting 15-secs food videos and posting them on my Instagram. It's actually fun for me to flex my creative muscles in this manner and incorporate a glimpse of what I make at home to share on social media. I hope it's inspiring and entertaining for those of you who're viewing/following. Like it! Tag it! Share it! :9
Follow @moonberry on Instagram.