25 Jul 2015
---
I generally don't keep my nails long since I can't function with talons. Cooking, cleaning house, typing – all very stressful to the nails. About six weeks ago I had gel manicure with a beautiful design that I like a lot, but my nails grew out too long before I had a chance to remove the gel polish. As expected, my nails started splitting one after another especially on my dominant hand.
Timely enough, I received a set of nail care products and they came in really handy in giving my stubby nails a surge of TLC.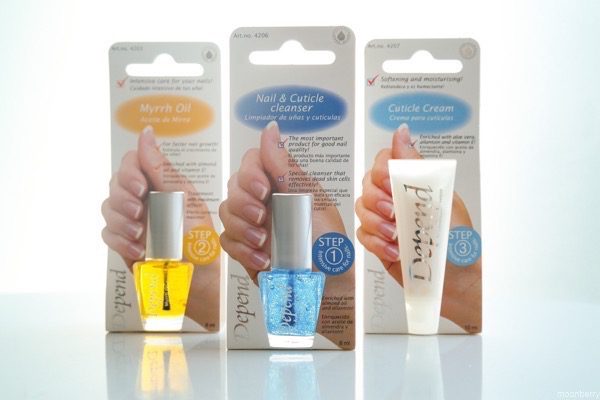 I love gel manicure because it's so low maintenance. Pros: the manicure lasts and lasts and lasts with zero chip or color fade. Cons: the removal process that involves filing is so abrasive to the nail beds and my nails got even weaker afterwards. The 3-Step Nail Care collection from Depend is great for getting my nails back to being healthy and strong again.
Depend 3-Step Nail Care Collection:
Step 1. Depend Nail and Cuticle Cleanser
Like our face, to achieve maximum benefits from any facial products, we must first get rid of dead skin through exfoliation. Depend Nail and Cuticle Cleanser acts as an exfoliator to your nails by removing dead skin cells which, at the same time, promotes better absorption of oxygen and nutrients. It not only increases cell renewal and regeneration, it also aids in smoothing out nail surface which allows easy nail polish application if you choose to do so. It feels minty and cooling when applied, and the micro-granules gently scrubs down thick and dry cuticles.
Step 2. Depend Myrrh Oil
Myrrh Oil has a long history of medical use and wound-healing properties for thousands of years. Enriched with Vitamin E and Almond Oil, this product provides intensive care to the nails – causing them to be more hydrated and less prone to breaking and peeling. I apply a tiny drop over each nail and massage it all around to soften the cuticles.
Step 3. Depend Cuticle Cream
Depend Cuticle Cream sets to end off the whole range with a soft and gentle touch. By applying it on your cuticle, you provide a direct boost of necessary nutrients to your nails and giving it a smooth and moisturized finish. This cream is especially great for dry, damaged cuticles and hastens cell regeneration to give you a finer set of fingernails. A little bit of product goes a long way.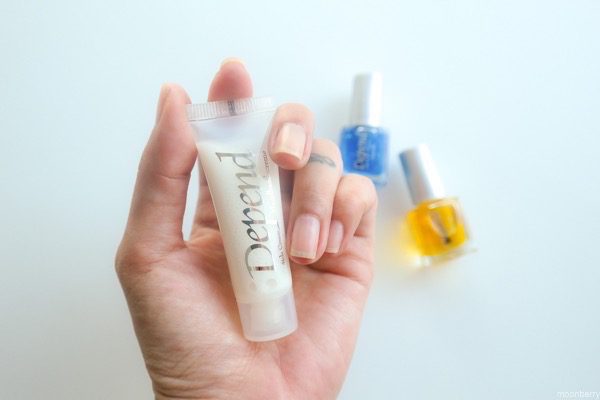 I'm about two weeks into using this set, but I don't apply daily even though the packaging suggests a nightly application of Depend Cuticle Cream before bedtime. So far, my nails feel soothed and are growing back as they should but I can't tell yet if they will be stronger because they aren't long enough at this time. However I can see and feel that my cuticles are softer, and that gave me the confidence to paint a fresh layer of nail polish two nights ago since the Myrrh Oil and Cuticle Cream can be applied over manicure so my maintenance regimen isn't interrupted. The blue nail color I'm currently using is Sally Hansen Miracle Gel, it's a regular polish – no UV lamp needed – that stays glossy and vibrant as though it's gel manicure. I snagged several bottles in different colors from LA last month.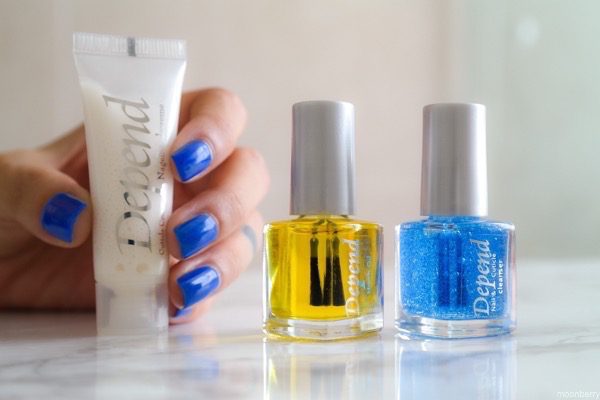 Depend Nail and Cuticle Cleanser (S$6.90), Depend Myrrh Oil (S$7.90) and Depend Cuticle Cream (S$6.90) are available at Watsons Suntec City, Nex, Bugis Junction and VivoCity, and online at http://www.dependcosmeticsg.com.sg. Made in Sweden and free from formaldehyde, camphor and toluene. Teeny tiny products, but should last for months. They are quite affordable so these make great gifts. You know how us girls like to get manicure together sometimes. Well, let's have healthy nails together too!
Last but not least, can I show off my last gel manicure with a design which I liked so much? I got it done at Milly's (Tel: +65 6338 4137). I gotta get my nails strong before I can do gel manicure again.
※※※ Connect, Follow, Like and Share via http://www.facebook.com/MBxMB and Instagram @moonberry ※ ※ ※