4 Jun 2011
---
There's been a flurry of activities in my kitchen this week. To start with, I invited two friends over for dinner and made a 3-course meal. Just trying out some new recipes for the first time – but keeping it simple and non-fussy (but ELEGANT!) so that I can enjoy their company without being too frazzled in the kitchen.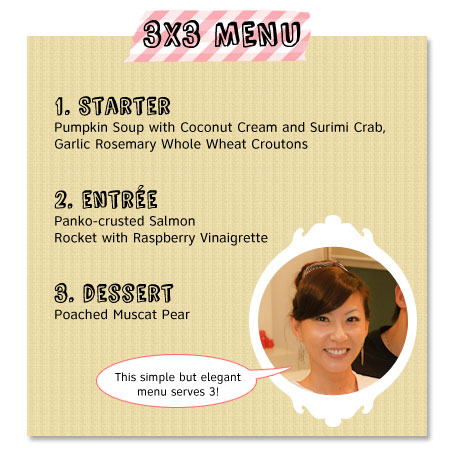 Without further ado, let's dive right into the recipes.
1. Pumpkin Soup with Coconut Cream and Surimi Crab, Garlic Rosemary Whole Wheat Croutons
2. Panco-crusted Salmon, Rocket with Raspberry Vinaigrette
3. Poached Muscat Pear
*
*
*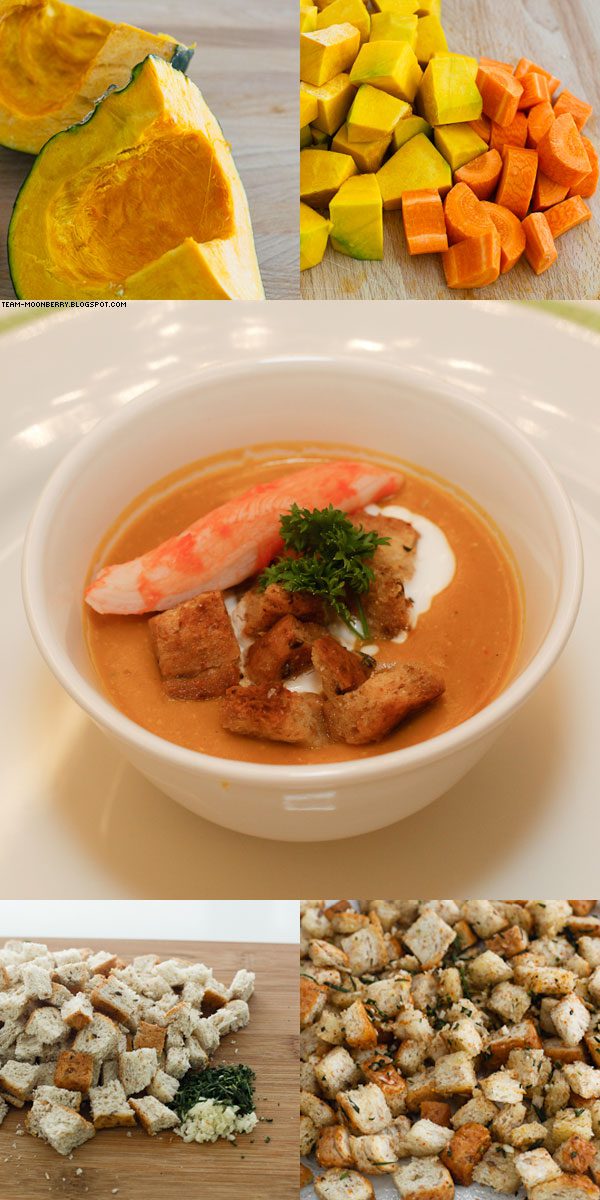 Pumpkin Soup with Coconut Cream and Surimi Crab
Garlic Rosemary Whole Wheat Croutons
For soup:
1.2kg (1kg peeled) Japanese pumpkin
1 carrot
4 cups of stock
2 tsp finely chopped ginger
1 (165ml) can of coconut cream
1 tbsp vegetable oil
4 pieces sumiri crab
For croutons:
4 slices whole wheat bread
1 clove of garlic, finely chopped
1 sprig rosemary, finely chopped
salt
pepper
3 tbsp olive oil
Pumpkin Soup: peel carrot and pumpkin. Cut into medium 2″ chunks. Heat the oil in a large stock pot over medium high heat. Add pumpkin and carrot and cook, stirring, for 3 minutes or until lightly browned. Add 4 cups of stock, along with ginger and allow to simmer for 20 minutes or until vegetables are soft. Take the soup off the heat and blend, using an immersion blender. Mix in coconut cream and heat until the soup comes back up to the boil. Turn off heat and set aside until serving. Blanch crab in hot water, drain and serve on top of soup with croutons.
Croutons: Chop bread into small 2cm cubes. Mix garlic, rosemary, olive oil, bread in a bowl. Season with salt and pepper. Put this mixture on a small baking tray and put into the toaster. Toast for about 7 to 10 minutes until lightly browned and crisp on all sides.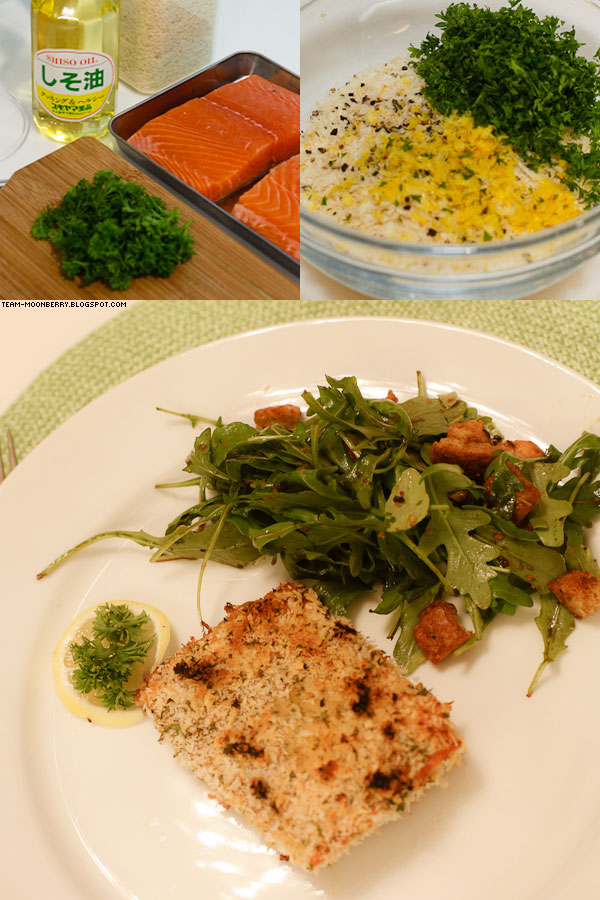 Panko-crusted Salmon
Rocket with Raspberry Vinaigrette
1/2 cup panko
2 tbsp parsley, finely chopped
2 tsp lemon zest
½ tsp salt
½ tsp pepper
4 tbsp olive oil
4 salmon fillets, skin on
2 tbsp. honey dijon mustard
Preheat the oven to 425˚ F. In a small bowl, combine the panko, parsley, lemon zest, salt and pepper. Drizzle with 2 tablespoons of the olive oil and toss with a fork until the crumbs are evenly coated; set aside. Place the salmon fillets skin side down on a work surface. Generously brush the top of each fillet with the mustard. Press the panko mixture thickly on top of the mustard on each fillet to help the panko adhere.Heat the remaining olive oil over medium-high heat in a 12-inch oven-safe skillet. When the oil is hot, add the salmon fillets, skin side down, and sear for 3-4 minutes without turning to brown the skin. Transfer the pan to the preheated oven for 5-7 minutes, until the salmon is almost cooked through and the panko is browned. Remove from the oven, cover with foil and let rest 5-10 minutes. Serve warm with fresh lemon wedges and rocket that's been tossed with bottled raspberry vinaigrette or, balsamic vinegar + a bit of olive oil.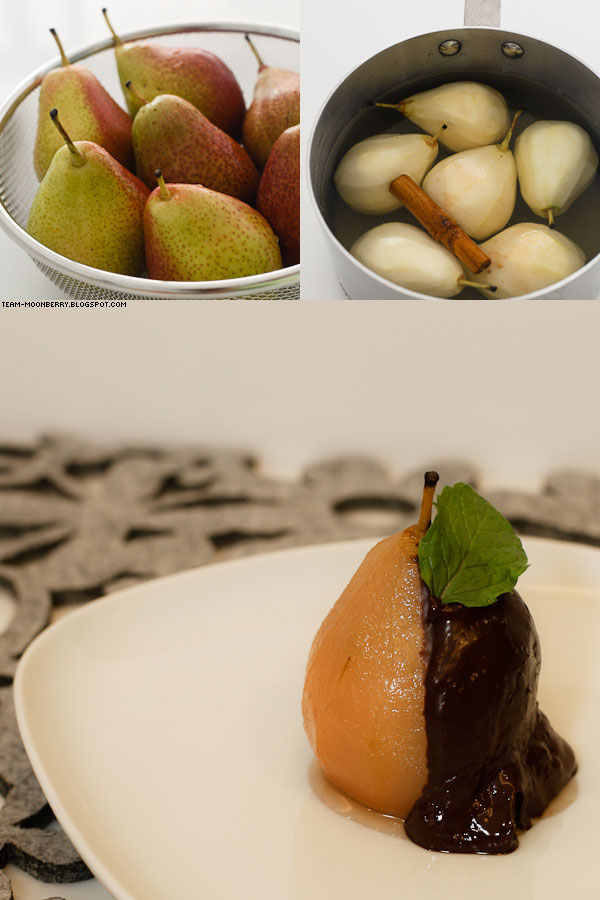 Poached Muscat Pear
3 pears, peeled with stems intact
3/4 cup of caster sugar
3 cups of water
1 stick of cinnamon
1/2 a cup of muscat (or any white wine)
100 grams of good coverture chocolate, melted in the microwave
Place the sugar, water, cinnamon and muscat in a pot over a low heat. Stir occasionally until all the sugar has melted and a light syrup forms. Place the pears in the poaching syrup and cook for about 15-20 mins (this may vary depending on their "firmness"). Pears are ready when a toothpick pierces the flesh very easily. Allow to cool slightly before serving the poached pears with a drizzle of hot, melted chocolate and some syrup.
---
So there you have it. All the recipes here are very simple and didn't take long to prepare. Good food, good friends, good times. :) And dinner wasn't so heavy that anyone felt bloated at the end. My pals actually thought the menu was pretty wholesome but healthy, because it was mostly veggie and fruit. Throw in a bottle of white wine to accompany dinner and everyone's happy. Hee!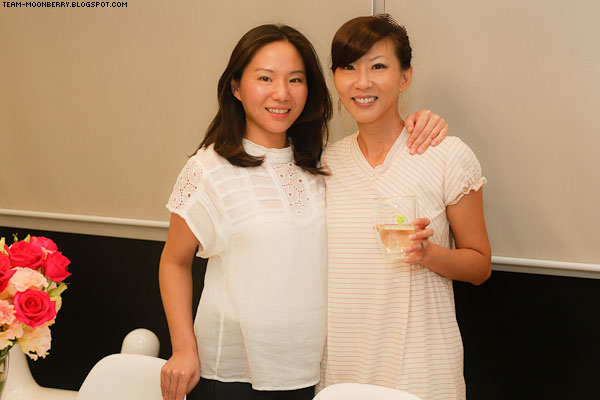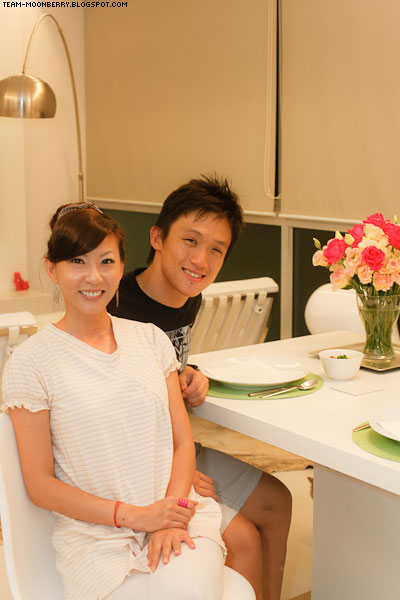 Up next: Lemon Lime Sugar Cookies! Stay tuned.
Cheers,
-MB.