16 Aug 2013
---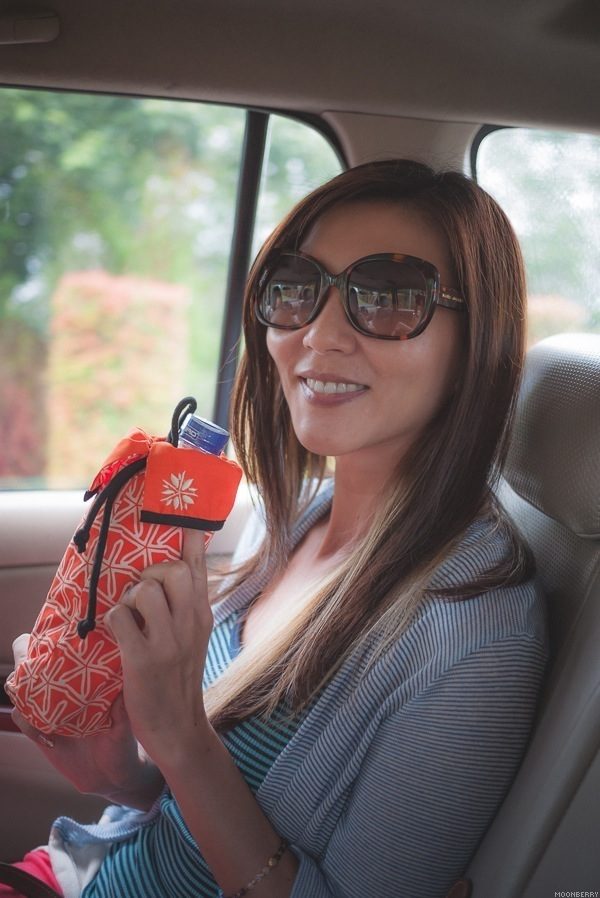 I had never been to Bintan before but was intrigued when I received an invitation for a day trip to this neighboring island. The day trip itinerary involved a luxury spa treatment and because I could only spare a day for a quick getaway without the hassle of staying over, this was gonna a fantastic experience for me to pop over, check it out and have some R&R time before returning inside the hamster wheel.
My itinerary for this day trip is part of an all-in holiday package offered by Bintan Resorts International's first ever Great Bintan Sale. While a handful of holiday packages are offered – with savings up to 60% off compared to usual ala carte prices – the package I went for was the Luxury Spa Getaway Day Trip For Two (choice of Angsana Bintan or Banyan Tree Bintan). This package is designed for two adults, priced at S$140++ for Angsana Bintan, S$190++ for Banyan Tree Bintan, and includes:
Economy Class Ferry Tickets between Singapore and Bintan Resorts (round-trip)
Pick-up from ferry terminal and transfer to Resort Spa
Welcome Drink
90 mins session of Body Massage (60 mins Treatment + 30 mins Refreshment & Relaxation Time)
Wellness Set Lunch
Free & Easy shopping at Spa Shop & Gallery
Transfer to ferry terminal for return ferry trip to Singapore
My day started early in the morning, heading to the Tanah Merah Ferry Terminal to meet my friend Evonne whom I'd asked to go with me on this day trip. I was supposed to get there an hour before the ferry departure time of 910 AM. Of all days, it had to rain heavily on the morning when I had to travel somewhere. Coz you know what that means, right? NO TAXI. -___-"
I was already up since 6 AM and as soon as I heard the angry sky, I quickly made an advance booking for a taxi via phone. I managed to secure one, but when I received the call around 745 AM informing me that the taxi had arrived, I went downstairs and didn't see any taxi. What the…?!? I suspect that a neighbour must've hijacked the cab that I booked or something, because everyone usually gets frantic when it rains in the morning and they have to get to work on time by hook or by crook, so cab hijacking is common.
I had no other choice but call back the the taxi company, which was impossible to get through by this time and to cut long story short: (1) I missed the ferry. (2) We ended up taking the next ferry out to Bintan. What a frazzled beginning to a supposedly relaxing day trip, eh? Tsk.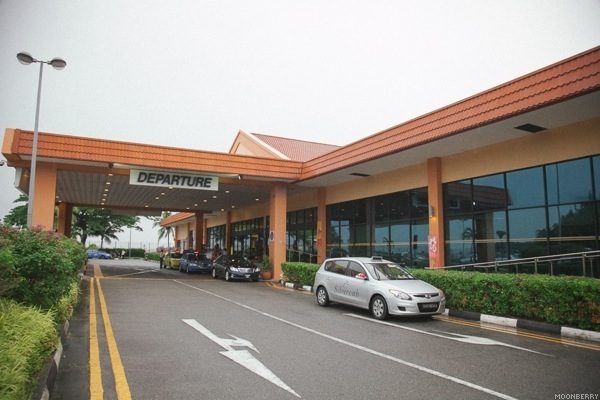 I made it to the ferry terminal anyway.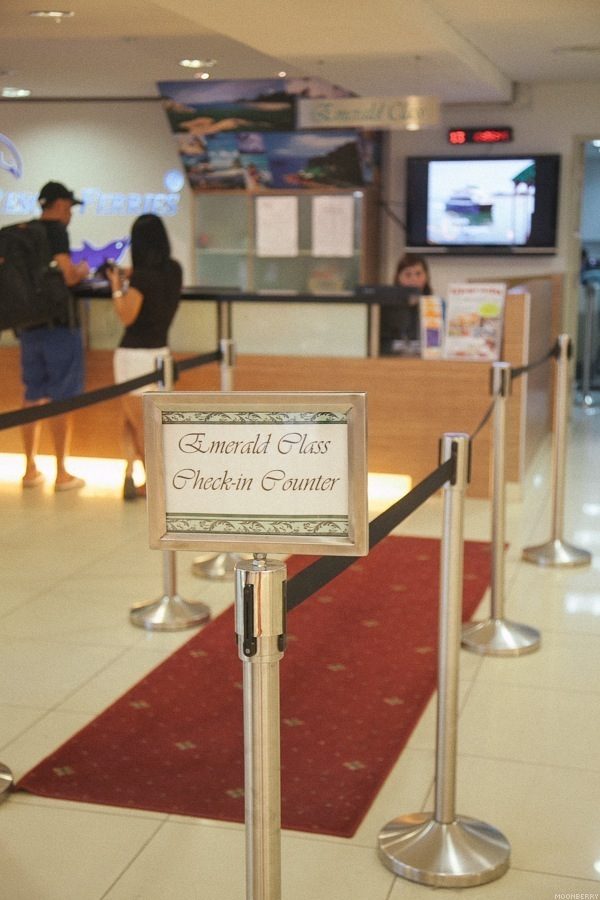 At the check-in counter where we had to adjust our tickets and get on the next scheduled ferry ride, I spied this Emerald Class sign. Had a flash of temptation to upgrade ourselves so that we could travel in style… hmm.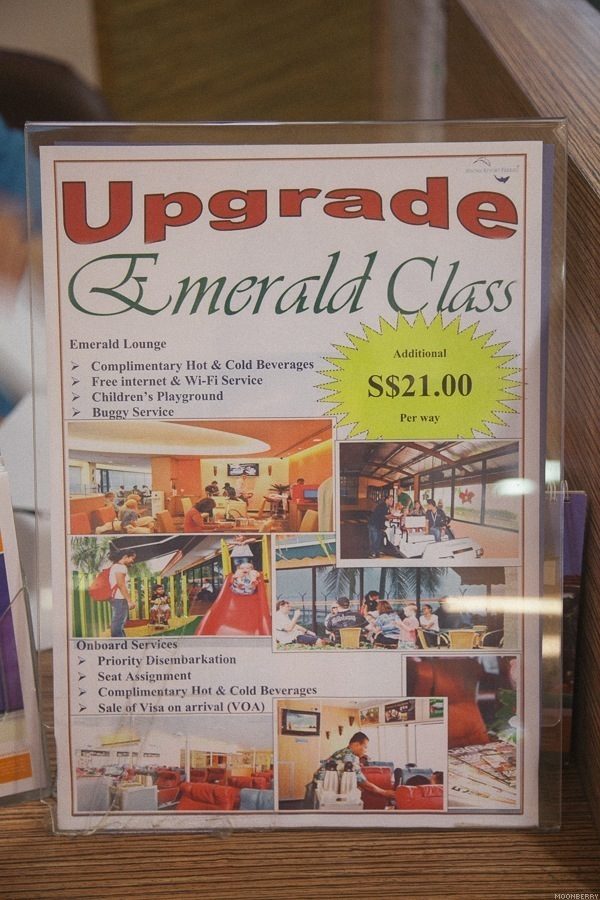 By the way, a regular one way ferry ticket for adult is S$45.00 and the ferry ride is about 45 minutes. I decided nah, not upgrading this time. After the stressful taxi-fiasco morning, I was planning to zonk out during the ferry ride so all these bells and whistles of an Emerald Class upgrade would have gone to waste anyway. Besides, round-trip ferry tickets are already included in the day trip holiday package.
The ferry terminal is pretty small but clean, well-lit and adequate. There's a Killiney Kopi Tiam to get some light bites and a small DFS store, otherwise there's nothing much inside the ferry terminal.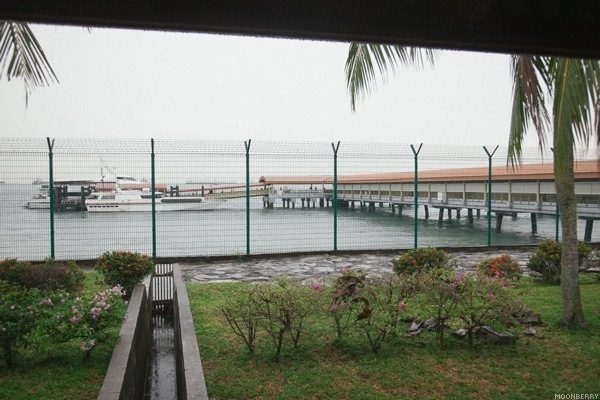 From the terminal's boarding gate, it's quite a walk to the ferry itself. Maybe about five minutes? I was surprised that the ferry was so small. I was kinda thinking Staten Island Ferry or something which is much bigger.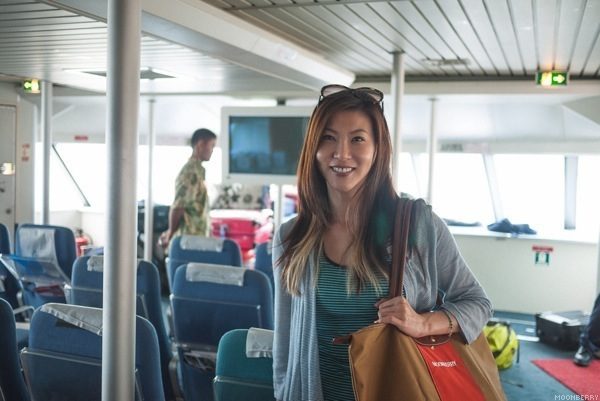 And when I got on the ferry, I was again surprised that it's air-conditioned. Yes, I was thinking of Staten Island Ferry again. Goes to show that traveling by water isn't something I've done a lot of. Evonne had the foresight to pack motion sickness tablets so we both popped one each. It was a rainy wet morning after all and the waters were slightly choppy.
We quickly settled into our seats and we were ready to sail out to Bintan! *wooohooo*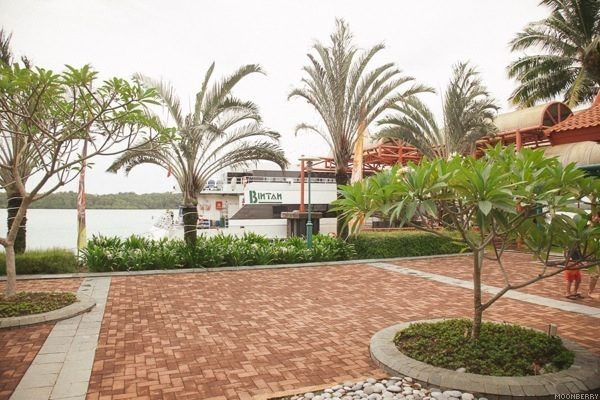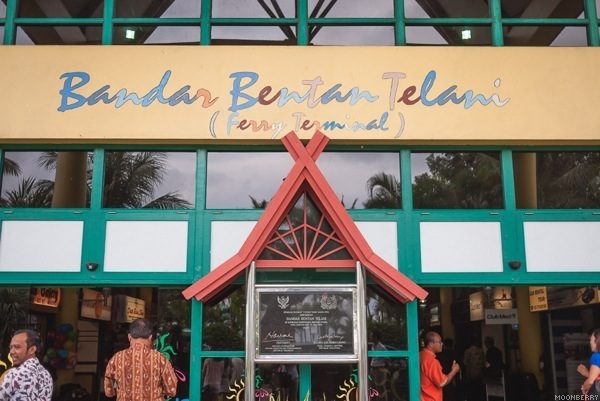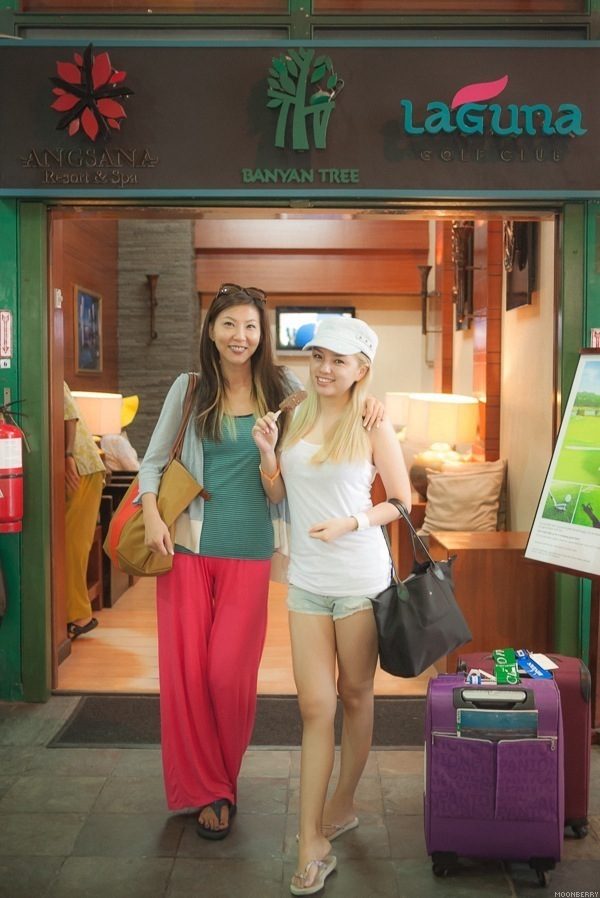 45 minutes later, we arrived at Bintan Ferry Terminal, cleared immigration and were welcomed by the friendly resort staff from Angsana Bintan and Banyan Tree Bintan at the arrival hall. Both Angsana and Banyan Tree are 5-star luxury resorts belonging to the same management. A quick 10-minute chauffeured ride later, we arrived at the Angsana Bintan resort – where our spa appointment had been made.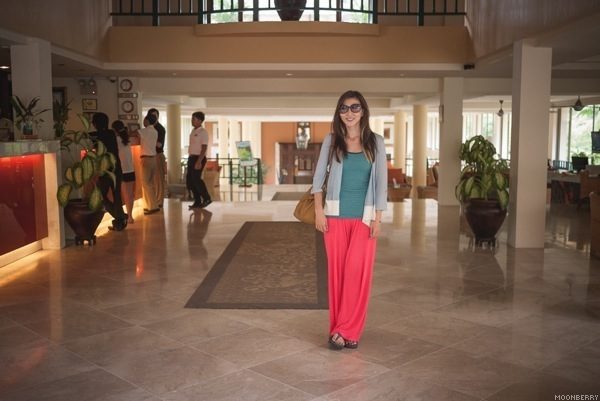 The spacious alfresco lobby of Angsana Bintan Resort. We were served welcome drinks – a refreshing glass of chilled lemongrass tea – and chilled for a little bit while waiting for our spa session. I was beginning to relax now that we were at the resort and minutes away to our massages.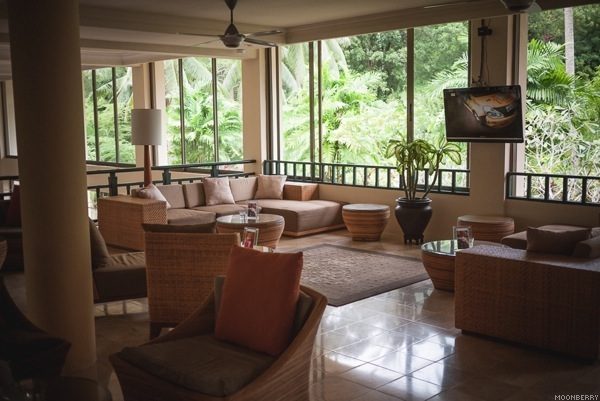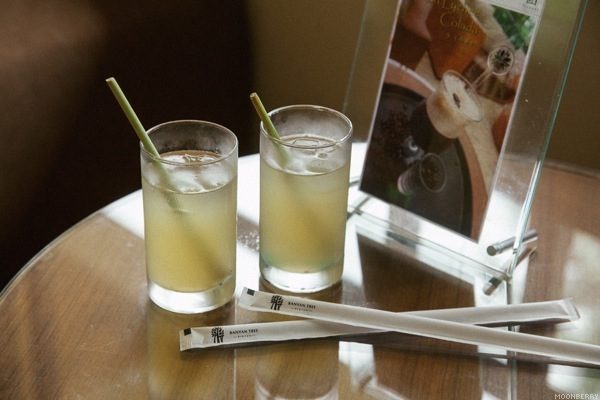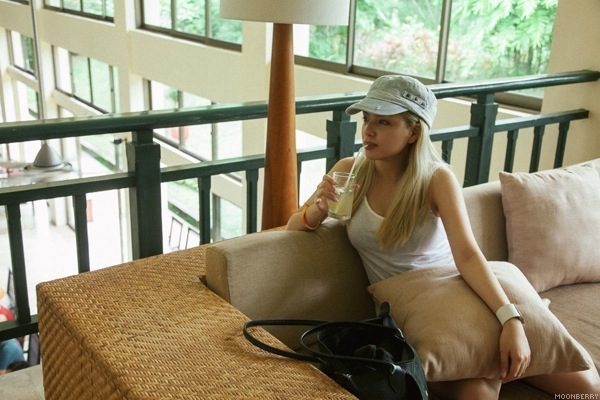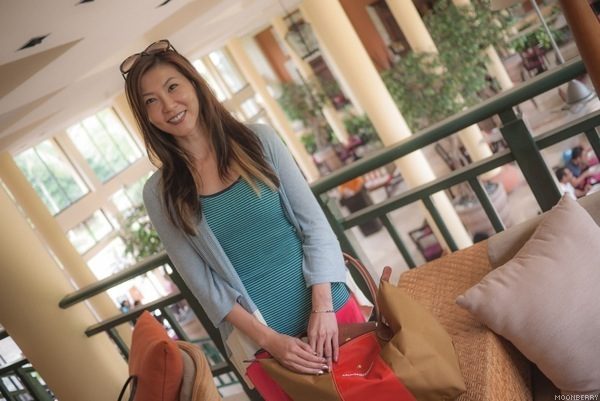 In the next blog post, I will elaborate on the spa experience.
For now though, lemme share a few tips on what to pack if you're going on a spa day trip at Bintan:
1. Comfortable clothes. The ferry's air-conditioning can get quite cold so bring a light sweater or a shawl.
2. Motion sickness pills. Even if you normally don't get motion sickness, the waters may get choppy during the ferry ride so bring some just in case.
3. Reading material and snacks for the ferry ride.
4. Mosquito-repellent patch or spray.
5. Bikini! Maybe you'll wear them, maybe not. But since this is a resort destination after all, stuff one into your bag anyway.
6. Sunscreen.
Okay, that's all for this post. See you in the next installment. :)
∞
This experience has been generously sponsored by Bintan Resorts International to share information about the Great Bintan Sale.
Bintan Resorts International is having its first ever "Great Bintan Sale" offering a handful of pan-Bintan island holiday packages for visitors. With savings of up to 60% normal ala carte prices, these holiday packages include accommodation, ferry, land transfer and a selection of activities for those traveling as a family, as a couple, or with friends. The Great Bintan Sale begins 15th August – 15th September 2013. Travel dates valid from 16th August – 15 December 2013. To see full details of the packages and to take advantage of the special prices, visit bintan-resorts.com.