19 Aug 2013
---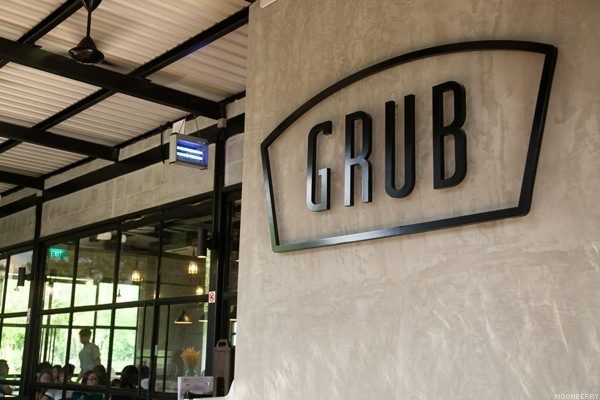 Situated at Bishan Park, GRUB is a casual bistro that features responsible ingredients, inspired menu and delicious food. Helmed by Mervyn, better known as the man behind Cookyn, Inc., the food served at GRUB is cooked using ingredients as natural as possible, without the addition of MSG, artificial preservatives, additives or flavourings. Furthermore, the GRUB team also believes that responsible eating starts with good practices by the farmers, fishermen and artisanal producers that they work with. So what's on GRUB's menu and what does the food taste like?
Having met both Mervyn and his wife Amanda at Cookyn, Inc. for a couple of cooking workshops before, I was invited recently to check out GRUB and try the food there.
First of all, the location. GRUB is located inside Bishan Park but on the other side of Marymount Road (turn right and into the first entrance to parking lot). Once you get there, you'll see a stand alone building and that's GRUB. Dinner service begins at 530PM and they don't take reservations, so try to get there early else be prepared for a wait. The restaurant gets filled up really quickly. The ambiance of the restaurant is beautiful, surrounded by greens. There's both indoors and outdoors seating. First come, first served.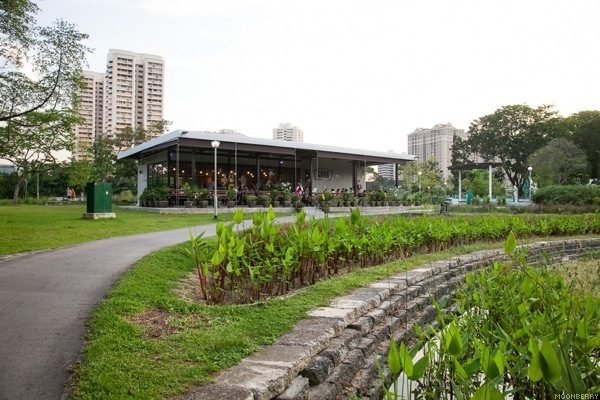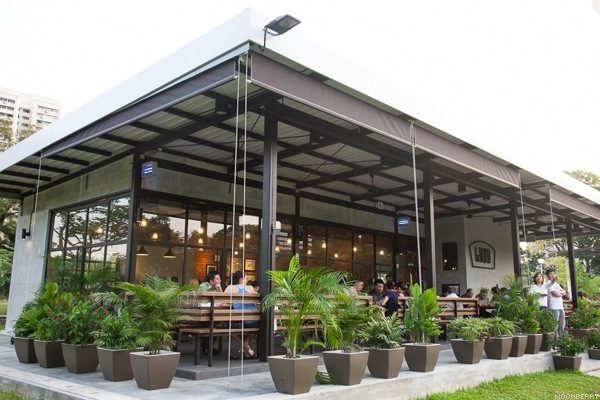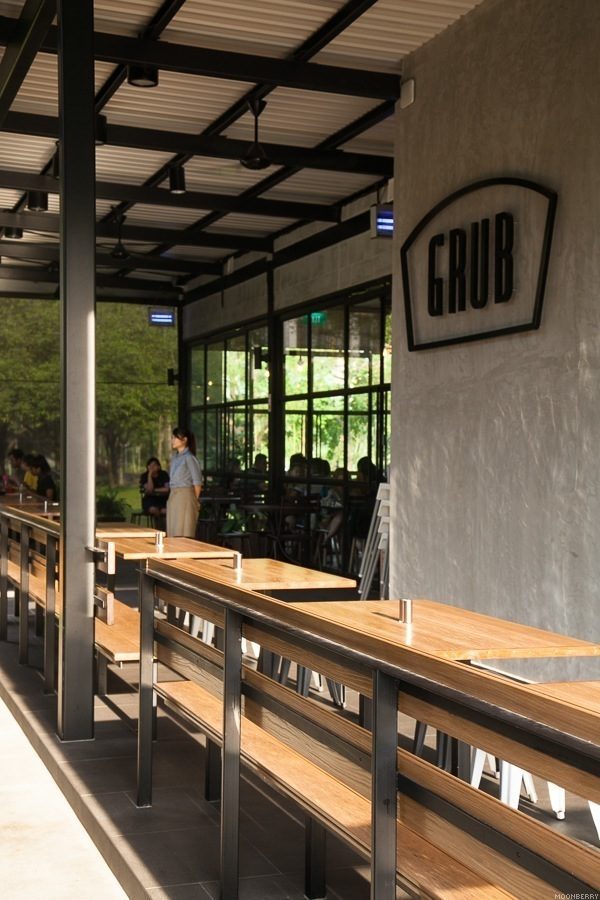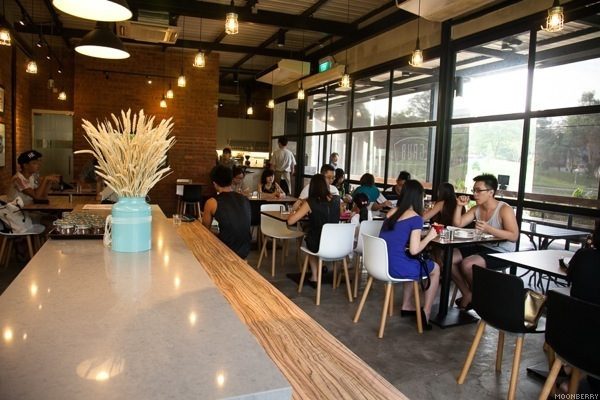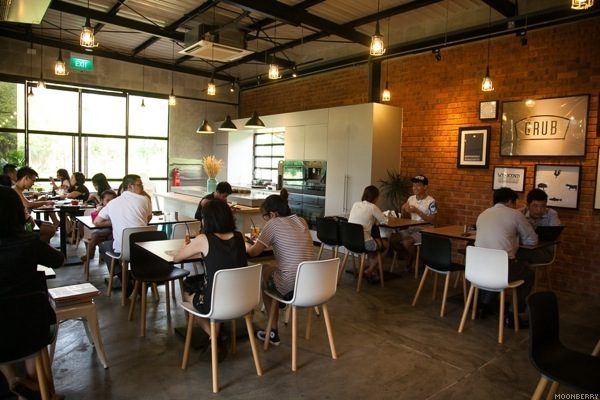 The interior of GRUB is not very big and has limited seating (I think just ten tables indoors?), which explains why there's a steady queue on any given day as the restaurant gets filled up fast.
Next, the food. I did a bit of homework prior to going to get a feel of what the food there would be like, I wasn't expecting to try so many items on the menu as I eat relatively little. As GRUB newly opened its doors just in May this year, there had been mixed reviews over the food. Both Mervyn and Amanda took the feedback seriously and worked really hard to improve the quality of their food and service. I ended up trying several items on the menu and none of them was as bad as the published reviews that I've read online.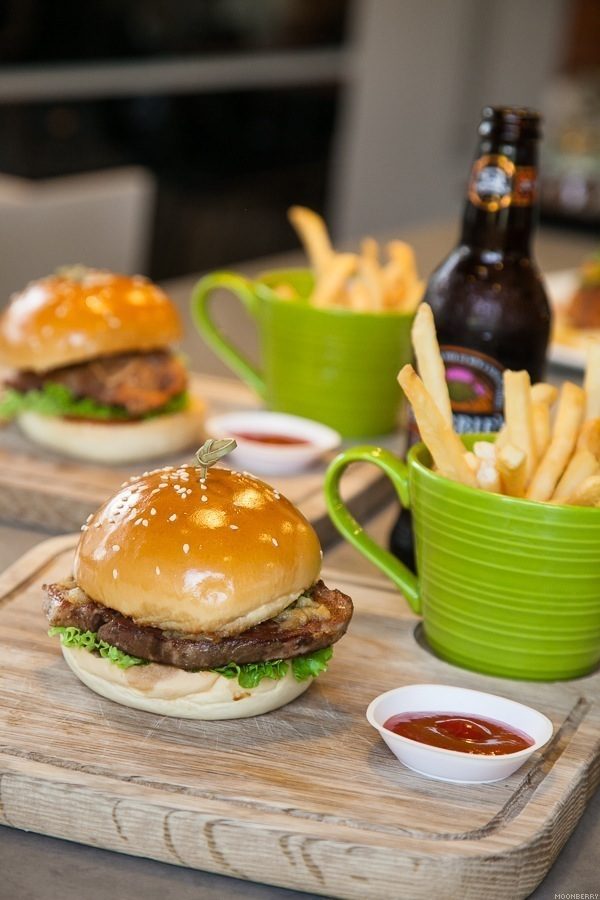 Pork Steak Burger, with Apples and Cashew Chimichurri (S$12).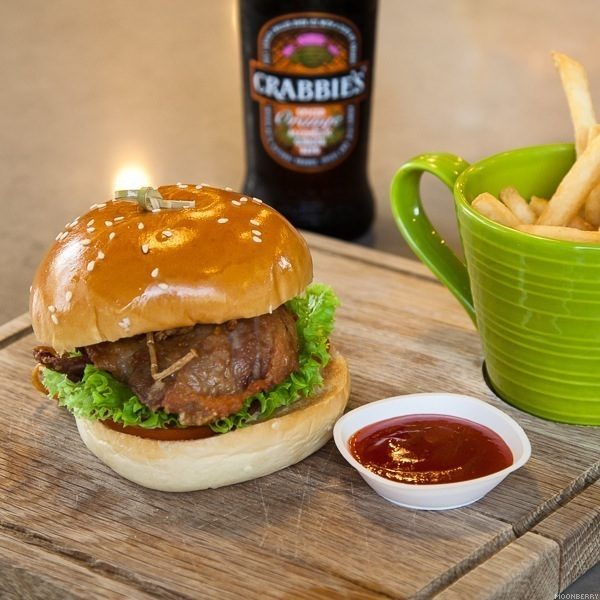 Grilled Chicken Thigh Burger, with Peanut Butter Aoili and Fried Enoki (S$10.50).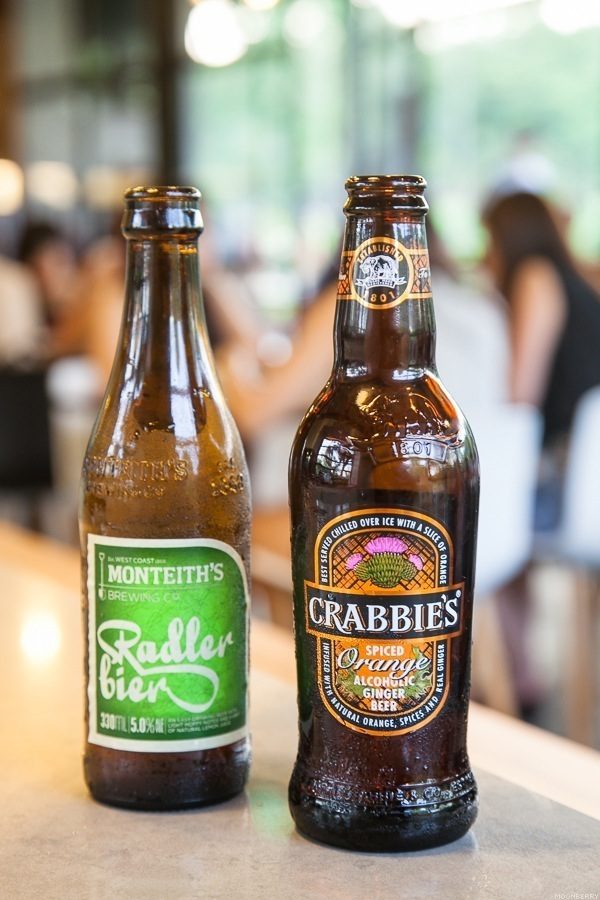 Monteith's Radler Beer and Crabbie's Spiced Orange Alcoholic Ginger Beer (S$10 each).
Nothing beats eating a burger in a bistro with a park view and sunset in the background,, while washing it down with a cold beer. The pork steak burger is juicy and flavorful, while the fried enoki and peanut butter aioli add a tasty dimension to the grilled chicken thigh burger. I enjoyed the spiced orange ginger beer tremendously, it was easy to drink and totally complemented my burgers.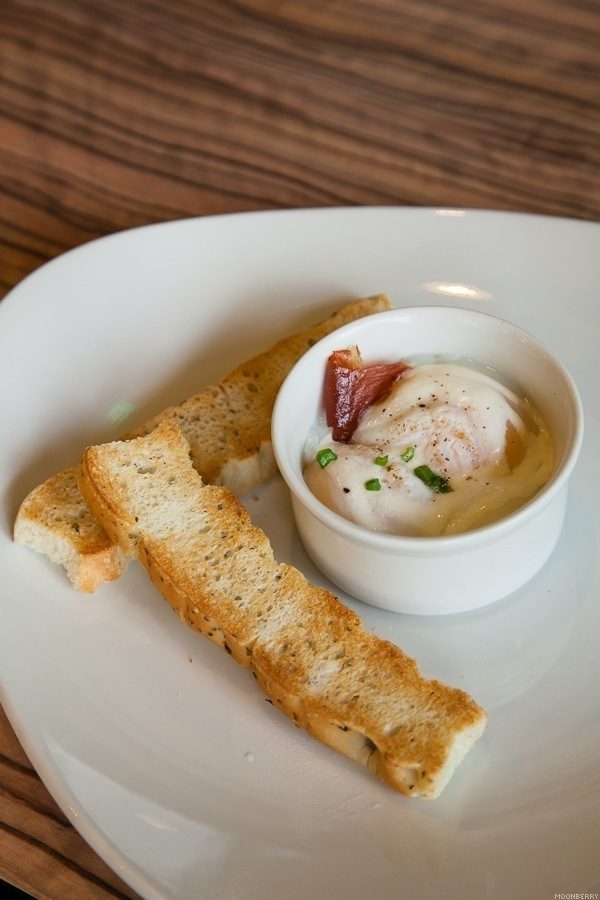 Truffled Egg Cocotte, with crispy Parma Ham and toasted Foccacia (S$7).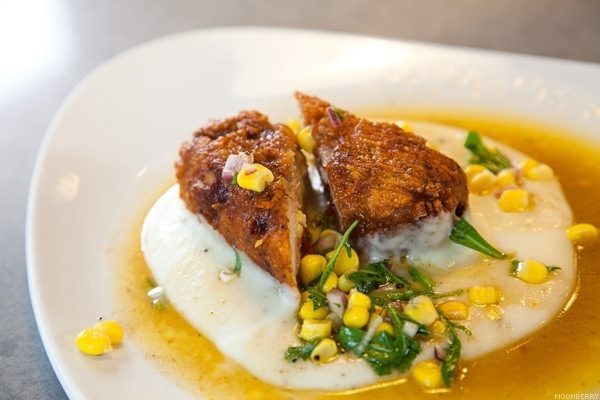 Grilled Chicken Leg, with Honeyed Feta, Roasted Peppers, Mash, Rocket and Corn Salsa (S$15).
This is unexpected because the grilled chicken leg is rolled up, so it's succulent inside and crispy outside. I like the soft and smooth mash too. I can only imagine the elbow grease it takes to whip it into this smooth gluey consistency.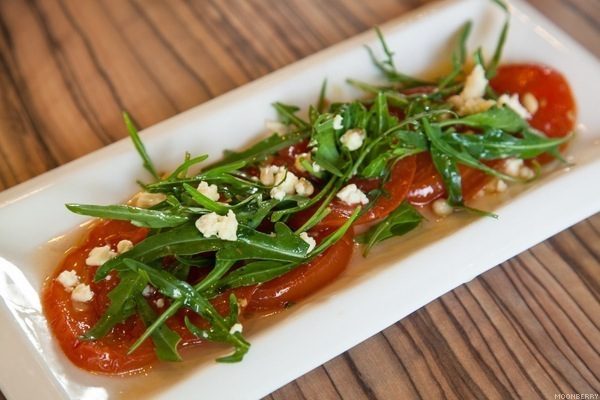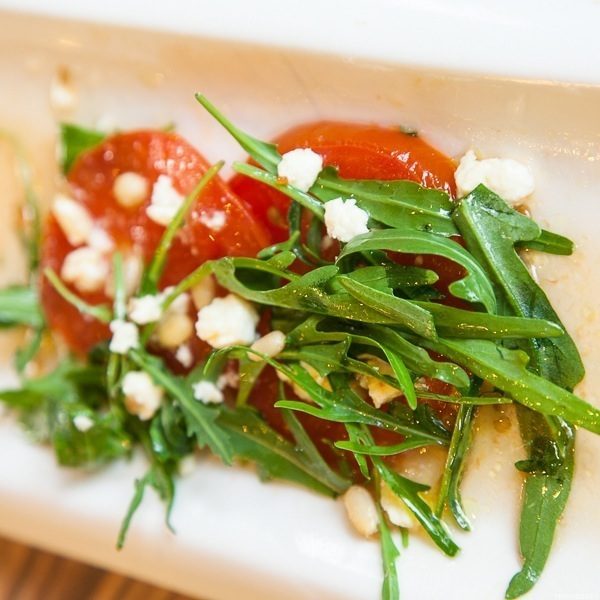 Compressed Tomato Salad, with Feta, Rocket and Pine Nuts (S$7).
This is SPECTACULAR! Hardly a caprese imitation as this totally has its own flavor characteristics. The sliced tomatoes had been compressed in a vacuum-sealed bag to heighten and concentrate the natural sweetness. With the crumbled feta, rocket and pine nuts, this beautiful plate of compressed tomato salad totally shines! Everyone must try this no matter what and don't bother sharing, order one plate per person.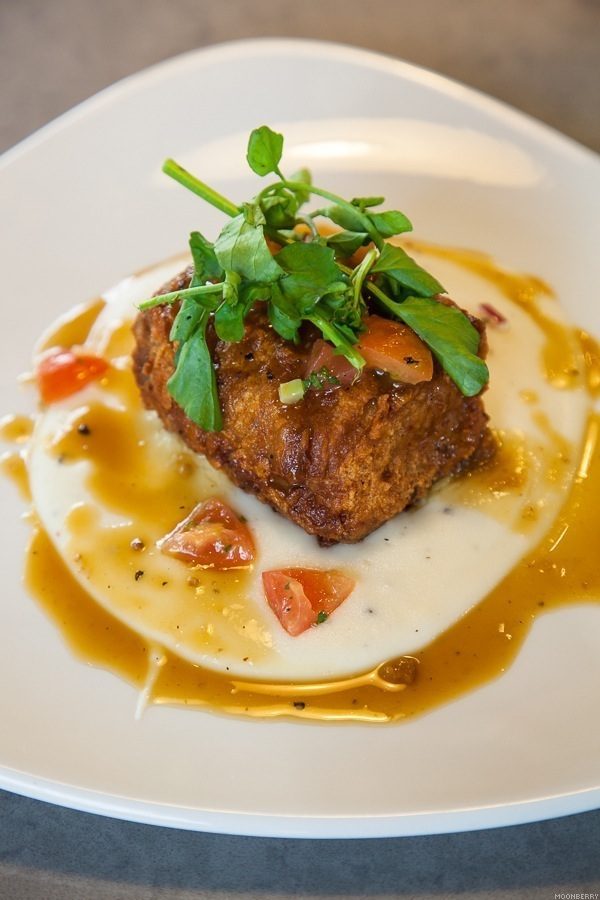 Slow Roasted Pork Belly, with Mango Sauce, Mash and Cherry Tomatoes Salsa (S$15).
Incredibly, this pork belly has a nice crispy crackling that gives off a melodious crack when you first cut into it. Even though I personally found this a tad too hefty for me, it is very flavorful and the mango sauce cuts through some of the grease. The pork belly itself is tender and I can see this quickly becoming a crowd favorite.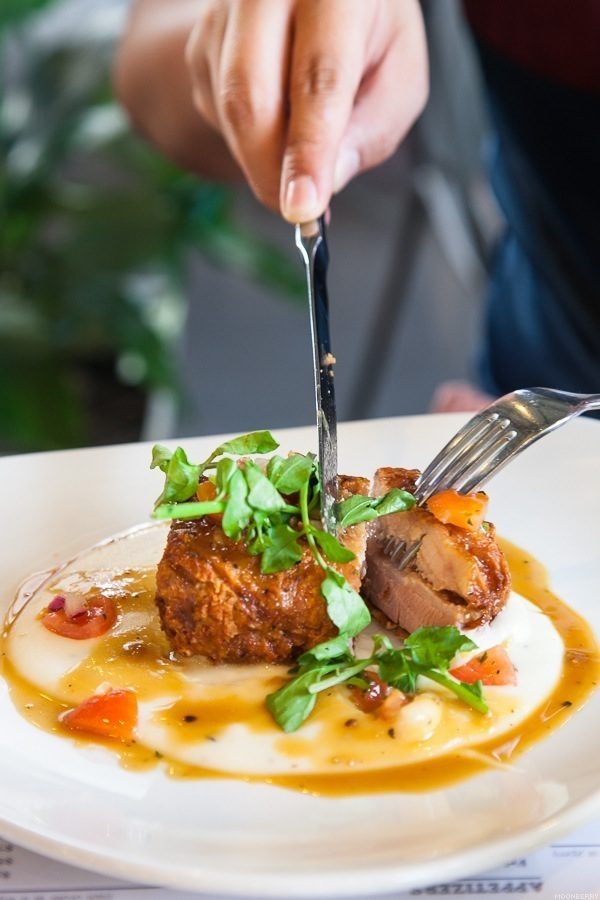 Is that pork belly beautiful or what?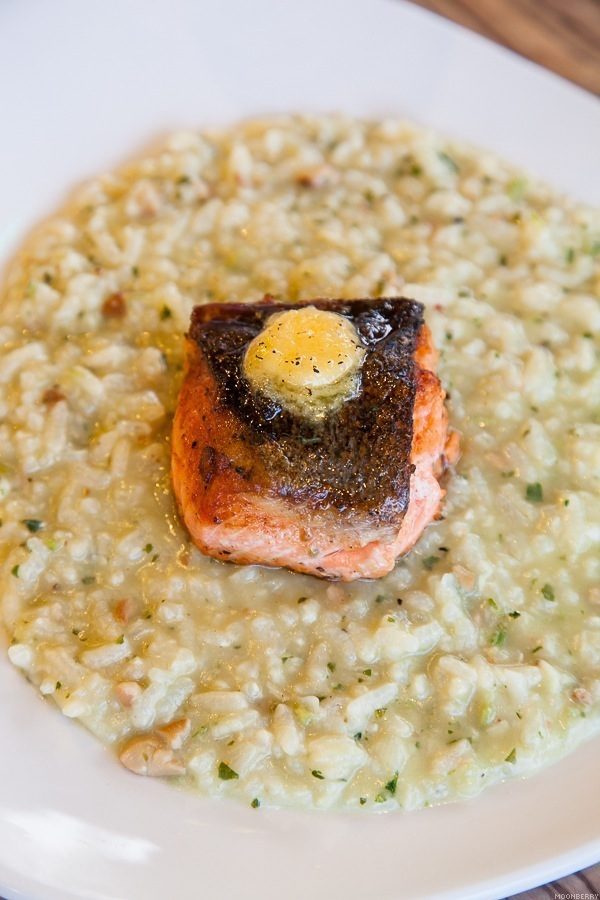 Pan Seared King Salmon Risotto, with Risotto and Cashew Chimichurri (S$15).
Rizotto is generally heavy and I always feel like my stomach expands after taking a few spoonfuls, however GRUB's version is not too bad. The rizotto is creamy and the king salmon flakes easily with a fork. While this dish in particular isn't as robust in terms of flavor compared to the other dishes on the menu, I think this rizotto can and will adequately satisfy.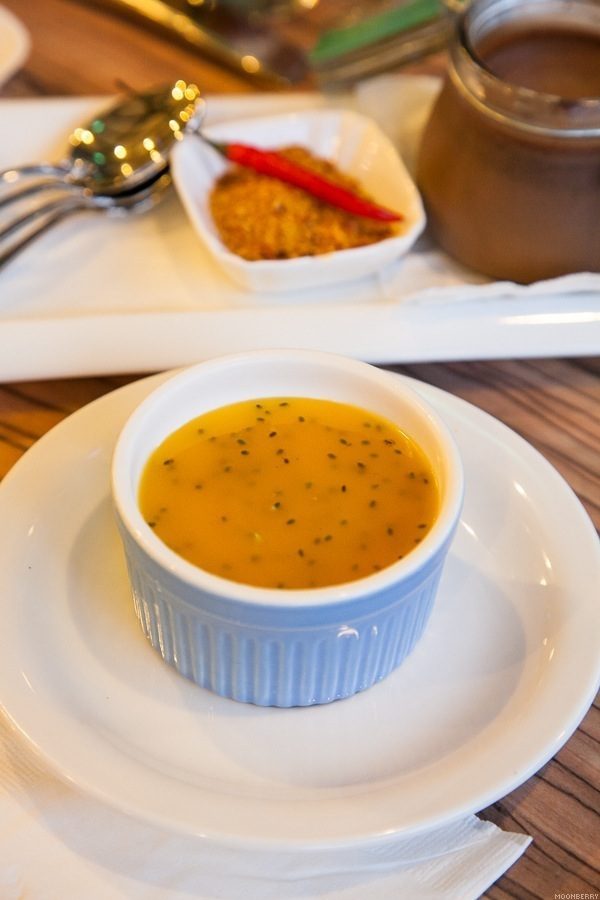 Panna Cotta, with Mango Sauce and Basil Seeds (S$6.5)
I don't say no to panna cotta and this is fluffy and light. The mango sauce with basil seeds combo reminds me so much of passionfruit syrup, both in color and taste.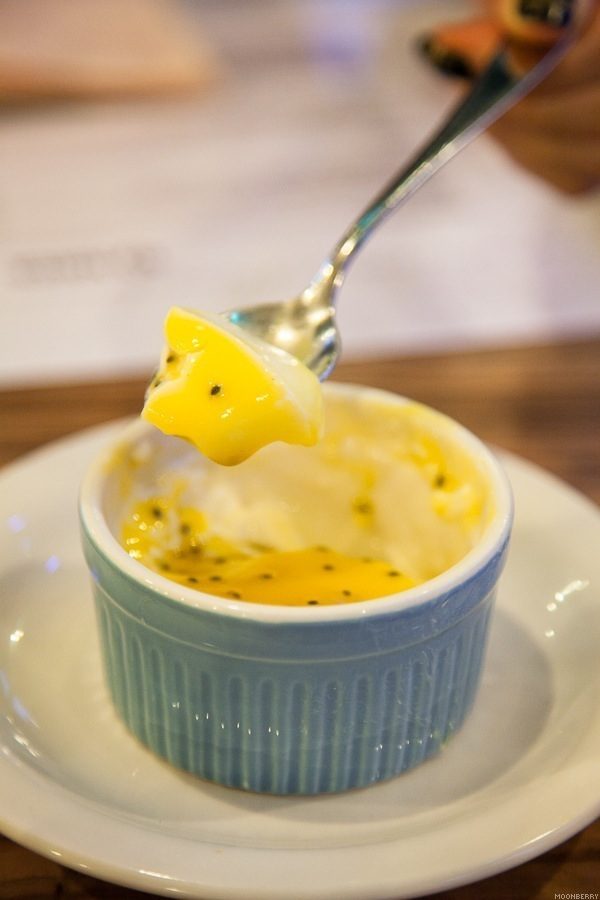 Wobbly and yummy.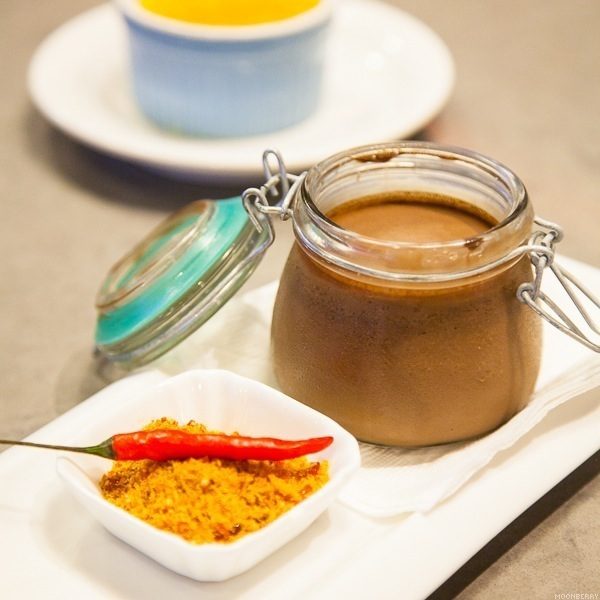 Chocolate Pots – a dark chocolate pudding with Spicy Cashew Praline Crumble (S$8).
Caution: This is best shared as the chocolate pudding is really dense! The spicy cashew praline crumble certainly adds a really nice play on flavors and if I were to finish this, I would probably have asked for a refill of the spicy crumble.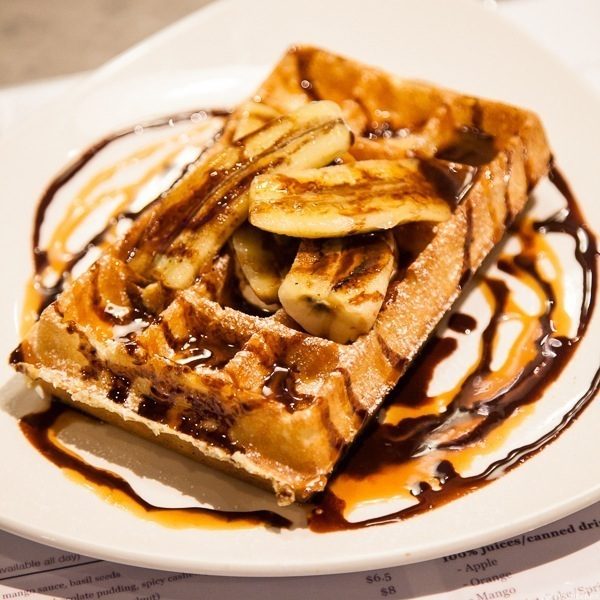 Belgium Waffle with Grilled Bananas, Salty Caramel and Dark Chocolate Sauce (S$8).
I don't normally go for waffles as I think they are too doughy (versus pancakes or french toast which are lighter, imo). However, the waffle at GRUB does not disappoint and even I surprised myself that I actually enjoyed this. As if I hadn't eaten too much already…. -__-"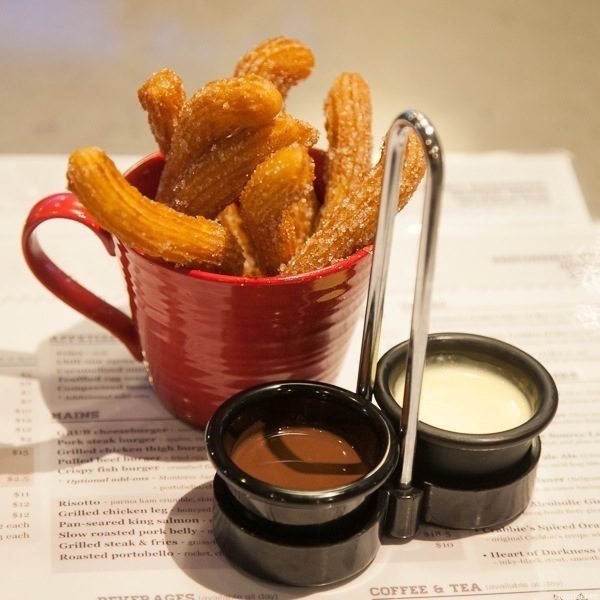 Churros, with Dark Chocolate Sauce and Tangy Creme Anglaise (S$8).
I'm saving the best for last. CHURROS!!! While I have had churros overseas often, *this* marked the first time in Singapore where I had really kick-ass churros. Beautifully deep fried to a crisp and still cake-y inside, these babies go really well with the lemon-flavored creme anglaise as well as the dark chocolate sauce. It's nice to have options. :)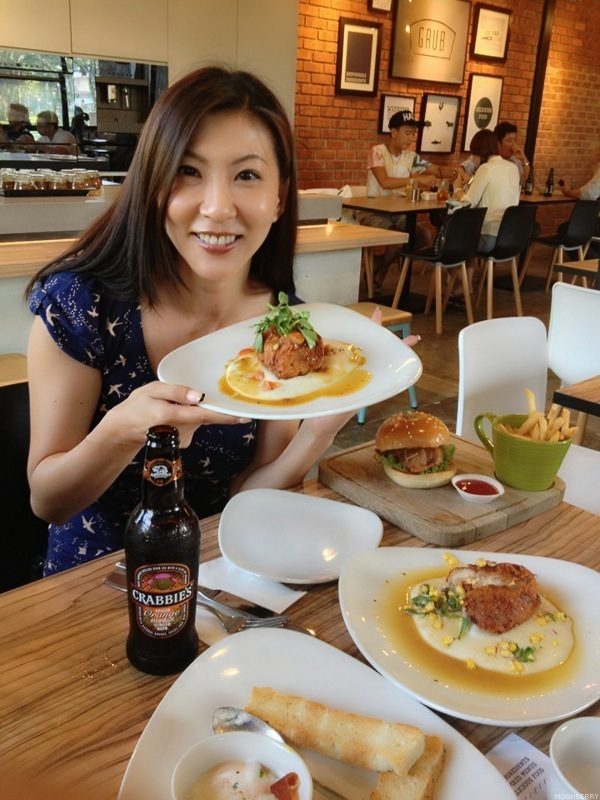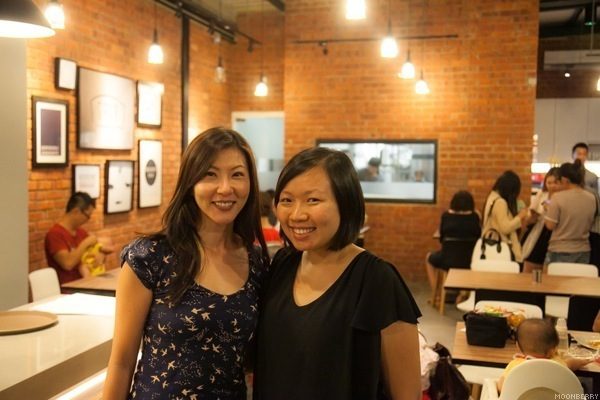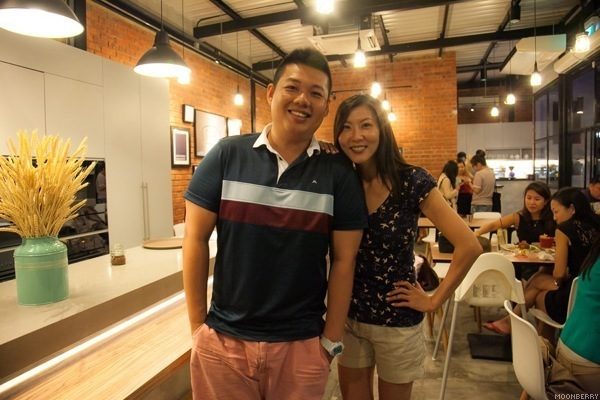 One thing that lingered on my mind is how impressed I was at the price point of the food items served at GRUB. For the quality of the food, creative preparation methods and incorporation of interesting ingredients, I have to say that GRUB is extremely affordable! None of their entrees exceeds S$20 per plate, while dessert is priced at less than S$10 each. No wonder they are such a hit and there's a queue every day even though the restaurant is somewhat new.
Back home in the US, this is the kind of restaurant that my friends and I love going to. Casual ambiance, friendly menu, good food, good beer. I am beyond thrilled that GRUB can offer a similar experience here in Singapore.
GRUB
510, Ang Mo Kio Ave 1 (Bishan Park 1)
Singapore 569983
Tel: +65 64595743
Please note the no-reservation policy. Directions on how to get to the restaurant can be found on the GRUB website.
Feeling stressed? Listen to soothing playlists on Spotify and chill.