27 Aug 2012
---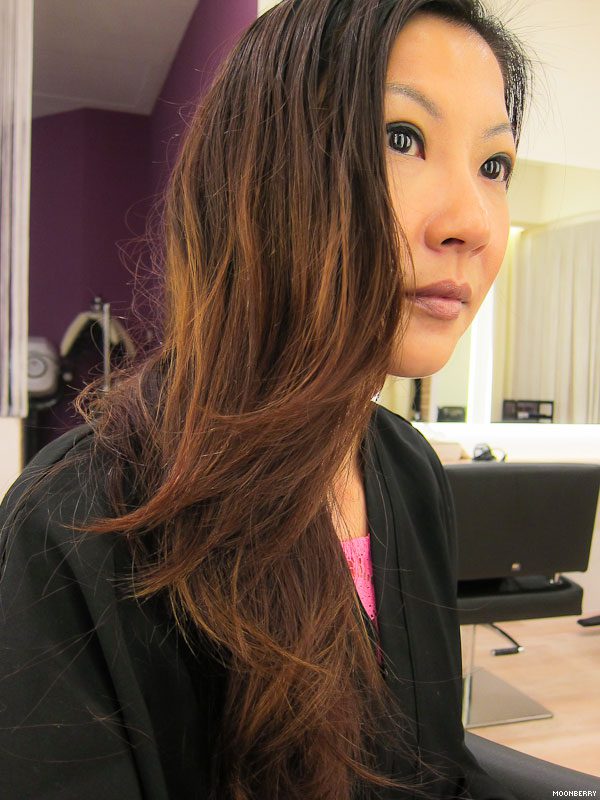 Salon de Choix, a newly-opened salon at Killiney Road, has recently given my frizzy fried hair a full makeover and I am so friggin' thankful that my hair is finally getting the TLC that it needed. As you can see in the picture above, I have been seriously neglecting my hair and hadn't bothered to do anything about the color, letting it grow out and looking like crap for several months now.
Despite the ombré and dip-dyeing hair coloring techniques that have been trending for so many months now, I refrained from messing with my hair as it's still very fragile from the extreme bleaching process I did in 2008. (I had blocks of chunky zig-zag bright purple hair; I must be a trendsetter or something for forecasting the bold and radical duo-tone hair coloring techniques of today, except my hair was bleached in all the wrong spots at that time, d'oh! FML max.)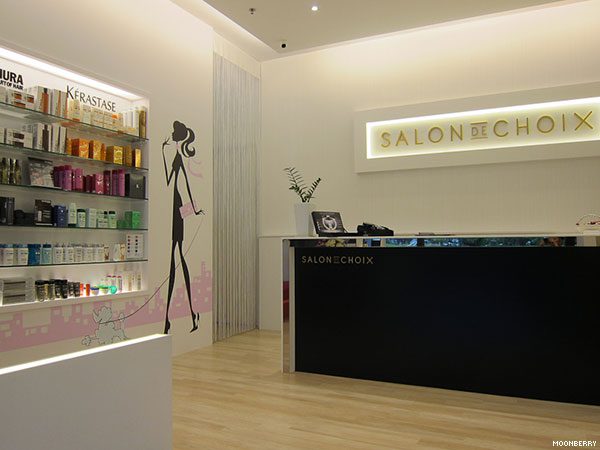 Conveniently located right on Killiney Road (across from KPO and just half a block away from Somerset MRT station), I think Salon de Choix is great because it is on the ground floor of Winsland House 1 (a corporate building) instead of clustered inside a mall.
I usually like to stretch my legs during the long hours of waiting while my hair is doing its thang, so the relatively quiet corridor outside Salon de Choix is ideal for me. I don't have to stand outside looking like a crazy woman wearing a robe and with foil all over my hair.
Psst, if you happen to walk by Killiney Road next time and see me someone with a robe and foil standing outside the salon, just walk away and pretend you don't see anything. I won't hold it against you for not saying hi. :P My point is, Salon de Choix is situated in a very central location but without the hustle and bustle nearby. I like quiet.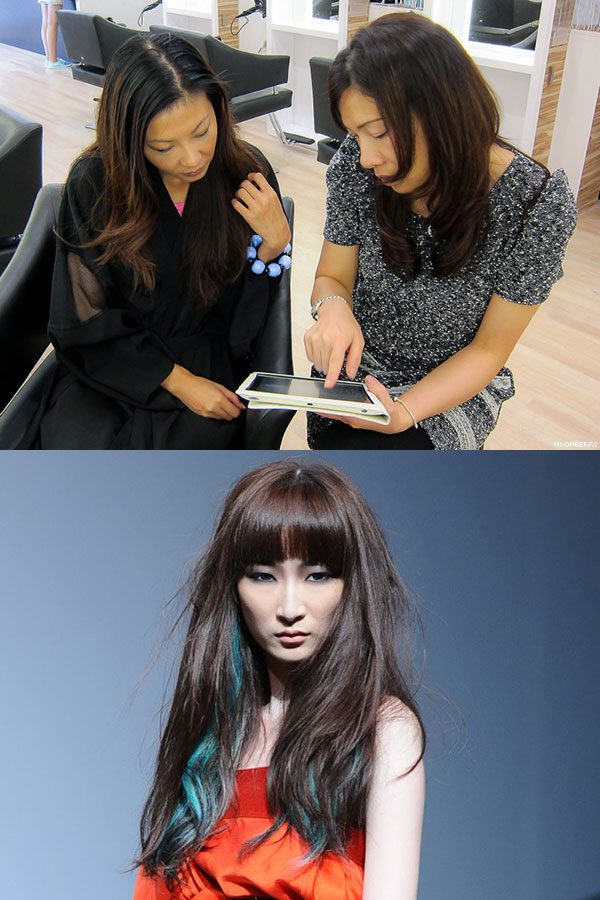 Salon de Choix is led by Sharon Wu, a renowned stylist with more than 20 years experience, who is currently serving as Director at the salon. So Sharon and I discussed some ideas together on what to do with my hair and she suggested a peekaboo coloring treatment for my hair.  It's basically chunky highlights selectively placed beneath the outer layer of the hair, so you can sorta see it and not see it… hence the "peekaboo" term. Something like the reference photo above.
Homegurl model doesn't look all too thrilled in the photo though, huh? But her hair is definitely cool and I'm totally digging that shade of turquoise-blue. Edgy and chic, while the peekaboo placement of the vibrant chunk has a bit of badass rock-n-roll sultriness. Perfect for moi! :) :) :)
Aaaaaahhhhh!!!!!! VERY EXCITED! *screeaammmmsss*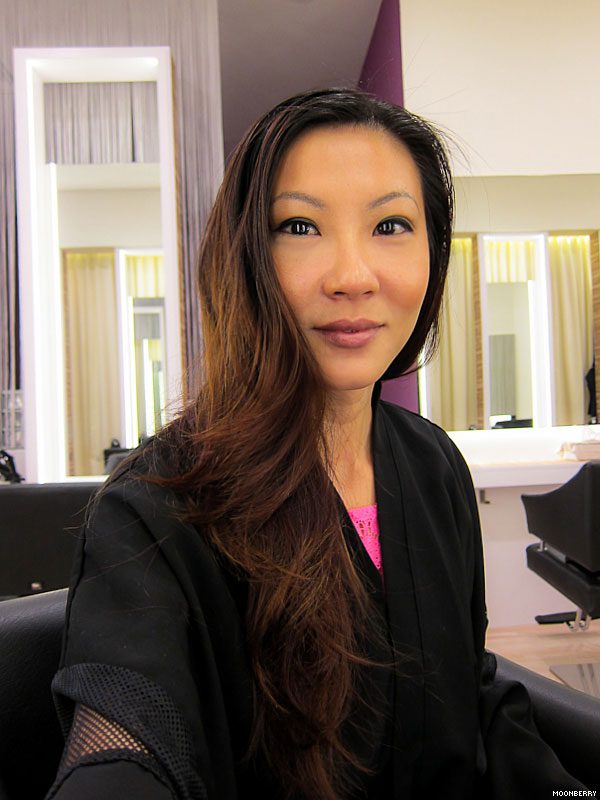 I was super duper excited about getting new color on my hair. FINALLY!!! *clasping hands eagerly* However, Sharon cautioned me that the resulting color might not turn out to be as vibrant as it'd have required a strong bleaching process and my hair, as per her observation, couldn't take it. -____-"
I had to agree with her because truthfully the only reason I had kept the color so 'safe' in the last year or so is because many other hair salons were afraid to touch it and put in new color for me. Any chemical process that wasn't carefully prepared, timed and watched would result in further damage to my hair. I was very grateful that Sharon gave me renewed hope and that she could put color back into my hair for me.
Aaaaaahhhhh!!!!!! VERY EXCITED! *screeaammmmsss*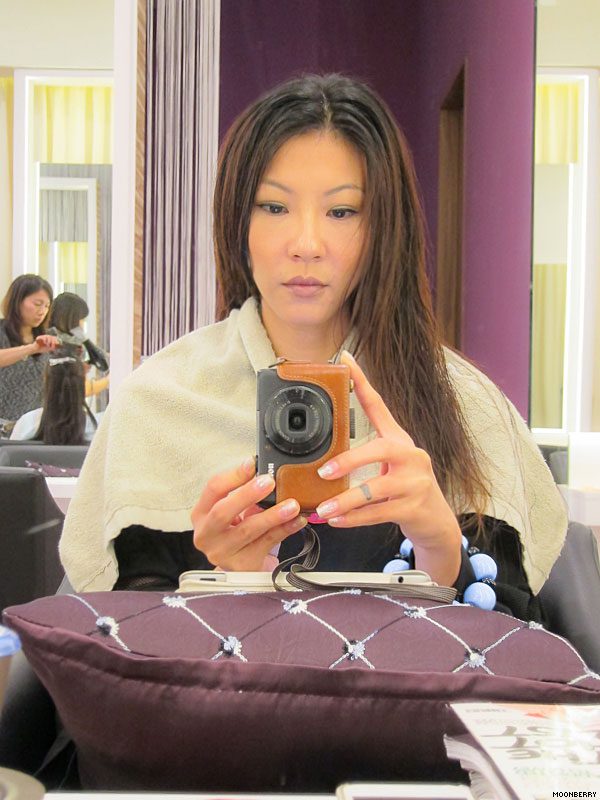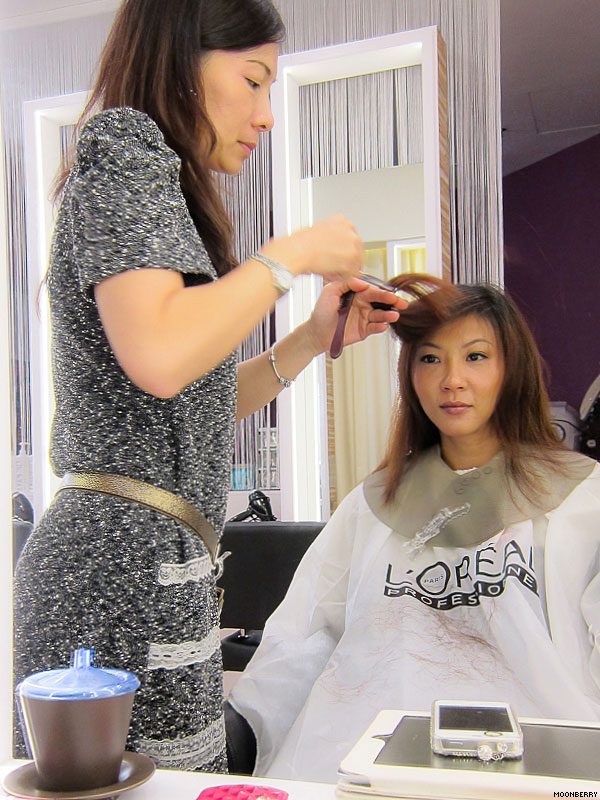 This is what I mean by the crazy lady with black robe and foil all over her hair.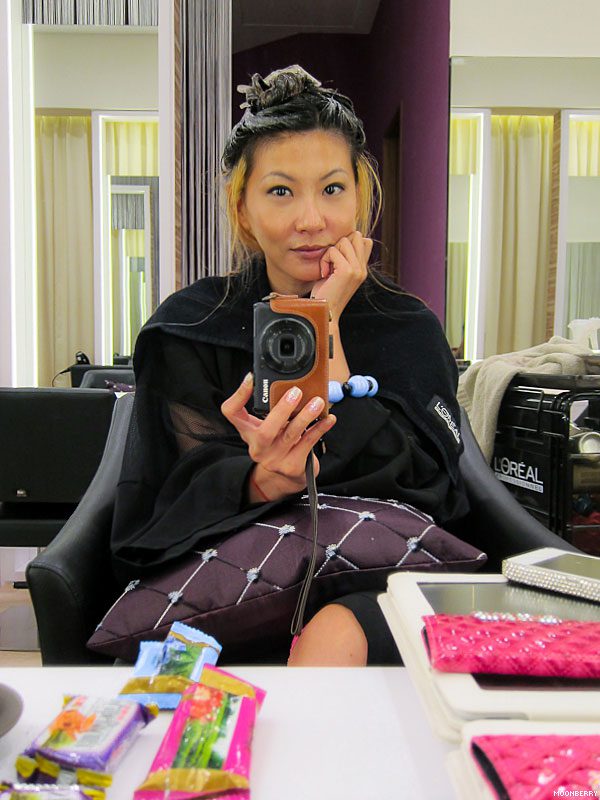 When the foil were taken off, I was like "WHOA!". Thrilled, excited but also silently panicking inside because this blonde shade = chemical processing = bleaching = so is my hair gonna become brittle and stringy again or not!?
YIKES. YAY!!!
SO SCARY. SO COOL!!!
UH OH. WHOOHOO!!!
Yes. Schizophrenia sorta took over me when I saw this partial blondie in the mirror. }:p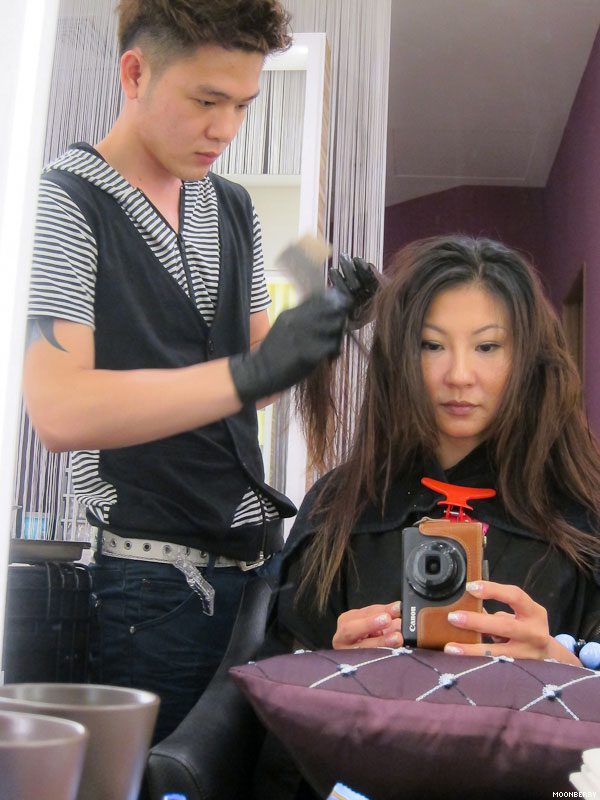 Jerry, also a stylist at Salon de Choix, then proceeded to apply color. There was no turning back now. *gulps* What was once dark brown/black had been partially bleached blonde, and it would become something else… another color. You ready for a sneak peek of that color? :) :) :)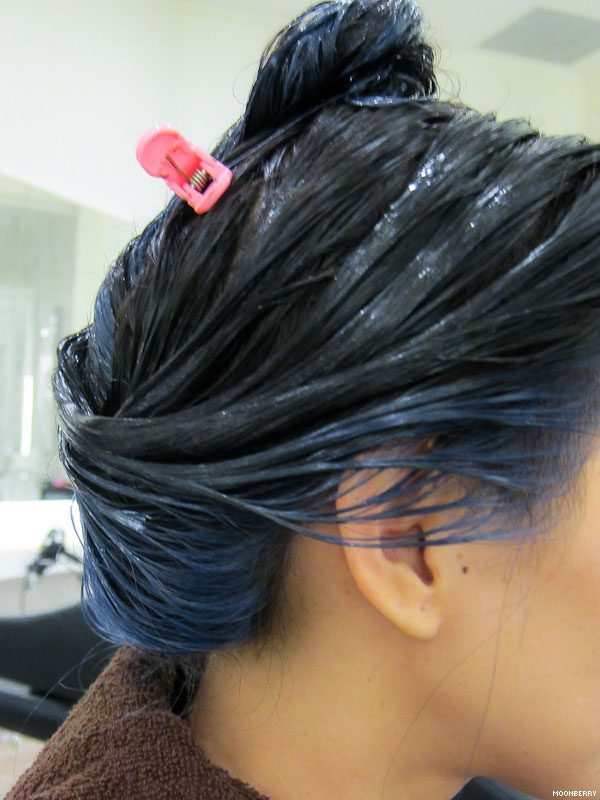 OooOOooOooooOOOoOOoohhHHhhHHhh.
Altogether now, one more time: OooOOooOooooOOOoOOoohhHHhhHHhh.
Sharon called it "Ash Blue". I think I shall call it… "French Blue". ;p Gorgeous, gorgeous shade of blue. I was happy as a clam.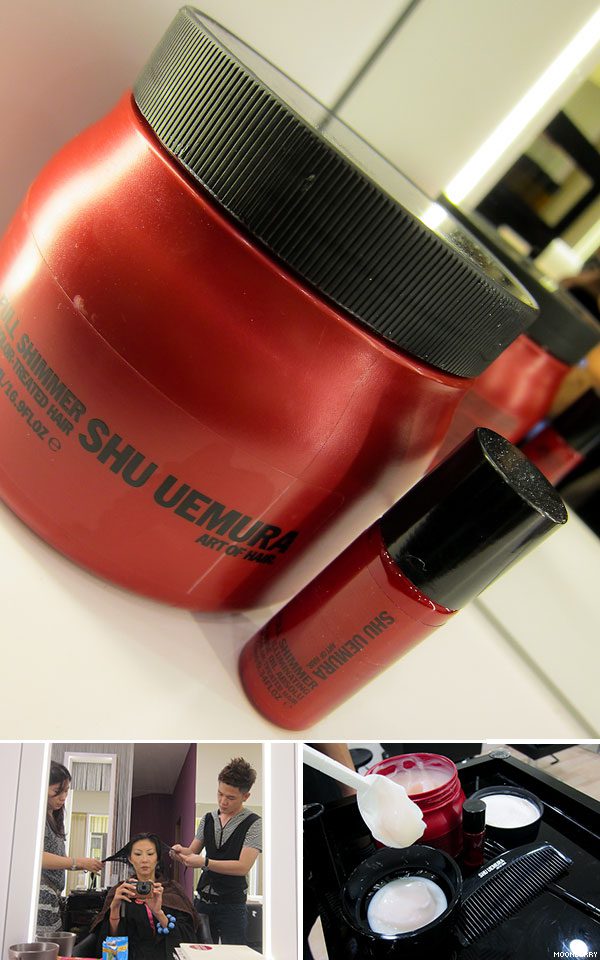 NEXT.
I had to get a hair treatment as well in order to allow my hair to recover from the coloring process. Coloring is, after all, a chemical process and can be quite harsh on anyone's hair. So in order to soothe the hair and encourage it to be in tip-top condition, getting a hair treatment is always necessary after a coloring process.
The treatment I got was Shu Uemura Art of Hair Full Shimmer Illuminating Treatment. This treatment adds vibrancy to hair color, imparts optimal shine and glazed touch from roots to ends, while preventing oxidation. The cream used contains musk rose oil, extracted from the seeds of musk rose and is known for its inherent healing property.
HOW ULTRA LUXURIOUS!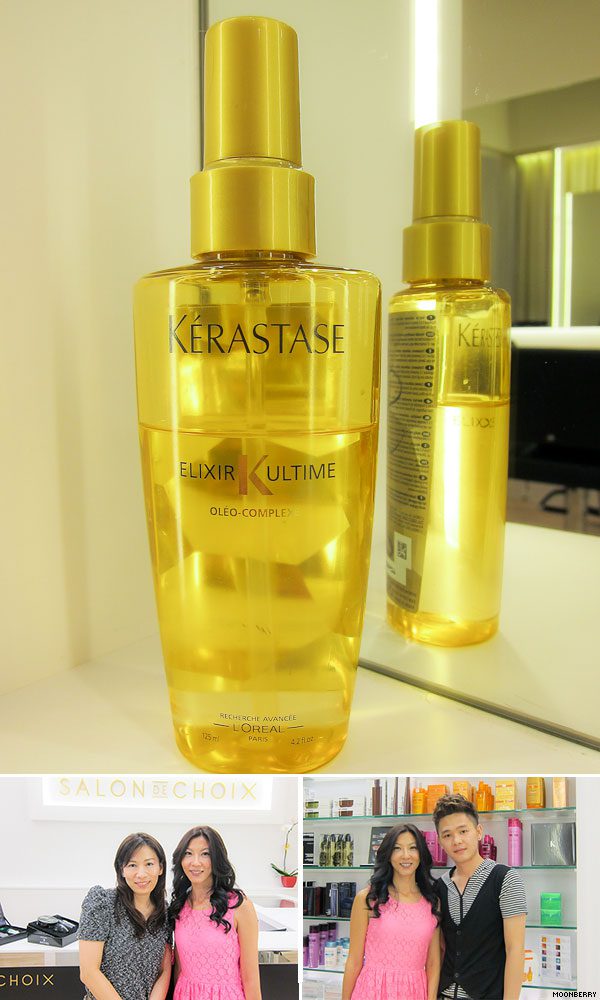 Last but not least, my hair was styled and finished with a few drops of Kerastase Elixir Ultime, which is made of precious oils. I am generally always wary about putting oil onto my hair but luckily, only a few tiny drops of Elixir Ultime hair was adequate to make my hair silky, shiny and weightless. In fact, I like my hair better after the oil because it felt softer to the touch.
Now… a closer look at the final result of my hair makeover!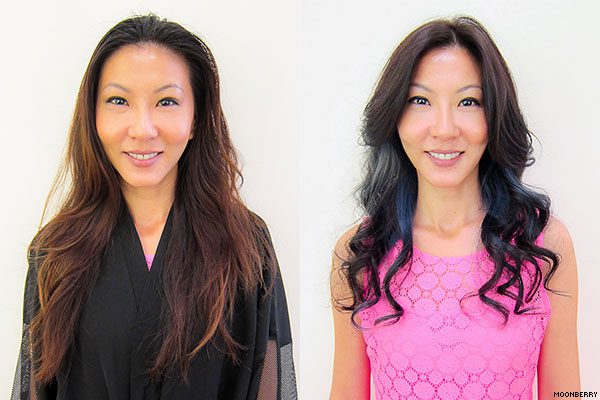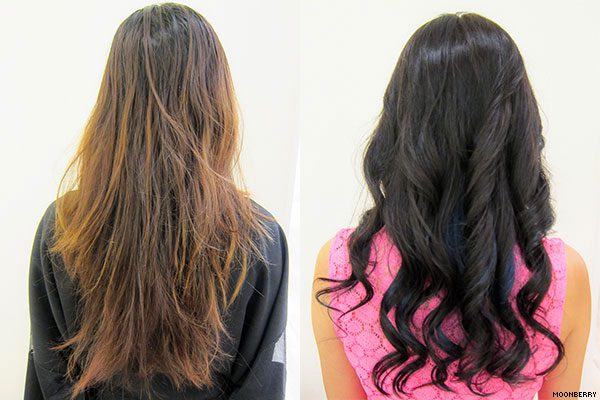 What do you think??? Yay? Nay? Ash blue? French blue? :D
Good lawd, I sat in the salon from 1230pm to 8pm (and you wonder why I needed to stretch my legs in between).
Actually it's kinda funny how I never knew that was how my hair used to normally look like from the back. When I saw the before pix, I was O_o?! Geez, WTF is that pile of dry hay-like mess?! How come no one told me about this before and brought it to my attention, HELLO!!!!!? I'm so very glad that it's no longer the case now. The Shu Uemura hair treatment did a really great job! I also think my hair looks cool and funky again, thanks to the peekaboo blue highlights. I'm digging this blue. *woot woot*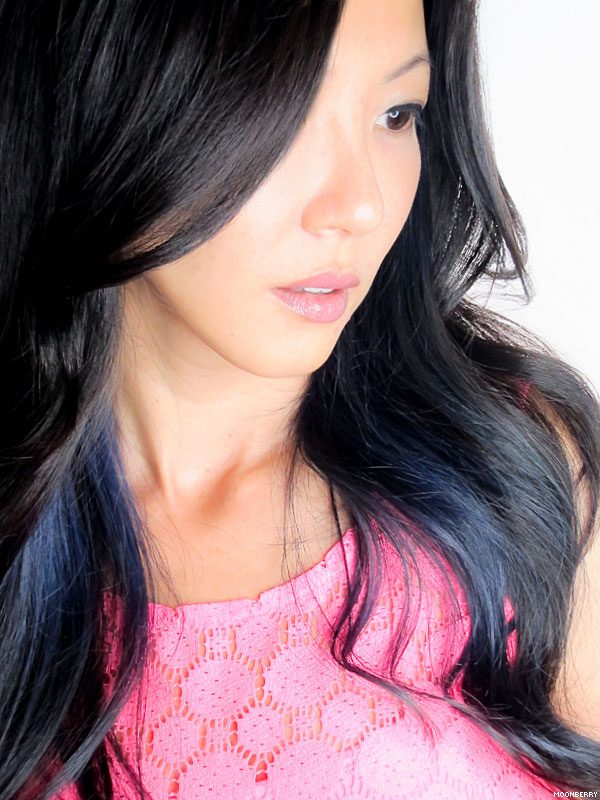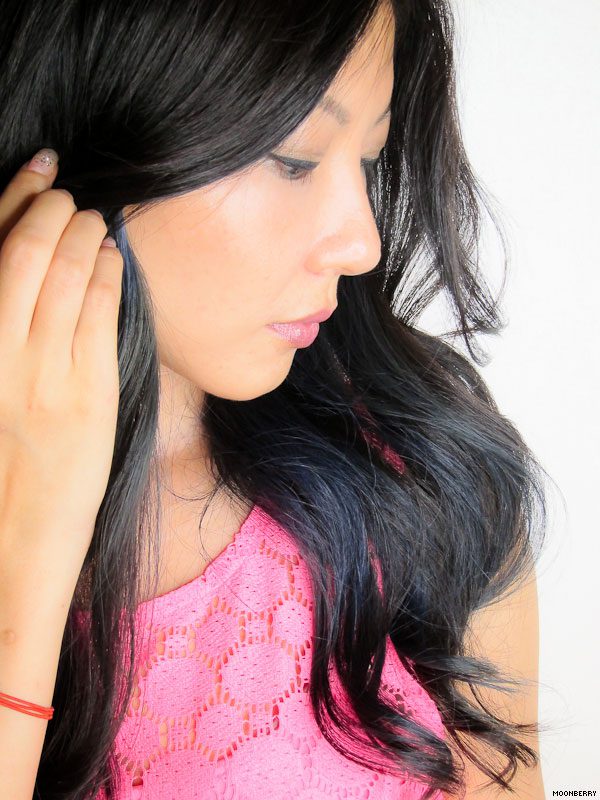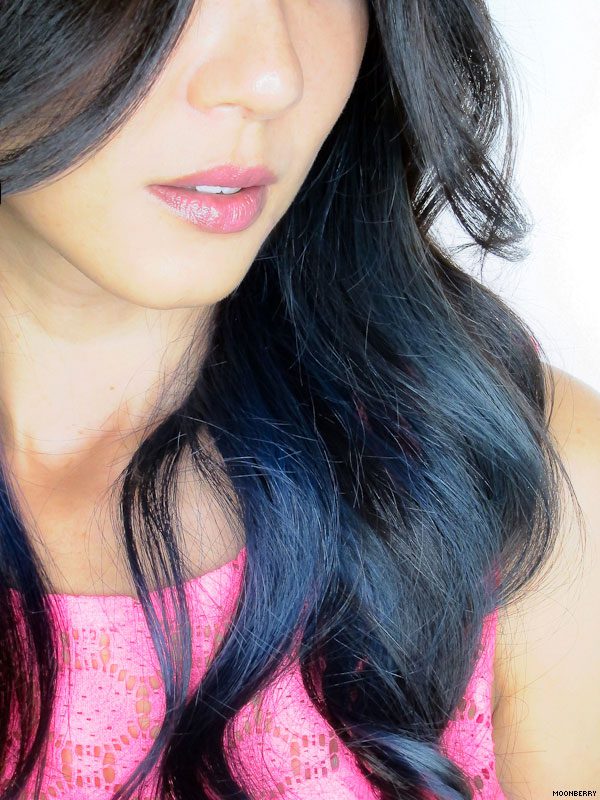 I think both Sharon and Jerry were extremely professional (as well as very patient) in caring for my hair. It really took all of us a full day to do this; I had it easier than them coz I was sitting most of the time whereas they were on their feet. Eeps. But I'm happy with the hair services I got at Salon de Choix and I feel like my hair has been given a new lease in life. Hahaha~
If you're curious and keen to try out Salon de Choix, I am thrilled to share an exclusive discount for my blog readers and social media fans/followers:
[dropshadowbox align="center" effect="lifted-both" width="550px" height="" background_color="#d1f2a5″ border_width="1″ border_color="#999999″ ]Mention "MOONBERRY" to receive 15% DISCOUNT on hair services at Salon de Choix.[/dropshadowbox]
Give Sharon or Jerry a call to make an appointment and give your hair the same TLC like I did. Salon De Choix offers professional hair services and treatment with carefully selected Kerastase and Shu Uemura products that will propel your haircare experience to a new level.
Salon de Choix is Moonberry's salon of choice! :D


Salon de Choix Website | Facebook page
Salon de Choix
3 Killiney Road #01-06
Winsland House 1
Singapore 239519
Tel: 6836 2959