28 Apr 2014
---
I recently came across Inverted Edge, a contemporary fashion online retailer based in Singapore that boasts over 50 designers across Asia-Pac including Raoul, Daydream Nation, Carrie K and Fleamadonna. Some I've heard of, but not all of them so Inverted Edge is a good place for me to discover more independent contemporary designers in the region.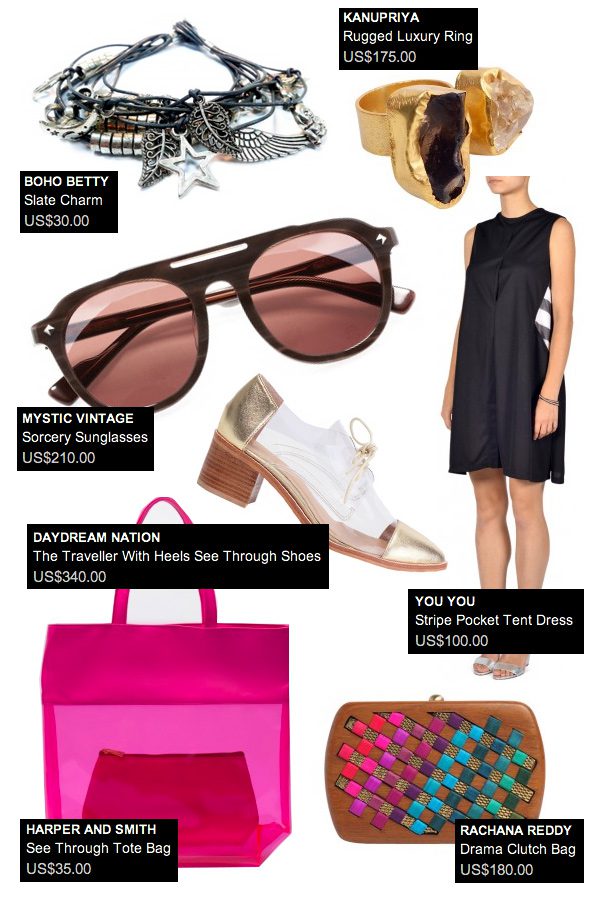 I clicked around the site for a bit and shortlisted what I think is cool – as you can see above. Clothing-wise, honestly I didn't see many that jump out at me. I think better studio photos may be in order as I couldn't really see the details in some of the clothing items which I thought may interest me. But for the most part, I just sorta glazed over the clothes and spotted some gems in the accessories section instead (pardon the pun). That's the thing with online shopping sometimes, eh? The experience isn't quite the same as seeing and trying on the clothes in real life.
BUT!
Celebrating its 1st birthday, Inverted Edge is organizing a fashion-fueled Open House at their headquarters where visitors can browse and shop for pieces from the cream of independent contemporary designers featured on the site. Furthermore…
Visitors can also book exclusive styling sessions with professional personal stylist Melinda Barve, who during her stint working for London-based fashion institution Browns has helped hundreds of women discover or refresh their own personal style. Sign up for appointments as an individual or with a group of friends and INVERTED EDGE will even foot your taxi bills!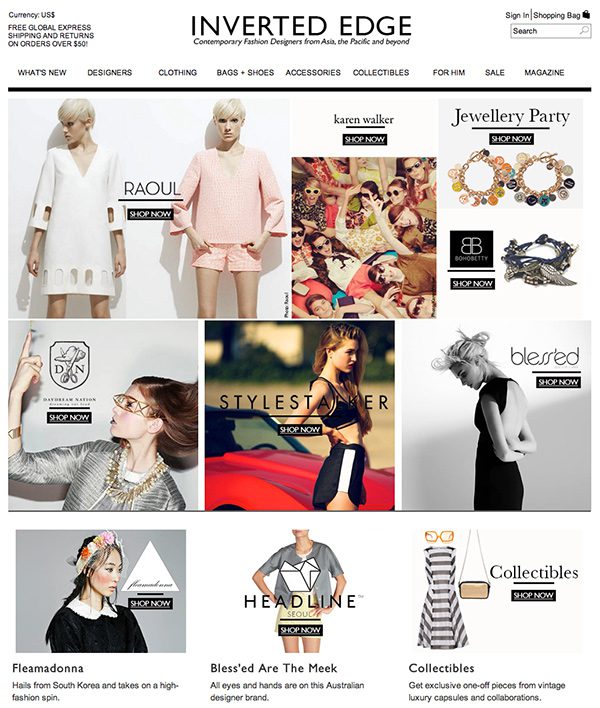 Other anticipated events taking place during the month-long Open House include:
May 7th, 6pm – 9pm: MEET THE DESIGNERS
Come along and meet some of the hottest designers currently working in Asia today who have the international fashion scene at their feet. Find out more about the inspirations and influences behind their designs and then shop the collection.
May 14th, 6pm – 9pm: MELINDA BARVE PRESENTS SPRING SUMMER 2014 TRENDS
Hear from the expert on how best to take this year's trends and make them work for you in a way which enhances your personal style.
The INVERTED EDGE Open House is at Song Lin Building #06-03, 1 Syed Alwi Road, Singapore 207628. To book a styling session, email styling@invertededge.com. Ongoing every weekday from now until May 15th (including Saturday 10th May).
So how? Is this a good time to go shopping with a personal fashion stylist maybe?