27 Jan 2012
---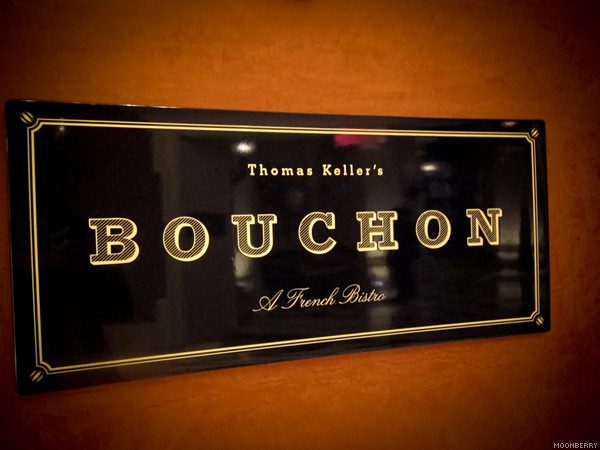 Bouchon is the vision of world-renowned chef Thomas Keller, who was named "America's Best Chef" by Time magazine. He is also the sole recipient of consecutive "Best Chef" awards from the prestigious James Beard Foundation. I have always been a fan of Thomas Keller and have even attempted to recreate his famous Ad Hoc fried chicken at home some time back. For years, I have tried to snag a reservation at one of his restaurants, French Laundry – unsuccessfully. :|
In December 2006, I however managed to go to Bouchon (Yountville). Drawn from Chef Keller's memories of traveling through France, Bouchon serves an award-winning menu of bistro classics and daily specials, featuring the best seasonal products available. I recently got a chance to visit Bouchon again, in Las Vegas. Situated inside the Venetian, Bouchon (Las Vegas) offers delicious desserts, an extensive selection of raw seafood, a full bar, and superb wine service in the warm and elegant main dining room or amid a beautiful garden poolside setting.
Bouchon Las Vegas has won the following awards:
Best Breakfast in Las Vegas
Las Vegas Life magazine
Best French Restaurant
Las Vegas Life 2005 Epicurean Awards
Best Strip Restaurant
Las Vegas Life 2005 Epicurean Awards
Best New Restaurant
Las Vegas Life 2005 Epicurean Awards
Best Restaurant Overall
Las Vegas Life 2005 Epicurean Awards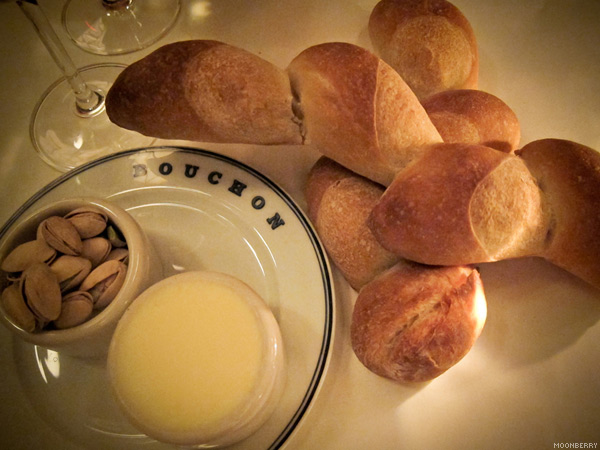 Bread basket (sans basket actually) with butter and pistachio nuts. Needless to say, I ignored the bread the butter and went straight to the nuts. :p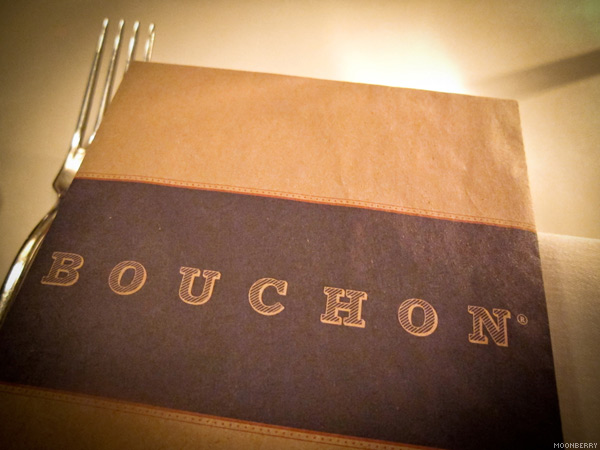 Ahhh, the lovely paper menu. I wonder how many of these do they lose every night… :X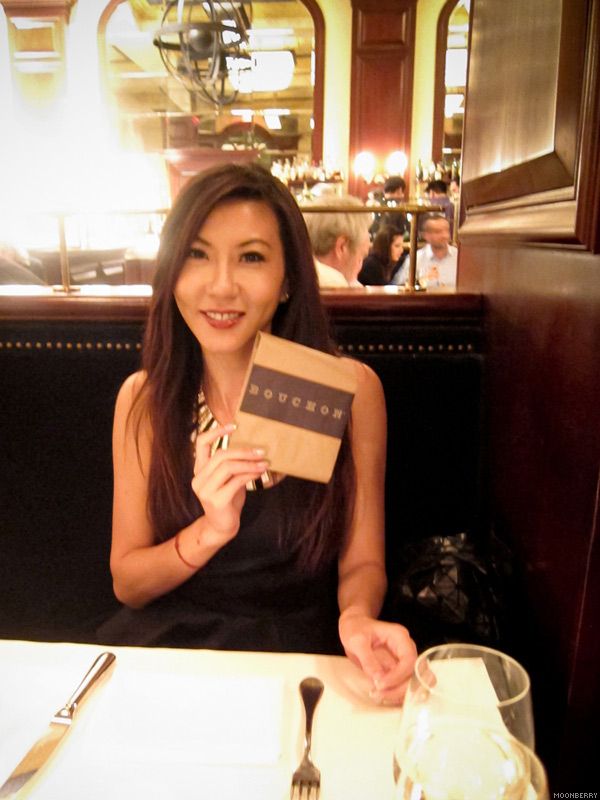 I am ready for you, Bouchon Las Vegas! Are you ready for me? Hur hur hur.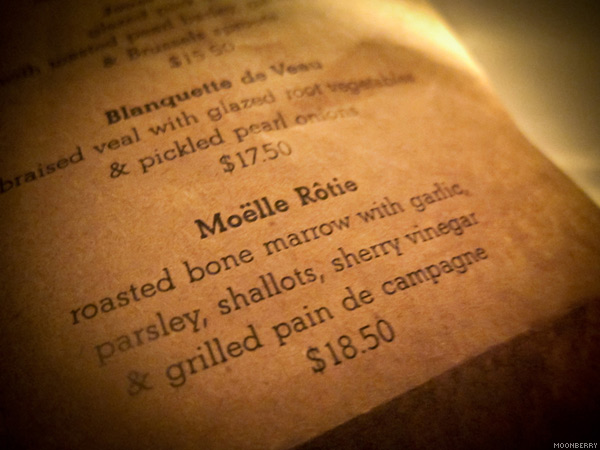 Shortlisted this appetizer. Sinful, isn't it? :)

The Moelle Rotie arrived straight on the bones.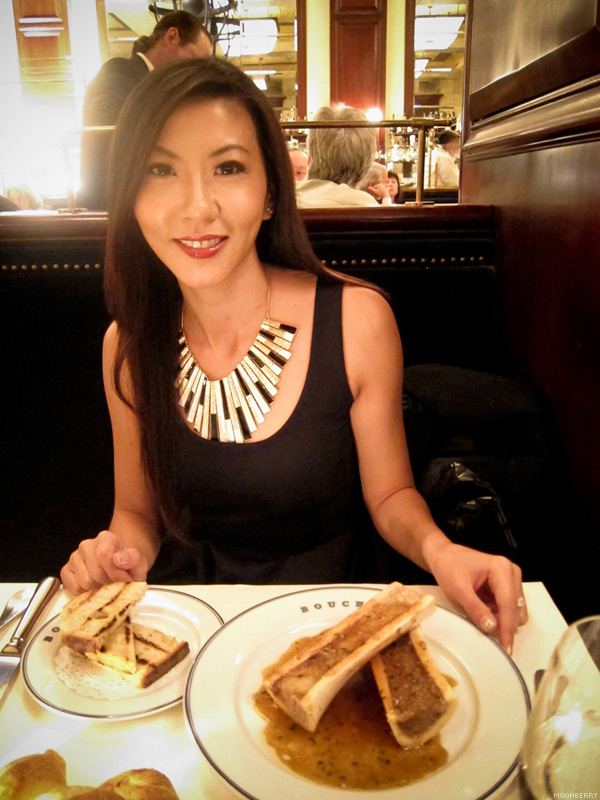 The waiter was trying to get me to pose with a bone in my mouth, cavewoman-style. Na-uh, I dun think so, buddy!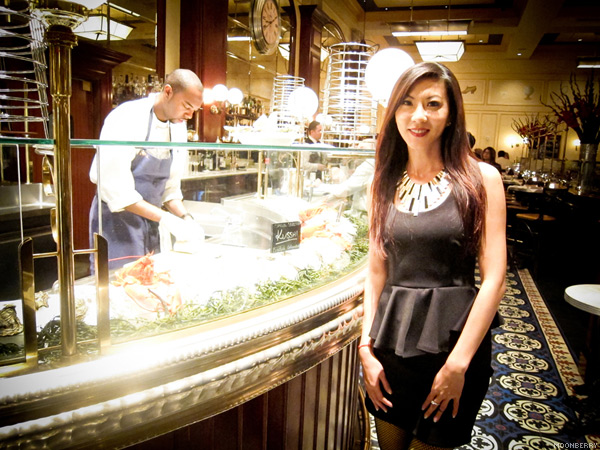 Bouchon has the best BEST raw bar. The raw clams (my fave!) are exceptionally enjoyable here; I can down two dozens all on my own. :9~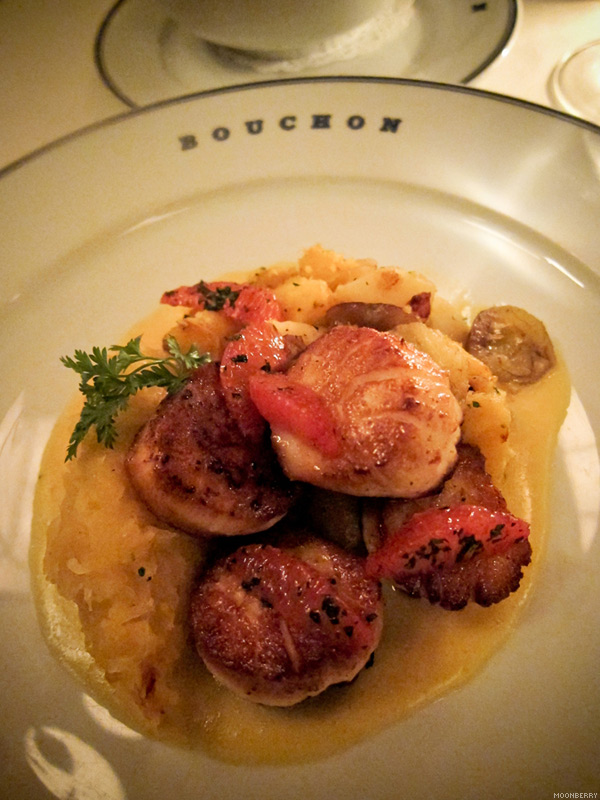 Coquilles St. Jacques: pan-seared day boat scallops with roasted winter squash, glazed parsnips, confit chestbuts and sauce Maltaise.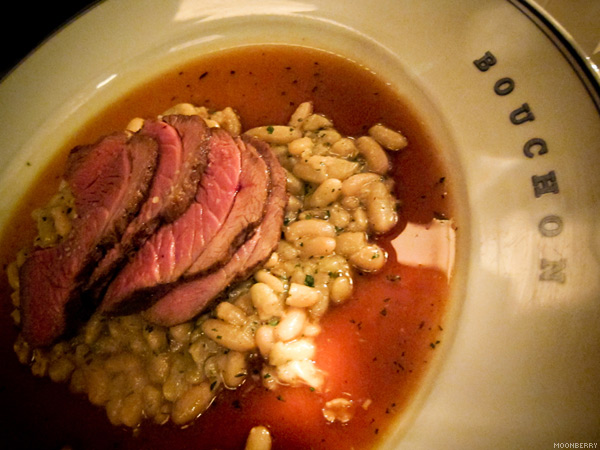 Steak "Diane": Snake River Farms "eye of the rib" with roasted king trumped mushrooms, wilted mustard greens, pommes fondant and sauce Diane.

Here's a collage of my 2006 visit to Bouchon Yountville. The fish with haricot verts and lardons entree (bottom left) was phenomenal! I still remember it even till today, that's how good and memorable it was. :9~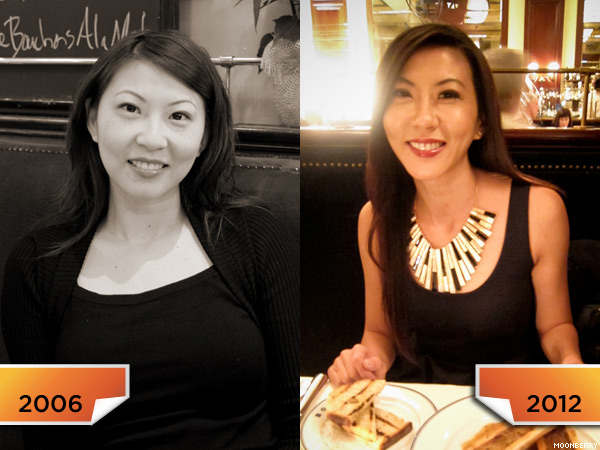 Just for kicks, I must do this WTF-inducing side-by-side photo comparison of me in 2006 and in 2012. WHAT THE FUCK, right?! Ohmagawdddd, who dat pregnant balloon on the left? :x Yes, feel free to laugh coz I'm totally laughing too! Bwahahahaha.
Tis all good, tis all good. ^_^
All in all, I enjoyed the food at Bouchon once again. One of these days, I am definitely gonna get me a reservation at French Laundry! *shakes fist in the air*
In the meantime, I am probably gonna check out these cookbooks first. (The waiting list for a reservation at French Laundry does take several months, after all….)
Bouchon
, The French Laundry Cookbook
, The Complete Thomas Keller: The French Laundry Cookbook & Bouchon
, Ad Hoc at Home
PS: Even though I have somewhat of a bitter-sweet relationship with the Bay Area, I kinda miss Yountville. I was a dumb bloated pregnant balloon back then who didn't know how to appreciate chit; I've grown much wiser now and learned to appreciate the finer twists-and-turns of my so-called life (heh!). I'd definitely love to make an epicurian pilgrimage to Yountville again sometime soon and bloooooommmmmm with happy happy grateful smiles ~ ♥