23 Aug 2013
---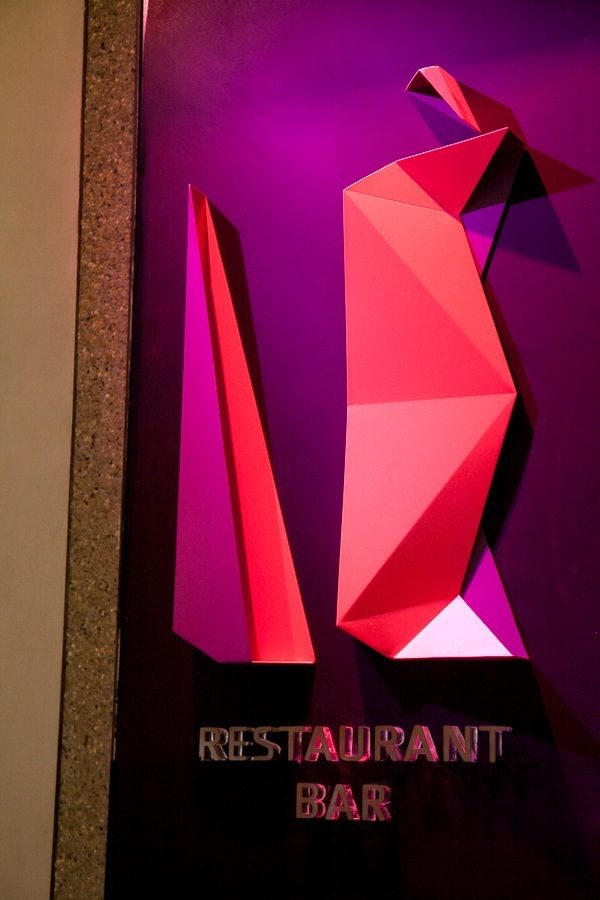 LÈ Restaurant and Bar is a modern Asian tapas bar and fine dining concept launched by the well-established Paradise Group in Singapore. The name itself is derived from the Paradise Group's Chinese name 樂天集團 (Le Tian Ji Tuan). Raising the bar for contemporary Chinese dining, LÈ Restaurant and Bar makes its grand debut at the revamped Suntec City.
The cavernous restaurant space encompasses a chic bar lounge, dining arena and eight private dining rooms. Envisioned as a theatrical production where the audience is brought through various acts, the avant garde-designed space presents a "stage" where diners experience different settings from their arrival; an approach that is refreshing for a Chinese establishment. The lighting and decorative embellishments are evocative of a night out at a swanky New York or London venue, promising diners an exciting and voguish affair.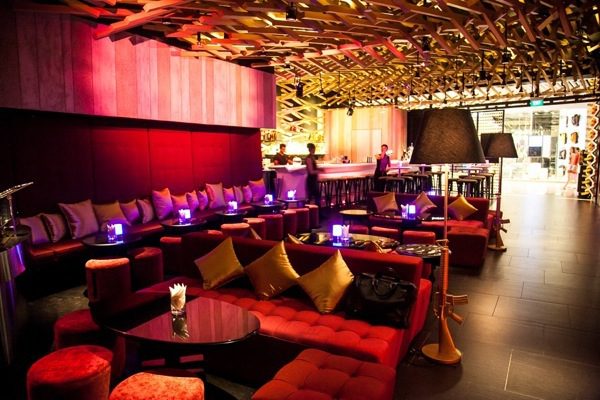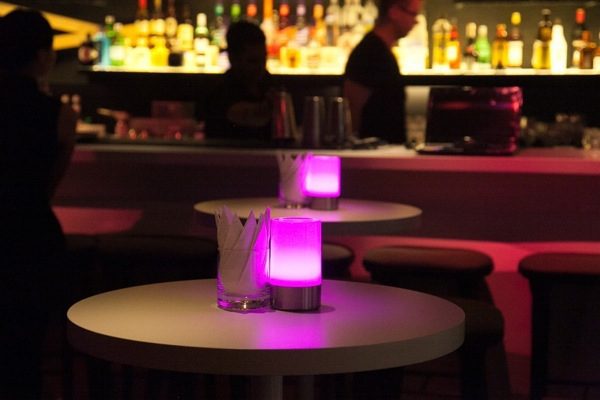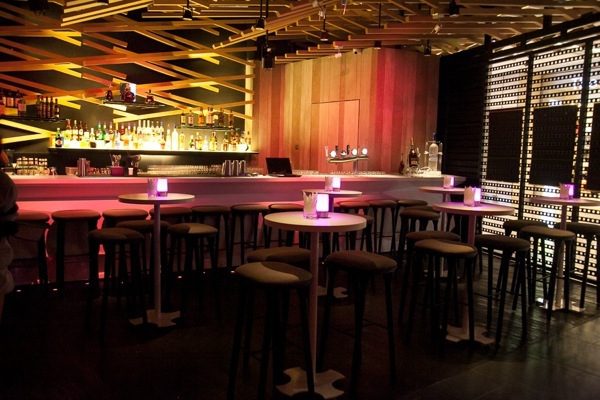 Upon arrival at LÈ, guests will be greeted by upbeat groove tunes at the lounge bar – outfitted with velvet chaise lounges and cushy pillows – where DJs spin soulful tunes on Wednesday, Thursday and Friday nights. The bar lounge offers a list of original cocktails with a unique South East Asian twist, while guests nibble on Asian tapas.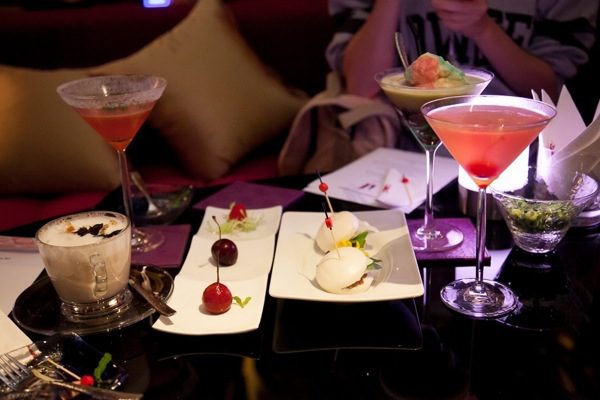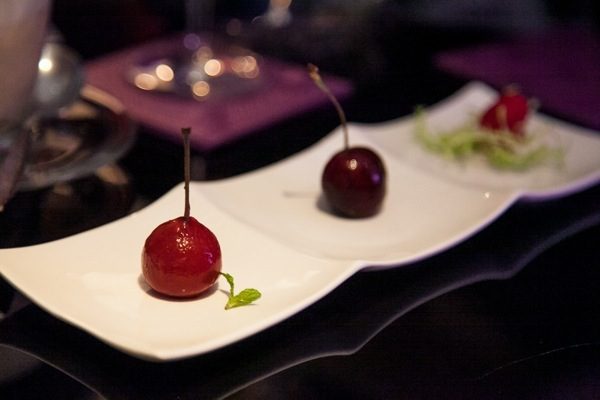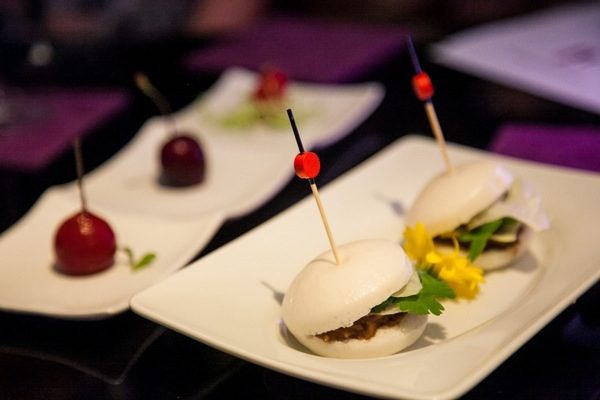 The carefully-curated list of tapas offers light bites with an intriguing Asian spin. Braised Cherry Foie Gras with Red Wine (S$26) presents a whimsical visual treat of foie gras terrine poached in red wine and cherry jus artfully plated to resemble luscious cherry globules. The traditional braised pork belly with steamed buns snack is given a quirky makeover with Mantou Burger with Braised USDA Prime Beef (S$16); tender braised Angus beef wrapped in pillow-soft mantou burger buns.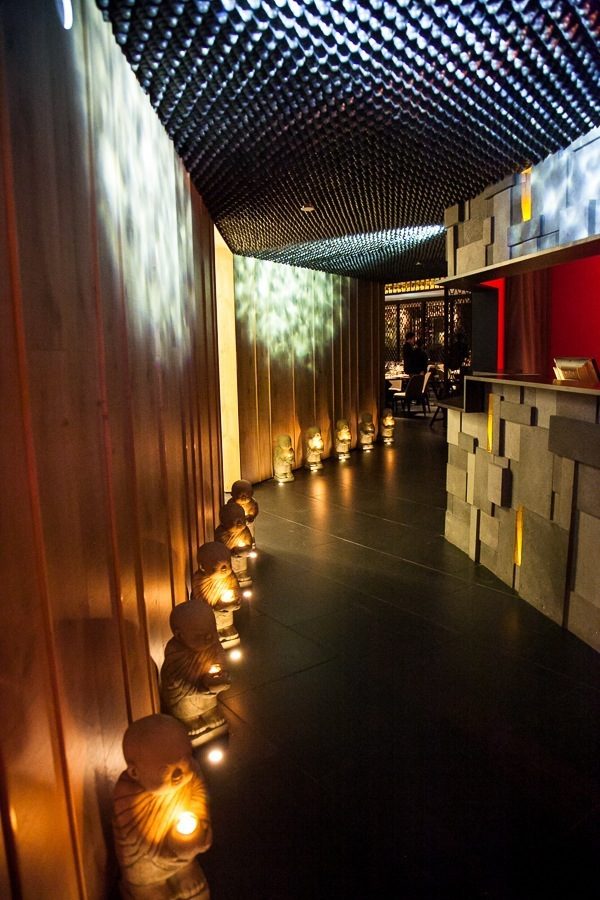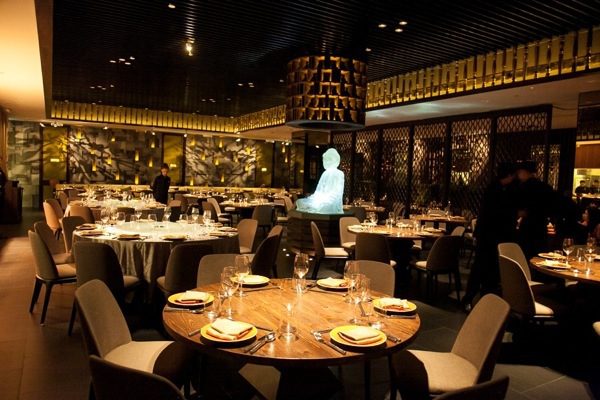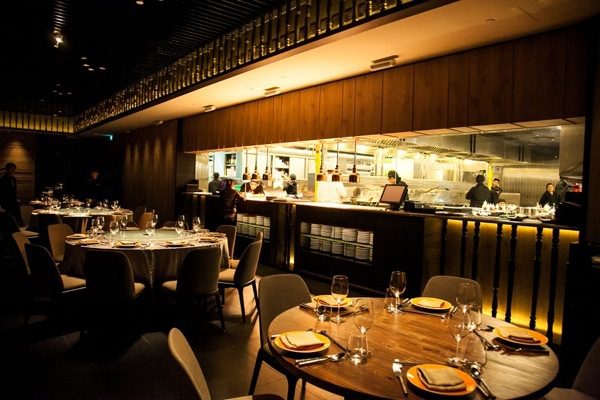 From the lounge, an intimately-lit passage crafted of lava stone leads into the grand dining area which is characterised by warm hues, wood elements and plush purple accents. A magnificent centrepiece – a 1.2metre-tall Buddha statue sculpted from glass resin by an emerging Hong Kong artist and custom made exclusively for LÈ – overlooks the Paradise Group's trademark show kitchen which has been furnished entirely in stainless steel.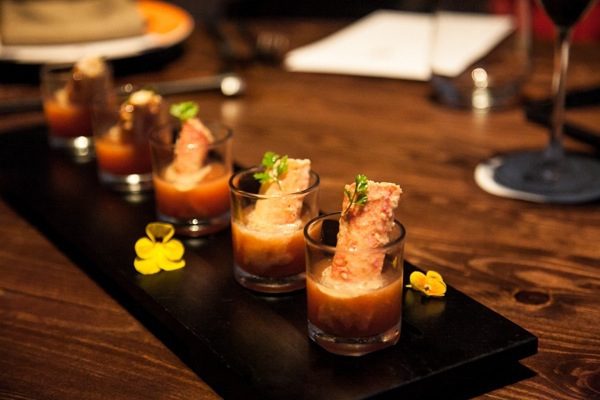 The food served at LÈ Restaurant and Bar promises a decadent experience to match the grand interior. As starter, cold shooters of Alaskan Crab (S$10, min 2 pcs) in tomato puree whet the appetite with its sweet-briny succulence.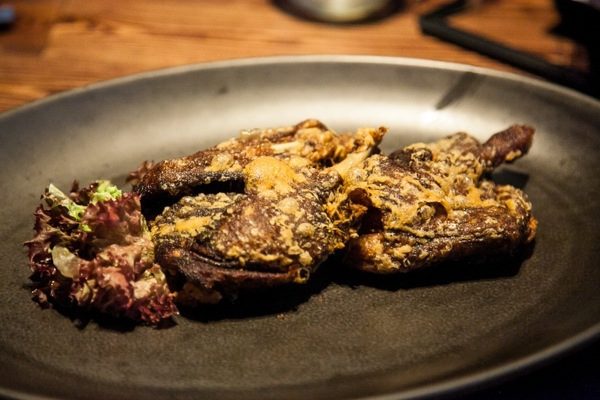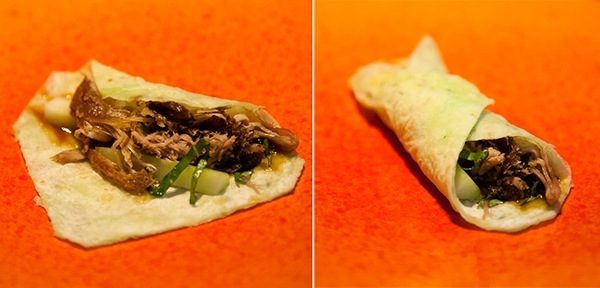 Given Paradise Group's excellent reputation for its apple wood-roasted Peking duck, the Dirty Duck (S$38 for a half duck, S$68 for a whole duck) is LÈ's rendition with duck that has been stewed in a special blend of spices and flash-fried till crispy. Shredded tableside by the service staff, the duck is wrapped with cucumber, Hoisin sauce and basil in homemade scallion crêpes that are soft and fluffy.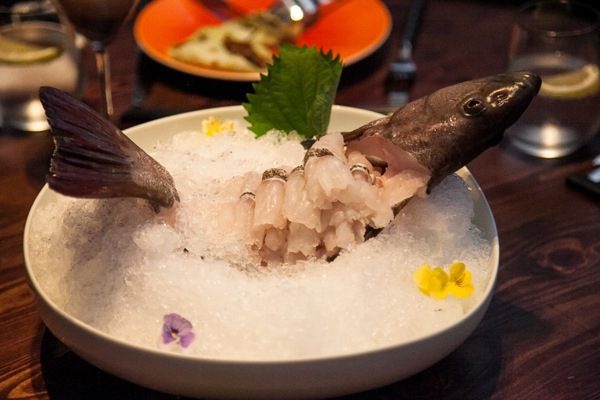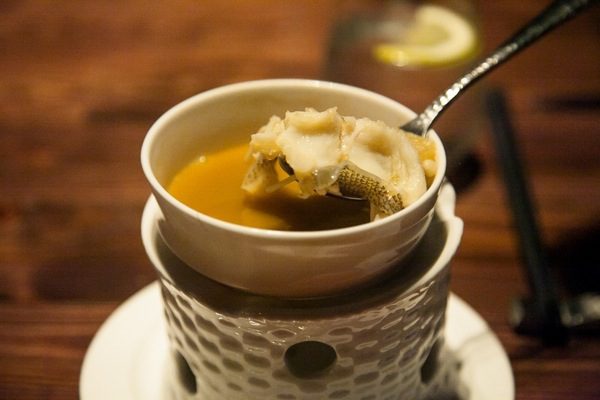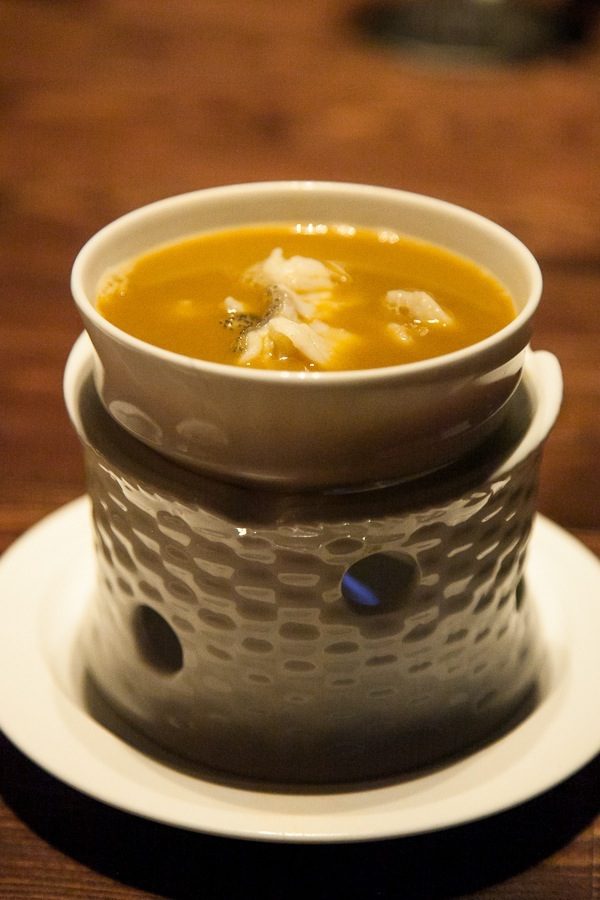 Seafood indulgences include Coral Trout Poached in Lobster Broth (S$16 per 100g, S$28 additional for the broth) with a whole filleted coral trout lightly poached tableside. The freshness of the coral trout is magnificent while the lobster broth is robust and comforting.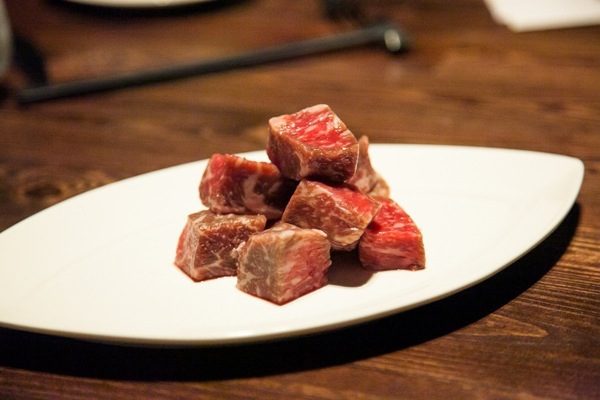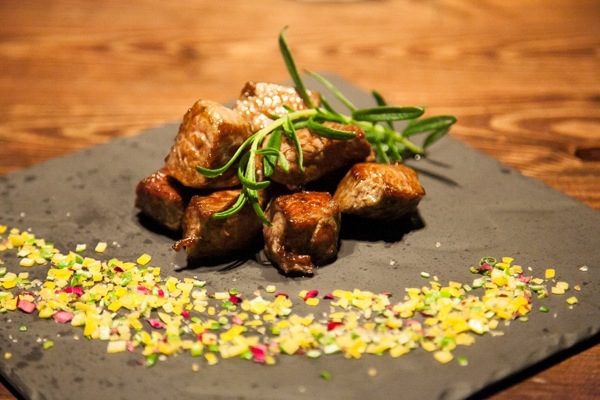 Another tableside service features Pan-Seared Grade 9 Australian Wagyu ($$160 for 200g/ S$240 for 300g) with truffle oil and lemon zest sea salt. These bite-sized morsels are served medium-rare and the lemon zest sea salt complements the tender cubes of juicy meat.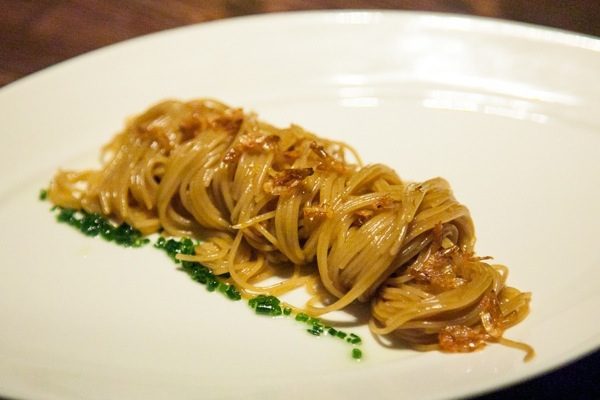 My favorite and highly-recommended dish at LÈ Restaurant and Bar is the Stir-Fried Angel Hair with Japanese Dried Ebi (S$28 / S$42). The angel hair pasta has been cooked in lobster broth and then pan-fried to impart a very aromatic "wok hei", finished and presented with crunchy dried ebi and a slight drizzle of truffle oil and finely chopped chives.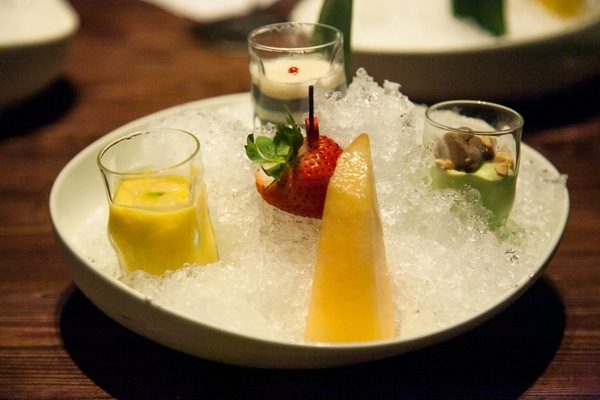 Last but not least, the happy ending to a swanky meal is capped off with a trio of desserts: Sweet temptation of Mango Sago, Avocado Cream, Yakult and Sesame Pudding (S$13) – out of which, the most interesting to me is Yakult and Sesame Pudding.
I enjoyed the invited tasting experience so much at LÈ Restaurant and Bar that the very next evening I brought my parents to eat there. My mom and I found dining area to get really chilly from central air-conditioning, so please remember bring a shawl or a light sweater. I ordered the Stir-Fried Angel Hair with Japanese Ebi again and both my parents enjoyed that tremendously. My dad really liked the Dirty Duck in particular, while I loved the soft scallion pancakes that the shredded duck was rolled in.
LÈ Restaurant and Bar
#02-314 Suntec Convention & Exhibition Centre,
Suntec City Mall
3 Temasek Boulevard
Tel: (+65) 6338 8775