24 Apr 2012
---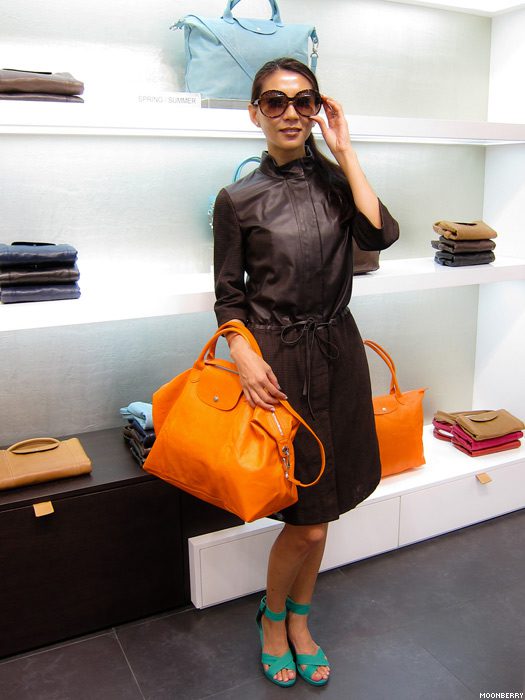 Playing dress-up ain't just for little girls when I went to preview the Longchamp Ready-To-Wear S/S 2012 collection at the MBS store with x-wen (who's quickly becoming my partner-in-crime these days). This season's collection is inspired by Vietnam, so what I saw were blouses and dresses in lovely fuchsia and purple orchid motif, while still sticking to what I personally regard as "equestrian chic" — evident in the linen wrap dresses and leather shorts with simple waffle-grid detailing. I mucho mucho adore this waffle-grid detail because it's so minimalist yet absolutely gorgeous in the leather dresses which I tried on in the above photo.
Let's look at more of the collection, shall we?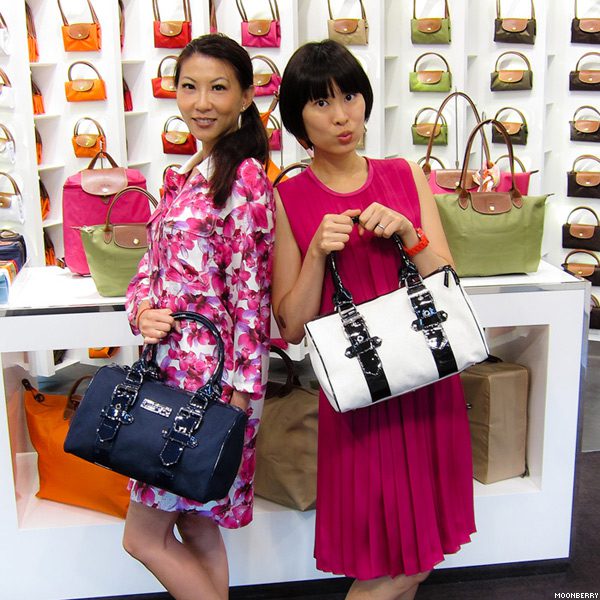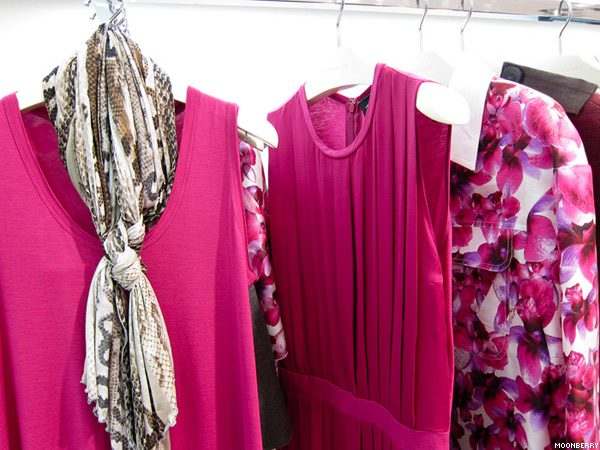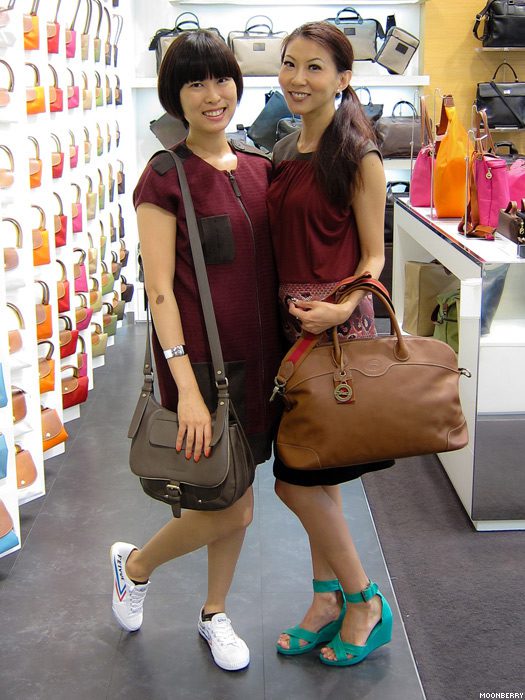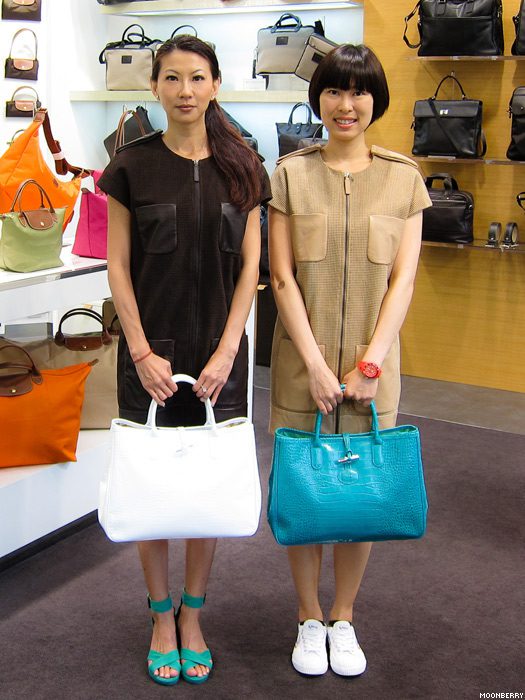 So I've never been at all good with names of bags and if you must quiz me, I frankly can't tell one designer bag from the other (ahem, I'm slowly being schooled in this area as we speak). Despite being a bag retard, I do know that "that foldable canvas bag thingie the the leather handle, and it comes in many colors and sizes" is a Longchamp. You know which one I'm talking about. Everyone and their muthahs seem to be carrying them. You see that bag every-friggin'-where! See below.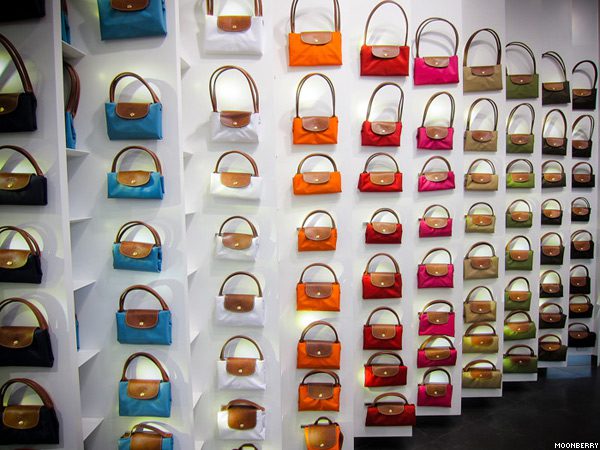 Why, I am happy to report that my bag edumacation is getting somewhere because now that I know the bag has a name: the Le Pliage. Heh! }:)
Along with the fab outfits, the ubiquitous Le Pliage bags have arrived to Singapore shores in its soft leather reincarnation — the Le Pliage Cuir. These are available in several different gorgeous colors and the leather is so buttery this is one bag that you'll have difficulty keeping your hands off of. They are understated but very sophisticated-looking. And I think we all already know how versatile a Le Pliage bag can be.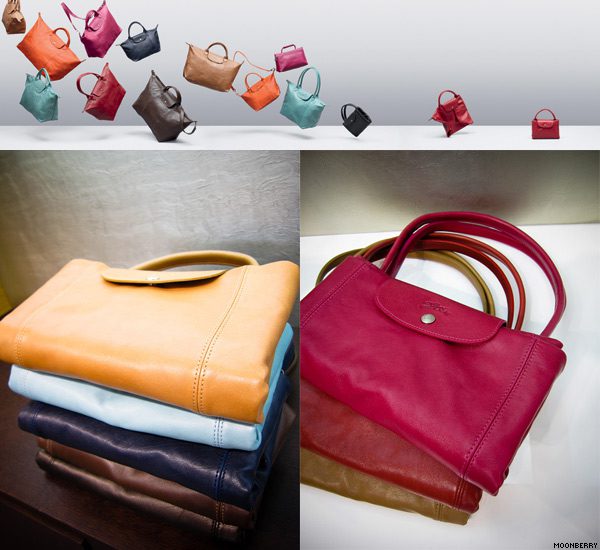 I personally can't decide which one is my fave. Sorta leaning towards the caramel brown as well as the baby blue. The fuchsia is pretty too. As is the red. ARGH! Another typical Moonberry analysis-paralysis; what's new. Maybe you ought to look at these in the boutique and tell me which is your favorite as my pictures don't do them justice.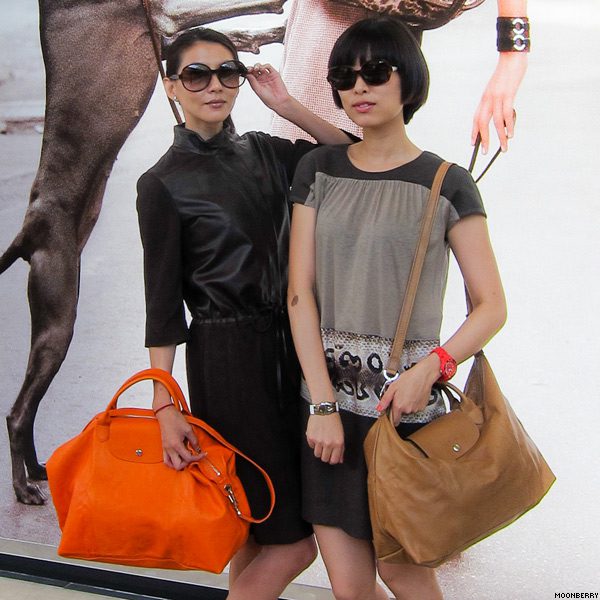 The Le Pliage Cuir bags come with a detachable adjustable strap so in addition to carrying it via the wrist in graceful lady-like fashion, these leather babies can also be worn sideways across your chest or slung long right by your hips. Nice, huh?
See the full set of our photos at my Facebook page → http://www.facebook.com/MBxMB. :)
♥ℳ