30 Jan 2014
---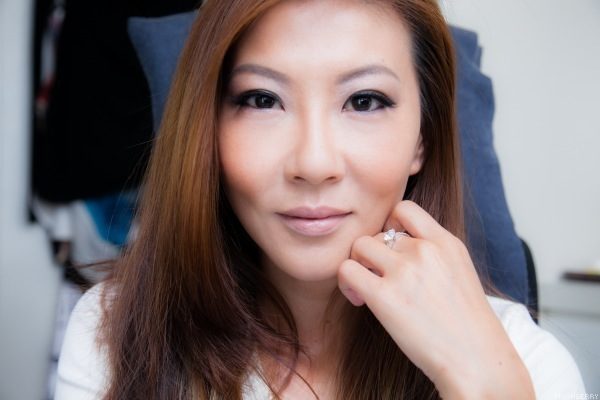 It wasn't even that long ago when I posted about the Laneige Snow Soothing BB Cushion and how I was raving about it. Now, there's an updated version of this well-loved product that's even better as the brand launches a more powerful 6-in-1 BB Cushion, incorporating its innovative Melacrusher Technology to target melanin formation, as well as bead tree extract and natural mineral water for added skincare and hydration benefits.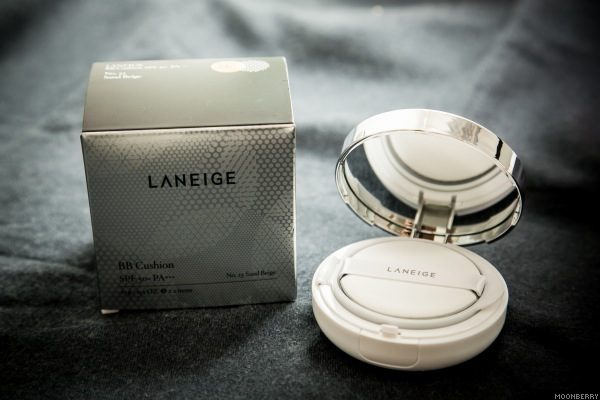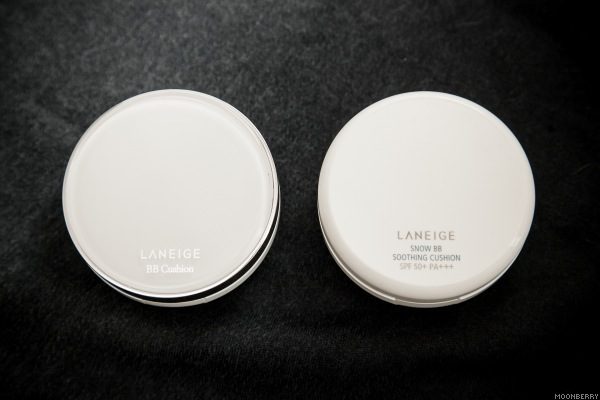 Shown here: The New Laneige 6-in-1 BB Cushion with Melacrusher (left) vs. original Laneige Snow BB Soothing Cushion (right, I reviewed it here). So you ask what's the difference? Advanced brightening technology, optimized ingredients, and improved function, colour and design.
A quick summary of the key ingredients in the new Laneige BB Cushion:
1. Melacrusher Technology – Effectively breaks down and removes the melanin veil that causes dullness of skin. Formulated with truffle yeast, green tea extracts and Niacinamide (Vitamin B3), Melacrusher Technology renders an extremely brighter, radiant, and even-toned complexion.
2. Bead Tree Extract – Acts as an anti-pollution whitening component that protects the skin from the harmful external environment and filters pollutants, such as cigarette smoke, to supply oxygen. It suppresses the generation of pollution antennas from external pollution to prevent skin pigmentation and turn lacklustre skin into a glowing one.
3. Natural Mineral Water – Rich in minerals collected from the green region of Jeju Island, this active mineral water is absorbed into the skin faster compared to general mineral water for skin's immediate hydration from the inside out and for better moisturization.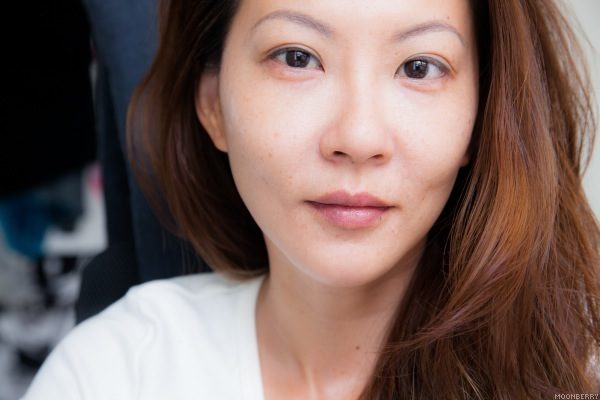 So here's me starting out with bare skin. Uhm, please pardon the eyebags as I continue having erratic sleeping hours and during the daytime my eyes look super tired (because I am tired). Meanwhile, the pigmented spots on my face post-beach holiday are screaming for attention so I'm looking for products and treatments that will address that.
Admittedly I'm starting to get annoyed whenever people see me looking all tan and they just had to comment on the obvious. Yes, yes, I GET IT! I am much darker now. So what!? I can't say I don't like the tan, I just don't love the pigmentation looking more obvious. So from now on anyone who makes a comment that I look tan shall be replied with, "You're looking at my post-honeymoon glow". Heh!
As mentioned, there are 6-in-1 benefits in a single compact. Namely:
1. Brightening Effect – The patented Melacrusher Technology enables skin to recover its ability to self-decompose melanin in a safe and natural way, to give skin a brighter, more transparent, and milky texture without blemishes. Clinical data has shown that skin brightness increased by 6.7% immediately after using the Laneige BB Cushion.
2. UV Protection (SPF 50+, PA+++) – Enhanced its UV protection function with SPF 50+, PA+++ that may be used in replacement of a sun block lotion.
3. Moisturizing Effect – Intensified with upgraded functions, Laneige BB Cushion is added with strong moisturizing effect of optimal mineral water, which is absorbed into the skin faster than other mineral water, moisturizing immediately from deep within the skin for moist and healthy skin, inside/out.
4. Water-resistant – Its water-resistant feature excellently maintains the effects of a dewy skin despite sweat or sebum. This is especially suited for Singapore's humid tropical weather all year round, for a longer-lasting coverage.
5. Soothing Effect – Just like before, the cushion that comes with this compact immediately cools, soothes and refreshes skin fatigued by heat. It contains 34% or more moisture and the upgraded optimal mineral water is absorbed into the skin faster to immediately provide a fresh cooling sensation as soon as the content touches the skin. Clinical data has shown that skin temperature drops by 4℃ immediately after using the new Laneige BB Cushion.
6. Make-up Tint – Laneige BB Cushion's make-up tint effect tightens up natural and clean tone with medium coverage. Transparent cushion powder's skin mimetic refraction rate makes natural and clean skin tone without being greasy, even in a hot and wet environment. Five shades are available to suit Asian skin tones: #13 True Beige, #21 Natural Beige, #23 Sand Beige, #31 Brown Beige and #33 Coffee.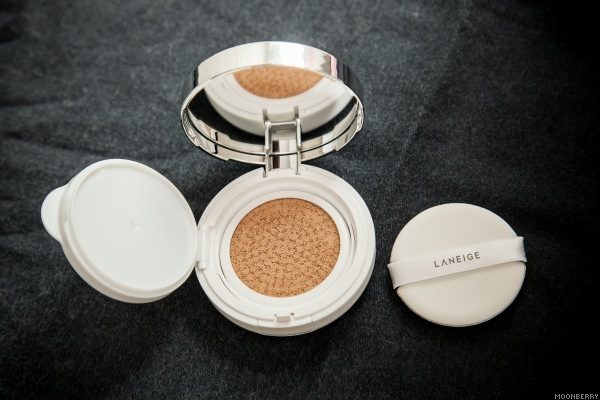 FYI, I use #23 Sand Beige.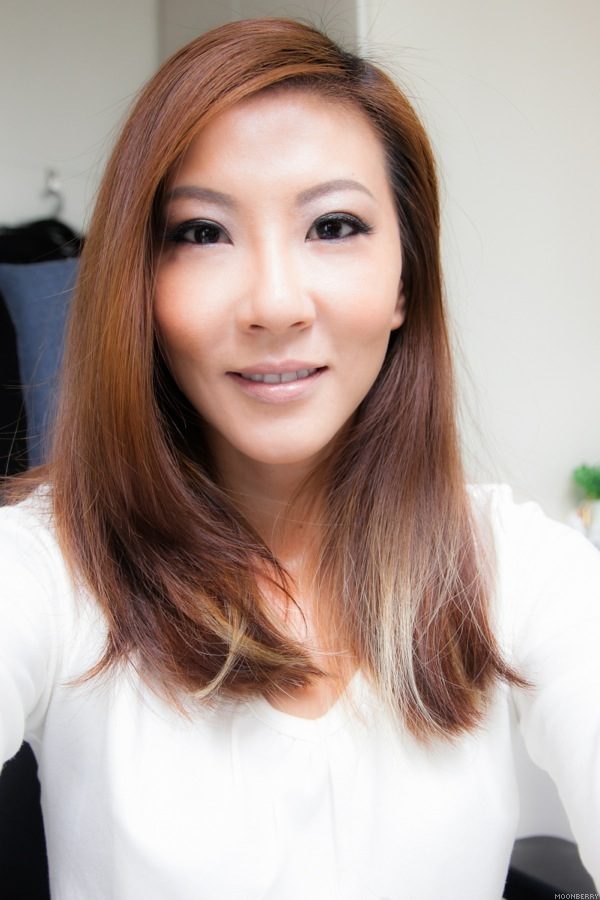 I've been using the Laneige BB Cushion (both original and the updated version) pretty much daily as I like how convenient it is. The coverage is natural enough for me to go out with a more even-looking skin tone without needing to put on full makeup. I also love that it has sun protection so it's been my every day go-to product to use. It stays on all day without smearing as it is waterproof/sweat-proof so I don't have to touch it up (except I do have to blot my face occasionally to reduce shine in the T-zone areas).
These days I truly can't be bothered to put on so much makeup, it takes too much effort. Easier and quicker to just use the Laneige BB Cushion to even out my  complexion and then head out without any additional fuss. Honestly I wish I can skip putting on makeup altogether because it can be quite a chore and takes up too much time – what with eye makeup and all, like shown above. So MAHFAN! This isn't the first time I have expressed this and it probably won't be the last time either. (Having someone else, like a makeup artist, do it for me is of course a different story. Hahaha~)
The Laneige BB Cushion is one of the leading best-sellers for the brand (second only to the extremely popular Water Sleeping Pack EX; which I haven't personally tried) and I can definitely see why people love using it so much – because I do too! Priced at S$59 each, the new and updated Laneige BB Cushion debuts in March 2014 at all Laneige boutiques and counters. I love this product and definitely recommend it.
Laneige Boutiques are located at:
1. ION Orchard – 2 Orchard Turn, #B3-66A S(238801)
2. JCube – 2 Jurong East Central 1, #01-04 S(609731)
3. Jurong Point – 1 Jurong West Central 2, #01-59/79/80 S(648886)
4. Plaza Singapura – 68 Orchard Rd, #03-77 S(238829)
5. Suntec City – 3 Temasek Boulevard, #01-312 S(038983)
If you've used the Laneige BB Cushion, please share with me your thoughts as I'd love to hear them.
xo,
-MB.