8 Aug 2013
---
One of the wonderful things about being in New York is the easy access to a variety of food from different cultures. In my personal experience, they are no less authentic than how the original supposedly tastes in their home countries. The US is a melting pot (pardon the pun) of diverse immigrants after all, and I love how American chefs are so imaginative with their menus, often fusing cultural influences to create unique reinterpretations. This makes the food scene very exciting and it's not a gross exaggeration to say that New Yorker foodies have very discerning and worldly palates.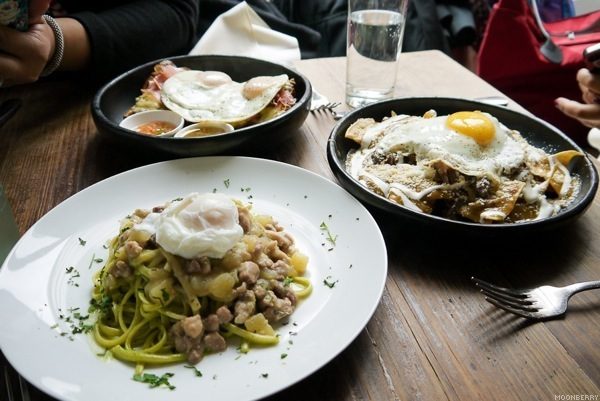 The other thing I appreciate very much about the New York food scene is the creative menu and quality food at affordable price point. This, imo, encourages people to be more open to trying out different food and getting acquainted to other cultures. You can eat well without being extravagant.
I had brunch at Latin American-inspired restaurant in West Village called Comodo with my BFFs and this is one great example of a fusion restaurant. I'm listing the prices of the food as reference too.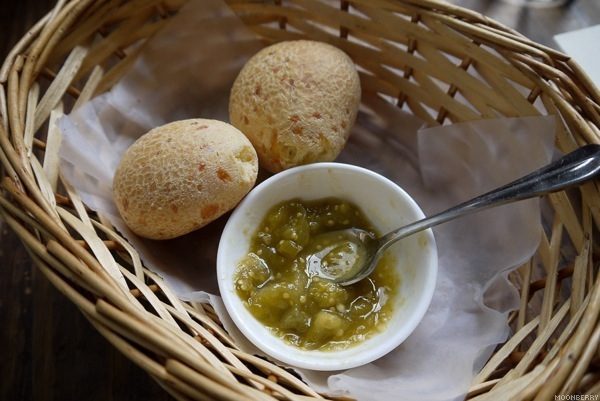 PAO DE QUEIJO BASKET WITH TOMATILLO JAM (US$9)
Cheese buns with tomatillo jam as appetizer. These were so good as they were warm in the basket! The buns were fragrant, chewy inside, crusty outside and the tomatillo jam was sweet with a slight peppery kick. Rip the buns apart with bare hands, spoon a dollop of jam, nibble and chat. Our brunch was off to a good start already!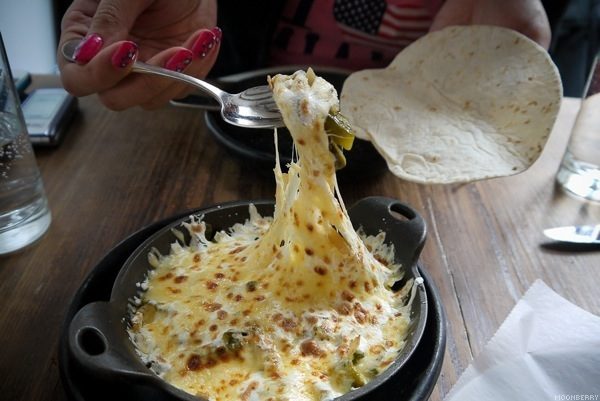 RAJAS MEXICANAS Y QUESO FUNDIDO (US$10)
This is a hybrid Tex-Mex (Texan Mexican) appetizer of sliced Poblano pepper with melted cheese, served with warm flour tortillas. There were three of us having brunch so we went ahead and indulged ourselves with two appetizers to share before diving into individual mains.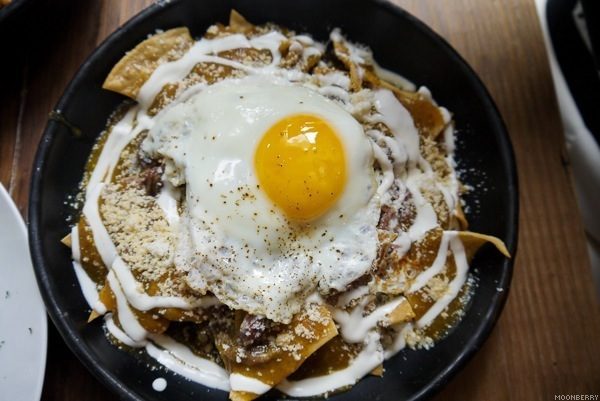 DUCK CONFIT CHILAQUILES (US$16)
Tortilla chips topped with duck confit, cotija cheese and fried egg.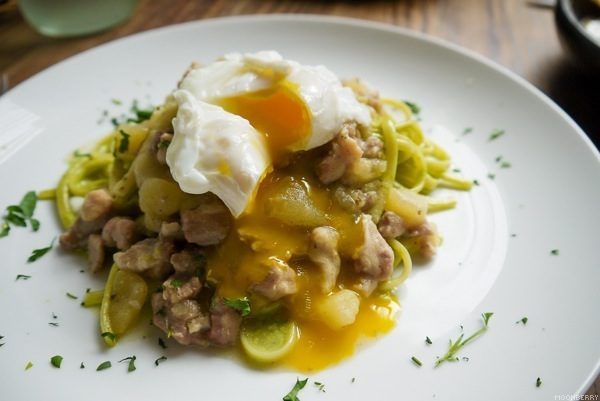 PORK BELLY HASH CILANTRO PASTA TOPPED WITH POACHED EGGS (US$15)
This was my main entree and it was delicious as heck! The cilantro pasta was unmistakably fusion while the pork belly hash was flavorful and tender. The runny yolk from the poached egg created a yummy instant sauce that made this dish even more delectable.
Ever since I moved to Singapore, my stomach capacity has adjusted to Asian serving portions so whenever I'm back in the US, I often forget that one entree portion there is like two meals for me. However, there's way too many good eats in the US for me and I don't want to deny myself from the experience so my strategy is to just order without restraint, but SHARE the food. Can't finish? No problemo. Pack the leftover to go and save it for supper (which will be readily devoured during the first few jetlagged nights).
I sometimes wonder how on earth did I used to finish a whole plate of pasta or a big mound of rice on my own in one sitting before. :0 I suppose I lucked out with the genetics roulette and didn't get too fat back then, but still…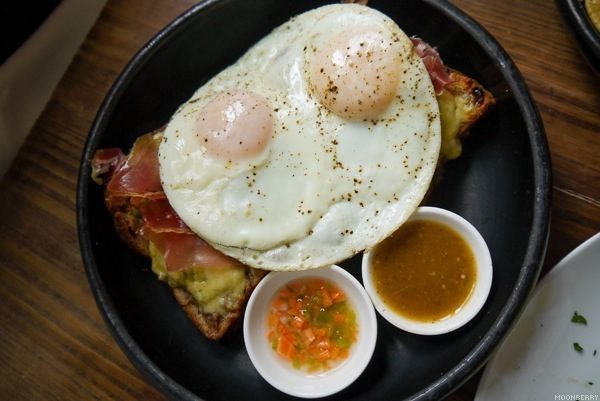 MOLLETES (US$17)
Toasted cinnamon raisin bread, refried heirloom beans, avocado, Oaxaca cheese, fried egg and serrano ham. I'd say this is kinda like a Latin-American version to french toast and ham.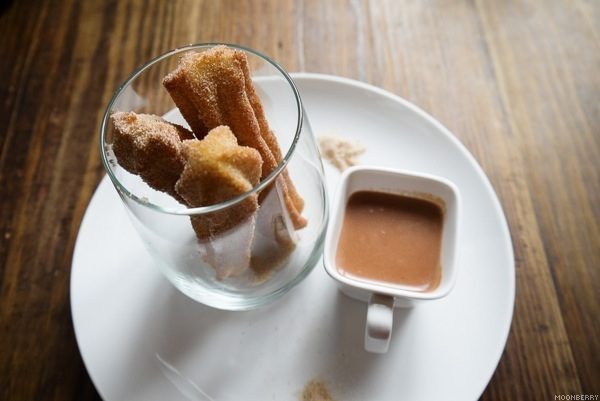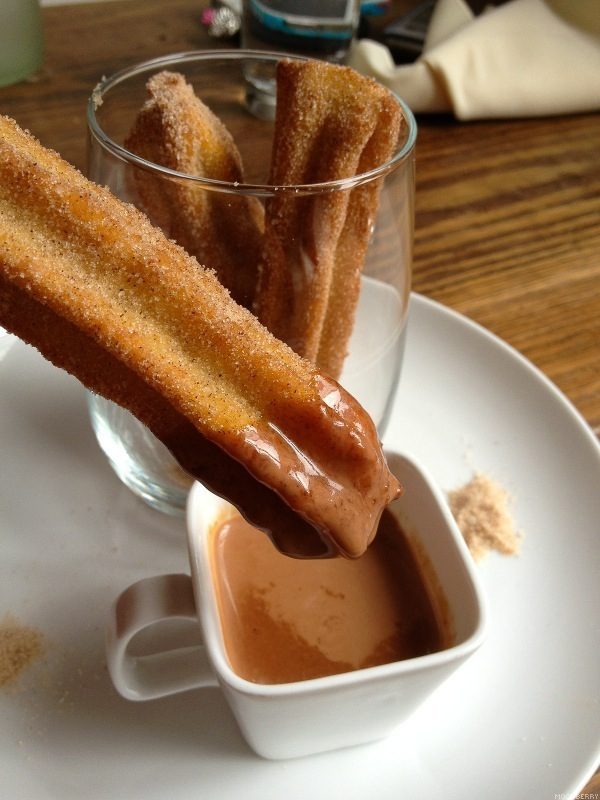 CHURROS & CHOCOLATE (US$9)
Oh gawd. Churros. We couldn't say no to churros, which is a fried-dough pastry—predominantly choux—based snack that is very Spanish. Up until recently, not many people in SG have heard of churros but this is a very popular snack in the US and you can even get them in movie theatres' concession stands along with popcorn and nachos. That should give you an idea of its ubiquity.
It's deep fried, dusted with a sprinkling of fine sugar and cinnamon, then dipped in chocolate sauce. Sinfully good!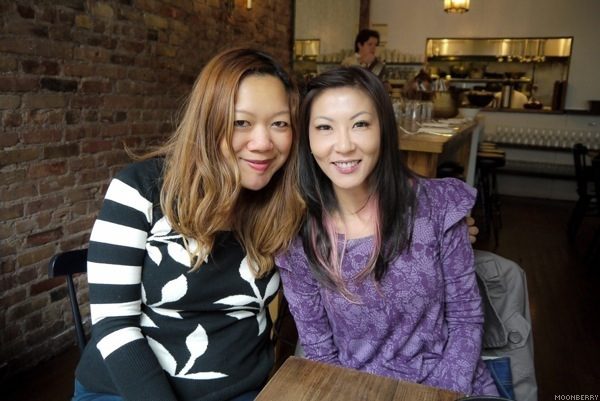 I feel very blessed that all my BFFs are food lovers and they are always keen to check out new restaurants together. New as in both the age of the establishment as well as some place neither of us has tried before. There's definitely no shortage of awesome restaurants in NYC and eating out is an exciting adventure. We eat out pretty often too. Even if the food turns out to be meh flavor-wise, I still walk away feeling like I've discovered and learned something new from the menu – whether it's the discovery of an ingredient or a preparation method that's unusual, etc.
One of the differences that I've observed about eating out in NY (as compared to in SG) is that over there, it isn't uncommon to order a cocktail, an appetizer and main entree, plus dessert and NOT WORRY about breaking the bank. Comodo isn't a fancy restaurant. It's trendy, yes, but it is not a lavish restaurant or anything. This brunch wasn't a special occasion or anything either, it was just a casual meal shared amongst three good friends. The interior of the place has exposed brick walls, the place is small and probably can seat 20-25 people max. But they serve food that's been prepared well, it tastes good and service is attentive. The ambiance is cozy, friendly and laid back. As for the prices?
Between the three of us girls, we ended up with spending a little under US$30 per person including tip and tax. We split the check evenly three-ways, as is the norm for my friends and I. I find this brunch so darn affordable compared to SG!!! And I can't even get food like this in SG. Molletes? Grilled Poblano peppers in Queso? These aren't foods that I'd normally eat and every time I eat out in NY my foodie vocabulary expands (but hopefully not so much my stomach). US$30 for this experience and quality of food is totally very affordable.
So I'm using this example to express why it's frustrating for me sometimes to review food in SG because I've come across a much broader spectrum gastronomically overseas and enjoyed more inspiring food; restaurants in SG (trendy, fancy, trying to be hip) often miss the mark flavor-wise and ridiculously overpriced too. Frankly I have higher expectations from Singapore's supposedly-vibrant and progressive food culture. Give me something exciting and creative please, and stop using that same ole' truffle gimmick to fancify the food and use it as an excuse to commit daylight robbery already! Passé, yo.
I don't think I am being a food snob. A food idealist, maybe. What I hope to see more of in Singapore is food that serves a bigger purpose – one that broadens people's horizons, elevates and expands their culinary vocabulary. And it shouldn't hurt the pockets.
Comodo
58 Macdougal St.
New York, NY 10012
Tel: (646) 580-3866