18 Mar 2012
---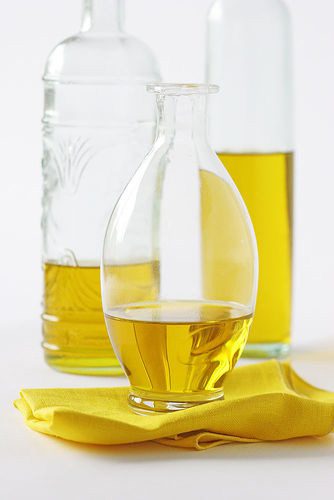 When you think of oil, the last thing you associate it with is probably not as an ingredient to cleanse your face with. Cooking with it, yes. Mixing it with good balsamic vinegar and dipping your bread into it, yes. But… for cleansing the face?!?!?! O_o
Of course we're not talking about cooking oil here, but pure essential oil. I know what you're thinking, you're probably recoiling at the idea of putting oil onto your face. My research recently indicates that it's a common natural method that's been around for a while. (Geez, where have I been all this time?) And get this, the oil cleansing method is actually GOOD FOR YOUR SKIN.
Believe it or not, by using the right oils, you can cleanse your pores of dirt and bacteria naturally, gently and effectively, while replacing the dirty oil with beneficial ones heal, protect and nourish your skin. It is imperative that you keep in mind that oil dissolves oil.

image credit
Do not be afraid of applying oil to your face. Oil, alone, will not bring you blemishes. Your skin naturally produces oil because it needs it. Not only does your natural oil help lubricate, it also heals, protects, and moisturizes your skin so that it may function properly. The basic concept of this skin care and cleansing method is that the oil used to massage your skin will dissolve the oil that has hardened with impurities and found itself stuck in your pores. via
So in essence, good-quality oil is the perfect substance for cleaning sensitive skin, such as on our face, because it helps gently remove the dirty oil and replaces it with good, nourishing, healing oil. If you have acne-prone skin, using the oil cleansing method can improve your skin condition.
I rounded up some of the cleansing oils out there on the market, in case you're curious to pick one up to try. I also did a photo step-by-step demonstration of makeup removal using FANCL Mild Cleansing Oil not long ago, that ought to give you an idea of how cleansing with oil works.
MAC CLEANSE OFF OIL

, shu uemura Cleansing Beauty Oil
, Shiseido Shiseido Ultimate Cleansing Oil
, Lancome Huile Douceur
, DHC Deep Cleansing Oil
Origins Clean Energy Gentle Cleansing Oil
, Laura Mercier Flawless Skin Purifying Cleansing Oil
, Philosophy Purity Cleansing Oil
, NARS Makeup Cleansing Oil
, Bobbi Brown Cleansing Oil
✎ Question for readers: Have you used oil cleansers before?