18 Oct 2013
---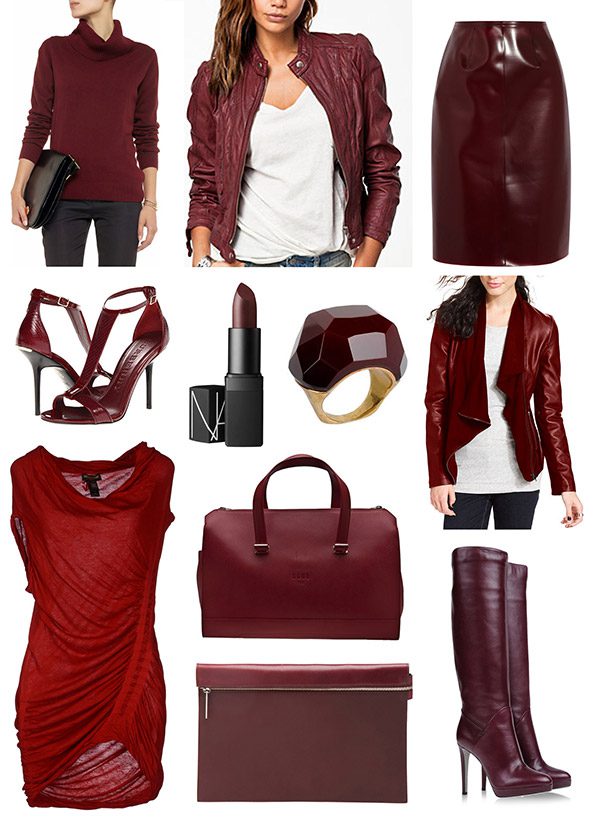 With the turn of the season, I'm beginning to get drawn to oxblood – a dark shade of red that resembles burgundy, but has slight purple and dark brown hues. This wine red, bordeaux color feels so apt for fall and I'm liking its visual impact particularly in leather goods (preferably with a muted dull shine). The color oxblood is vampy and portrays passion, fashion and power. Compared to bright red, it's edgier, sultrier and sexier. The kind of color that rocks as the temperature begins to dip. I love it!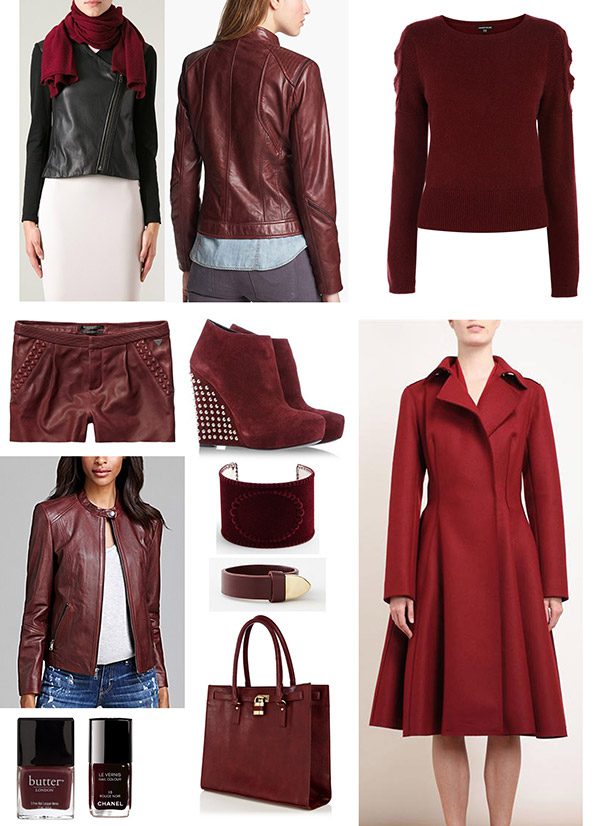 Golden Goose Deluxe Brand Etoile Bag, ROCK'N BLUE SPIRULINA JACKET, IRIS & INK Cashmere Turtleneck Sweater, INVERNI Knitted Scarf, Warehouse Twist Cable Sleeve Jumper, Sergio Rossi Tall Boots, Nagellack Butter London Polish, Hoss Intropia Ring, Lanvin Flounced Wool Coat, Warehouse Padlock Shopper, VICTORIA BECKHAM Large Zip Pouch in Oxblood, ROBERTO CAVALLI GYM Sweater, Burberry Willough from Zappos Couture, BURBERRY PRORSUM PVC Pencil Skirt, GIACOMORELLI Ankle Boots, Scotch & Soda Western Inspired Leather Shorts, NARS Lipstick in Vendanges, Olive & Oak Long-Sleeve Faux-Leather Draped Jacket, Bernardo Zip Trim Leather Scuba Jacket, Andrew Marc Zip Front Moto Leather Jacket, Tildon Velvet Cuff, Steven Alan Lizzy Disney Leather Cuff, Chanel Le Vernis in Rouge Noir.
My eyes are roaming to find a new leather jacket online, to replace the short-sleeved sand-colored one I got from Zara. Because lately I discovered that many of the faux leather/PU items I own – including said Zara jacket – have started to disintegrate inside my wardrobe and die an ugly death. :0 WTH!? Is it due to the humid environment of Singapore or simply a result of aging? Frankly I'm rather perturbed by this because faux leather is lighter, thinner, cheaper and available in more varied stylish offerings. It's almost impossible to avoid buying anything faux leather and look for a 100% leather equivalent instead, in most cases. With the exception of owning one (or two) 100% leather outerwear and bag, IMO it is more practical and economical to get faux leather for most other things – like purses, belts, accessories, shoes, etc. Gggrrr, sucks.
X,
-MB.