20 May 2012
---
It's official. I am in love with Paris. And the thing with Paris is that I must have my French pastries while I'm there (amongst other food actually, but pastries are definitely on the list). Before I went to Paris, I was treated to a lovely box of La Durée macarons flown in fresh from Paris by my BFF wwny. Then I went to Paris in person and my good friend, native Parisian, Suzanna (hi, sweetie!) brought me to Philippe Conticini's newly opened La Patiserrie des Reves. Major foodgasm right there (a different blog entry for next time)! Then I went to Paris again, and Suzanna brought me to Patisserie Sadaharu Aoki where I could've died on the spot. That spot happened to be at Lafayette Gourmet, first floor of the male department in Galleries Lafayette. Forget the clothes and bags shopping for a minute, I could hang out at this basement every day of my trip because it's loaded with deli counters of delicious cheeses, caviars, freshly-baked breads, the finest foie gras and of course, pastries.
I have to say, the ones at Patisserie Sadaharu Aoki were so darn beautiful to look at. They looked absolutely gorgeous and there were so many interesting flavors to choose from, I had no idea which ones to buy.
I will be the first to admit that I almost always avoid chocolate when faced with pastries. The only exception is Pain Au Chocolat (aka Chocolate Croissant) which I never turn down, but with an array of all these wonderful flavors to choose from, I am generally always turned on by citron (lemon), marron (chestnut) and of course caramel salé (salted caramel). Sorry, framboise (berries) doesn't get registered on my radar as I don't like them very much. But of course, there were so many interesting unexpected flavors offered at Patisserie Sadaharu Aoki, I absolutely had to try those (and not waste my stomach capacity on chocolate!). Come, let me take you on a sneak preview of what was offered behind the counter which I thought were unique.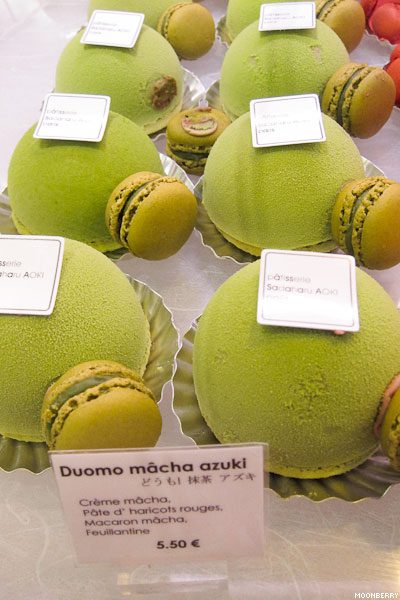 Here's the Duomo Azuki Matcha. According to Suzanna, these domes are Sadaharu Aoki's signature creations.

These chocolate bonbons are also signature Aoki creations and don't they look ultra chic? They make really good hostess gifts, imo.
During this gourmet pastries expedition, I was already happy and full from an earlier moules frites lunch (I am always happy and full when in Paris), so I only bought one Sesame Eclair, one Bamboo "biscuit" and one Wasabi Macaron, one Yuzu Macaron, one Caramel Salé Macaron. That was it (!?) and I inhaled them so quickly all I could remember was the sheer pure bliss of dessert coma. So outta-this-world delicious. Everything! All of them! The Wasabi Macaron was EXCELENT. An unexpected flavor, yes, but it had the very nice flavor and fragrance of freshly-grated wasabi and the whole thing wasn't overly sweet. Perfect, just perfect. I should've bought an entire box. Also, some more Caramel Salé Macaron (which, imo, was way better than Pierre Hermé's version). And the Citron Tart too while I'm at it. Also the Sesame Sugar Zen. Oh, darn it. I want all of them.
How the hell do French women stay so svélte in this environment!!?!?!?!?!!?!? I can't wait to go back to Paris again soon. Thanks to having a love towards French eats, I've actually learned how to read French menu items a little bit here and there. I get the easy words like fish, duck, beef, mushroom, mussels, lemon, cheese, baguette (hahaha) because they are my faves. :P I am not particularly inclined at this time to get formal lessons, but maybe I should one day so that I know how to order my food with ease instead of pointing and butchering the words with my anglicized pronunciation.
For the full visual tour and to see more of what was available at Patisserie Sadaharu Aoki in Paris, check out the album on my Facebook page → http://www.facebook.com/MBxMB. You really gotta check them out, I promise you won't regret it. Warning: Do not view with an empty stomach though!