5 Mar 2014
---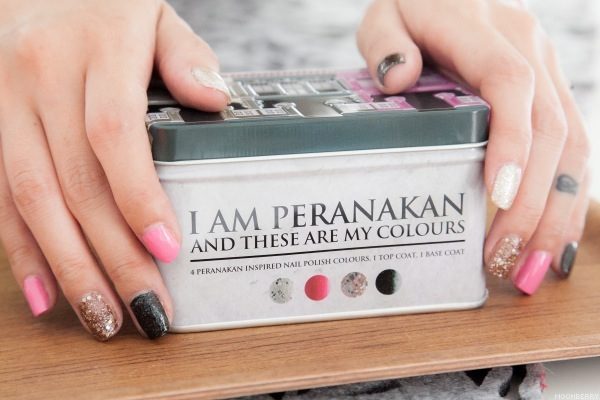 "I Am Peranakan" is a pretty collection of four Peranakan-inspired nail polish colors from Jacqueline Burchell, it's an adorable collection and comes handsomely packaged in a metal tin. Jacqueline Burchell started out fifteen years ago, in a quiet corner of Holland Village (Singapore) where a nail salon opened with the goal of offering as many colour choices to their customers as possible. In a world limited to the monotony of 32 colour choices, it was a refreshing, bold statement. Customers adored the humble, quaint salon that offered choice, great service and blissful pampering. Today, Singapore-bred Jacqueline Burchell has one of the largest collections of Gel Polish in the world and a Nail Lacquer catalogue that will wow you with unique offerings. Jacqueline Burchell's principle is to offer an abundance of variety and choices for women to choose from. Don't believe me? Check out the array of colors available on the website for yourself – pages after pages of gorgeous trend-setting colors that kicked my analysis paralysis into major overdrive.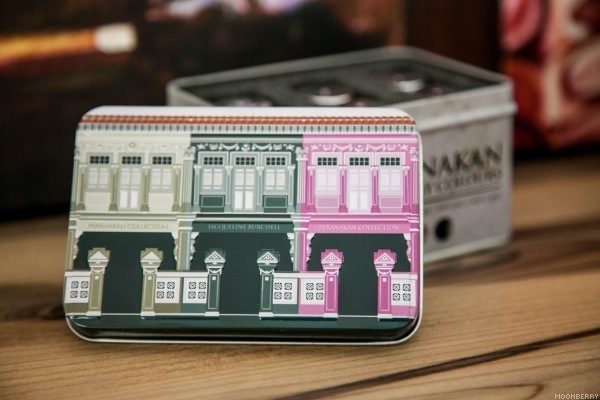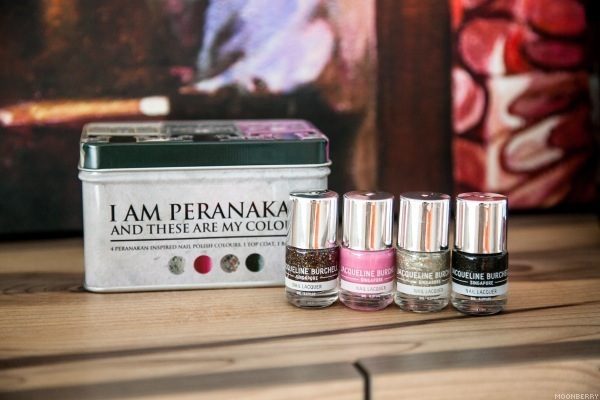 Keep reading for an exclusive discount code for purchases and a GIVEAWAY!
Frankly I haven't done my own manicure at home in eons. This is my first time using Jacqueline Burchell nail polishes… Every Jacqueline Burchell product is tested under rigorous standards to ensure that only the best products leave the warehouse. The brand has gone to great lengths to keep their nail products safe from nasty chemicals such as Toluene, Formaldehyde and Dibutyl Phthalate. These tests are conducted by the Swiss certification firm SGS.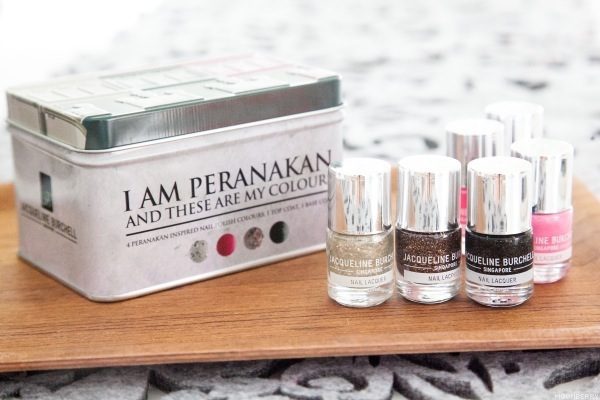 Inspired by Peranakan culture and architecture, every "I Am Peranakan" collection contains four lacquer colours, as well as a top coat and base coat to lock in that shine.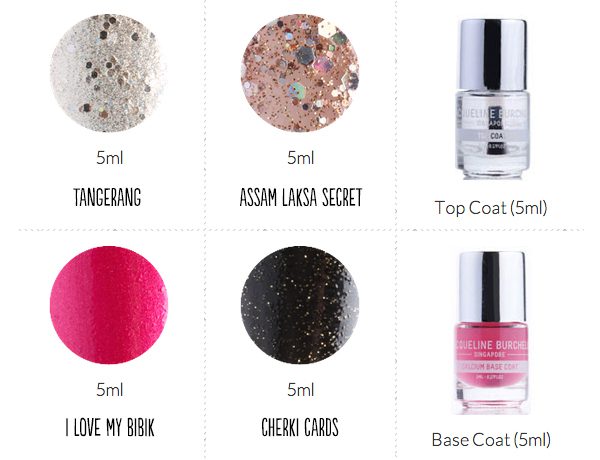 The collection that I am using here is one out of three Peranakan collections. Colors shown above are from Box C: Tangerang – an pearly ivory with iridescent specs, Assam Laksa Secret – a soft brown gel-like base with tiny golden glitter combined with larger prismatic glitter, I Love My Bibik – an opaque and milky pink reminiscent of the creamy rose syrup drink called Bandung, and Cherki Cards – a beautiful shiny black base with tiny gold glitter; my fave out of the lot.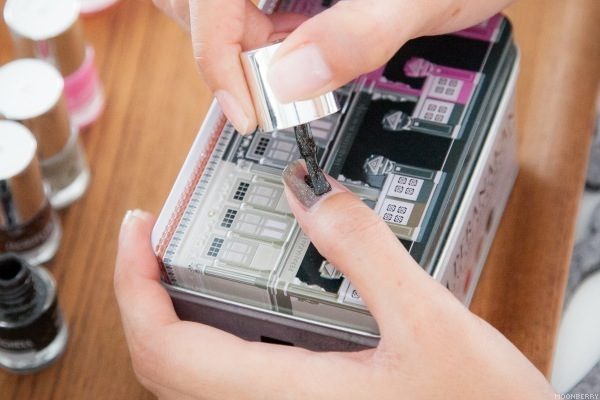 Like I've said, it's been a really long time since I last did my own manicure so my hands were shaky when I did this so I grabbed the nearest thing available as a prop – and that was the metal tin that the nail polishes came in. Even though I'm sure this wasn't a deliberate design, I found the tin to be the right size and height for this purpose. ;P
Initially when I looked at the nail lacquers, the first thought that came to my mind was how tiny the bottles were. But upon applying the colors onto my nails, I ended up appreciating the dainty bottles and brushes as they made it a lot easier to grip and also less mess/clutter on my tabletop. I also discovered that both opaque and gel-based with glitter lacquers in the collection all have a good viscous consistency and easy to apply. I did two coats on every nail and they all turned out nice and even.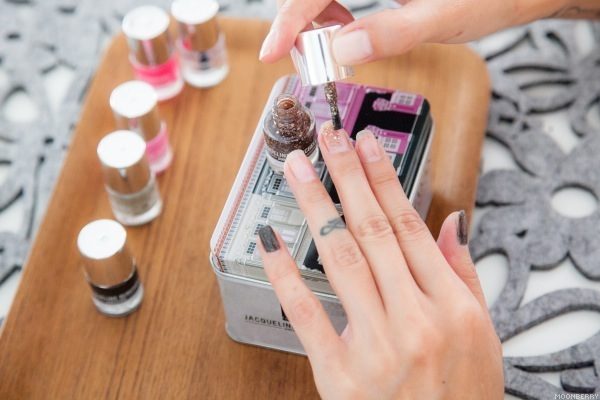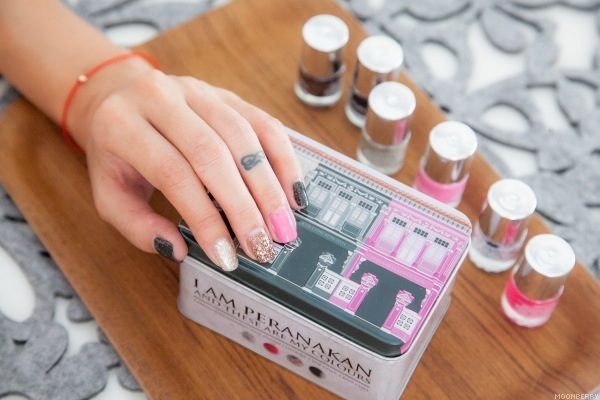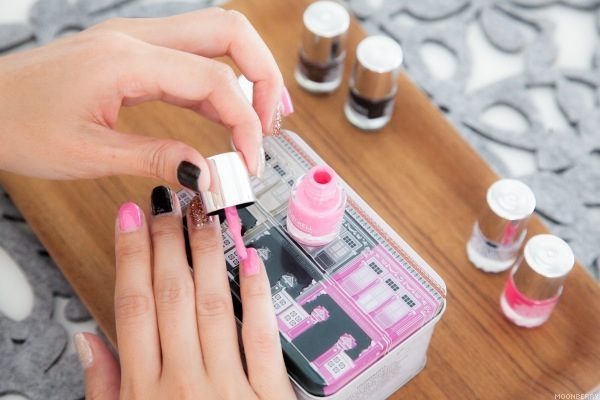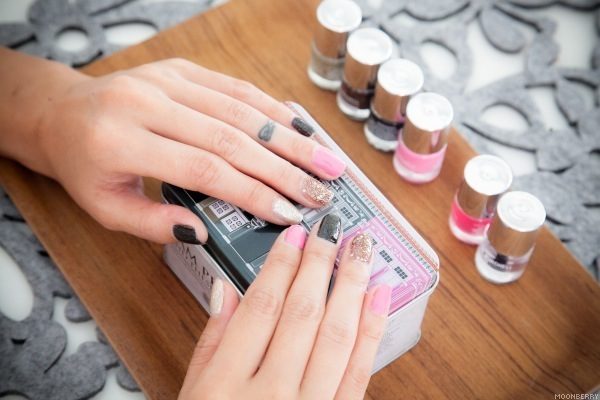 Voila! Done. I'm happy to discover that these nail polishes are fast drying. In less than five minutes after this series of photographs were taken, I was able to resume my daily work without any issue and the colors remained vibrant for a good handful of days. I'm happy with the way my nails turned out, the colors in this "I Am Peranakan" Box C worked really well together and they looked quite chic as an ensemble.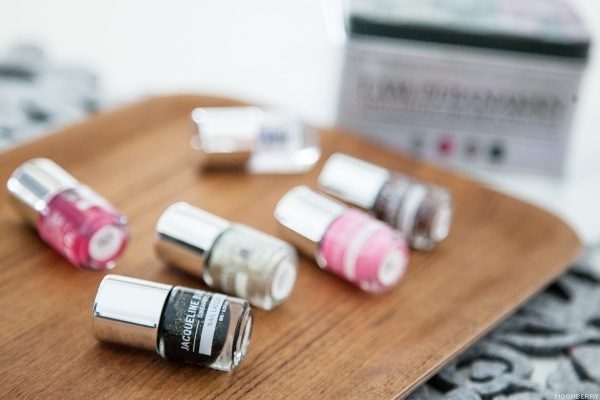 "I am Peranakan" Collection is priced at S$48.00 each (contains 4 lacquer colors 5-ml each, top coat and base coat), while a gabajillion other beautiful lacquer colors is priced ala carte at S$15.00/15-ml bottle. Free local shipping within Singapore for orders above S$40.00.
Use this special discount code when purchasing from Jacqueline Bruchell website before 28 June 2014: MOONBERRY10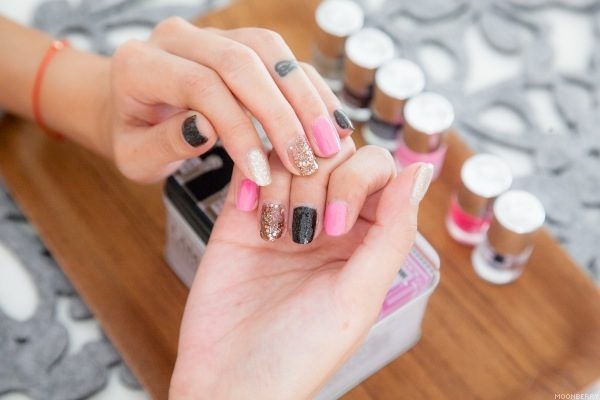 Interested in the "I Am Peranakan" Collection Box C that I've reviewed here? One lucky winner will receive a brand new set from Jacqueline Burchell simply by entering the giveaway below.
Giveaway ends 16 March 2014. Winner will be selected randomly and notified by email. Prize will be sent directly from Jacqueline Burchell.
Good luck!
xoxo,
-MB.