10 Apr 2014
---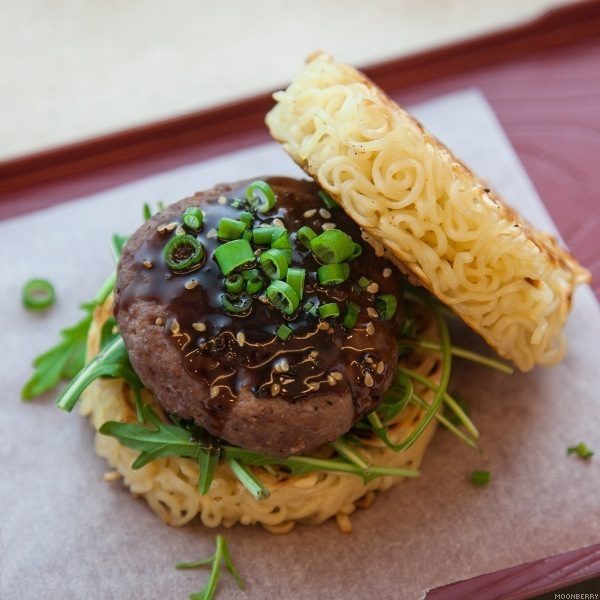 I did it! Immediately after I was back from NYC last summer where and when Ramen Burger was first introduced at Smorsgasburg in Williamsburg, I made this at home but I never got around to finish editing the video. It took me only like… uhm, 9 months (I blame it all on technical issues); gawd I could've had a baby in that duration. Better late than never I say, so here is my rendition of the cult foodie fad that seized New Yorkers last summer: The Ramen Burger.
Keep reading for the recipe.
Since there was just one other long queue I was willing to join at the time and that ended up traumatizing tiring me out for the rest of the trip last summer, I actually never got to personally take a bite into the original Ramen Burger. However, I was no less intrigued by the Ramen Burger and did a bit of reading up online on what people were saying about it at the time. From the bits and pieces which I gathered, I reckon I can recreate it in my own style.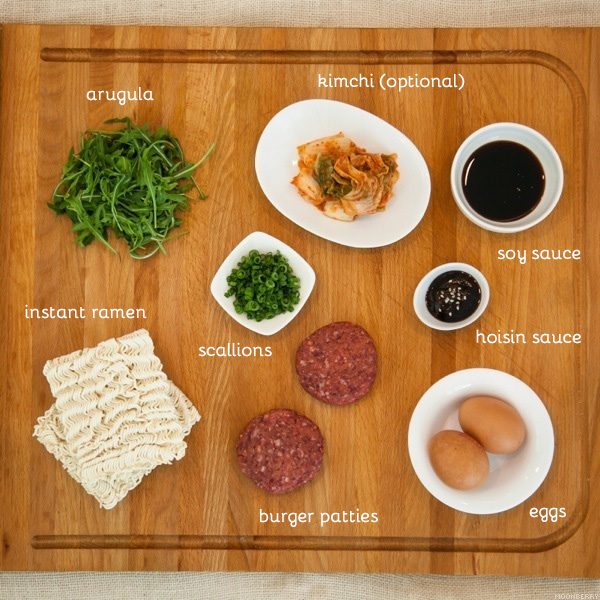 Ramen Burger
Ingredients
2 packets Instant Ramen (of your choice)
2 Burger Patties
Handful of Arugula
2 Eggs
2 Tbs Chopped Scallions
2 Tbs Soy Sauce
1 Tbs Hoisin Sauce
Kimchi (optional topping)
Fried Sunny Side Up Egg (optional topping)
Method
Cook the instant ramen as you normally would until al dente, drain well and add the seasoning from the enclosed packet to flavor the cooked ramen. Add one egg (or two if you want, otherwise fry up the other egg) and incorporate that into the ramen. Adding some sesame oil at this stage helps if you find the ramen noodles getting clumpy. Divide the ramen noodles into two parts and shape them into patties. I used a pastry ring to help me create a disc shape, and then I sear these noodle discs on an oiled frying pan until the tops are brown and crispy. As you can see in the video, I placed a ramekin over the noodles so that it's compacted and that helps to retain the shape. Cook the burger patties as per normal, season with salt and pepper if desired. Make the sauce by combining soy sauce and hoisin sauce together; sprinkle some sesame seeds to prettify. Assemble by stacking in the following order: noodle, arugula, burger patty, sauce, scallions, fried egg, kimchi, more scallions, noodle. That's it, enjoy! :)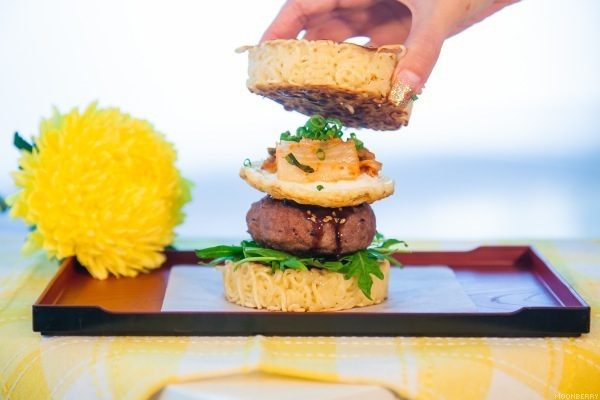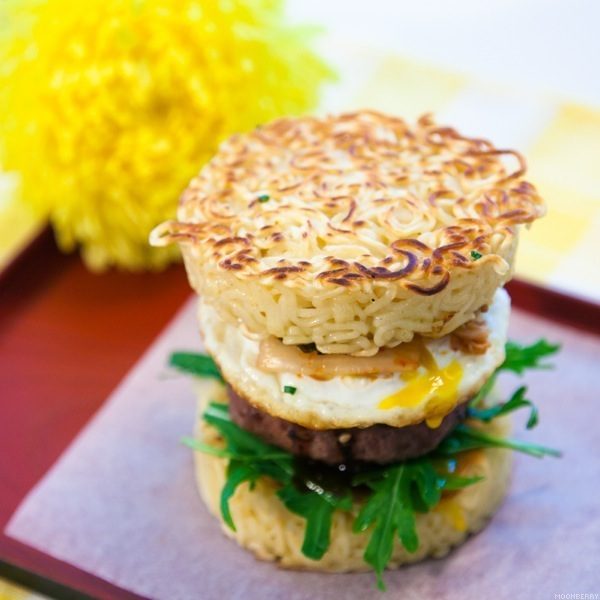 Let me know if/when you try this recipe and make your own ramen burger, I'd love to see how yours turn out. This version is super duper filling (even without the kimchi and sunny side up) and I already made everything smaller in size! I guess that's not a surprise because I was technically eating two packets of instant noodles, yikes.
Oh, I hope you enjoyed the video too! There's some sporadic funky banding in the video when viewed on my desktop, oh wellz… I'll fix that at some point, which will probably be after the baby I have nine months from now starts crawling and teething. JUST KIDDDINNNNNNNGGG. Please like and share anyhoo. :9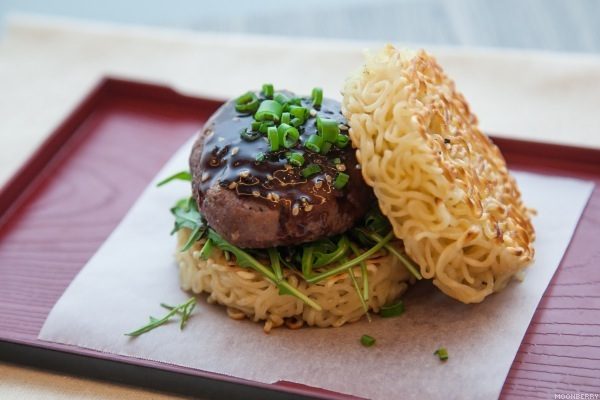 Inspired by Keizo Shimamoto, original creator of Ramen Burger.
Nomz,
-MB.