24 Feb 2016
---
If you've never heard of or had Crispy Red Roast Pork 酥炸紅燒肉 before, can I just say that you're missing out on one of the greatest pork dishes everrr. It is crazy delicious, highly addictive, and somewhat unique to Taiwan. A fatty cut of meat, typically pork belly, is first marinated overnight in fermented red yeast rice and other seasonings, before being dusted with tapioca starch, then fried to a crispy golden brown goodness.
Biting into this, a gentle intoxicating sweet aroma of red rice wine is detected. The fermented marinade has also effectively tenderised the meat, making it supremely juicy with a coat of fluffy crispy exterior to boot. In other words, Crispy Red Roast Post rocks! Imo it's brought together the best of Cantonese-style roast pork and char siew into one beautiful package.
I had my first taste of Crispy Red Roast Pork about a decade ago, when my then-bf's mom bought some for us when we visited her in TPE. I immediately took a liking to it, although this memory got buried away for a long time until my recent trips to Taipei. I came across it again on menus when I ate out with my friends and I thought, "Hey, I haven't had this in years! I used to really like eating this."
So the inevitable happened, I began hunting down who serves the best Crispy Red Roast Pork in the city. I investigated online and also asked for recommendations from friends. One place came up in searches over and over with glowing reviews. It basically dominates the entire first page of internet search results, so I went to check it out for myself one morning.
♦ ♦ ♦ ♦ ♦ ♦ ♦
阿角红烧肉 A-Jiao
No. 2, Lane 247, Section 2, Yanping North Road
Datong District, Taipei City, Taiwan
Open daily at 8am, I was there at 8:01am because my mouth had been watering since the 24 hours prior, eagerly anticipating the wildly raved about Crispy Red Roast Pork here. In my gluttony-induced mental fog, I was pacing up and down the narrow street until from the corner of my eye, I spotted an industrial-sized deep-fryer in the middle of the street, and a guy guarding what appeared to be a rack of golden deep-fried slabs of pork. Situated in a busy narrow street filled with vendors, A-Jiao is a market vendor in a local neighborhood morning market and it's easy to miss.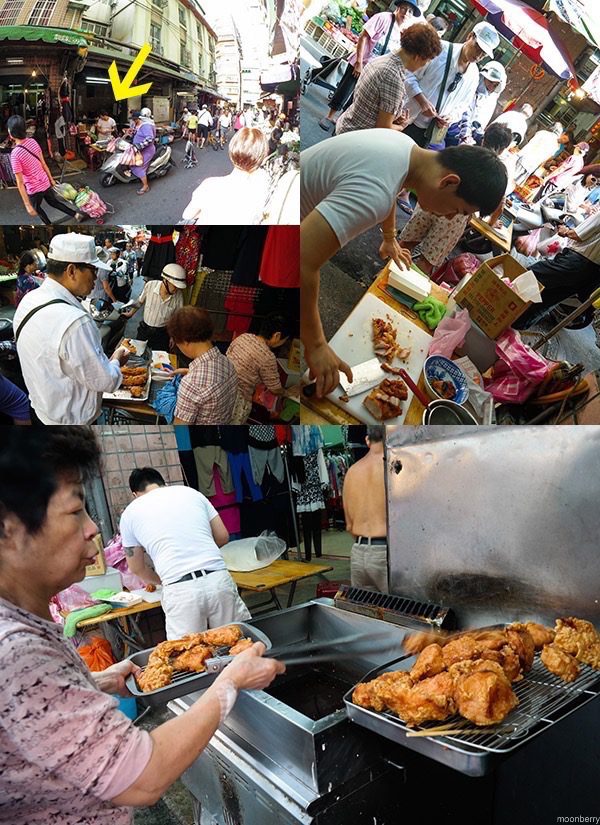 I went up to ask whether he's the vendor I was looking for, he said yes. I looked left, I looked right, and there wasn't anyone else selling CRRP so I guess he was who he said he was. I noticed there were two different chunks of pork, and he explained that one's pork belly, the other's pork neck. In the online reviews, I read that the pork neck is from a Kurobuta pig… fanciness. I quickly placed an order for both. He proceeded to slice and packaged them for me, then I got rudely shoved out of the way by a few senior citizens who suddenly descended out of no where and started pointing at the pork with great interest. I didn't even get a chance to ask whether A-Jiao is the seller's real name.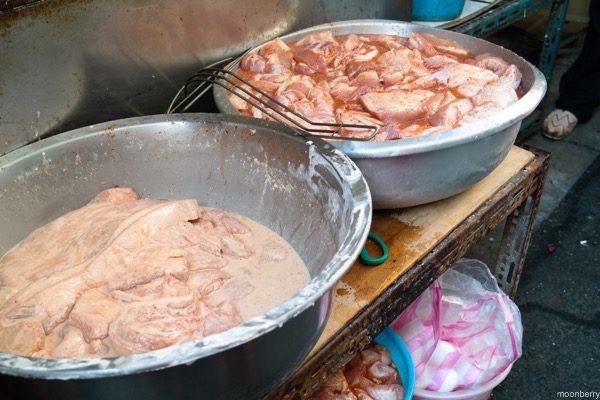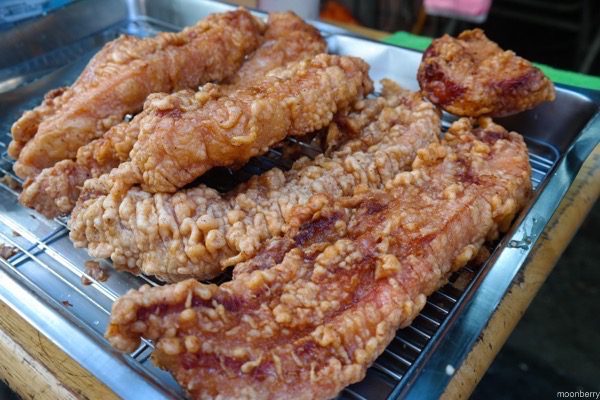 Pork Belly CRRP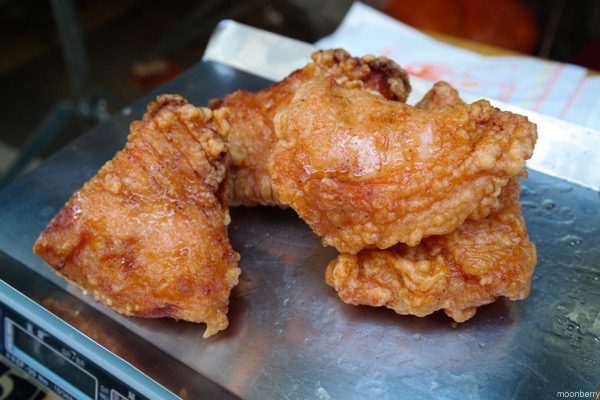 Pork Neck CRRP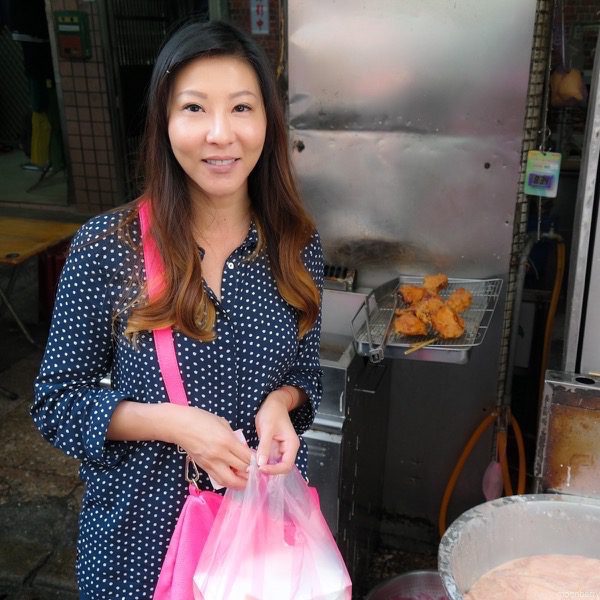 Omaigad, omaigad. (Sleepy but) I couldn't wait to eat. Early morning excitement!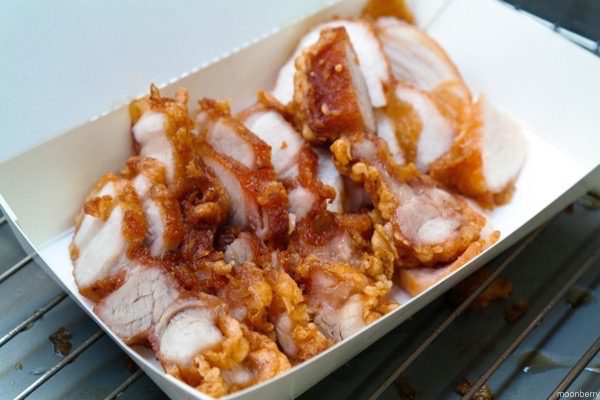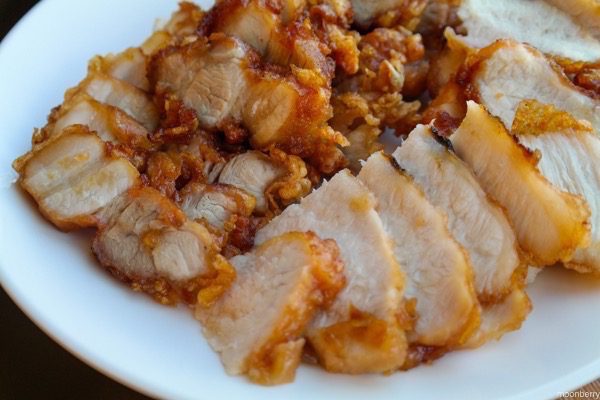 I took my first bite and was pretty much ruined forever. The pork belly CRRP was extremely tasty, bursting with flavor, and deep-fried to a perfect crunchy crisp while still juicy inside. Meanwhile, the Kurobuta pork neck CRRP was crazy luscious and melt-in-the-mouth tender with a thiiiiiin layer of gelatinous pork fat around the edges that made this damn exquisite. Friggin' mind-blowingly good. This was like, a totally different level of foodgasm altogether. The sort of thing that will haunt me in many nights to come, when tummy's rumbling in hunger.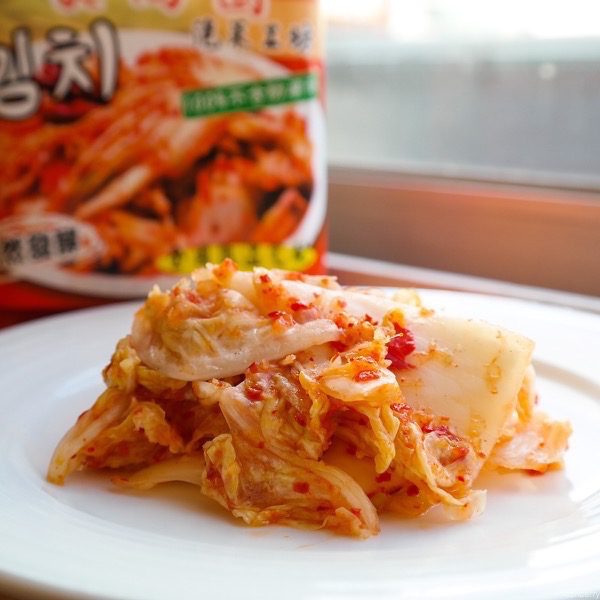 Btw, there's a kimchi vendor right across from A-Jiao that sells super duper kickass kimchi! Believe you me, I'm a kimchi snob who dismisses inauthentic kimchi (ie. not adhering to Korean recipe and seasonings), but THIS.WAS.SO.DELICIOUS. It's crunchy, the fermentation was just right, there's a detectable fruity flavor undertone, and a mild spicy kick. The acidity's spot on too, not lip-puckeringly sour. It was so good I couldn't stop reaching into the jar with my fingers and snacking on it. I definitely want to get more jars of this kimchi next time. It's homemade in small batches, the brand is 豪尚園, that's all I know. What a pleasant discovery!
Ok, tangent over. Back to the program.
♦ ♦ ♦ ♦ ♦ ♦ ♦
Zhou's Meat Congee 周記肉粥店
104 Guangzhou Street
Wanhua District
Taipei City, Taiwan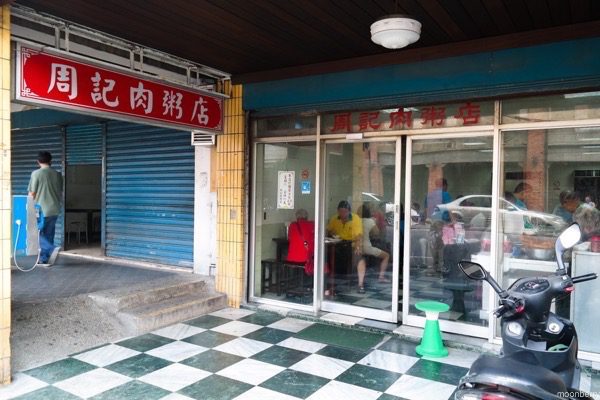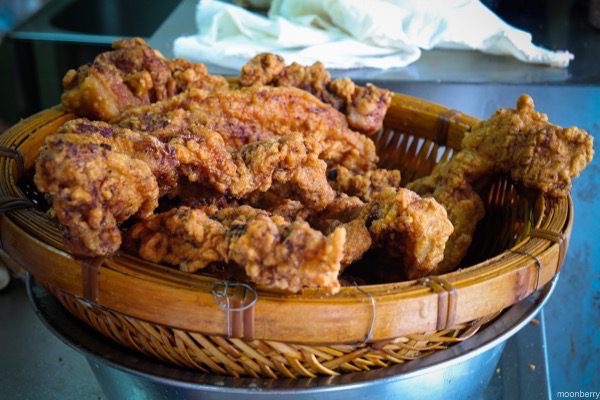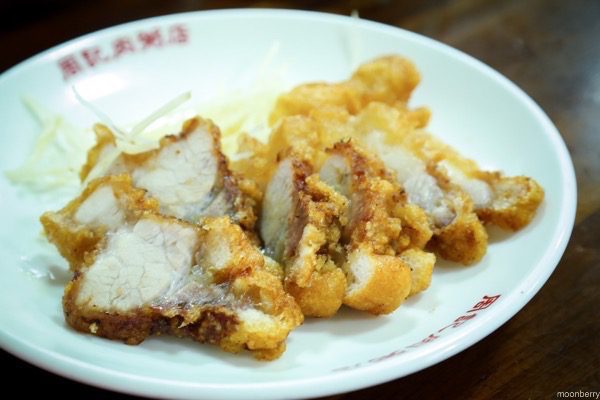 Recommended by my friend Elton, I ordered the Crispy Red Roast Pork here as it's this restaurant's star item, with other dishes. Read about it here.
♦ ♦ ♦ ♦ ♦ ♦ ♦
Sung Ko 松哥擔仔麵
No. 80 Kang Ning Road, Section 1
Neihu District
Taipei City, Taiwan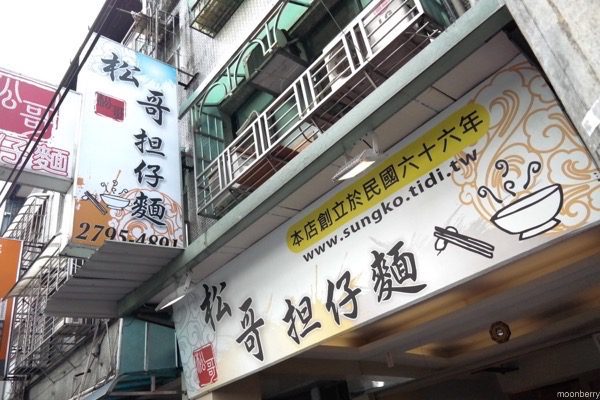 I also had CRRP at Sungko. As clearly shown in the photo, their version looks closer to char siew as the meat to crust ratio is somewhat close, and the meat is lean, no visible fat. It wasn't as juicy as all the others I've mentioned in this article. It's pretty much like eating char siew, and I remember eating this together with a lot of the julienned ginger which worked out quite nicely flavor-wise. I think the crust is just as important as the meat, but Sungko's version isn't very crispy. Nice color though.
♦ ♦ ♦ ♦ ♦ ♦ ♦
A Mystery Random Market Vendor
Hsin-chuang, New Taipei City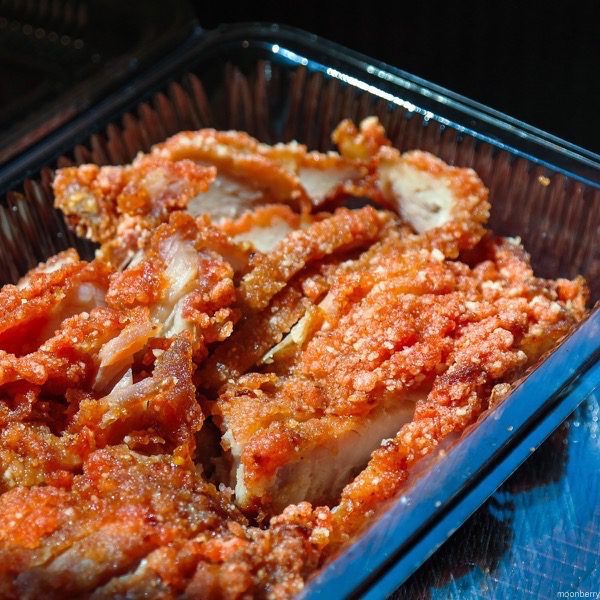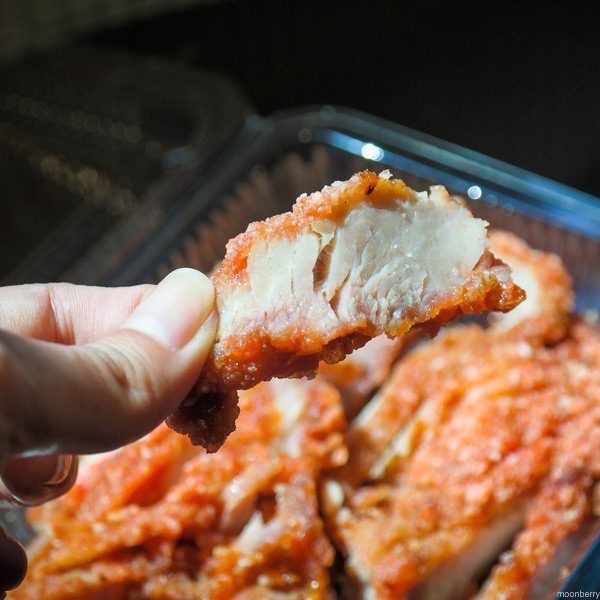 I have very little information of where this one came from other than it's from another vendor at the morning market in Hsin-Chuang, New Taipei City. Our family friend had bought it for me to sample as she said this vendor has been making this Crispy Red Roast Pork for years and it's a neighborhood fave. This one has a slightly different flavor than A-Jiao's and Zhou's, it's not as fatty and I noticed a more pronounced fermented flavor. Still very delectable with a somewhat sweet crust although the meat isn't as juicy. It's much leaner than the other two I've tried. I picked a piece up to try and dunno what happened, because I ended up finishing the entire packet in one sitting.
Knowing that I'd suffer from massive withdrawal syndrome and had to resort to making some of my own at home, I asked our family friend to locate a packet of Red Yeast Rice for me to bring back to Singapore. To be honest, this Red Yeast Rice thingie is quite a mysterious entity. It has many variations of one name and as far as I know, it's a homemade seasoning. Some people call it glutinous red rice wine, others call it red glutinous wine lees, or red yeast sweet glutinous rice, fermented red rice… basically it's red, rice-y, yeast-y, wine-y, and ferment-y. Something like that. Even in Chinese there are a couple of names: 紅麴 and 紅糟.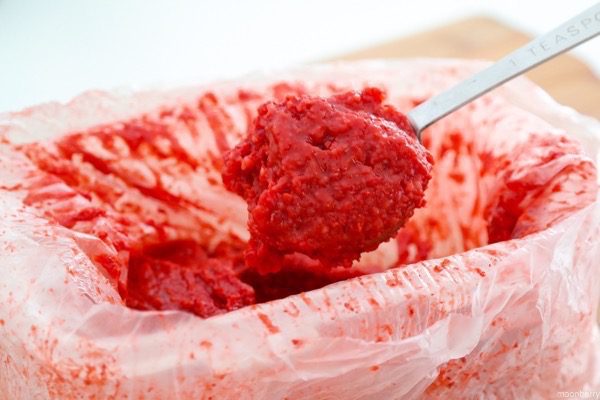 I read somewhere that this seasoning is commonly used to make Peking Roast Duck, in fact the reddish tint is imparted from this seasoning… which led me to wonder then how come Red Yeast Rice is not mass-distributed and commercially available in every Asian supermarket!? Our family friend got me some from her local morning market in the Taipei area. Maybe I'll have some luck at the morning market in Singapore, I'll try looking for it next time after I used up this stash. (I'm also bookmarking this homemade recipe for future reference.)
Now it's time for me roll up my sleeves and make some Crispy Red Roast Pork 酥炸紅燒肉 in my kitchen. Ah btw, the name is a direct translation from Chinese. Technically, there's no roasting involved because this is deep-fried. Just so ya know.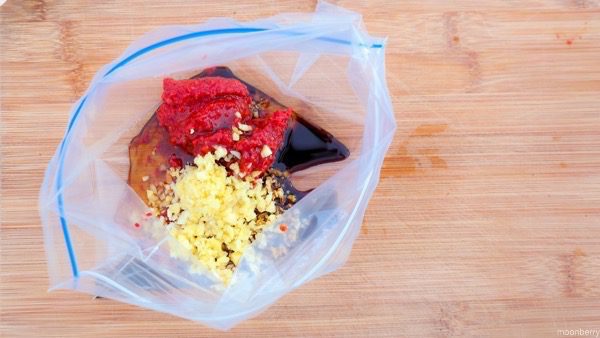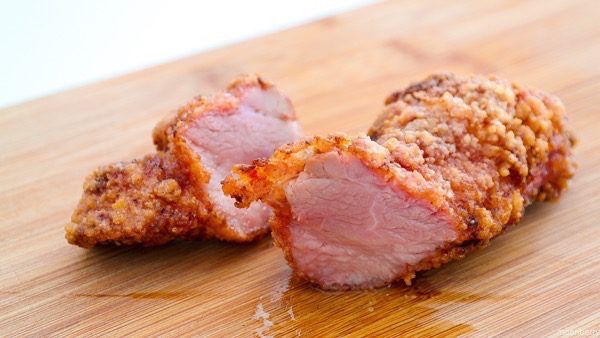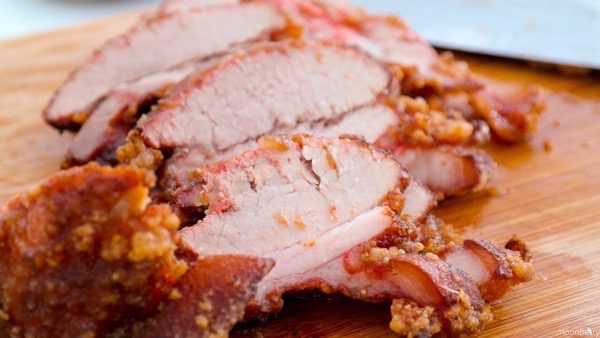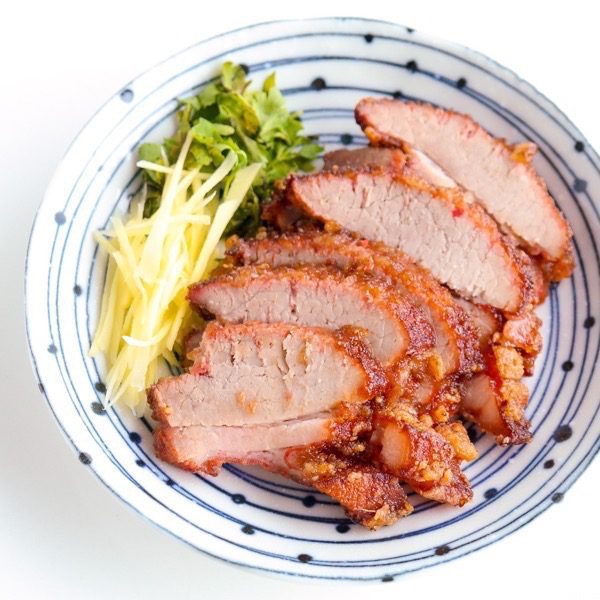 Crispy Red Roast Pork 酥炸紅燒肉
1 lb Pork Belly
2 tablespoons Red Yeast Rice
1 tablespoon Rice Wine
1 tablespoon Soy Sauce
1 tablespoon Grated Ginger
1 tablespoon Chopped Garlic
1 tablespoon Sugar
1/2 teaspoon Five Spice Powder
1/2 cup Tapioca Starch
Oil for frying
Combine red yeast rice, rice wine, soy sauce, grated ginger, chopped garlic, sugar, and five spice powder into a bag. Massage into pork belly and marinade overnight in the refrigerator. When you're ready for a foodgasmic experience, take the marinated pork belly out of the fridge, wipe off marinade, dust generously with tapioca starch and deep-fry in oil until golden brown and crispy. Let rest for a few minutes before slicing, and then inhale in the shortest amount of time possible before you can spell out "Crispy Red Roast Pork". Serve with julienned fresh ginger, if desired.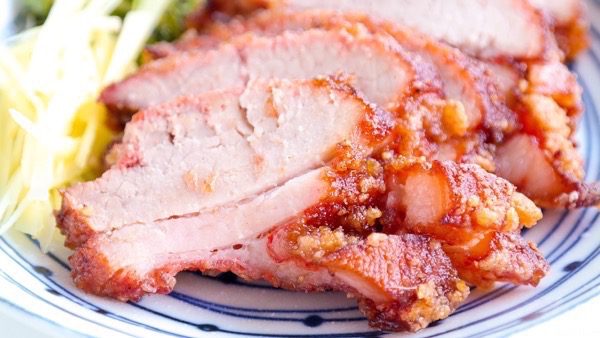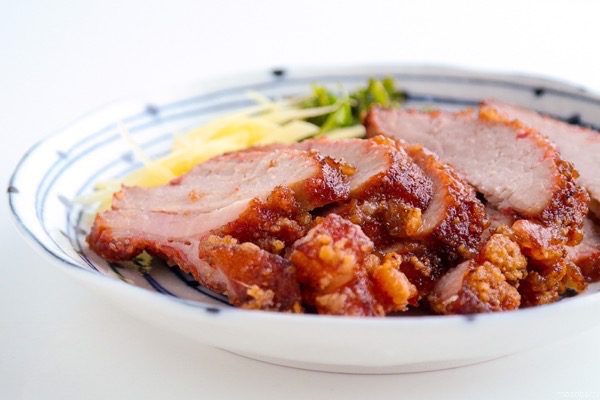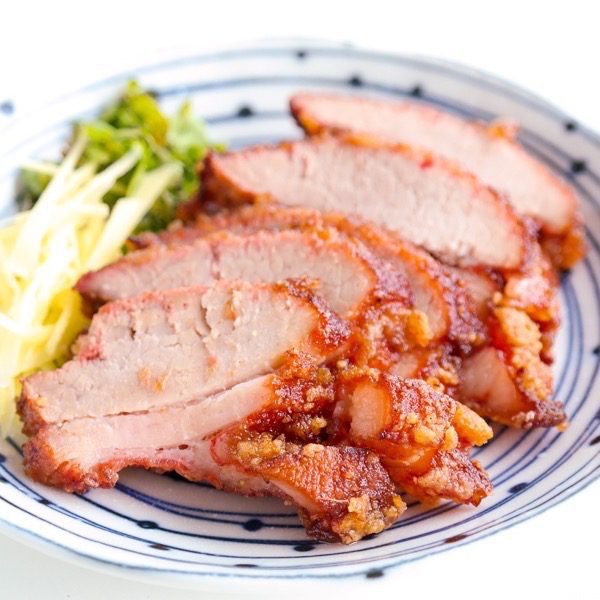 Oh gawd, just look at it. How can you say no to that!
Licking lips,
MB.