17 Jan 2016
---
I made Gamjatang this week because I was craving it in a big way. I'm resorting to making and eating all my fave foods in order to bring my appetite back from the dead. This Korean spicy soup with hefty potato and pork bones totally sounds inviting to me so I rolled up my sleeves and got cracking.
Up until two years ago, I had never heard of Gamjatang and it did not exist in my sphere of knowledge. And I thought I've seen pretty much all of the common Korean dishes, stews, and soups! I remember exactly when and how it came up in the conversation, and who I had it with too. But until I actually tried it for myself, Gamjatang was nothing but a foreign word to me.
About three months ago, I finally encountered this soup for the first time.
It was when my sis and I went to check out Tang 190°, a Korean restaurant in South California popular for their piping hot soups – except we weren't there for the soup, we went because they have bossam. I studied the small menu anyway, it's straight to the point, listing unpretentious comfort food like solleongtang, galbitang, doenjang chigae, the usual. I didn't even know soup is the specialty here after all until I saw every table in this packed little restaurant had ordered soup except for us. Then I found out that the name of the restaurant itself stands for arguably the most tasteful temperature of Korean soup (tang), i.e. 190° Celsius. I spotted Gamjatang on the menu and decided to order it because just because.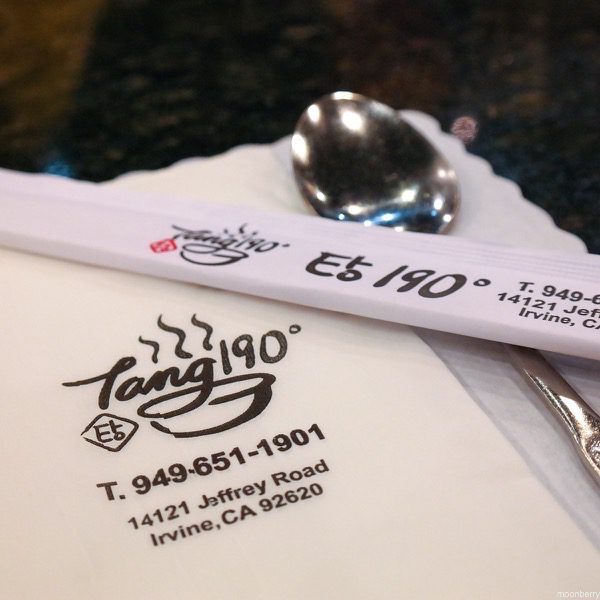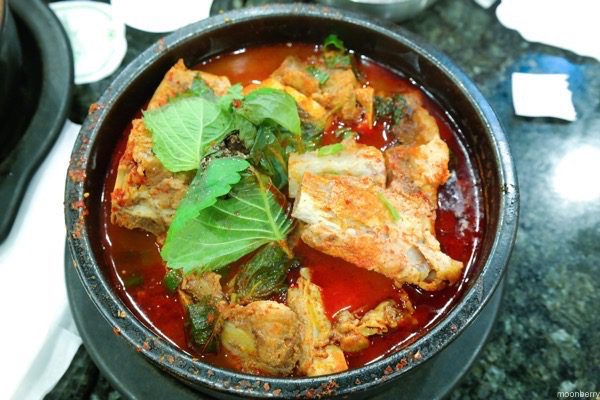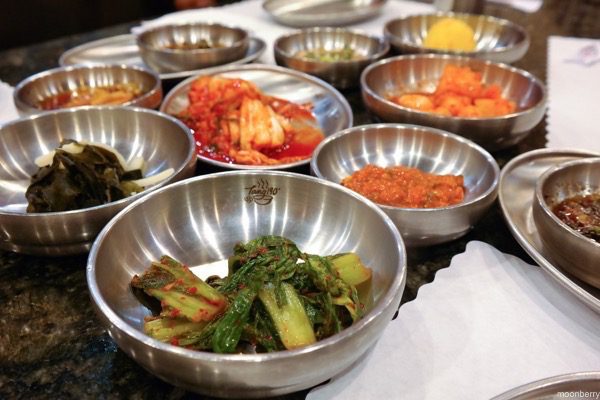 Gamjatang is a spicy soup consisting of hefty potatoes and bone-in pork chunks, and my first impression of the soup is that it's uh, peasant-like. Large honking chunks of potatoes and pork bones. Must've been something that farmers used to eat back in the days, right!? This soup is hearty and hits all the right spots, particularly in the middle of a "hey I thought SoCal weather is supposed to be consistently mild and warm so how the heck did it become this chilly in the middle of October gee this soup is precisely what's needed for this bipolar weather" situation.
I am glad my first taste of Gamjatang took place at Tang 190 because it left me wanting more. Forget about the pork bones, the potato is the rockstar in this soup. It's sturdy and solid yet melts in your mouth and every bite releases the savory aroma of the broth. (Maybe coz they're US potatoes!? I imagine the experience would be inferior if the potatoes are all crumbly and sad-looking overboiled little knobs.)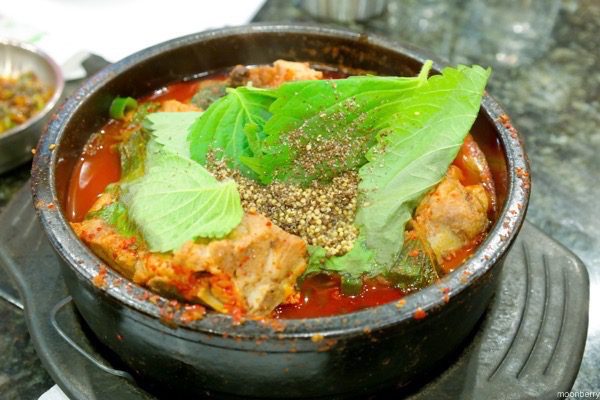 This soup is served with perilla seeds powder and leaves. Sigh, I could not find fresh perilla leaves anywhere in Singapore, which is really too darn bad because I love it a lot. I shall attempt to grow it myself one day; already have the seeds ready to be planted, just don't have the gardening aptitude quite yet – heh. I did find perilla seeds powder at the Korean mini-mart near my apartment, but forgot to add it into the recipe when I filmed the video, oops. So I want to say these two items are optional if you can't find them, but then again I super duper dig the additional earthy element (pun intended). Additionally, the texture and flavor from the perilla seeds powder and leaves give this soup an edge. In fact, I think it's a very important characteristic of this soup. Ah well. We do the best with what we have. Sesame seeds subbing perilla seeds works just fine in this case.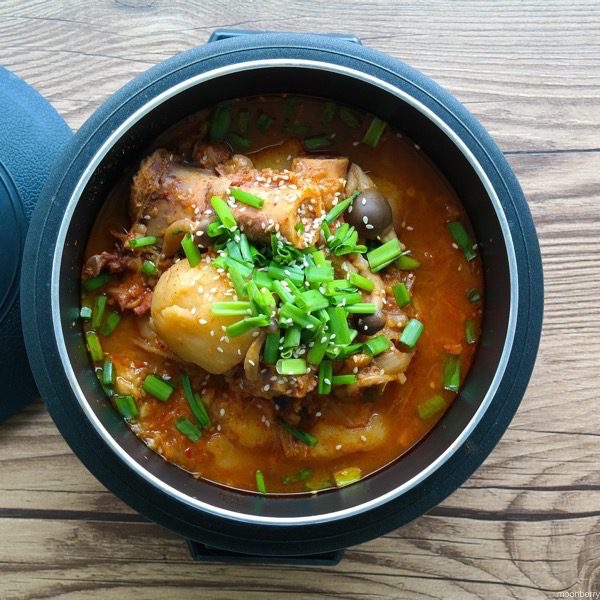 Gamjatang (Korean Pork Bone Soup)
Group A:
6-8 pieces Pork Bones (about 1 kg)
6 cups Water
1 bunch Scallion, the white part only
1 large Onion, sliced
2 Tbs of Minced Ginger
2 Tbs Korean Soybean Paste
Group B:
6 cloves of Garlic, minced
2 Tbs Fish Sauce
2 Tbs of Cooking Wine
1 Tbs Korean Red Pepper Paste
2 Tbs Korean Coarse Red Pepper Powder
Group C:
4 Potatoes, peeled and halved
Shimeji Mushroom
Napa Cabbage, chopped into wide pieces
Sesame Seeds
Black Pepper
Group A: Soak pork bones in a bowl of cold water for about 1 hour to remove any blood. Drain water and rinse bones. In a large pot, place bones and fill with enough water to cover the bones, then boil for 15 minutes to remove any scum which surfaces. Drain water and rinse the pork bones again.
After thoroughly cleaning the pot, add the pork bones back in along with 6 cups of water. Add white part of the scallion, minced ginger, and soy bean paste into the pot. Boil again for 15 minutes.
Group B: In a small bowl, combine the minced garlic, fish sauce, cooking wine, Korean red pepper paste and Korean coarse red pepper powder. You'll yield a red spicy sauce.
Group C: Add the sauce you've made, potatoes, Napa cabbage, and simmer for another 45 minutes.
Once the potatoes are soft, transfer the soup into a serving bowl or Korean earthenware, top with remaining scallion (chop the green part), sesame seeds and/or black pepper. Serve with rice. Kick it up a notch: Top the soup with perilla leaves and perilla seeds before serving, if you can find them.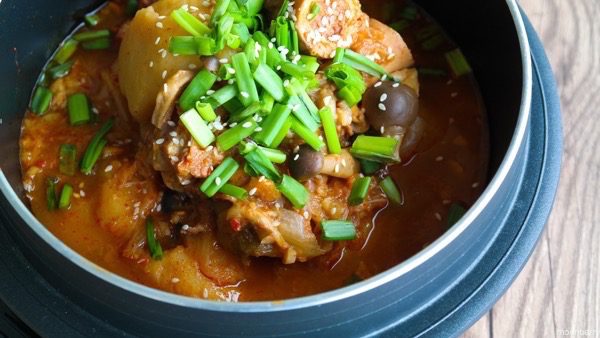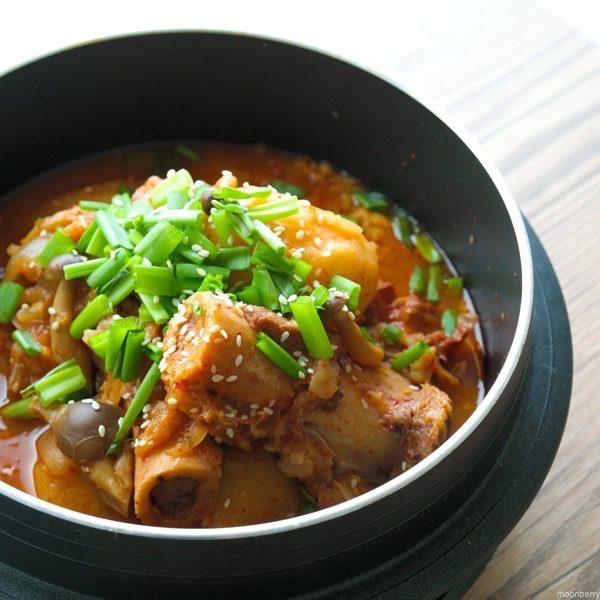 I heart Gamjatang.
x,
MB.