5 Oct 2015
---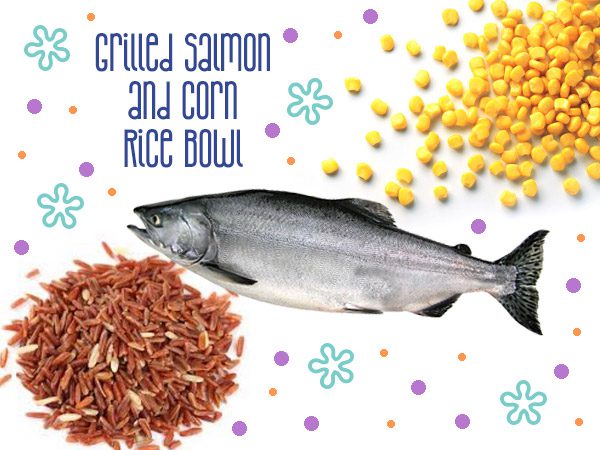 Grilled Salmon and Corn Rice Bowl sounds like a fab meal since I'm (still) on a clean eating, post-detox phase. I don't really know what the heck that means anymore, I only know that I'm (still) cranky and irritable every day. No one's forcing me to eat clean, of course. It's just that I'm thoroughly appalled by the number on my weighing scale, which is depressing. The last two weeks were brutal and I'd taken to brooding solo inside my cave, lest I chew the heads off of innocent bystanders.
※※※ Connect, Follow, Like and Share via http://www.facebook.com/MBxMB and Instagram @moonberry ※ ※ ※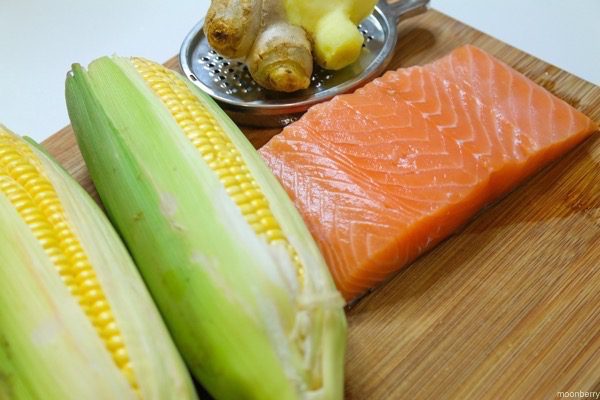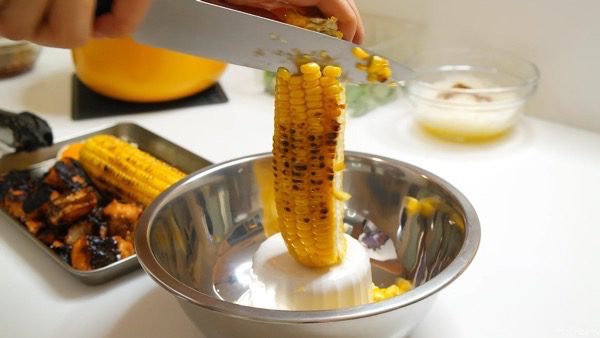 Grilled corn is the bee's knees. Was reading a Rachel Ray mag the other night and learned this trick of shaving the corn off the cob by putting an inverted small bowl inside a larger bowl – as demonstrated in the two images above.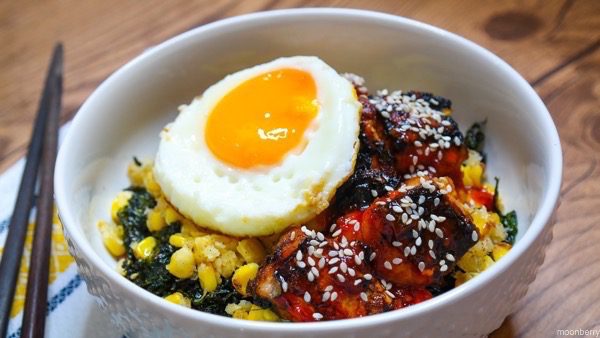 Grilled Salmon and Corn Rice Bowl
Salmon
1 Salmon Fillet (abt 300g)
2 Tbs Olive Oil
2 cloves Garlic, minced
1 Tbs Soy Sauce
1 Tbs Rice Vinegar
1 Tbs Sesame Oil
1 Tbs Brown Sugar
1 Tbs Fresh Ginger, grated
In a medium bowl, whisk together olive oil, soy sauce, rice vinegar, sesame oil, brown sugar, garlic, ginger, sesame seeds and green onions. Cut salmon fillet into 2″x2″ cubes and marinate for at least 30 minutes to overnight, turning occasionally.
Preheat oven to 400 degrees F. Lightly coat a baking dish with nonstick spray. Place salmon cubes along with the marinade onto prepared baking dish and bake until the fish flakes easily with a fork, about 20 minutes.
Honey Glaze
1 Tbs Honey
1 tsp Soy Sauce
1 tsp Sesame Oil
1/2 tsp Gochujang (Korean spicy pepper paste)
1/2 tsp Fresh Ginger, grated
Whisk together in a small bowl and drizzle over cooked salmon cubes.
Grilled Corn
2 ears Corn, husked
1 Tbs Butter, melted
2 Tbs Parmesan Cheese, finely  grated
1/2 teaspoon Cayenne Pepper
2 Tbs Extra Virgin Olive Oil
Preheat a grill or grill pan to medium-high. Brush corn lightly with olive oil and grill, turning occasionally, until the corn is tender and just getting charred, 12 to 15 minutes. Shave the corn off the cob and toss with melted butter, grated parmesan cheese, and cayenne pepper.
1 cup Cooked Red Cargo Rice
1/4 cup Roasted Seaweed
1/4 cup Chopped Kimchi
1 tsp Sesame Seeds
1 Fried Egg
Assemble all ingredients in a bowl and serve immediately.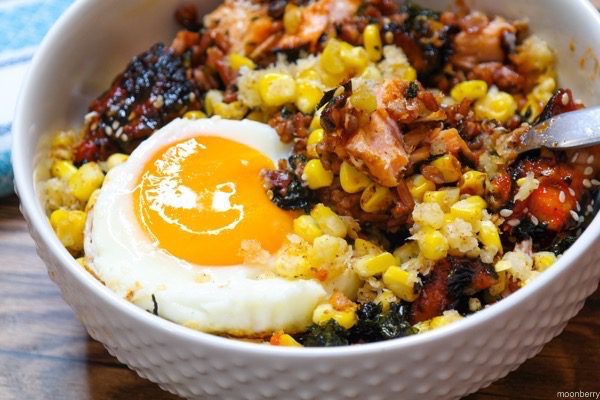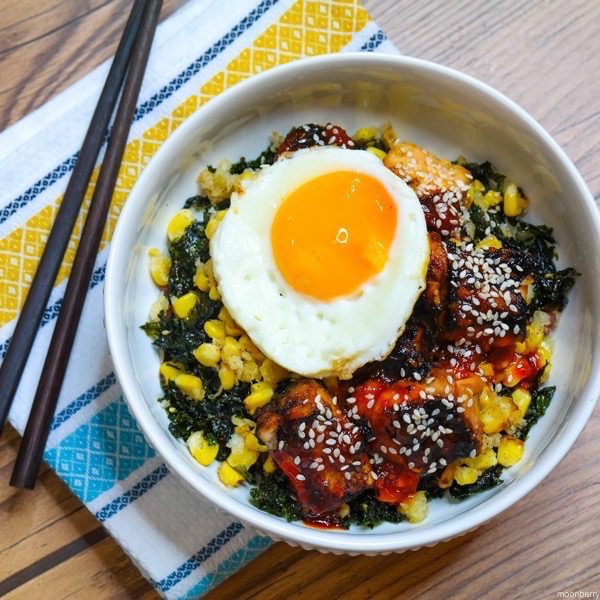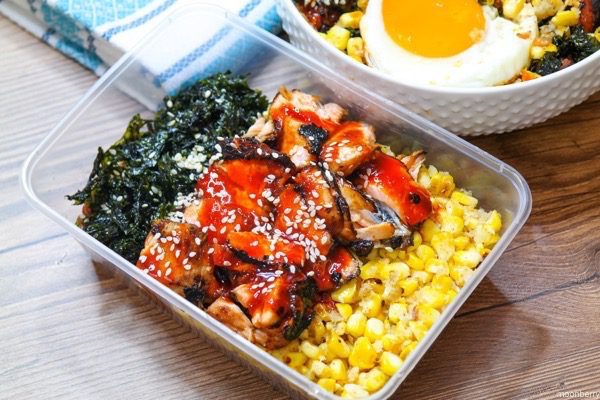 As delicious as this turned out, I had plenty leftover as I wasn't planning to finish an entire bowl in one sitting so I packed that into a lunch box for my next meal. My strategy currently is small but frequent meals. Trying to lose weight and get fit honestly bites ass, and I want to go on a pork belly killing spree. Soon, soon. In the meantime, I've decided to eff it and quit being a grumpy martyr, so I broke the dry spell and opened a baby bottle of merlot. Aaaah, the world is filled with psychedelic unicorns upchucking glitter once again, somewhat.
Rock 'n roll,
MB.