6 Sep 2015
---
Prior to my trip to Los Angeles a handful of weeks ago, my pal Aaron promised to pick up a bunch of pastries from Sugarbloom Bakery for me to try. Sugarbloom Bakery is helmed by Taiwanese-American chef Sharon Wang, after spending ten years as art director (Aaron mused at the similarity between her and me). While there are many beautiful items on Sugarbloom Bakery's menu, the pièce de résistance would be hands-down the Kimchi Span Musubi Croissant – Chef Sharon Wang's original creation. I took a bite and it did not disappoint. Aaron found the recipe online and sent it to me, urging me to try replicating this Kimchi Spam Musubi Croissant.
After I got back, the idea lingered inside my head so I took a close look at the recipe, then decided to roll up my sleeves and made it in my kitchen.
※※※ Connect, Follow, Like and Share via http://www.facebook.com/MBxMB and Instagram @moonberry ※ ※ ※
Pastries from Sugarbloom Bakery in LA.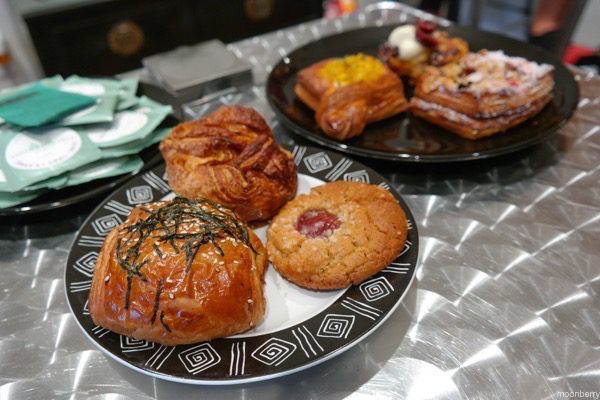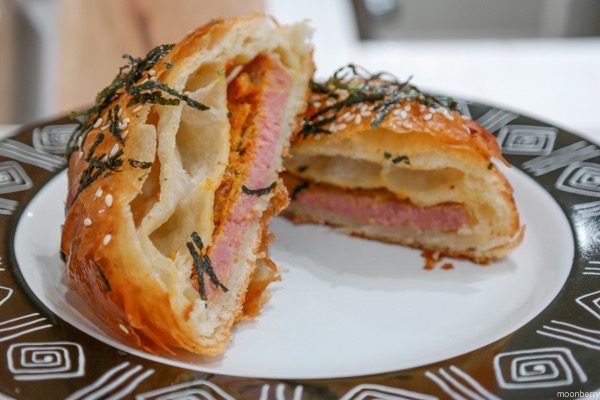 Chef Sharon Wang's original Kimchi Spam Musubi Croissant. A flaky croissant bun with a slice of SPAM, kimchi-Sriracha purée (spicy!), then topped with toasted sesame seeds and nori strips.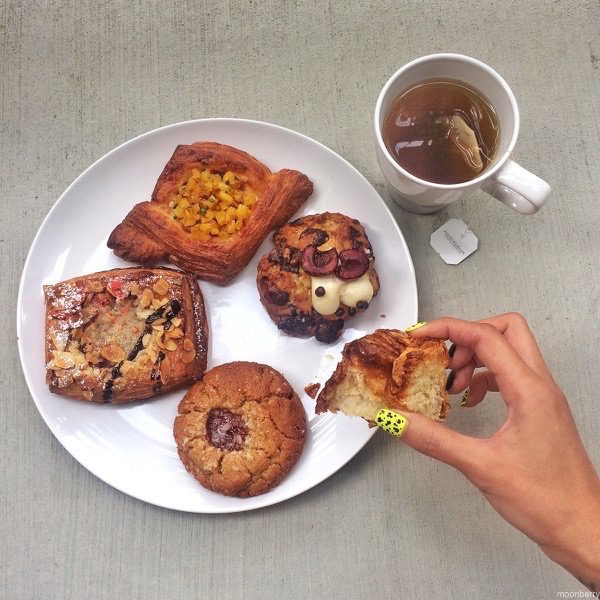 Other pastries I had from Sugarbloom Bakery: Strawberry Balsamic Almond Croissant Danish, Summer Corn Danish, Chocolate Cherry Scone, PB&J Cookie, and White Miso Kouign-Amann.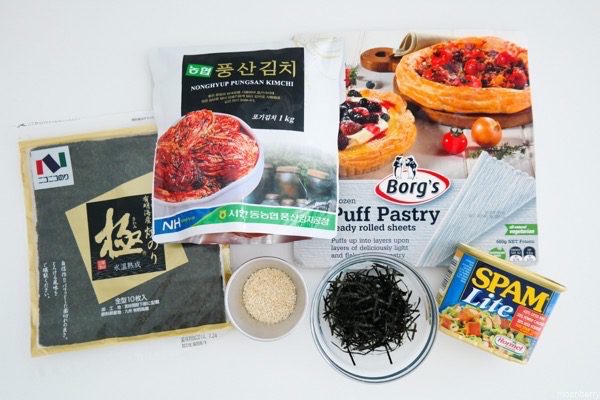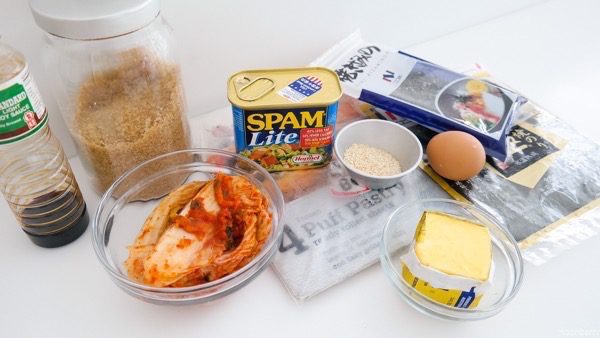 Assembling ingredients in the kitchen. I simplified the original recipe so I omitted the Sriracha as I wanted my version to be less spicy and more on the savory-sweet side. To achieve that, I incorporated a basic sugary-soy glaze that coats the SPAM slices before they get wrapped in frozen puff pastry.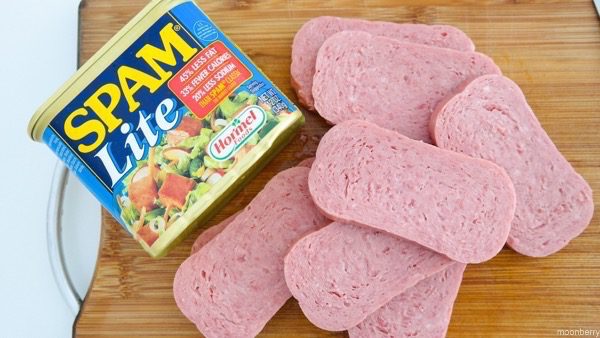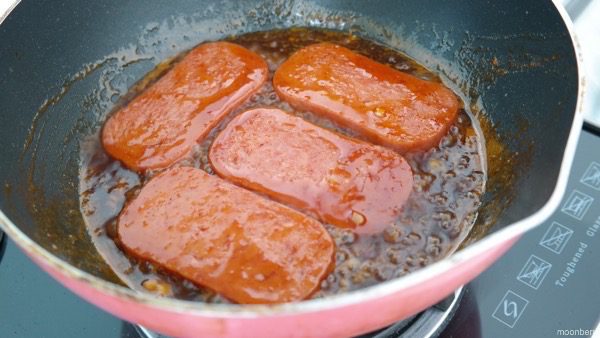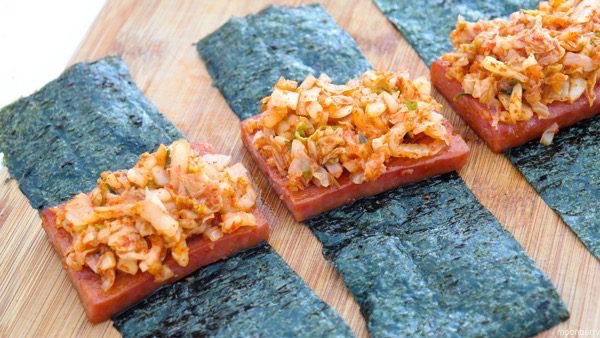 This isn't difficult to make and I'm pleased with how the croissants turned out. Straight out of the oven, it's crispy and the combination of SPAM, chopped kimchi, and nori seaweed is fucktastically delicious. I will definitely make this again!
Kimchi Spam Musubi Croissant
1 sheet frozen puff pastry, thawed until cold and just firm
1 can SPAM
1 cup prepared kimchi
1 Tbs butter
2 Tbs soy sauce
1 Tbs brown sugar
1 egg
2 nori seaweed (9×9″ square sheets)
Toasted white sesame seeds
Preheat oven to 350°F. Line a large baking sheet with parchment paper. Slice 1 can of SPAM into 6 even slices. Drain the kimchi, saving the juice for use as a marinade for the SPAM. Roughly chop the kimchi. Bring a large frying pan to medium high heat. Add the SPAM slices, kimchi juice, soy sauce, brown sugar, and butter. Stir occasionally and cook until the SPAM slices are caramelized. Set aside and let cool to room temperature. Cut the nori seaweed into 3″ long strips, then shred the remainders into tiny matchstick strips. In a small bowl, whisk the egg with 1 tablespoon of water to make an egg wash. To assemble, cut the puff pastry into 6 rectangles, each roughly 3″ wide and 6″ long. Using a cut sheet of nori, wrap the SPAM slice with 1 teaspoon of chopped kimchi. Roll puff pastry tightly around this, sealing the ends gently with finger. Transfer to the baking sheet seam side down. Bake for 25 minutes or until the pastry is puffed and golden brown. Add 1 Tbs soy sauce to remainder of egg wash. Take pastry out of the oven and brush the top of each puff with egg wash, then sprinkle with sesame seeds and nori seaweed strips. Serve while still warm.
(Adapted from the official SPAM website.)