5 Jun 2011
---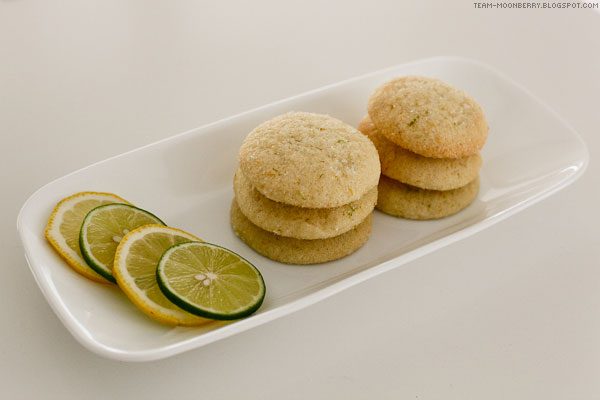 Over the weekend, my kitchen continued to be busy. My buddy, who is a big fan of sugar cookies + an avid cook + a virgin baker, decided to come by and 'test-drive' my kitchen as well as its appliances. We set out to bake some Lemon Lime Sugar Cookies together, so I could figure out how to use my oven once and for all. (This conversion bizniz – weight, volume, temperature, voltage – has all been ultra mind-boggling for me.)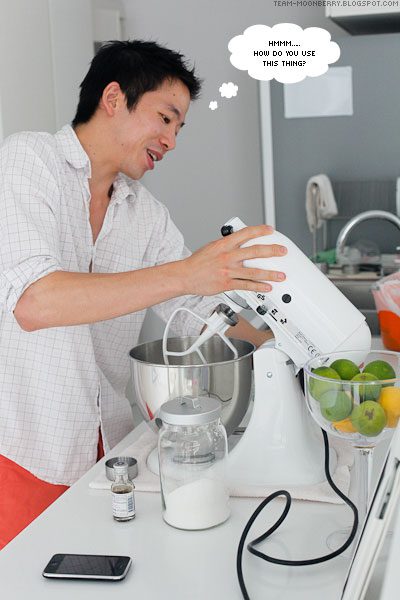 Here's buddy using the KitchenAid mixer for the first time. A natural, I say.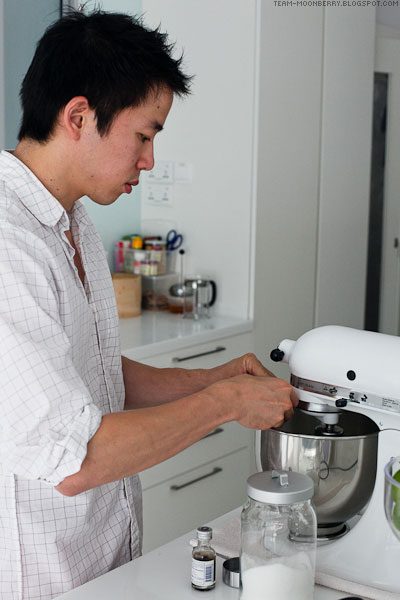 Intently adding the ingredients as per specificed measurements. Clearly, buddy's taking our baking project very seriously.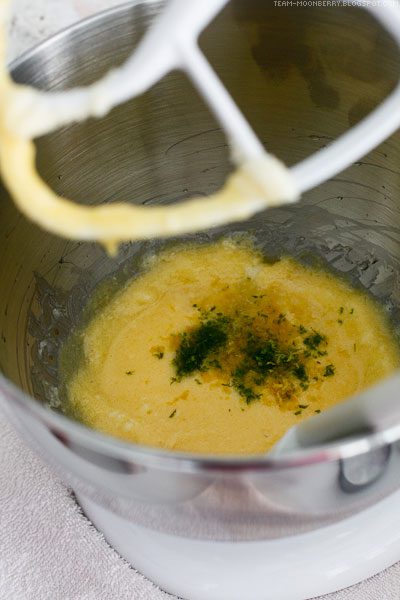 Gotta really love grated lemon and lime zest, the citrus fragrance is so refreshing and uplifting!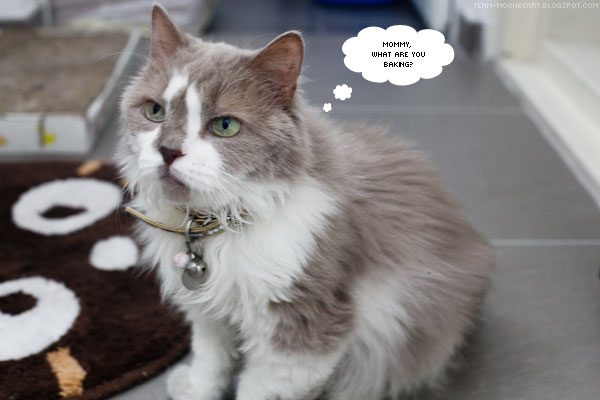 The itsybitsy (and furry) cheerleader.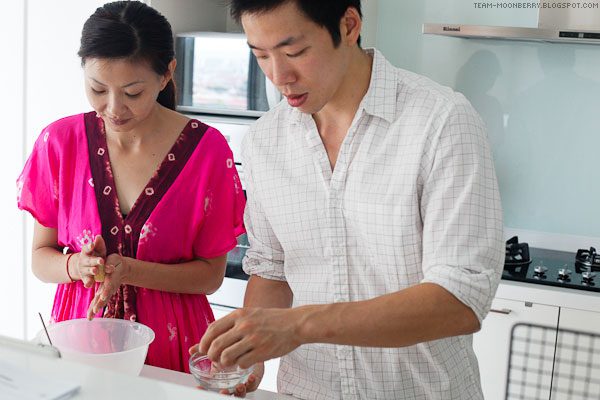 The American-expats-transplanted-to-Singapore tag team. :) I roll the dough, while he coats them in citrus sugar.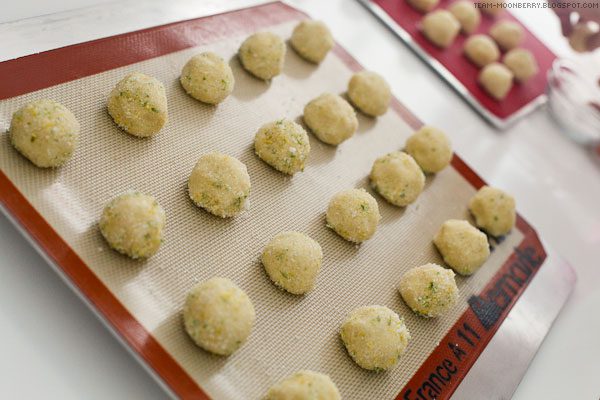 Cookie dough balls about to be sent into the oven.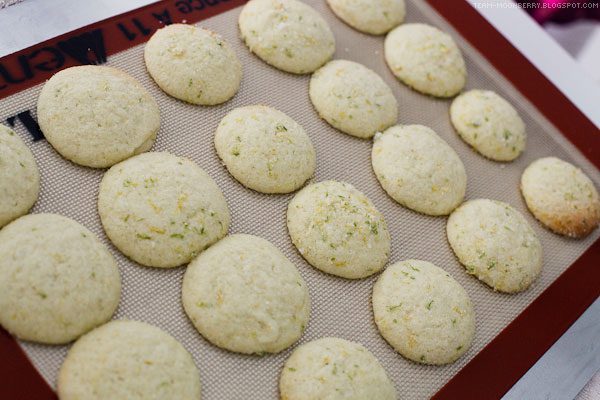 The cookies are ready!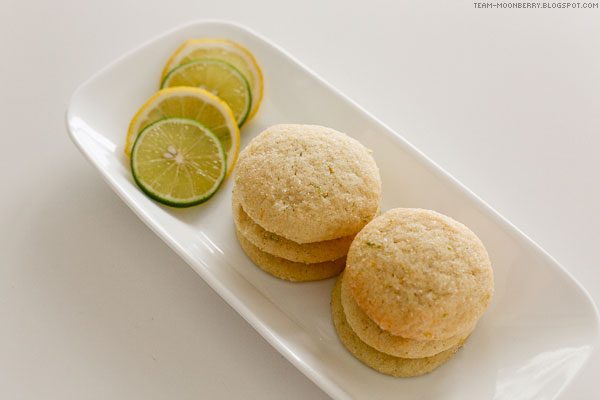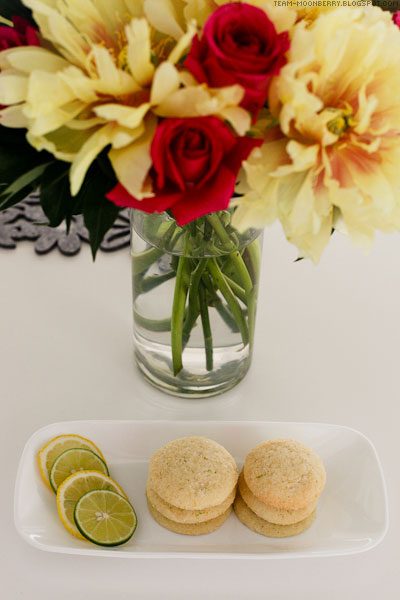 Lemon Lime Sugar Cookies
1 1/2 to 2 cups all-purpose flour
1/2 teaspoon baking soda
1/4 teaspoon baking powder
1/4 teaspoon salt
1/2 cup (1 stick) unsalted butter, at room temperature
3/4 cup sugar
1 egg
1 1/2 teaspoons finely grated lemon zest
1 1/2 teaspoons finely grated lime zest
1 1/2 teaspoons fresh lemon juice
1 1/2 teaspoons fresh lime juice
1/2 teaspoon vanilla
Citrus sugar to roll the dough in:
1/4 cup sugar
1/2 teaspoon finely grated lemon zest
1/2 teaspoon finely grated lime zest
To make the sugar: Combine the sugar and both zest in a small bowl until the zest is evenly distributed; set aside.
To make the cookies: In a small bowl, combine the flour, baking soda, baking powder, and salt; set aside.
In a large bowl, beat the butter and sugar together until light and fluffy. Add the egg and mix until combined, then stir in both zests and juices, as well as the vanilla. Once everything is combined, sprinkle half of the flour mixture over the top and gently mix in. Add the remaining flour mixture, mixing until no streaks of flour remain. If the dough is very sticky, add more flour, as needed, until the dough no longer sticks on the side of the mixing bowl. Cover and refrigerate for at least 30 minutes.
Line baking sheet(s) with parchment paper or Silpat mats. Once the dough is chilled, preheat oven to 350 degrees. Roll one tablespoon portions of dough into balls. Roll each dough ball in the citrus sugar to coat it completely, then evenly space the cookies on the prepared baking sheet(s). Bake for 12 to 15 minutes, until the edges turn light golden brown. Allow the cookies to cool on the baking sheets for 2 minutes, then transfer them to a wire cooling rack. Cool completely before serving.
---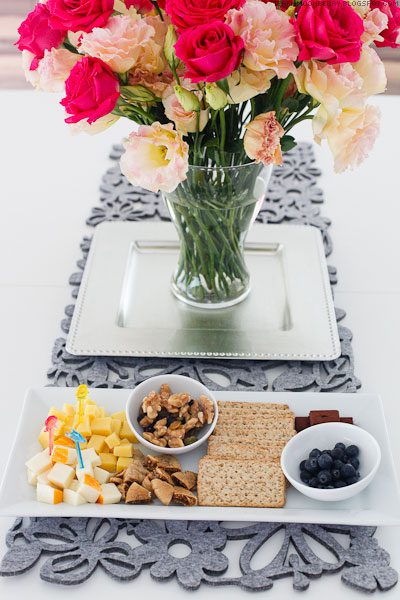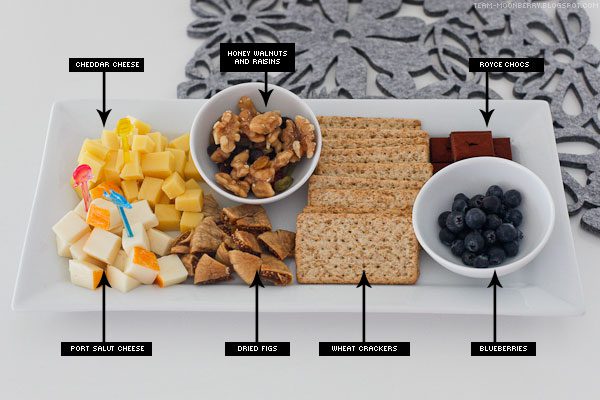 While waiting for the cookie dough to chill in the fridge for half an hour, we nibbled on a cheese board which I put together for afternoon snack.
A friend brought over a box of Royce Chocolates the day before and it was my first time having this chocolate. WOW, it was definitely a treat! Ultra yummy and decadent. :9~ I can finish an entire box on my own, I think (but I shan't, of course).
As for the sugar cookies themselves, they turned out really well. They go so well with tea and the citrus kick is just perfect. Tasted like summer has finally arrived. Making them also couldn't be easier. Success!!!
And after everything was done, I cleaned and wiped and scrubbed the kitchen counter – just like the OCD person that I am reputed to be. ;p Hey, I like my kitchen to be spotless. Cleanliness is next to godliness (is that how the saying goes?), hahaha.
Cheers,
-MB.