1 Jun 2011
---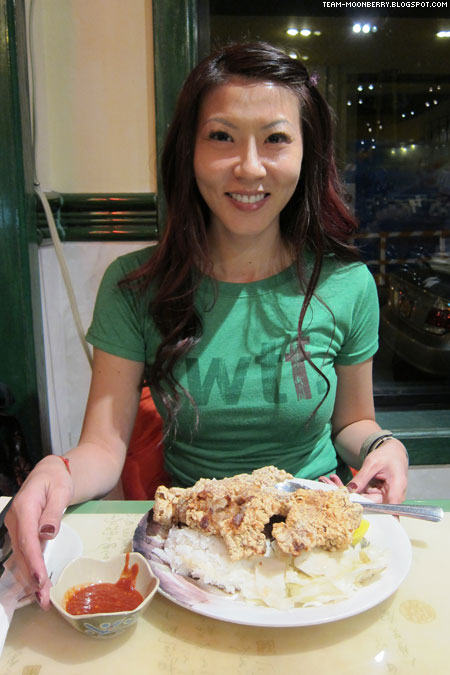 Sometimes I crave Taiwanese Pork Chop Rice 排骨飯 and the two places which I know of that serve it really well are Lin's Taiwanese in Elmhurst and 66 Lu's Seafood (formerly Laifood) in Flushing. I don't know, I have been eating this for YEARS so it's kinda like a comfort food to me. Interestingly enough, I have never eaten it when I'm in Taiwan so for all I know, all these years the 排骨飯 I've been eating is some Americanized version or something. :P Okay, it probably is authentic Taiwanese. One thing I do know for sure that the serving portion is definitely American because it comes in a huge-ass plate, with a side of sauteed Napa cabbage, braised ground pork, egg and pickled radish. I usually can't finish the entire plate and have to doggy-bag it, then eat it again the next day. (Not recommended, because the pork chop gets chewy and the crust soggy – bleah.)
Just a couple weeks ago, I had this for dinner at 66 Lu's with my newly-wed BFF (wasssup gurl!!!) and she told me it's really easy to make at home. I was like O_O SERIOUSLY!!????? Omigod, I MUST try making this at home no matter what!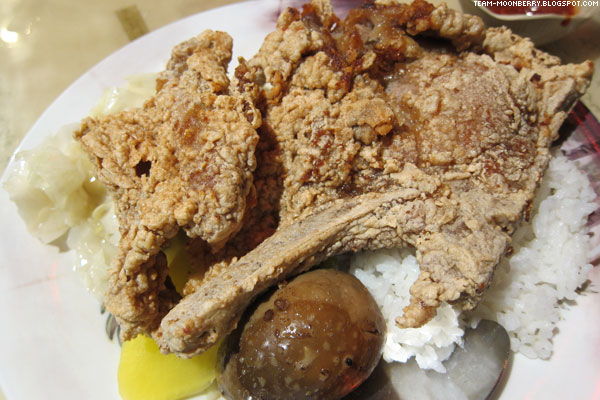 This is how it's served at Laifood 66. I kid you not, the size of the pork chop is bigger than my face!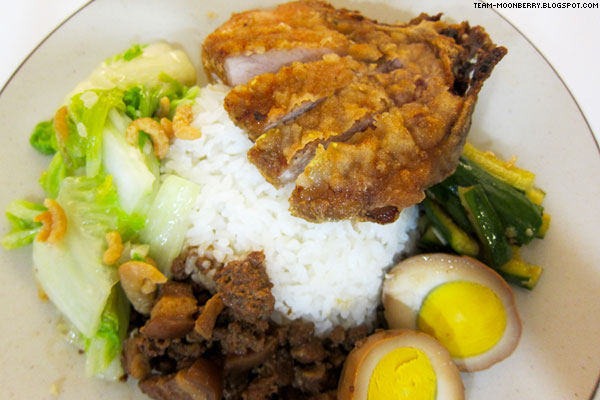 Here's the version which I made at home. (I supplemented mine with pickled cucumber instead of pickled radish.)
My BFF's right. Turns out it is really very simple to make at home. Follow the recipe below and you'll agree.
TAIWANESE PORK CHOP RICE
Ingredients
4 thick bone-in pork chops
2 tablespoons soy sauce
1 tablespoon minced garlic
1 tablespoon sugar
1/2 tablespoon rice wine
1/2 tablespoon Chinese five-spice powder
Vegetable oil for frying
Sweet Potato Flour (or Cornstarch for substitute)
Method
1. With a sharp knife, make several small slits near the edges of the pork chops to keep them from curling when fried.
2. Into a large resealable plastic bag, add the soy sauce, garlic, sugar, rice wine, and five-spice powder. Place pork chops into the bag, and close the seal tightly. Carefully massage the marinade into pork chops, coating well. Refrigerate at least 1 hour, turning the bag over every so often. (I left mine to marinade overnight actually.)
3. In a large skillet, heat enough vegetable oil to fill the skillet to a depth of about 1/2 inch. Remove pork chops from resealable bag without wiping off marinade. Lightly sprinkle sweet potato flour or cornstarch on both sides of the pork chops.
4. Carefully add pork chops to skillet; cook, turning once, until golden brown on both sides and cooked through.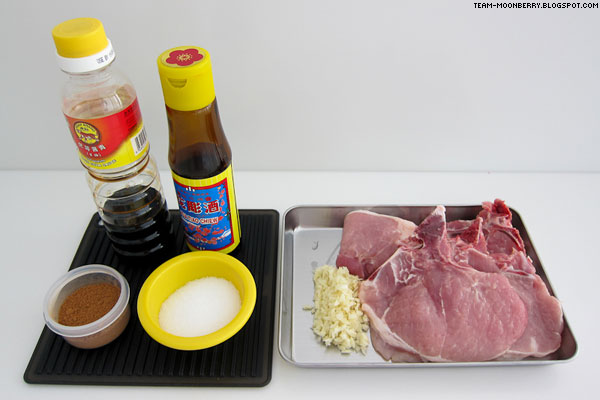 Look how simple it is! Only 6 ingredients! (Well, okay 7 if you include the sweet potato starch – not shown.)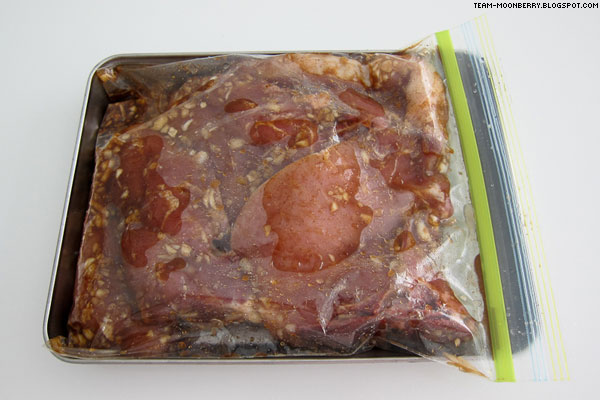 Marinating happily inside the ziplock bag.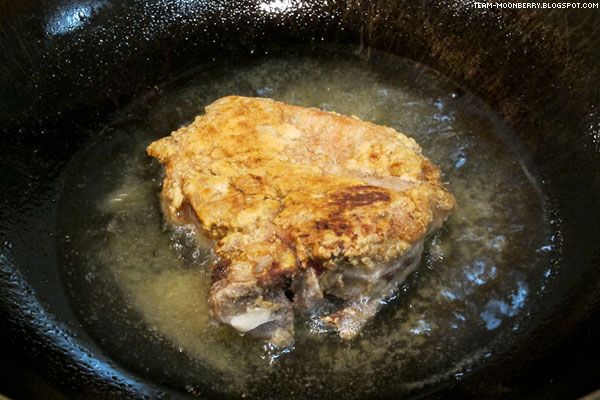 Swimming in hot oil – note that you do not need a lot of oil to deep-fry this.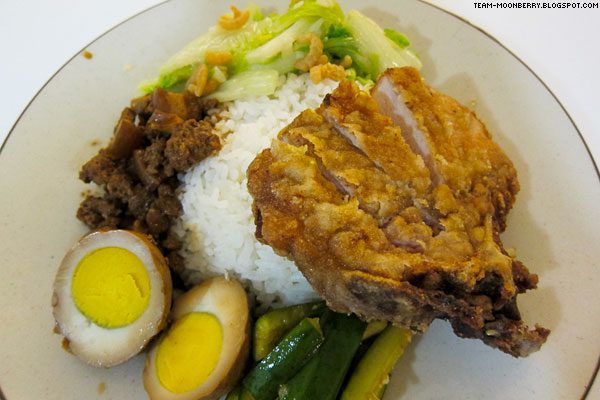 Serve with sauteed Napa cabbage(白菜), braised ground pork (滷肉), egg (滷蛋) and pickled cucumber (手拍蒜小黃瓜).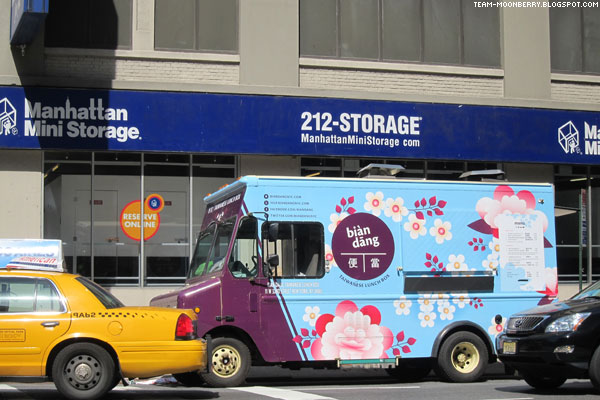 By the way, there is now a food truck which serves this Taiwanese Pork Chop Rice in Manhattan. I came across it by Hudson Street the other day, but didn't buy anything because I wasn't hungry at the time. You can follow them on Twitter @biandangnyc or check out their website biandangnyc.com. But I say, if you're going to go for the real deal, definitely head over to Lin's Taiwanese or 66 Lu's Seafood. :9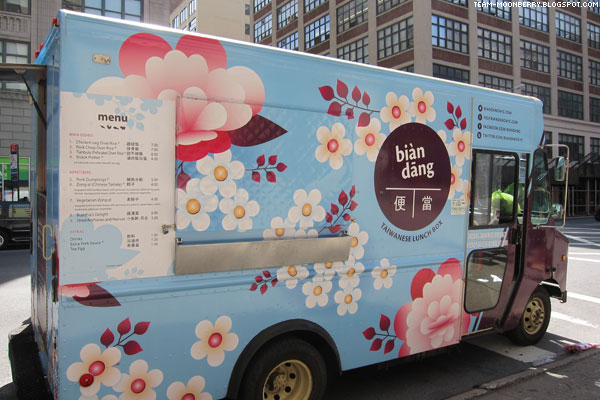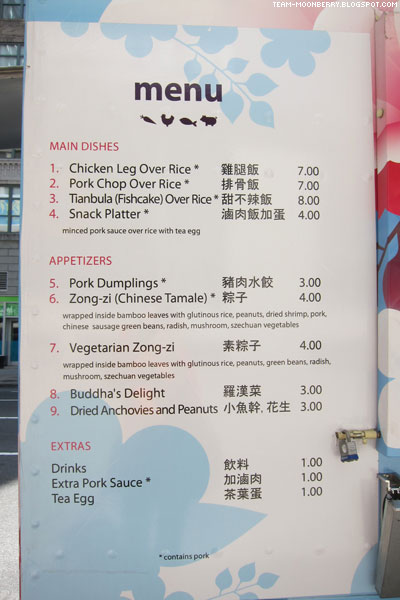 I think I want to try make the Chicken Leg over Rice 雞腿飯 next time. Yum.