6 Aug 2013
---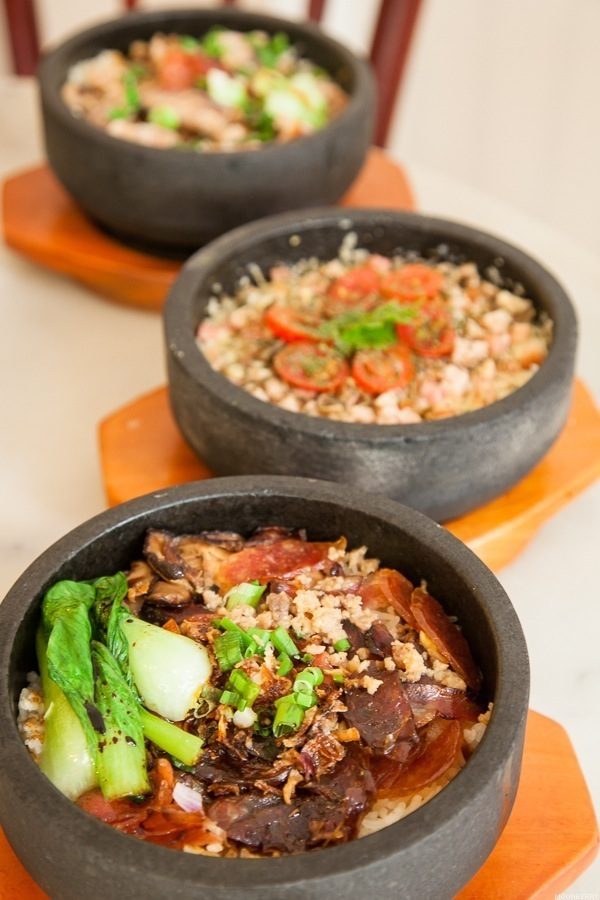 Signature Stone Restaurant
∞
Situated along the old stretch of Havelock Road by the HDB clusters, the new Signature Stone Restaurant serves up sizzling hot rice dishes in stone pots. These rice dishes are akin to claypot rice, with classic topping varieties such as Chicken with Salted Fish, Pork Patty and Assorted Chinese Sausages – but they come in individual serving stone pots.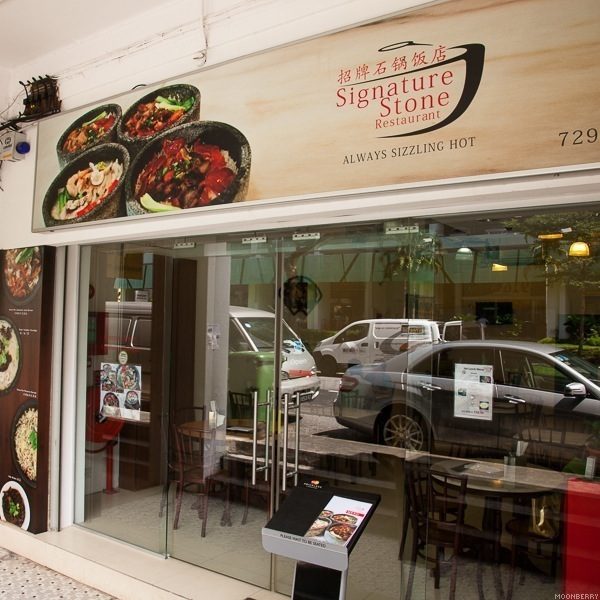 The restaurant exterior.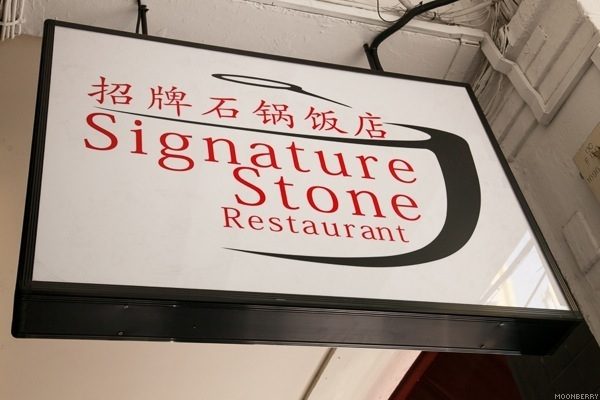 The restaurant interior with ample seating for families, or groups of coworkers and friends. The Signature Stone Restaurant is open for business seven days a week for both lunch and dinner.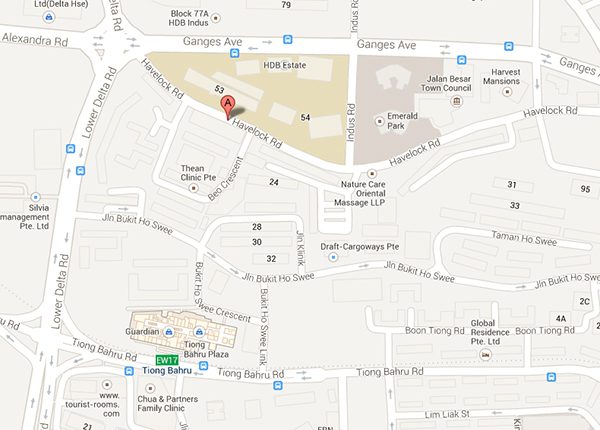 Location map of the restaurant.
---
Stone Pot Rice vs. Claypot Rice
∞
Traditionally, claypot rice is served in, well, a claypot. Every ingredient – the rice and toppings – is cooked directly in the claypot making it a one-dish meal that makes its way directly from the stove onto the dining table. Ariel Tan, the creator behind Signature Stone Restaurant's stone pot rice, came upon the idea one day of using stone pots to cook and serve her rice dishes in, inspired by Korean bibimbap. Presentation-style aside, she went through many iterations of pre-marinating her ingredients (including the rice) before she perfected her recipe.
One of the trademarks of claypot/stone pot rice that's made it a family favorite for generations is the delicious aroma, natural juices from the meats and smokiness that's imparted to the dish, giving it a very distinctive flavor. Though skillful control of the fire during the cooking process, this is a slow, time-consuming way of preparing food. But the reward is when you lift up the lid of the pot on the dining table and get immediately captured by billows of delicious smoky aroma that rises out of the piping hot rice dish.
I personally think of stone pot rice as claypot rice 2.0. While the familiar smoky aroma and distinctive flavors are retained, the additional bonus of using a stone pot is its inherent quality to produce a delicious and thin layer of "rice crispy"  aka faan jiu 飯燋 at the bottom of the pot – which when mixed with the rest of the rice, creates a satisfying dish with a soft crunch. Yes, the claypot produces this too but because the stone pot creates rice crispy that is finer in texture and crispier (but not charred).
---
Stone Pot Rice in Asian and Western Flavors
∞
Classic Asian flavors of stone pot rice at Signature Stone Restaurant includes the two shown below.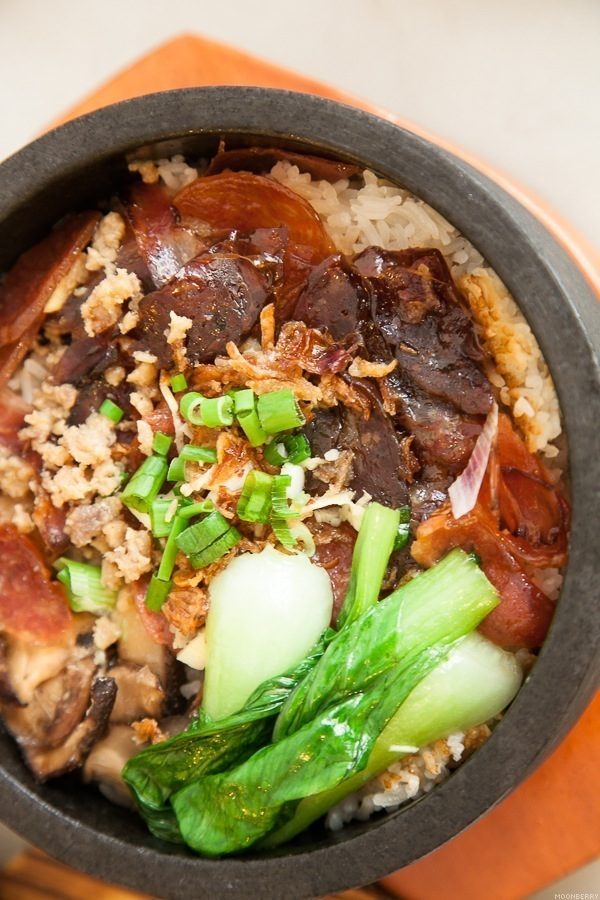 Stone Pot Assorted Sausages and Waxed Pork 顶級腊宝 (S$11.30)
3 special grade Chinese sausages, waxed pork, salted fish, mushroom and vegetables.
This one is definitely a classic Chinese one-dish meal with assorted lup mei (Cantonese style cured meats) over rice.  Lup cheongs (Chinese sausages) and lup yoke (waxed pork) are thinly sliced, and the juices naturally flavor the rice during the cooking process making this one very delicious stone pot rice.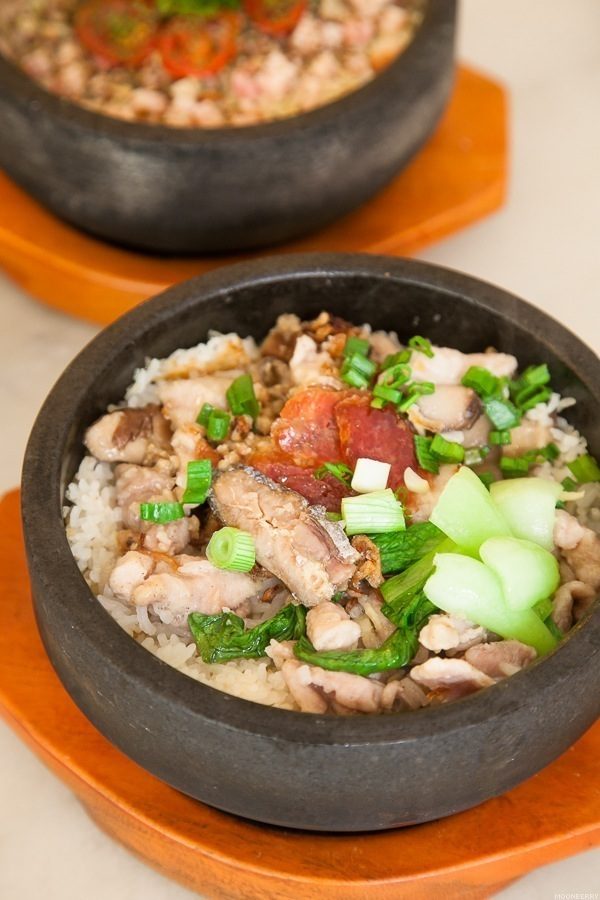 Stone Pot Chicken with Sliced Pork 双双配(鸡, 猪) (S$8.90)
Special marinated chicken, sliced pork, salted fish, sausage, mushroom and vegetables.
The marinated meats and the salted fish, when mixed together in the stone pot with the rice, easily makes this a strong contender in the comfort food category. Compared to the Stone Pot Assorted Sausages and Waxed Pork though, the flavor of this is milder in comparison and I had to add dark soy sauce to bump up the taste a bit. I prefer stronger flavors with more oomph. The meats go really well with the restaurant's original chilli dipping sauce though – don't forget to ask for that if you like spicy.
While many will enjoy the Asian flavors, you can also opt for Western flavors for a change. I tried the Stone Pot Ham and Cheese (pictured below) which was unexpectedly delicious.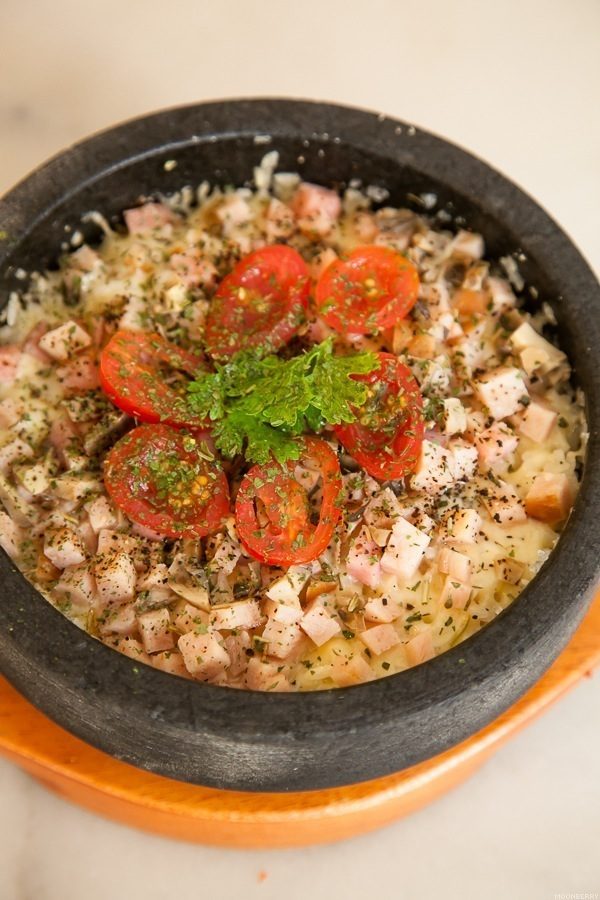 Stone Pot Ham & Cheese Rice 奶酪火腿 (S$10.90)
2 special grade hams, mushroom, herbs and cheese.
This rice dish is reminiscent of baked rice but yet not quite the same. This combination is savory and delectable, I'm sure it will be a huge hit with the younger crowd who shies away from old-school Asian style claypot rice. The Western flavor is a nice twist to a traditional Asian cooking method. Other interesting Western-style stone pot rice dishes on the menu includes Marinara Seafood, Garlic Herb Salmon and Lemony Scallop.
---
Tips on How To Eat Stone Pot Rice
∞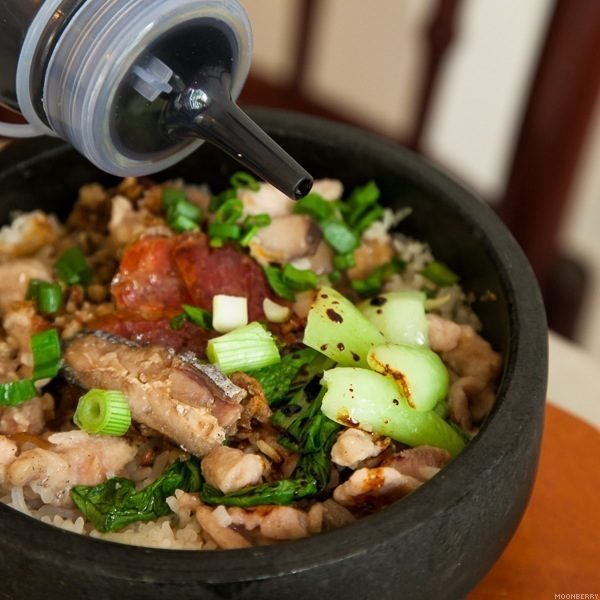 1. Help yourself to the bottle of dark soy sauce found on every table. Feel free to drizzle the dark soy sauce onto your piping hot stone pot rice to enhance it! The thick sauce isn't salty, in fact it has a hint of sweetness that brightens and elevates the flavor of its toppings.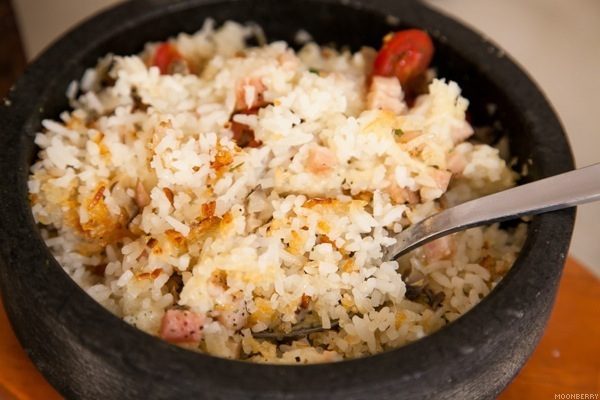 2. As soon as your stone pot rice arrives to the table, mix it up as soon as you can to avoid the bottom layer of rice being overly charred or dried out. The smokiness also gives the overall rice dish an additional dimension. I know of some people who forgo the rice and go just for the rice crispy at the bottom only.
This tip shall otherwise also be known as: "Don't take your sweet jolly time photographing your food, snap your photos quickly and dig in!".
---
Other Stone Pot Dishes
∞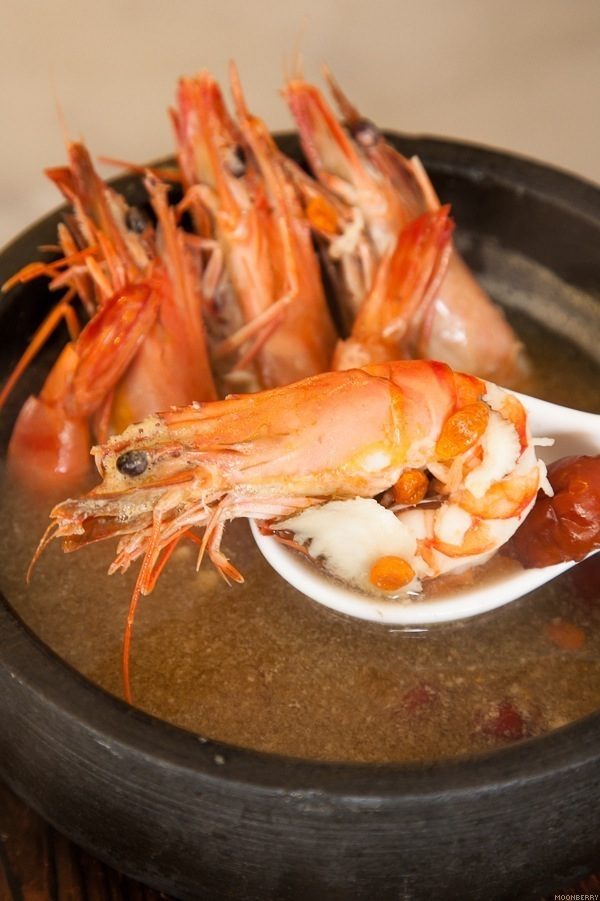 Stone Pot Herbal Wine Prawns 药材酒虾 (S$12.00)
Oh, how my heart sings – this soup is awesome. The broth is fragrant, robust and deliciously sweet, thanks to the yummy Chinese herbs. Frankly I didn't care so much for the prawns, even though they are succulent. But I could just have the broth alone and be golden. I like my soup to be piping hot so serving this in a stone pot is perfect!
Signature Stone Restaurant has an array of other soups on their menu too, such as Winter Melon Soup (sliced pork, winter melon, mushroom, jin hua ham and red dates), Chicken Longan Black Bean Soup (chicken, dried longan, black beans and sliced licorice) and Tom Yum Seafood Soup (prawns, squid, crab stick, bitter gourd, golden mushroom and abalone mushroom).
---
Singapore Stone Restaurant Set Lunch Promotion
∞
While I think the pricing and serving portions at Signature Stone Restaurant is fair, they do have a set lunch promotion at a belly-busting bargain price of S$8.90 for the month of August.
This prix-fixe bundle offers you a choice of either Stone Pot Chicken / Sliced Pork / Salted Fish with a side dish of either Veggie in Oyster Sauce / Onion Omelette and Chinese Tea plus dessert of Lemon Sherbet.
ONLY S$8.90 for all that food!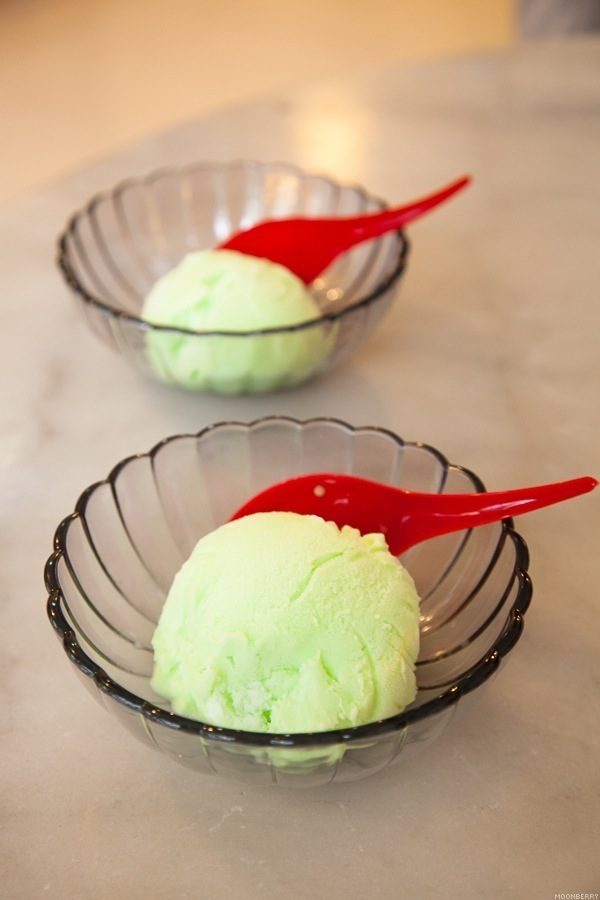 Lemon Sherbet.
This lemon sherbet is a refreshing palate-cleanser at the end of your meal. This is great because even though the stone pot rice isn't overly greased up and contains no MSG, it is a one-dish meal after all so some may find it heavy. This citrusy sherbet caps off your meal nicely. By the way, this is also available as an ala carte order.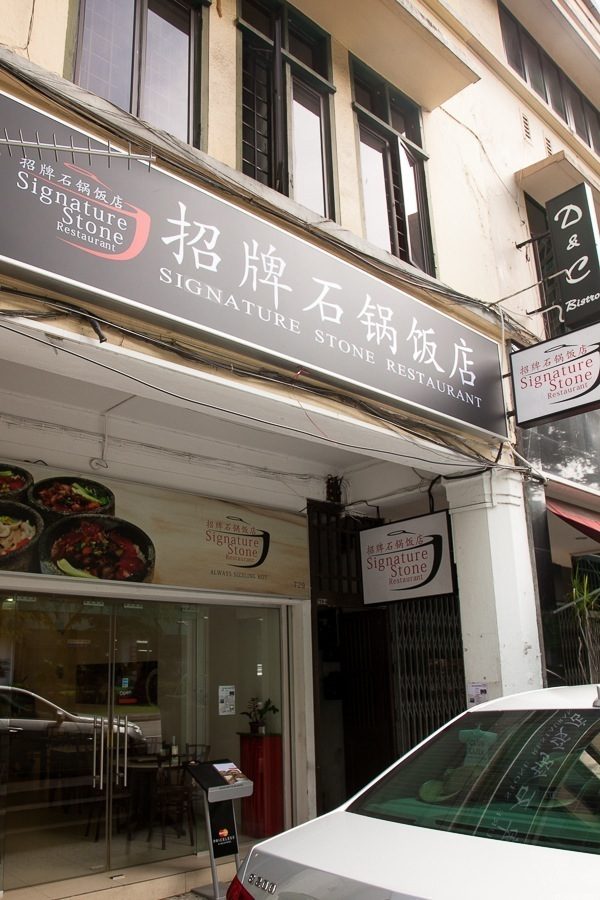 If you're a fan of claypot rice like me, you won't want to miss stone pot rice at Signature Stone Restaurant. What say you, will you be going for the Asian flavors or the Western flavors? Full menu available on Signature Stone Restaurant Website and be sure to follow Signature Stone Restaurant on Facebook for promos, deals and freebies!
∞
Singapore Stone Restaurant
729 Havelock Road
Singapore 169649
Tel: (+65) 6271 9918