19 Sep 2015
---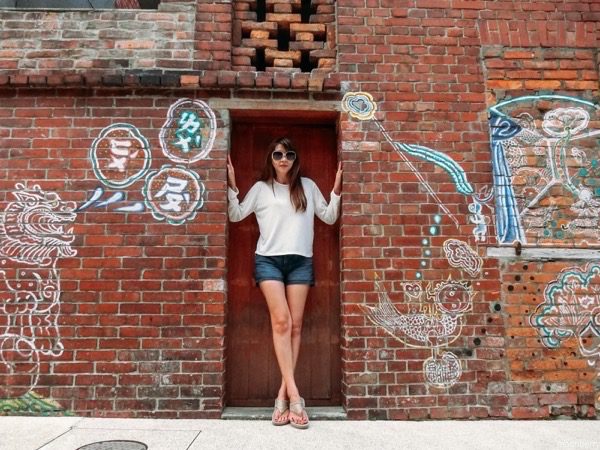 The Wanhua district in Taipei used to be called Monga and it's one of the oldest communities in the city. It's an area worth checking out to get a retro feel of Taipei city, so here's my roundup on what to do and what to eat there.
Monga Longshan Temple 艋舺龍山寺
211 Guangzhou St
Wanhua District
Taipei City, Taiwan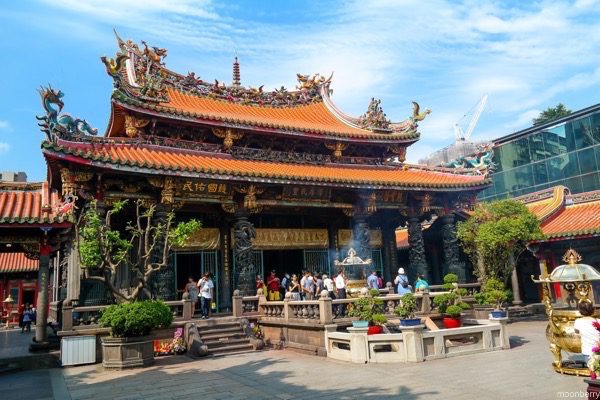 Despite having visited Taipei many times before, I'm only realizing now that praying at temples is a big part of daily Taiwanese lives. Big and small, these temples are intricately decorated. The Longshan Temple in Monga is well-known and it has been featured in many international magazines and travel programs on tv. This grand temple is accessible by Taipei Metro and is situated right opposite the station, so there's no way you'll miss it.
This temple is huge, with two spacious courtyards within. It's very crowded and houses a variety of deities. The most popular deity here is Yue Lao 月下老人, a god of love and marriage in Chinese mythology. The area where his altar is located is packed with people praying for good luck and blessings in the relationship department. A wide table filled with flowers, cakes, and candies can also be seen in front of his altar, these are offerings and gifts of thanks from those who have successfully found love.
I went during the daytime but one of my friends told me it's worth visiting in the evening too as the lit lanterns and candles give off a different ambiance. Do check the temple opening hours in advance via Longshan Temple website. Admission to the temple is free although there is a donation box if you wish to make a contribution.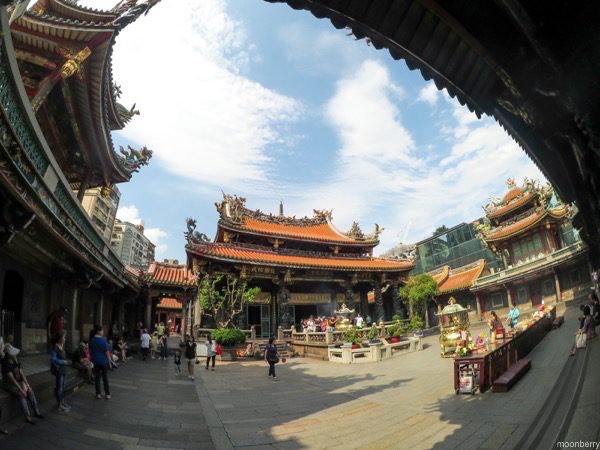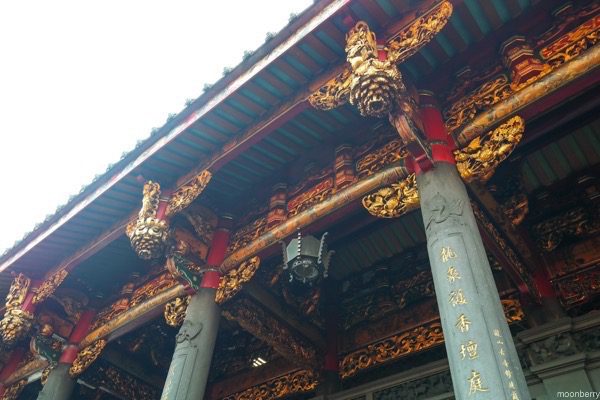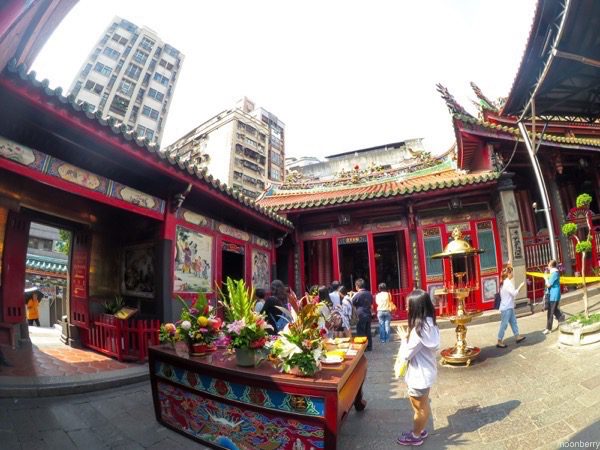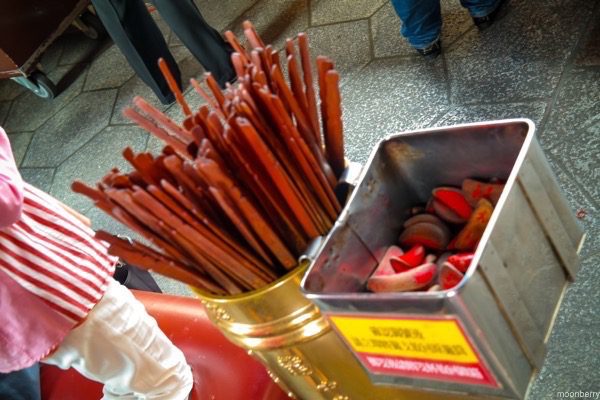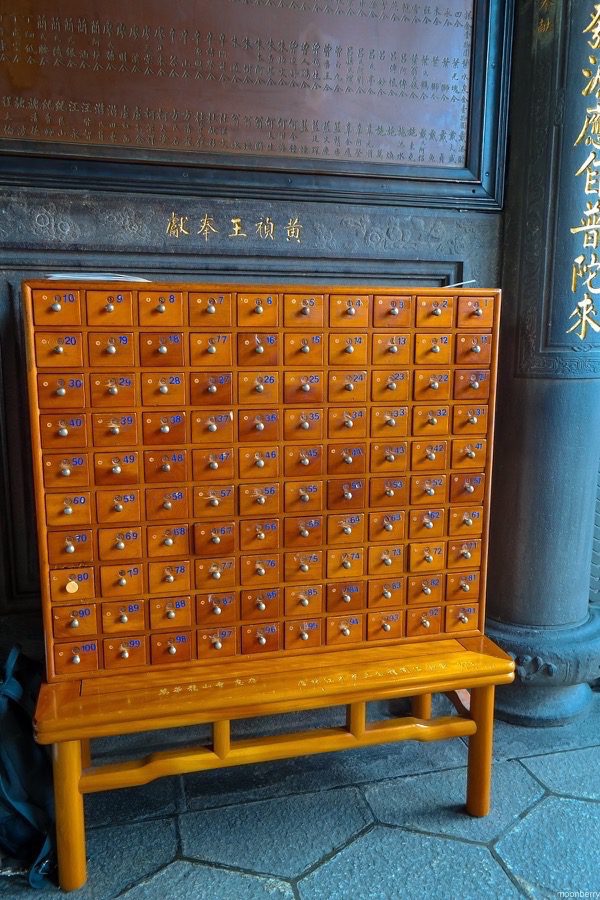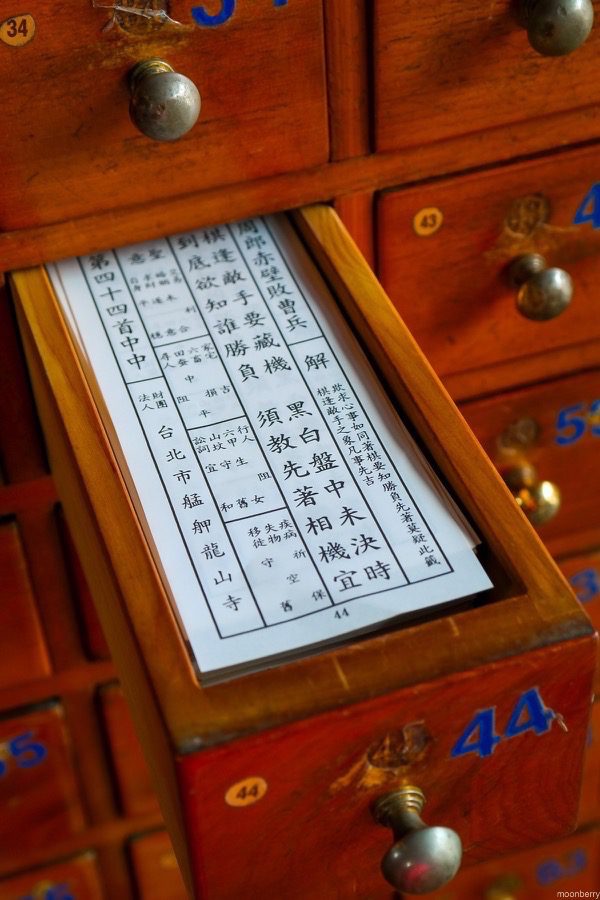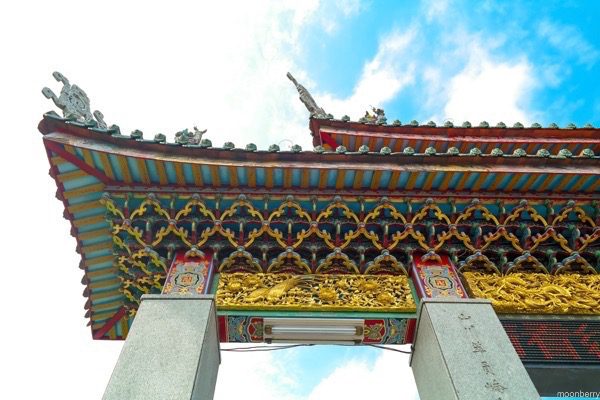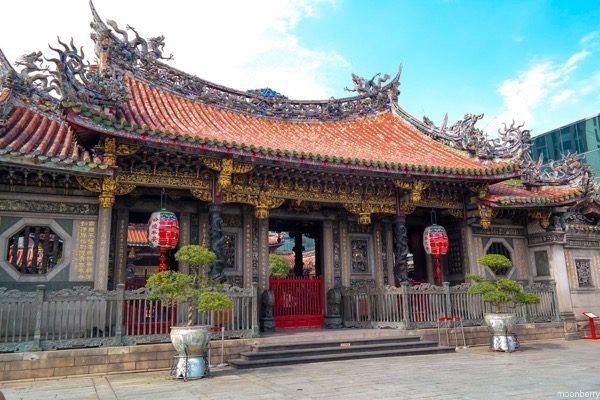 ---
Bo Pi Liao Historic Street 剝皮寮老街
Kangding Road
Wanhua District
Taipei City, Taiwan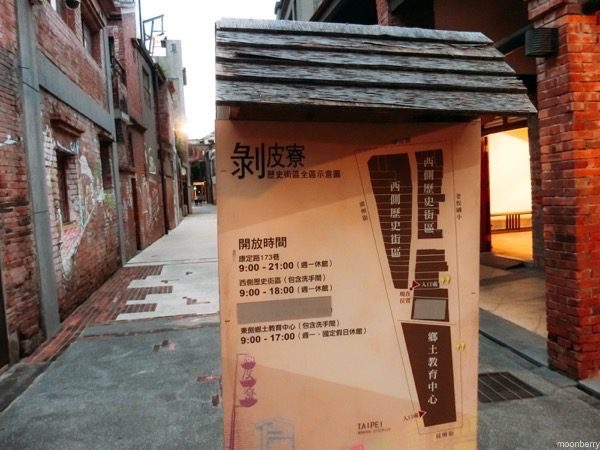 Another highlight of Wanhua district is the Bo Pi Liao Historic Street. It's more of a compound actually, with oddly empty buildings clustered together. I didn't understand the significance of this and why it's an attraction. I found out later that Bo Pi Liao is a street developed during the Qing period (1644–1912) and has retained its historical structures in intact shape. It's one of the oldest streets in Taiwan,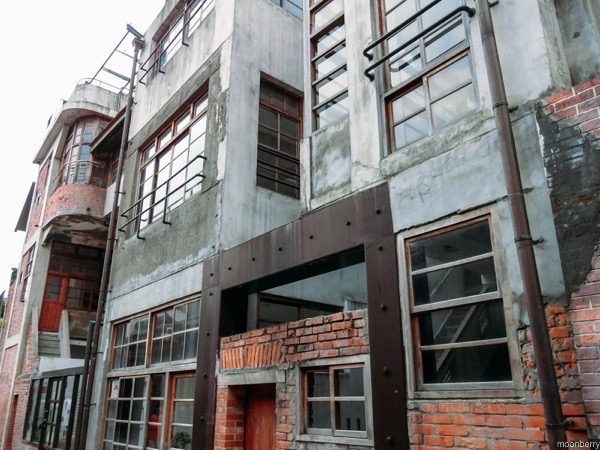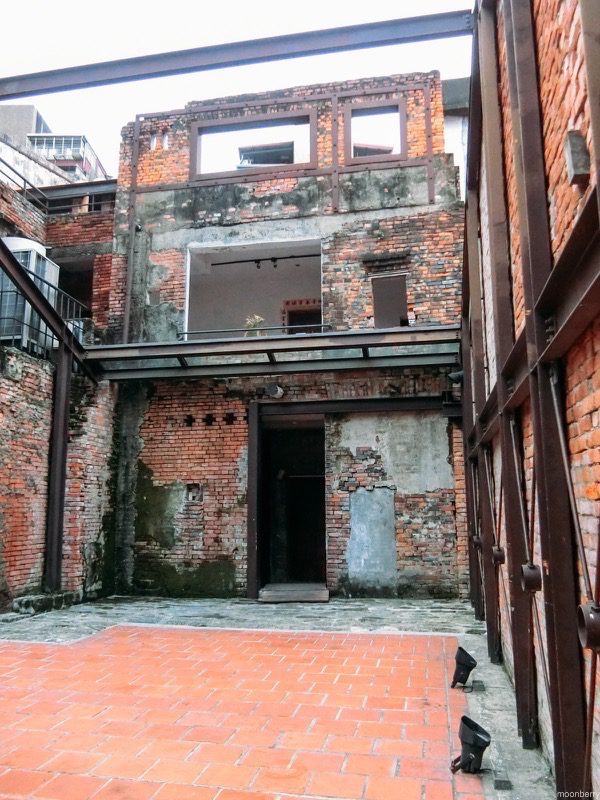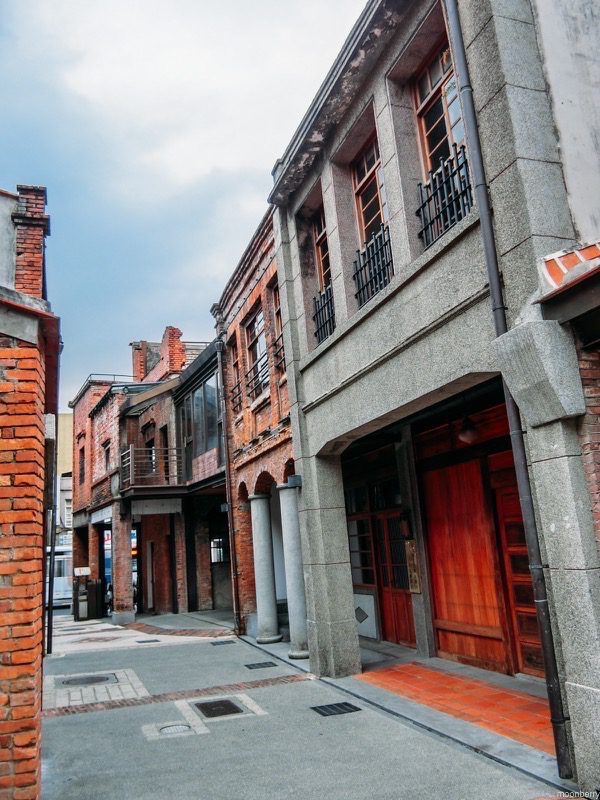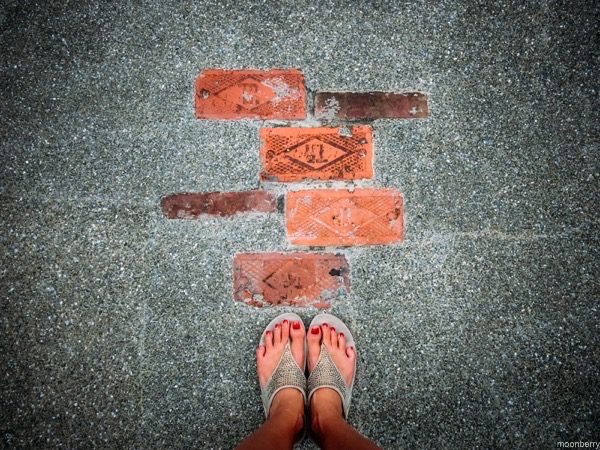 Bo Pi Liao stands today as an area which combines tradition and innovation, with an alluring mix of history and creativity everywhere you look. The street represents Taipei's urban appearance in its art, culture and tourism-related activities. This explains the illustrations found along the exposed brick walls on some of the building exteriors.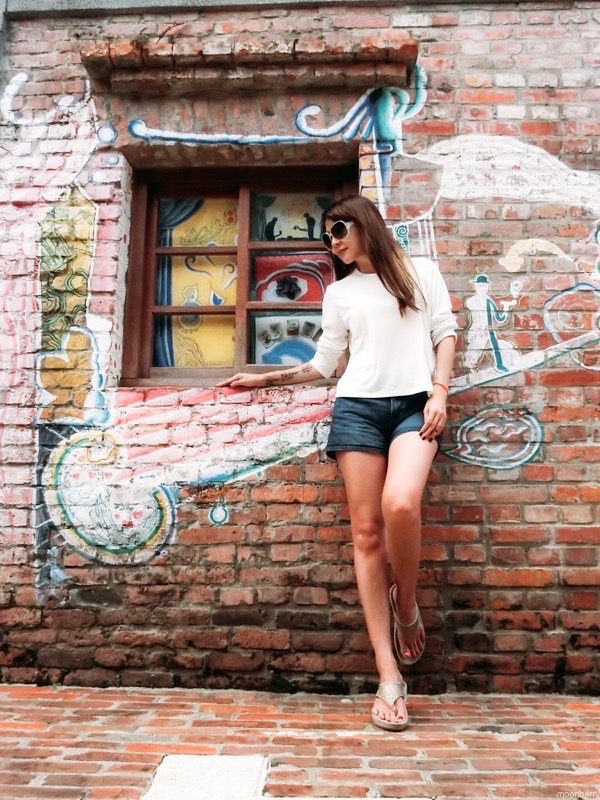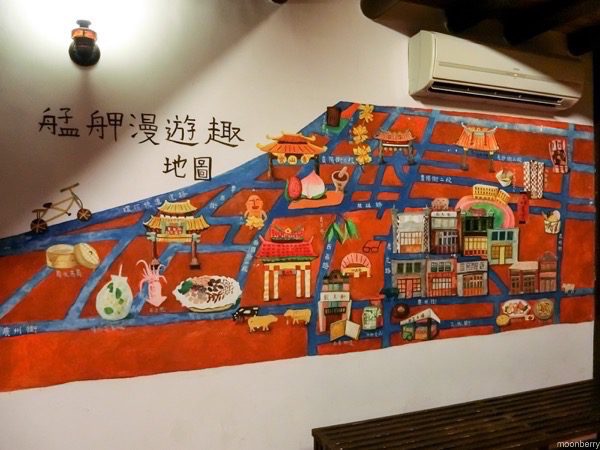 During my visit to the compound, it was virtually empty with very few visitors. I was pleasantly surprised to stumble upon a small art exhibition hosted inside one of the buildings. I lost the information on the exhibiting artist (oops!) but his art is beautiful! This fella draws temples from all throughout Taiwan, using pencil, ink, color pencils, and acrylic. His work is mostly monochromatic, with spots of bright red and orange, which makes the drawings very elegant imo. He also uses a very interesting fish-eye perspective in several pieces which effectively draws viewers in to inspect the intricate details of the temple decorations and adornments.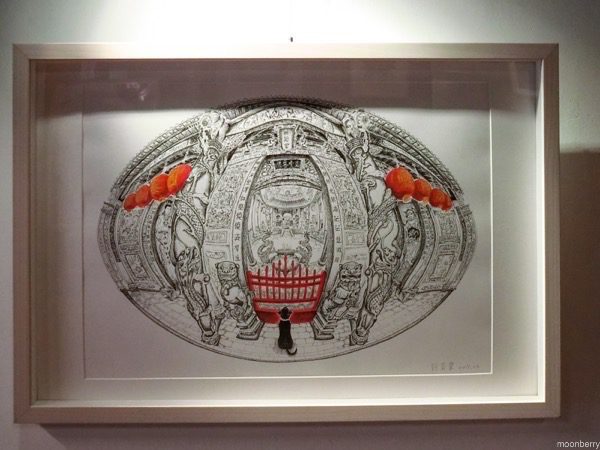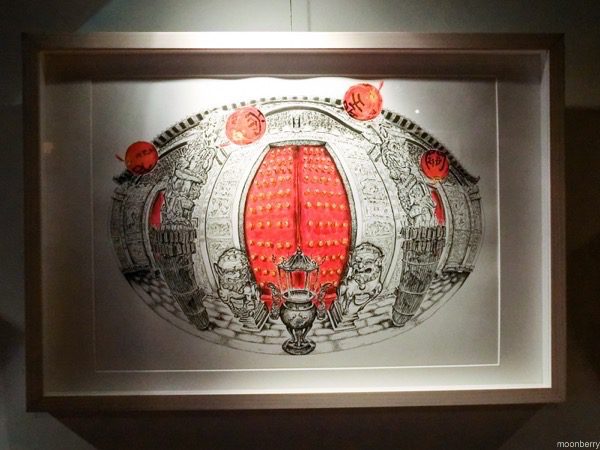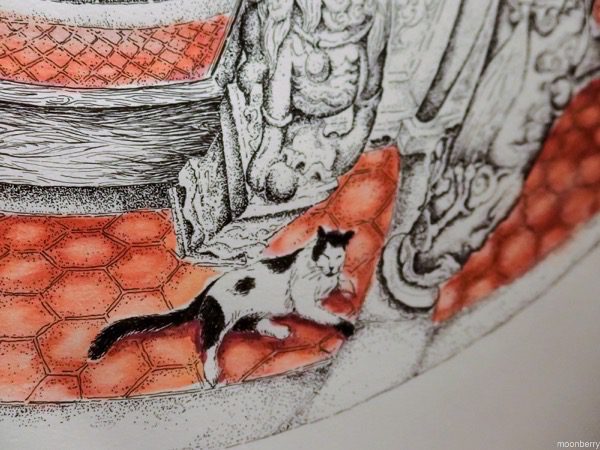 I really like the way this artist has expressed a religious subject matter with conscious restraint and visual eloquence. In observing the details,  I feel that the process of drawing the piece is a meditative act in itself. There are so many details in one drawing – speckling for this area, shading in that spot, texture in yet another spot – the drawing as a whole invites one to pause, slowly appreciate the details, and be one with the subject matter.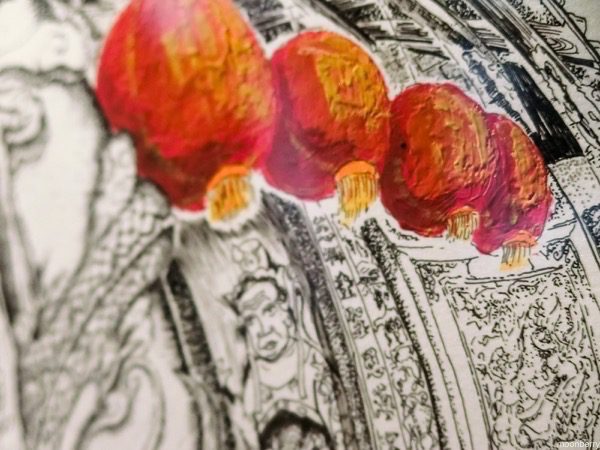 I got to chat a bit with the artist (middle in below photo) and he revealed that he's self taught. He picked this subject matter to feature different characteristics and architectural structures that distinctively belong to a particular temple. Superbly admirable work. Can someone please help me find out who he is so that I can include a proper link to his profile? :x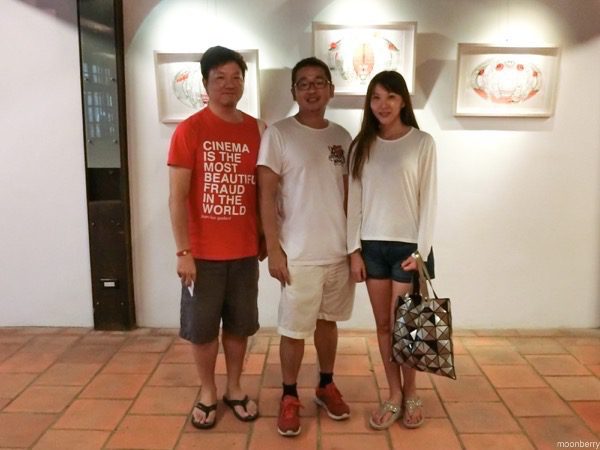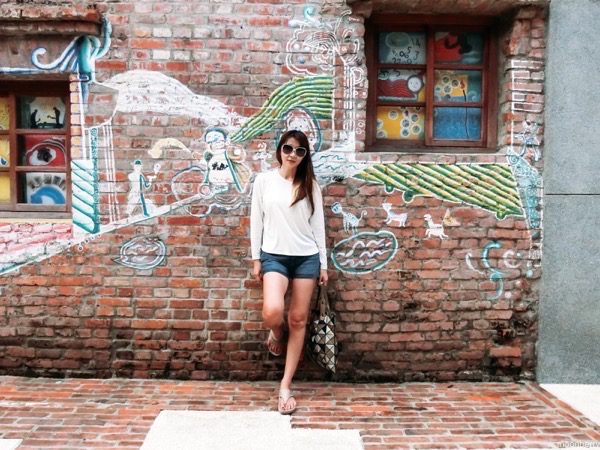 ---
Zhou's Meat Congee 周記肉粥店
104 Guangzhou Street
Wanhua District
Taipei City, Taiwan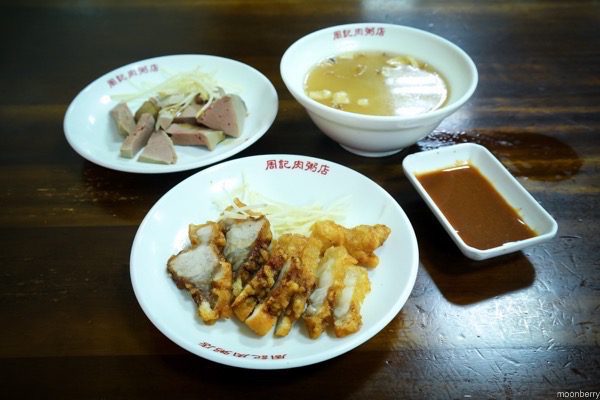 In business since 1956, Zhou's Meat Congee is a familiar fixture in Wanhua district and as the name suggests, it serves congee. However, this restaurant isn't known for its congee. In fact, the congee here is merely an accessory, an insignificant side dish, a supporting cast to the star item that the restaurant's frequented and much loved for. But before I go into that star item…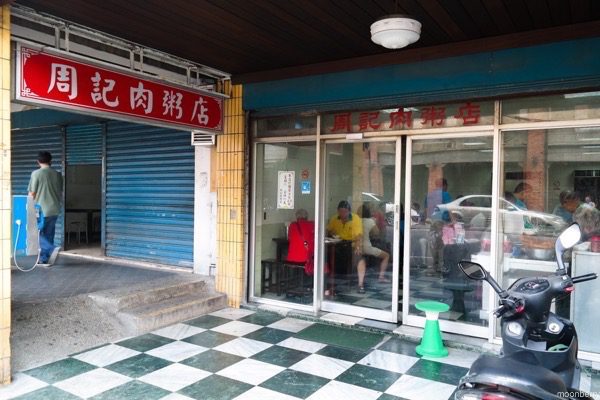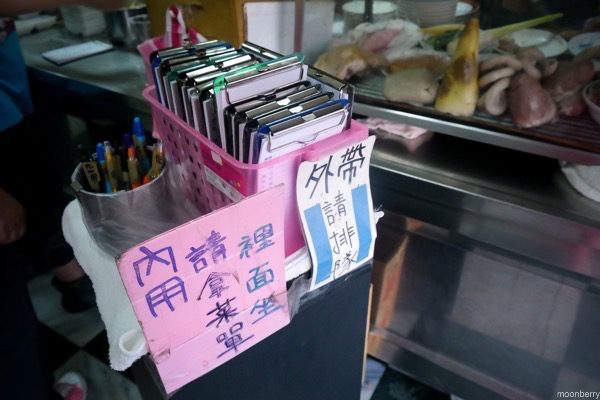 The restaurant has an ordering system where you pick up a clipboard of order form when you first enter, find an empty table, fill out the order form by selecting the items you want to eat, bring it to the front, then go back to the table and wait for your food. After eating, you bring the form back to the front and settle the bill.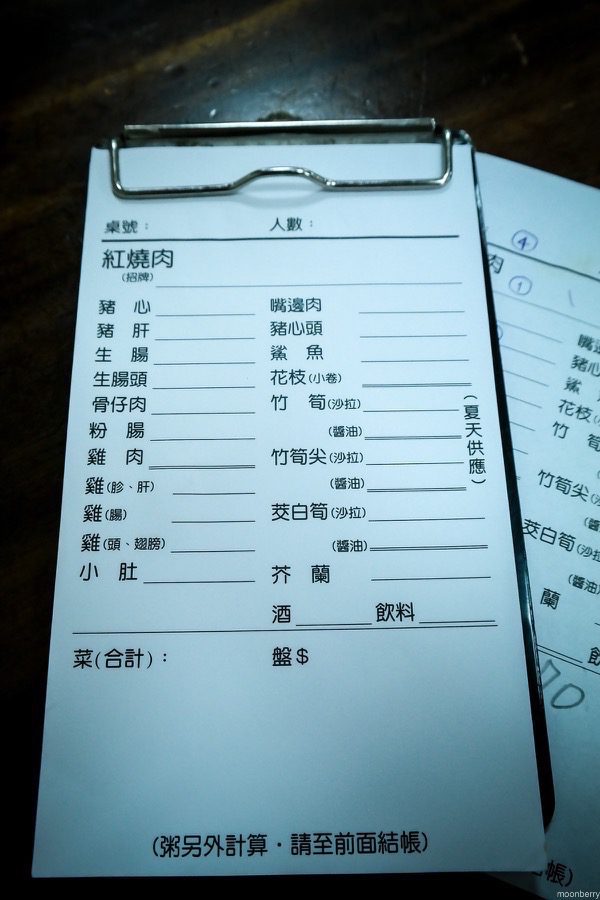 You'll notice that on the order form, there's an item typeset in a larger size and that's the restaurant's signature dish and star item: Crispy Red Roast Pork 酥炸紅燒肉.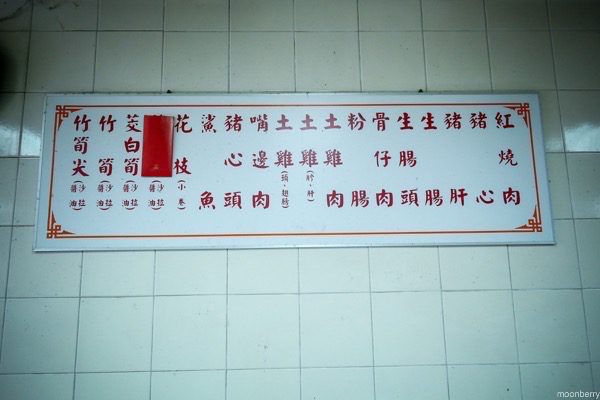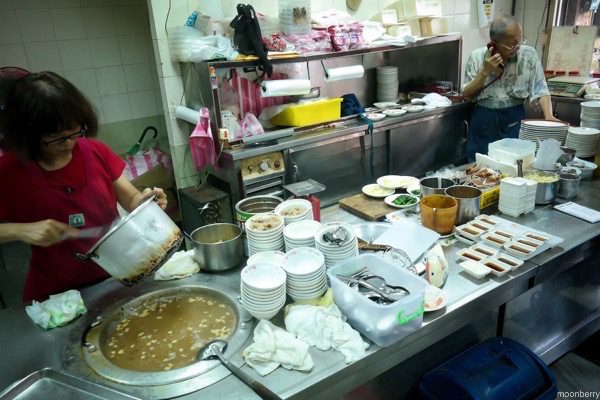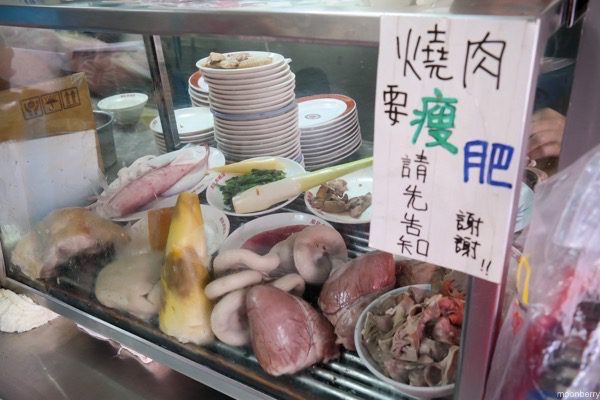 There's a glass counter filled with delicacy du jour. Drooling at the intestines, pig heart, and other internal spare part yumminess.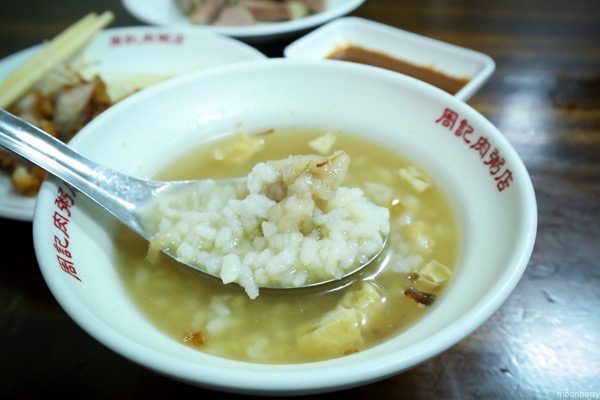 Taiwanese congee is unique, they call it 稀飯 which is rice in soup, not a thick pasty rice soup with dissolved grains that one'd expect from usual congee. The stock here is pale yellow with an onion flavor, there's a cube of ground meat and little bits of dried tofu in it.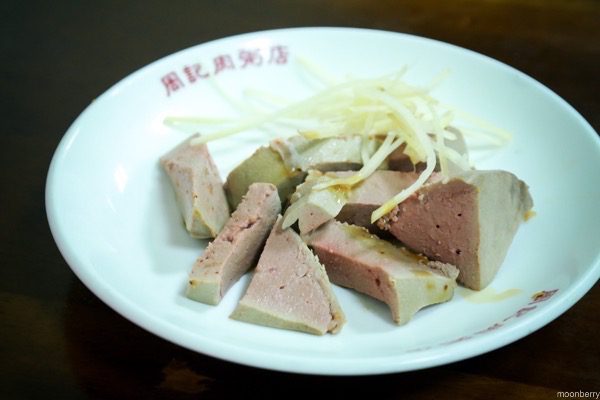 I also ordered a portion of poached pig liver on the side, served with julienned ginger.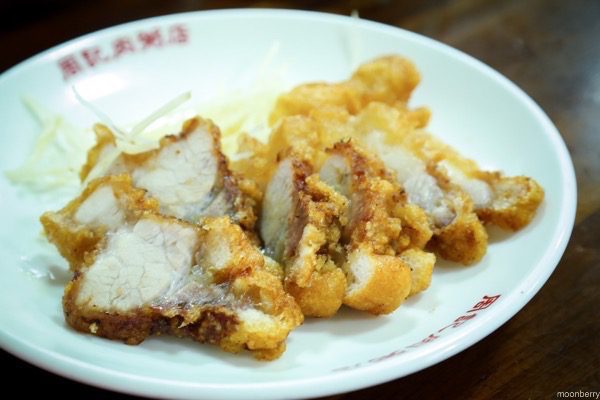 THIS is Crispy Red Roast Pork 酥炸紅燒肉. If you've never had it before, it is highly addictive and very unique to Taiwan. A fatty cut of meat, typically pork belly, is first marinated in fermented red rice wine and brown sugar overnight before being dipped in a watery tapioca starch batter, then deep-fried to a golden brown goodness.
Biting into these, you'll detect a delicious aroma of red rice wine and the fermented marinade has effectively caused the meat to be juicy and tender, while the light coating of batter is fluffy and crispy. Omaigaaaaaaaaad, Crispy Red Roast Pork 酥炸紅燒肉 is the best ever! Imo it's more flavorful than Cantonese-style roast pork and not as sweet as char siew. In other words, Crispy Red Roast Pork 酥炸紅燒肉 is dabombdotcom.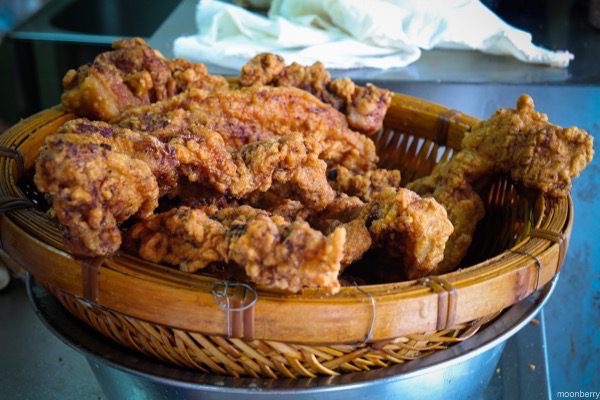 My friends rave about the Crispy Red Roast Pork 酥炸紅燒肉 served at Zhou's Meat Congee, but I've also tried it at a couple other places, so I'm going to dedicate a separate blog post just on Crispy Red Roast Pork 酥炸紅燒肉.
---
Hsinchu Meatball 新竹肉圓
165 Guangzhou Street
Wanhua District
Taipei City, Taiwan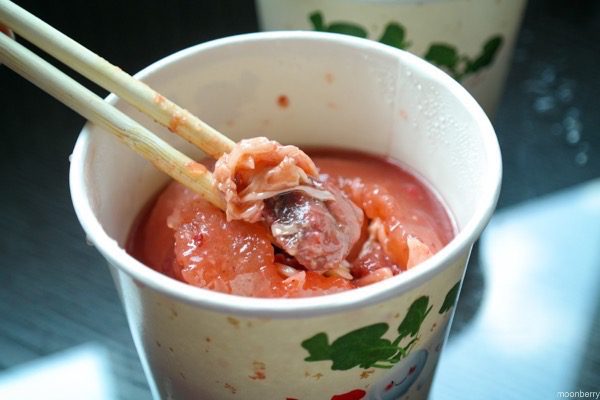 Right opposite Bo Pi Liao, another old establishment has been dishing out Taiwanese Stuffed Meatball, fondly called "bah-wan" by locals, since 1910. These 肉圓 meatballs are a type of Taiwanese street eats and it's a disk-shaped translucent mochi dough filled with a savory stuffing of pork, bamboo shoots, shiitake mushrooms, then served with a sweet sticky sauce. Different regions in Taiwan have a slightly different version of "bah-wan". Since I have not had the opportunity to try versions from different cities, this one – as the restaurant's name suggests – originates from Hsinchu, a city in northern Taiwan.
Everything I know about Taiwanese food I learned from years of eating at Lin's Taiwanese in Elmhurst, NY before rediscovering them in Taipei. Taiwanese stuffed meatball is one of my faves to order there because it's light but filling enough as a snack. And who doesn't love chewing on gelatinous mochi dough? It's so fun to eat!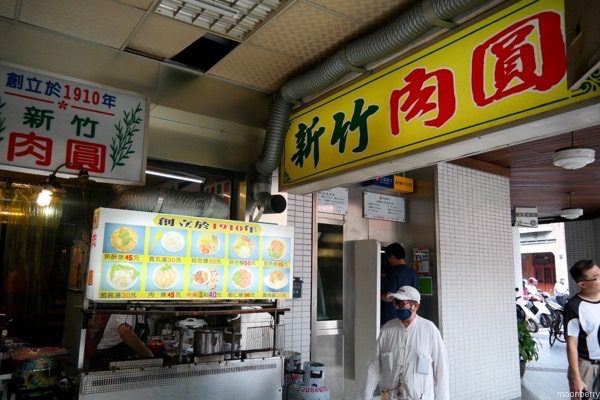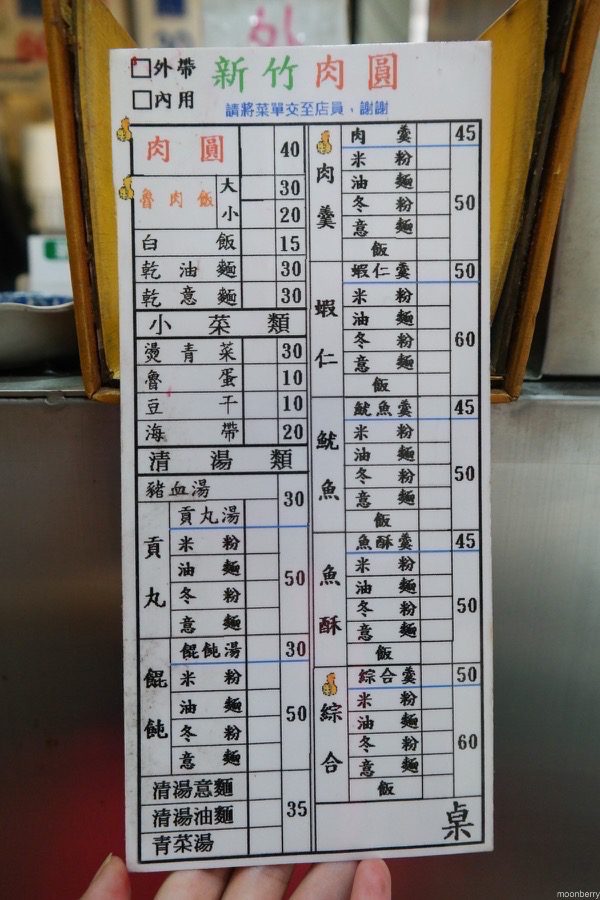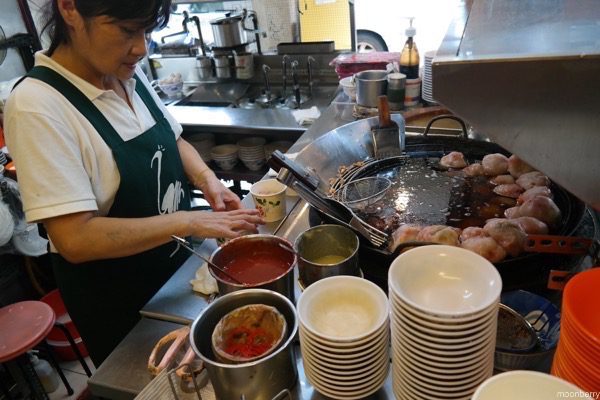 The gelatinous dough is made of a combination of corn starch, sweet potato starch, and rice flour, resulting in a chewy, sticky, and mochi-like texture and a greyish translucent hue. Initially cooked by steaming, these stuffed meatballs are served after being gently poached in oil. That's right, poached. As in, swimming all day long in a pool of oil. >_<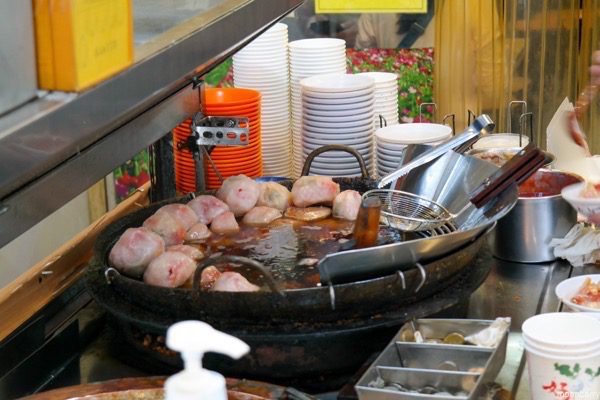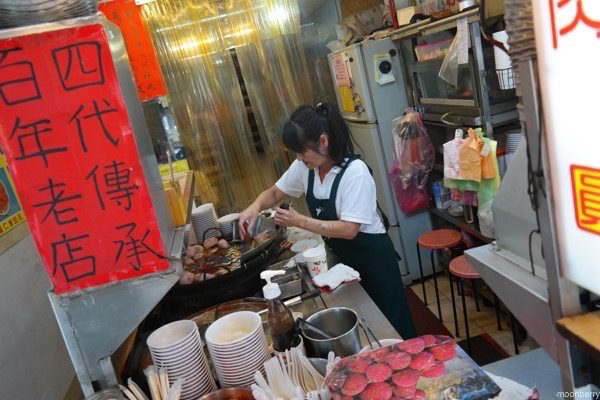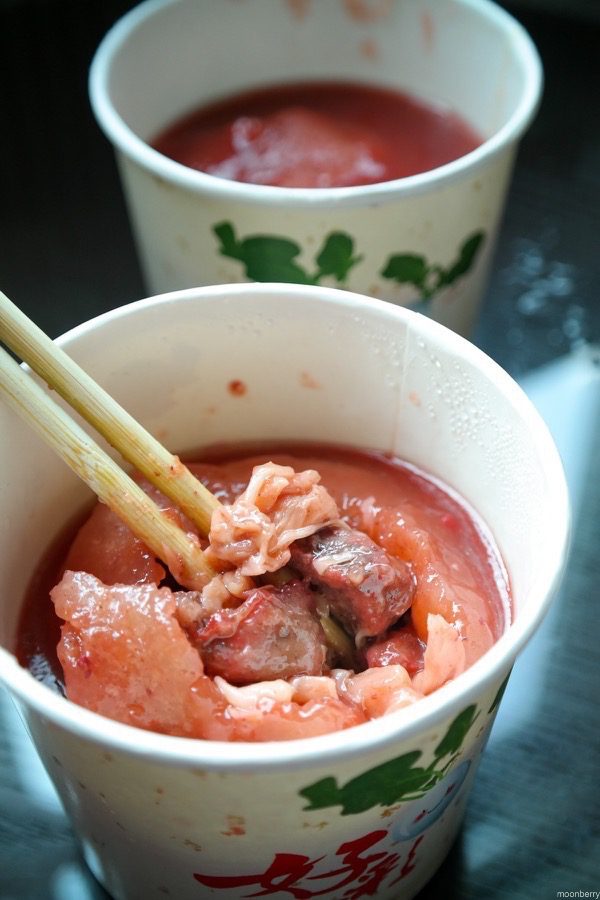 After seeing how it's prepared, I wouldn't use the word "light" to associate with "bah-wan" anymore. I'm seriously shocked but I would still eat it again next time because it's delicious. :"] I am reluctant to give this up completely because how many savory mochi items are there that's actually fun and delicious to eat? Honestly, do these stuffed meatballs need to be poached in oil at all? Can't it just be coated with a light spray of olive oil to prevent it from drying out? I need to look for a recipe and investigate whether a version without the poaching in oil bizniz is possible to create.
---
Kun Shan 坤山四神汤
North-West Corner of Guangzhou St and Kangding Road
Wanhua District
Taipei City, Taiwan
In the evening, the same street corner where Hsinchu Meatball store is becomes home to a street cart selling 四神汤 Four Deities Soup. It's a nourishing tonic which originated in Eastern Taiwan, and the name comes from the four main Chinese medicine ingredients found in the soup. This is a clear soup with pig intestines (yum!) added to it.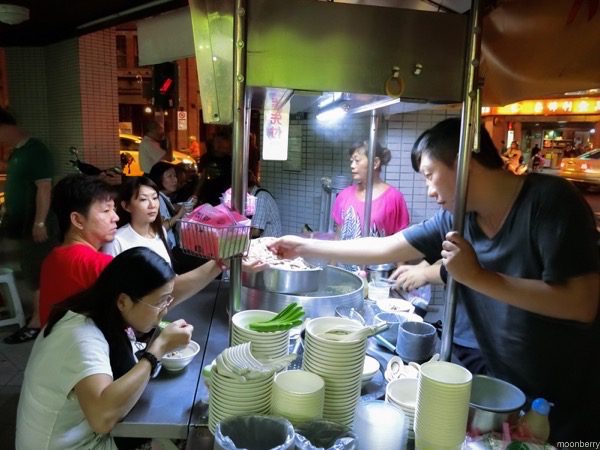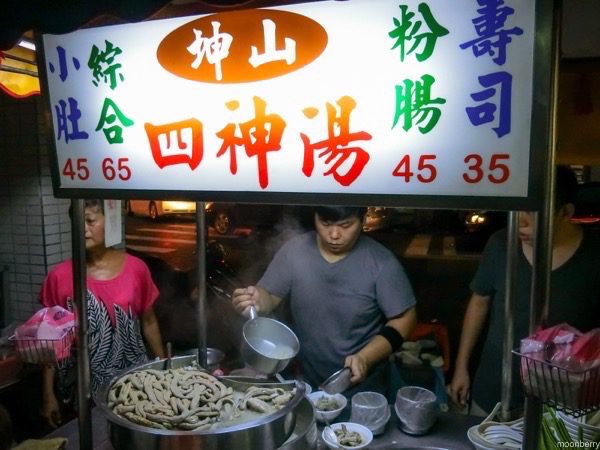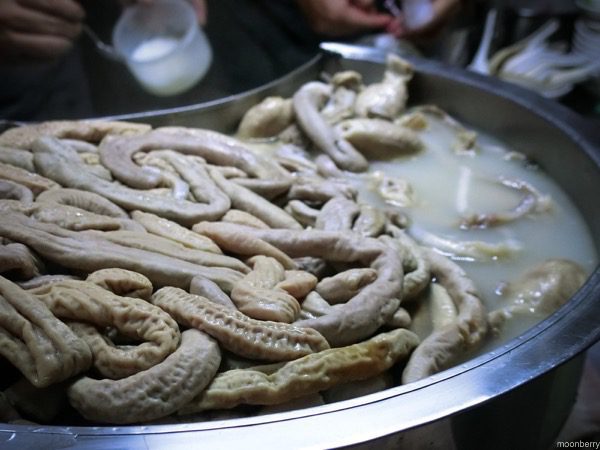 Pig intestinessssssssssss. *heart eyes*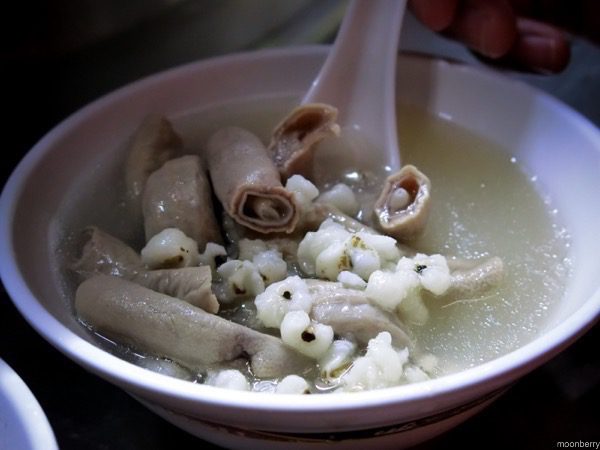 Fancy name notwithstanding, Four Deities Soup is a nutritious soup that has multiple health benefits. These benefits include boosting digestion, strengthening of kidneys and lungs, increased immunity – just to name a few. HOWEVERRRRRR, as much as I enjoy this soup it must only be taken in moderation because it is normally prescribed to those who lack appetite and/or have difficulty gaining weight. I absolutely do not have that issue at the moment; in fact I need a prescription to lose weight, thankyouverymuch.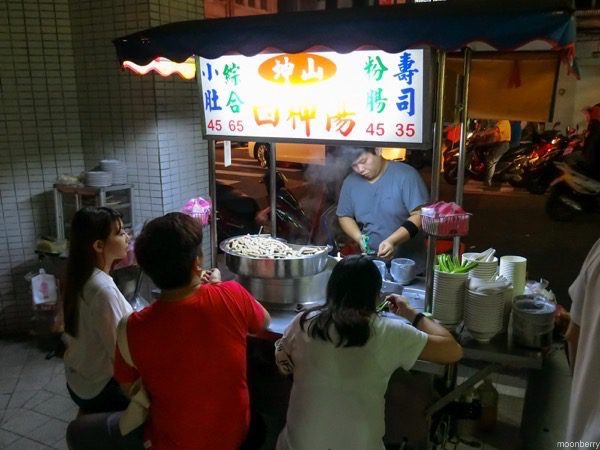 ---
龍都冰果室
168 Guangzhou St
Wanhua District
Taipei City, Taiwan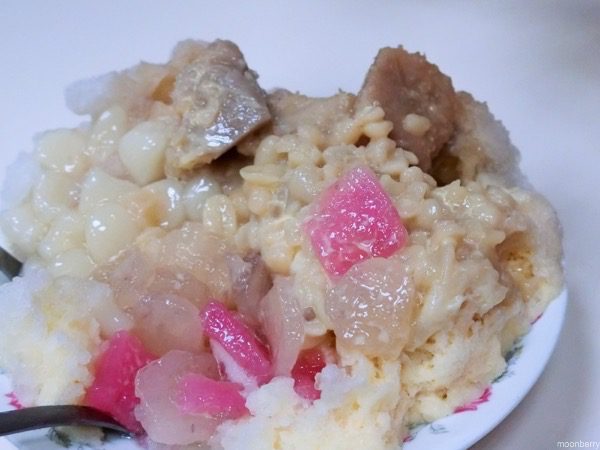 One of my besties Jonathan, whom I was with, said there's a well-known 'bing' place nearby and it was a warm day made for cooling down with a bowl of shaved ice with sweet toppings for dessert.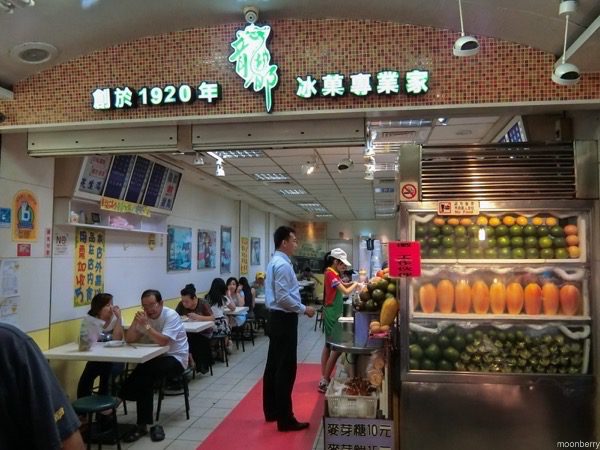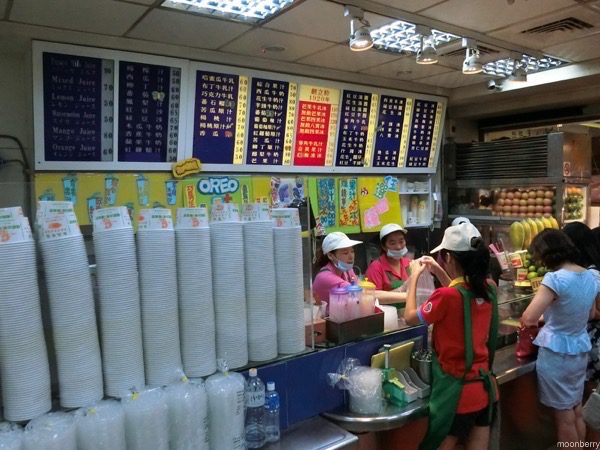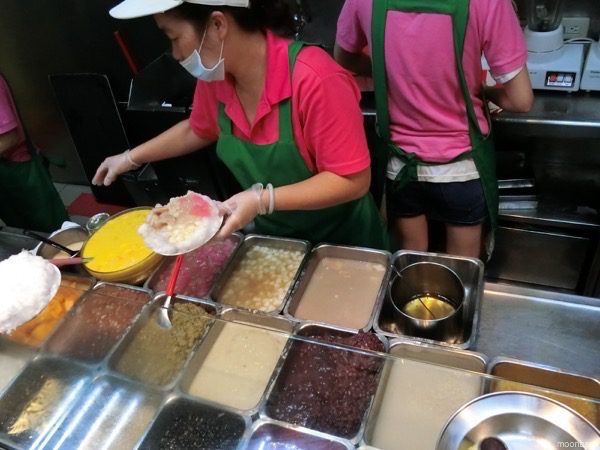 There was a time when my summers in NYC would involve a trip to Flushing for bowl of 'bing' and I always request for extra condensed milk to top off the mound of shaved ice packed over red bean, taro cubes, boba, and longan. I even own a mini shaved ice machine that came in handy many times during BBQ parties hosted in my backyard. This was my first time having 'bing' in Taiwan and because I have analysis paralysis, I asked Jonathan to do the ordering.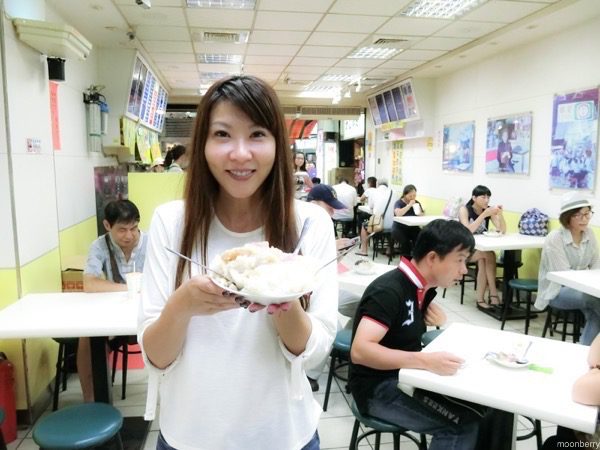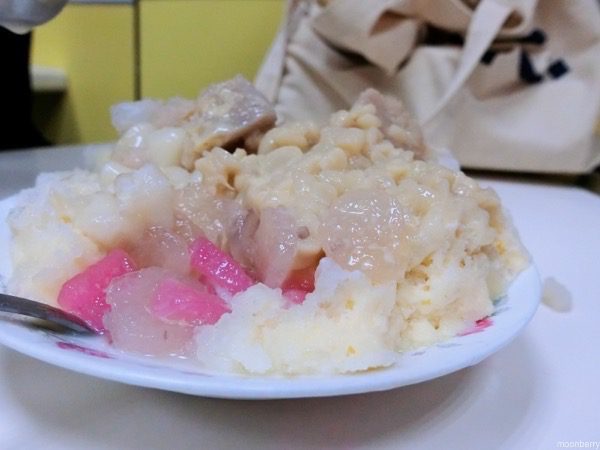 Our 'bing' bowl consisted of mung beans, taro cubes, two different kinds of mochi-ish jelly (chewy with a snappy crunch), and sweet condensed milk.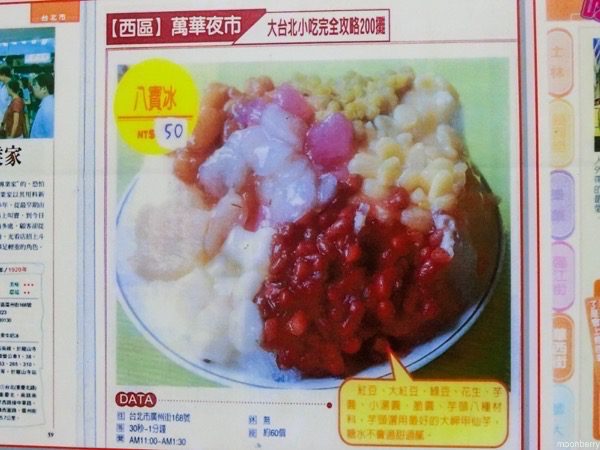 ---
Btw, I first came across the word Monga through an eponymous Taiwanese movie in 2010. At the time I didn't know the word referred to an actual district in Taipei. That movie is awesome and it is basically about Taiwanese eye candy, with some gangster violence interspersed here and there.
Anyway, I was drooling over Mark Chao for how many months because of the movie!?!?! Just kidding, it's a good movie. It bagged many awards and was even selected as the Taiwanese entry for the Best Foreign Language Film at the 83rd Academy Awards. That's how sizzlingly hawt the boys movie is.  [Check out the movie trailer].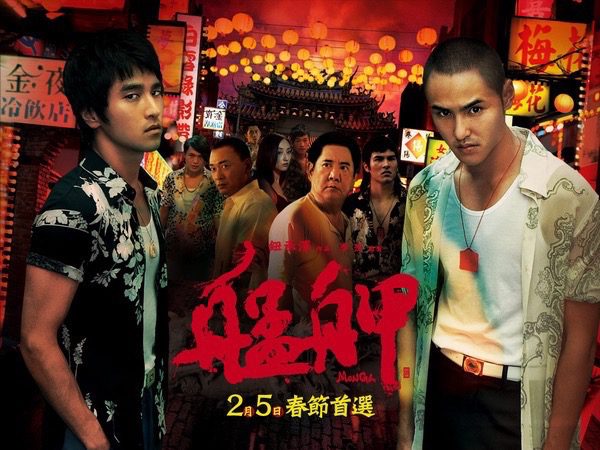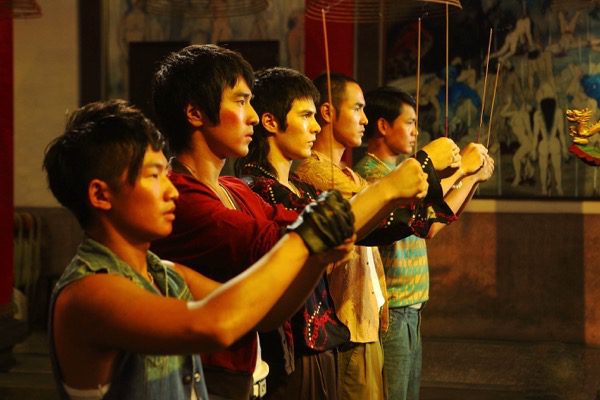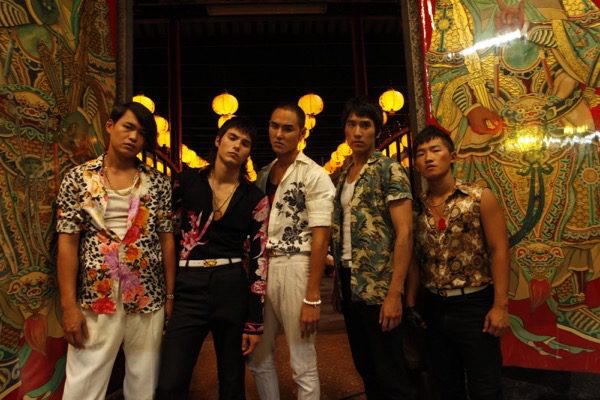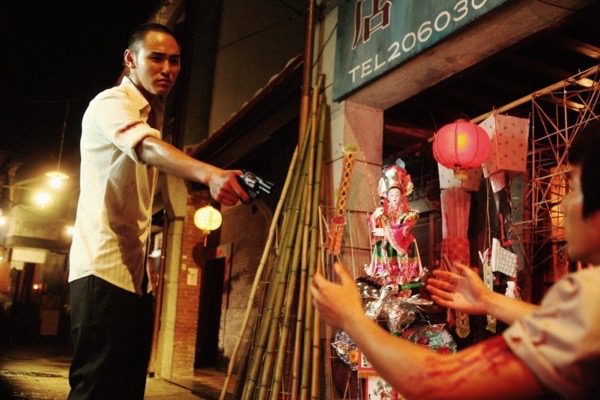 I have a thing for Asian gangster movies because the storyline revolves around loyalty and righteousness rising above greed, sadly not always leading to a happy ending. Anyone remembers the Young and Dangerous movie series from Hong Kong? That's a classic. This year Gangnam Blues, a Korean gangster flick, grabbed my attention. It's a poignant film and I watched it twice. It's the first time I've seen a performance by Lee Min Ho and hawtdayamn he's incredibly delicious in it… although not nearly as delicious as Red Roast Pork. ;9