29 Aug 2012
---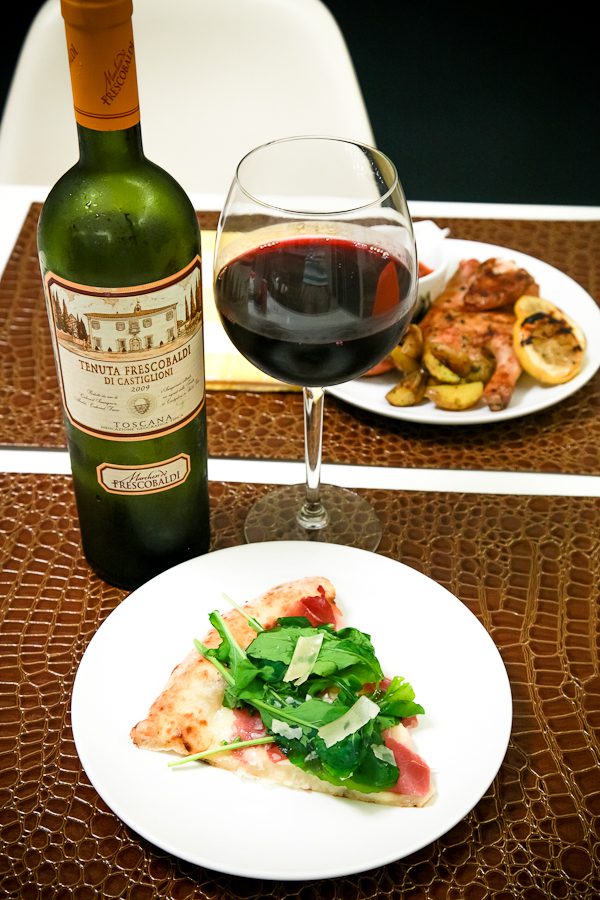 These days I've been eating out a lot and even though there's plenty of choices nearby the apartment (amen!), at some point I sorta got lazy, uninspired about dinner and just needed something fast and easy. The Yankee in me normally associates "fast and easy" with pizza, so I decided to order take-out from Trattoria L'Operetta.
Trattoria L'Operetta is a relatively-new Italian place that opened in my 'hood and I've walked past a couple of times, but never had a chance to go in. Seeing how it was a Monday night (an even more uninspiring night for fancy dinners), I think pizza would suit my agenda just fine – or lack of, rather.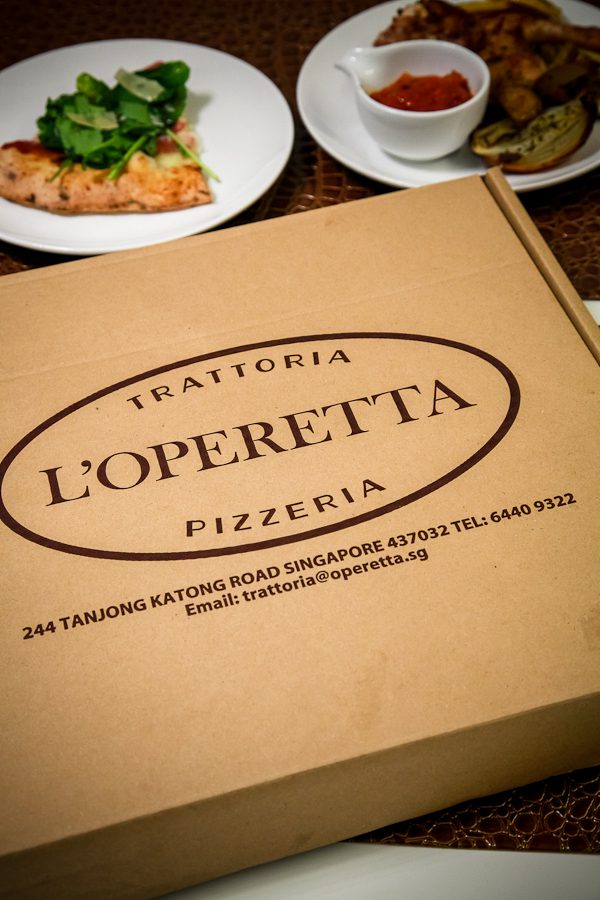 The truth is, of course Trattoria L'Operetta doesn't serve fast food and it's not the same as NYC pizza joints where you can just grab a slice on-the-go, wolf it down, badabing-badaboom.  Before I elaborate though, I was curious about the difference between trattoria and pizzeria. Is this Italian place one or the other? So here's what I found.
Trattoria: an Italian-style eating establishment, less formal than a ristorante, but more formal than an osteria. There are generally no printed menus, the service is casual, wine is sold by the decanter rather than the bottle, prices are low, and the emphasis is on a steady clientele rather than on haute cuisine. The food is modest but plentiful (mostly following regional and local recipes) and in some instances is even served family-style (i.e. at common tables).

Pizzeria: A shop or restaurant where pizzas are made and sold is called a "pizzeria". The phrases "pizza parlor," "pizza place" and "pizza shop" are used in the United States. The term pizza pie is dialectal, and pie is used for simplicity in some contexts, such as among pizzeria staff.
I see. Bet you didn't know that either huh? So when I was in Milan several weeks ago and bought pizza there, I think that was from a trattoria (now that I know what distinguishes it from a pizzeria).
And as you can see from the L'Operetta take-out box, it reads both Trattoria and Pizzeria. So that means Trattoria L'Operetta is BOTH. That makes sense to me becauseTrattoria L'Operetta is a sit-down place, while their online menu features pizza. But in addition to pizza, there's other food also on the menu.
You can't miss the wood fire oven that is right by the front door, so presumably most patrons go there for pizza. Trattoria L'Operetta boasts proper traditional Napoletana pizza and the pizza base is made of hand-kneaded dough. Every order is made fresh on the spot before putting into the aforementioned wood fire oven.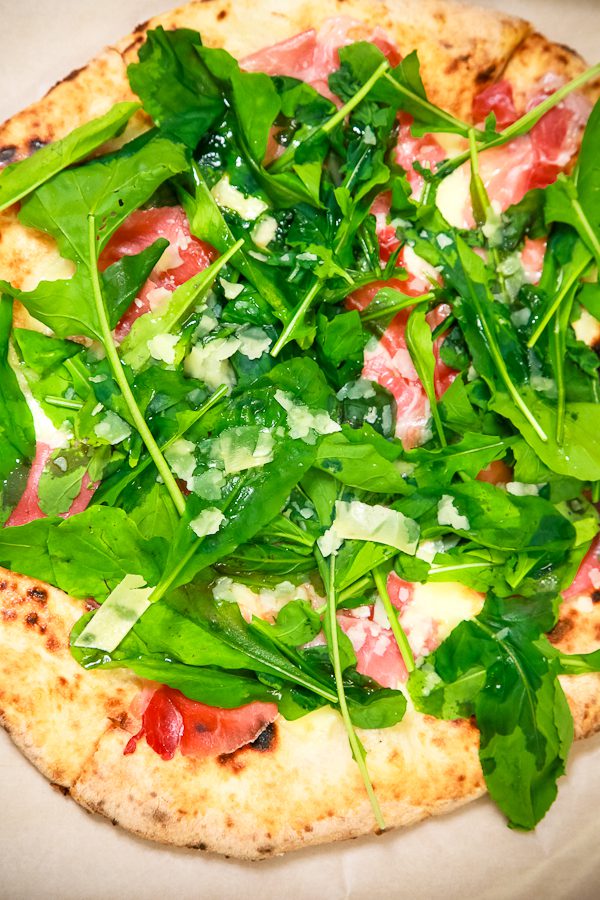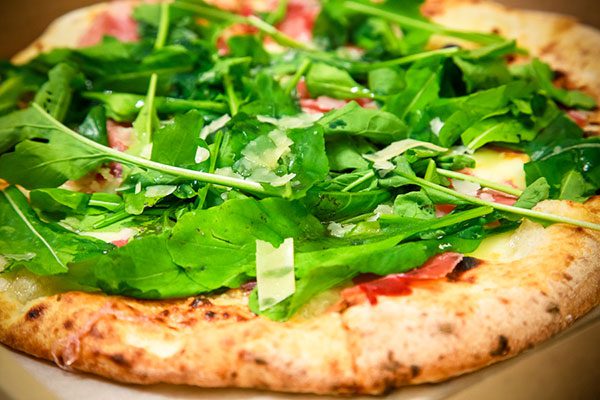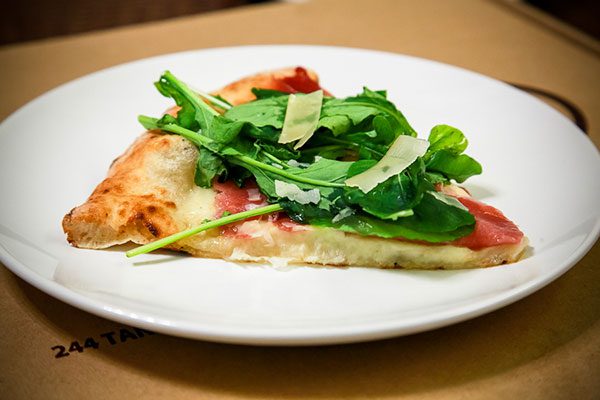 Prosciutto Rucola Pizza : Mozzarella, Parma Ham, Parmesan and Wild Rocket.
This pizza definitely had a rustic homemade flavor to it. I liked the dough very much but the prosciutto was a wee too salty for me, but I guess it can't be helped coz it's been cured like that. The wild rocket gave a nice bitter crunch to this and I wish there's more shaved parmesan (coz I love that stuff).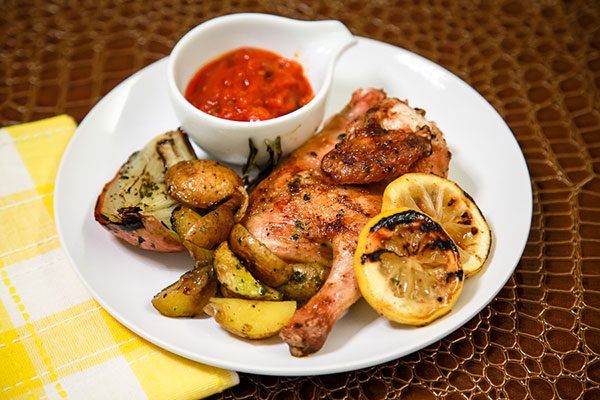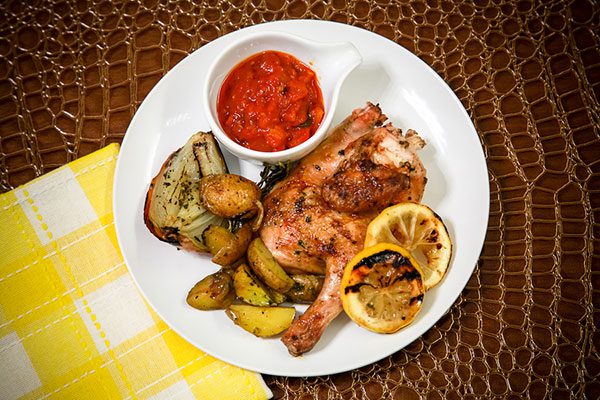 Polletto al Mattone con Patate al Forno e Spinace : Free range chicken with roast potato and spinach.
Gawd dyamn can the Italian name be any longer. This is basically chicken roasted with rosemary and lemon (something which I've made many many times at home, because it's super easy and delicious), served with herbed potatoes and spinach. Uhm, I couldn't find the spinach but there was a condiment of pizza sauce that's got a good spicy kick to it.
This was delicious at first bite, except I stepped away to make a phone call at the start of dinner and when I came back, I found a small miserable tiny part of chicken left on the plate and half a pizza pie on the table. Friggin' bf had a ravenous appetite and pretty much polished nearly all of our dinner while I was away and not watching. #WTFBBQLED!!!! :"|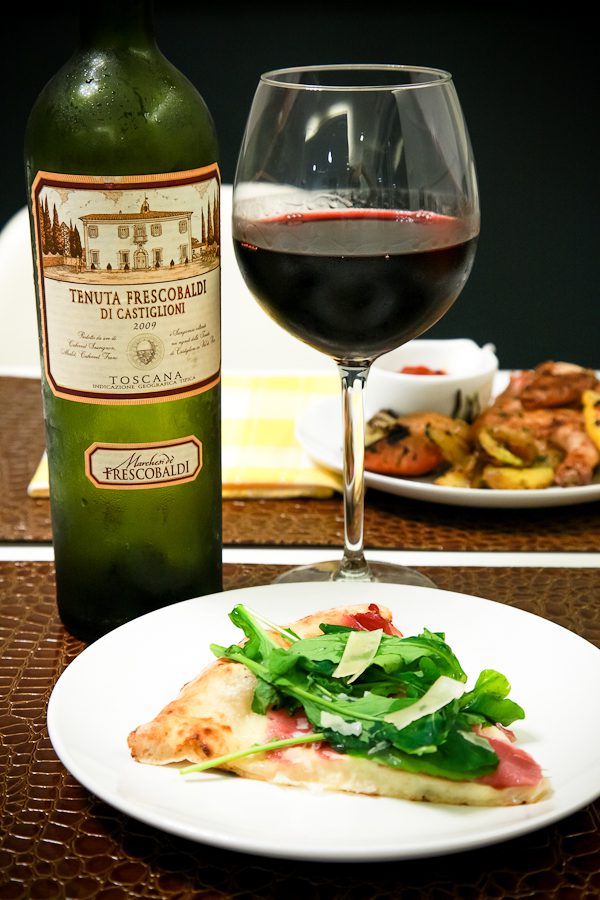 There was a half bottle of red wine left in the fridge so I served it together with this take-out Italian dinner.
Yah, yah, I know. You are probably frowning at the idea of me putting red wine in the fridge, but let me tell you that ever since I moved to Singapore I find it much more enjoyable to be drinking chilled red wine because it's so friggin' hot outside all the time. *shrug* I am not a wine connoisseur to begin with and never have the aspiration to be one, so I'm pretty happy to have my red wine chilled, thankyouverymuch. :) I haven't gone down the drastic path of adding ice cubes into my wine glass yet, so… chill. Heh.
Oh, and as for my Milan trip, I haven't blogged about that yet, eh? Not that anyone reading this blog is following every post chronologically anyway, so I'll write about it when I get around to it. There were many drool-worthy stuff there. It'll be a shame for me not to capture the memory of that trip onto my blog, so stay tuned.
In the meantime, Monday night pizza and roast chicken for me = Buon Appetito! :9~