21 May 2014
---
I've been hearing about Ultherapy, an FDA-approved non-surgical facial skin treatment that uses focused ultrasound to lift and tone loose skin. Ultherapy specifically targets the skin and its deep foundational layer of tissue that doctors address in surgery, but without cutting or disrupting the surface of the skin. The use of ultrasound also enables practitioners to see the layers of skin, ensuring the energy is delivered to where it will have the biggest impact. I'm too young for a facelift, but no longer young enough to have naturally taut tight skin. I sometimes notice the shadow of what's going to eventually become marionette lines (lines that run straight downwards from the corners of the mouth) and while people commonly use fillers to correct that, there's surely a more effective and longer-lasting solution than fillers?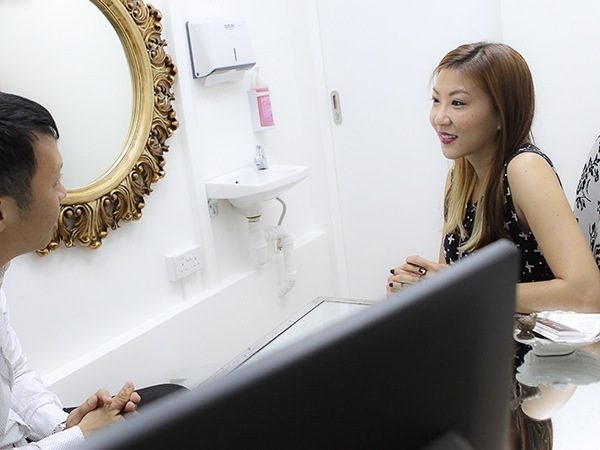 In the US, many women in their late-thirties and older have gone for Ultherapy, primarily to address a jowly appearance on the lower face and the droopy look under the chin. From reading countless reviews online and looking at before and after photos from women who have undergone this treatment overseas, it is evident that Ultherapy is an effective lifting procedure in tightening the skin and producing a more defined jawline.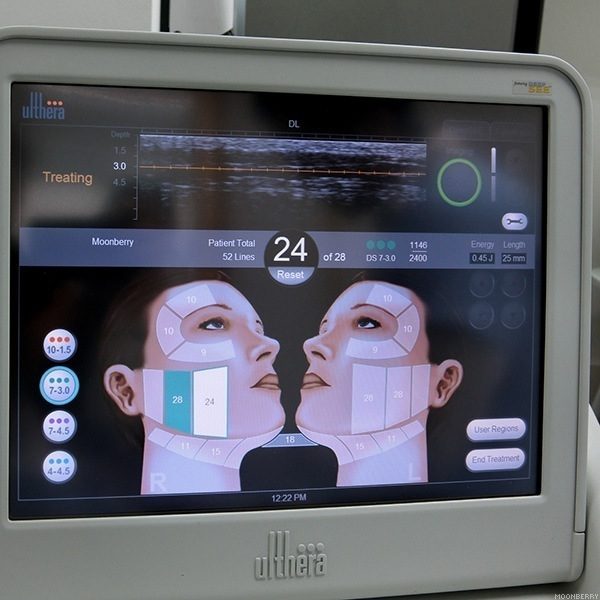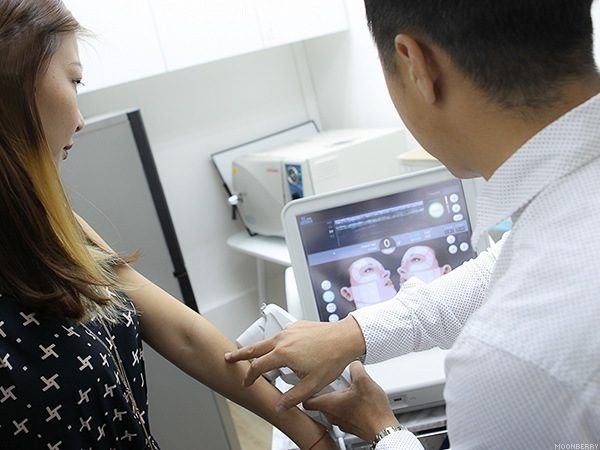 I sought the advice of Dr. Terence Tan at Halley Medical Aesthetics who explained that losing bone mass and diminished collagen production as we age contribute to the droopy skin on our face, which makes us look old. With Ultherapy, ultrasound waves are sent into the deeper layers of the skin causing more collagen to be produced. Basically the waves heat up the facial tissue and stimulating it so that your skin produces more collagen, thereby causing it to look younger and firmer. The machine itself has a display showing the depth of the skin layers (3mm and 4.5mm) where the ultrasound waves are sent to, so this is a very targeted and focused treatment with the guidance of the display. There is no post-treatment downtime and makeup can be applied right away after the treatment.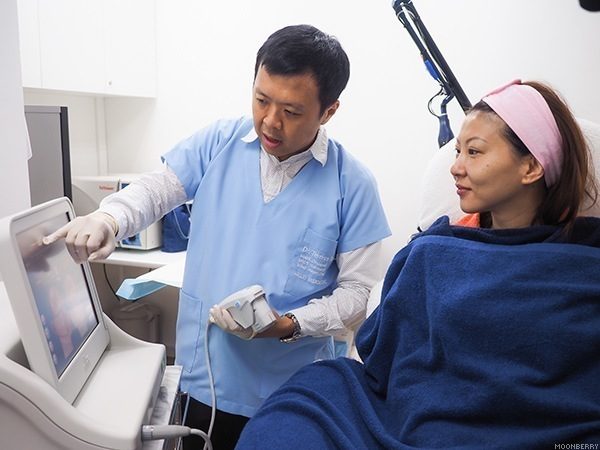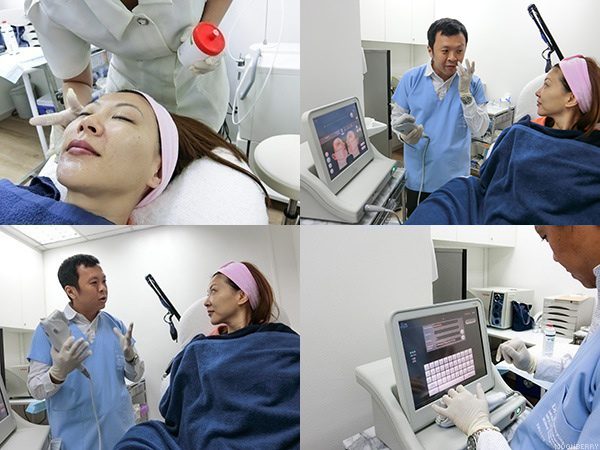 Many women reported that the procedure was painful and I happen to have a low pain threshold, but surprisingly when I underwent Ultherapy there wasn't any major discomfort. Under the skilled hands of Dr. Tan, I did not feel much pain. Initially I was expecting some stinging or prickly sensation, but Dr. Tan reminded me that this is not laser even though there would be heat emitted from the ultrasound waves. Granted numbing cream was applied beforehand and I also took a mild sedative + a painkiller capsule, all I felt was the mild pressure of the handheld device pressing on my skin, but that was about it. According to Dr. Tan, he was using the highest setting which I didn't even realize I could tolerate so well! I found this extremely surprising because from the personal accounts I've read online, many American women who did Ultherapy said it was very painful. Oddly I didn't experience the same!? On a scale of 1-10, I'd rate the pain level as 2 and only when applied on the areas where I knew it was gonna hit me bad, ie. my lower left jaw. Dr. Tan was very good throughout the entire procedure as he kept checking in on me and as soon as I expressed discomfort after a few pulses in certain areas, he immediately adjusted the ultrasound waves down to my tolerance level.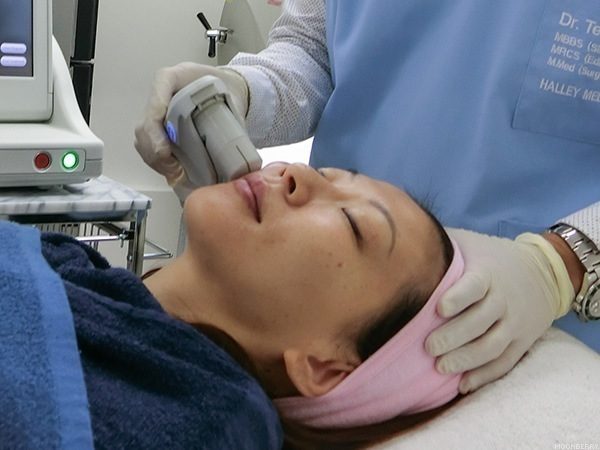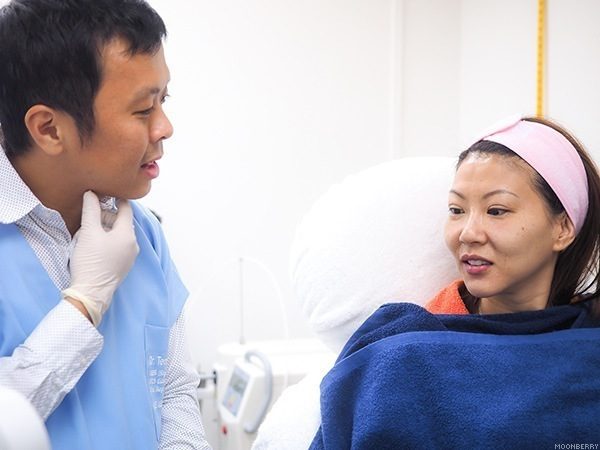 To provide context regarding the issue of pain: I've done medical-grade RF lifting/tightening treatment before (RF = radio frequency) in the same lower face area at a different clinic and I remember it being quite a painful procedure that I wouldn't want to repeat. The heat which I experienced at that time was highly punctuated and felt like hot needles were poking into me, especially where the skin below my chin meets the neck. Compared to that, Ultherapy was seriously a walk in the park.
I ought to also share that Ultherapy is safe for the entire face, including the skin surrounding the eyes so problems such as crowsfeet and saggy eyebags can be addressed effectively. I was definitely nervous about this because I know that this area is particularly sensitive for me; the skin under the eyes is generally very thin and always displays the first telltale signs of aging. I was really happy and relieved that Ultherapy treatment administered around the eyes was not painful one bit. I even asked for a bonus round to be applied here because it was such a breeze.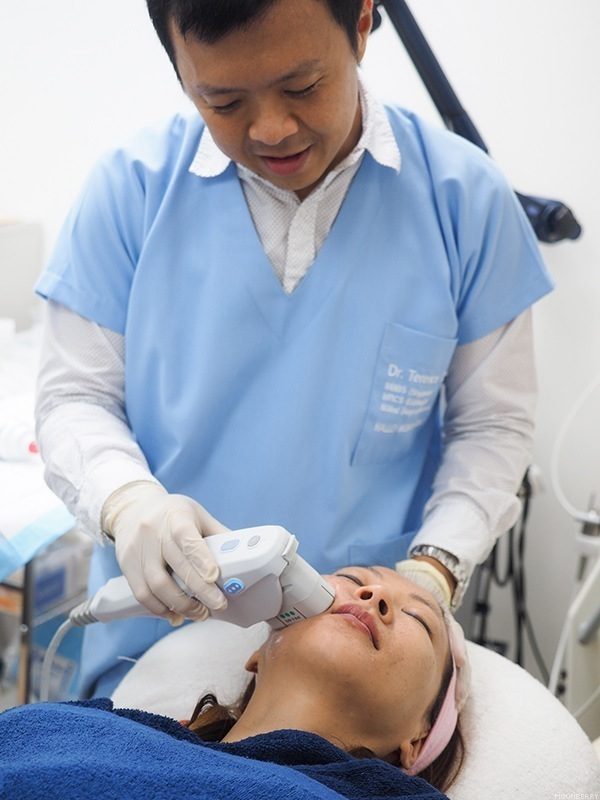 The entire procedure for the whole face took about an hour and I did not have any redness on my face whatsoever during or after. It didn't even feel like I had done anything at all. There was some slight puffiness, but no bruising, redness or pain. I did, however, look spent and I attributed it to me holding in my nervousness (for no good reason, in hindsight). Within the next few days and all through a couple weeks later though, I began to experience soreness around my cheeks as though I've bumped my jaw into a hard surface. I had to wash my face with a very gentle hand because pressing on the skin triggered achiness, but when I didn't touch it, it was fine. I had to cancel my facial appointment elsewhere during those two weeks because I knew I wouldn't enjoy a face massage.
While dramatic results weren't immediate, about ten days after my Ultherapy procedure, friends actually commented that my face appeared slimmer and the skin looked tighter. They deduced I had lost weight (a comment I often get) but no, actually I did not – more like gaining weight as I've been cooking at home so much lately. The lifting and tightening effect from Ultherapy would begin to look most visible somewhere around 3 to 4 months post-procedure. The results will gradually get more apparent over time, but here's what I'm seeing so far for my jawline (for my own reference as I plan to keep track of this).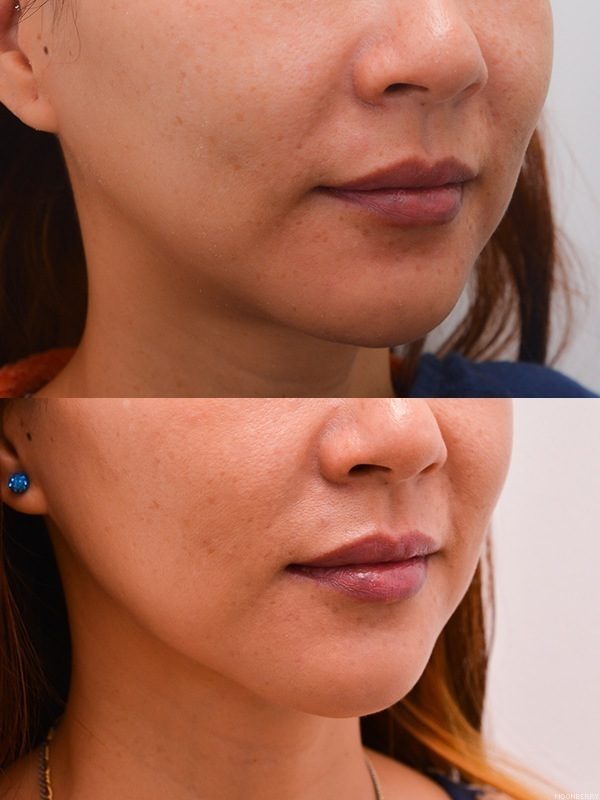 (Gawd, I need to seriously look into getting rid of my pigmentation.)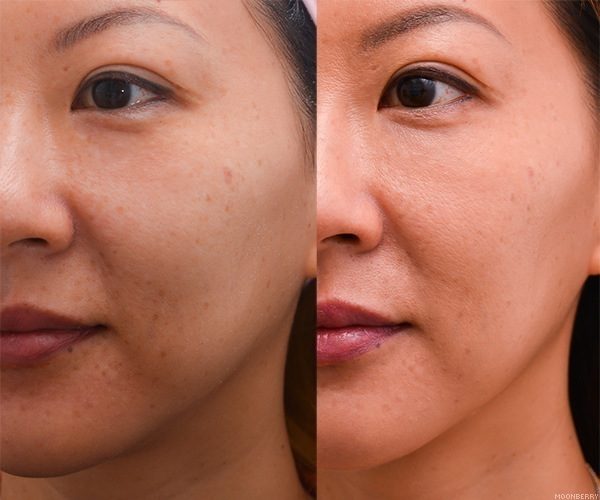 For those seeking a procedure to tone and tighten the skin on the face and neck, but not quite in need of a facelift yet, Ultherapy is the perfect solution. Ultherapy at Halley Medical Aesthetics costs SG$2900 and results from one session last for 12-18 months.
Halley Medical Aesthetics
248 River Valley Road
Singapore 238302
Tel: (+65) 6737-8233
Facebook | Website (with price list)