26 Jul 2013
---
To be perfectly honest, I never quite get the chilled soy/beancurd pudding fad that's hit Singapore in the last couple years. I have tasted these before but still don't get what's the big deal about them that's gotten people standing in line waiting and buying dozens at a time. It's way too early to tell whether soy pudding will reach the global iconic status of bubble tea or not, but as far as Singapore goes, it looks like these soy puddings are gonna stick around for a while. And seeing how they don't cost more than $5 per tub, I think the profit margin must be super high as there are so many new vendors sprouting up everywhere selling the same product and similar flavors.
Recently my friend DanielFoodDiary wrote about a new soy pudding vendor AmaSoy on his blog. I thought, "Sheesh, another soy pudding vendor selling the same thing just like everyone else.". When he asked me to sample the soy puddings as he had a part in helping AmaSoy develop new flavors, I said sure, sure but call me Inspector Soy Skeptic.
So I tasted them. And at first bite I had a violent reaction of:
"WHAAAATTTT…?!?! THIS IS DIFFERENT AND MUCH MORE DELICIOUS THAN EVERYTHING I'VE TRIED BEFORE!".
Yeah, AmaSoy soy puddings are actually that good. Definitely not what Inspector Soy Skeptic had anticipated. It was an unexpectedly pleasant surprise.
Further investigation revealed that AmaSoy's chilled soy pudding is known for its incredibly smooth texture, and quality ingredients made with 100% organic soy beans. Even though it is one of the newest soy pudding brands in Singapore, AmaSoy's been recently nominated by Singapore's Favourite Foods 2013 as  one of the top three favourite soy puddings.
What sets it apart from other soy pudding brands in Singapore is the addition of Collagen and Omega3 into the soy pudding recipe – the first and only vendor in Singapore to do so. Not only are these soy puddings a delight to eat, they are healthy and nutritious too. Collagen has been known for its beautifying properties, and Omega3 (DHA) has several health benefits such as boosting brain function, enhancing heart health and lowering triglycerides. And I believe the organic soy beans contribute to the superior quality of this dessert as well.
– 100% Organic Soy Beans Used
– All natural & nutritious
– Trans-fat free
– No cholesterol
– Low fat content
– Lactose free
– No colouring
– No artificial flavouring
– No animal gelatin used
– No preservatives & MSG used
Frankly, I don't know what the others have put in their products to yield the wobbly, silky texture that everyone seems to love. I have heard wild speculations and rumors on the street about the addition of mysterious stuff. Either way I am happy to see that AmaSoy does not add any of these weird stuff into their soy puddings.
I uhm, hate to be cliché but…. yah, the proof is really in the pudding.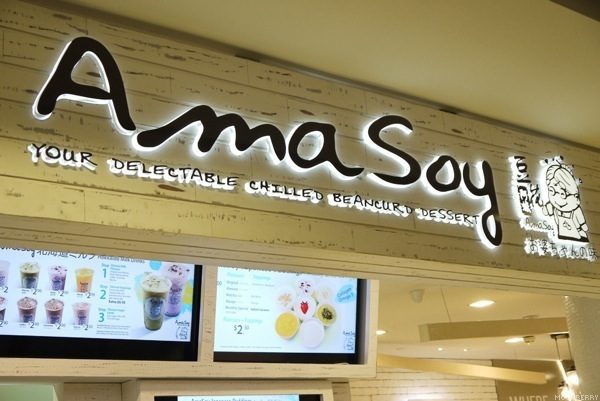 While this is a Singapore brand, there is clearly a Japanese influence in AmaSoy's creations because the original was inspired by Tounyu Soy Beancurd, and further developed and fine-tuned by AmaSoy's in-house Japanese chef. The recipe for AmaSoy was created after countless experiments using his intimate knowledge of Japanese cuisine to ensure the perfect balance of ultra-smooth texture, delicate flavour and delicious taste of AmaSoy.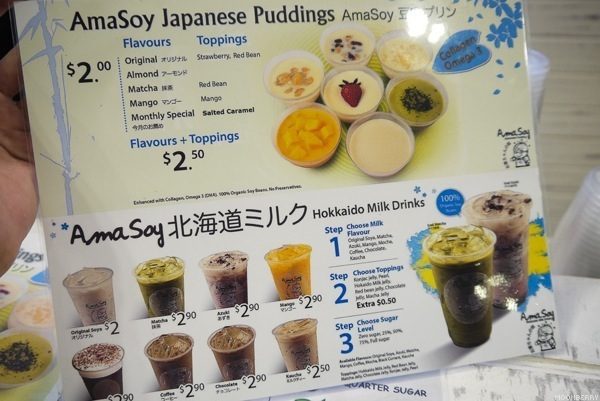 Presently AmaSoy offers five flavors: Original, Almond, Matcha, Mango and Salted Caramel (a monthly special). To add more textural interest and variations, there's also a choice of toppings for the soy puddings. Below are the flavors which I sampled, mostly sans toppings.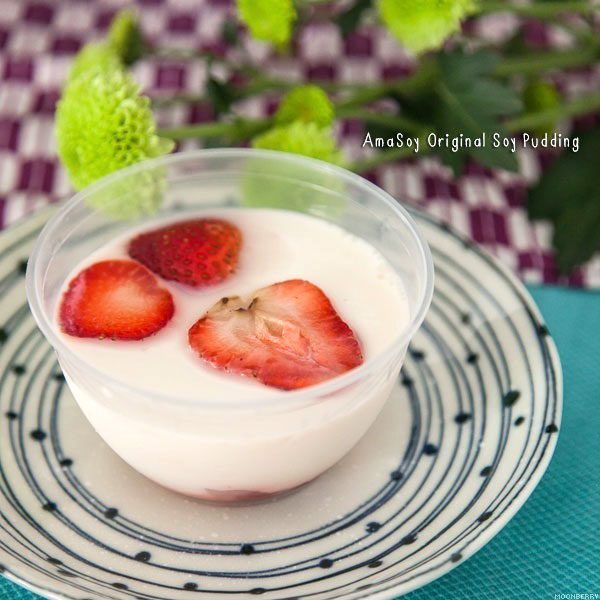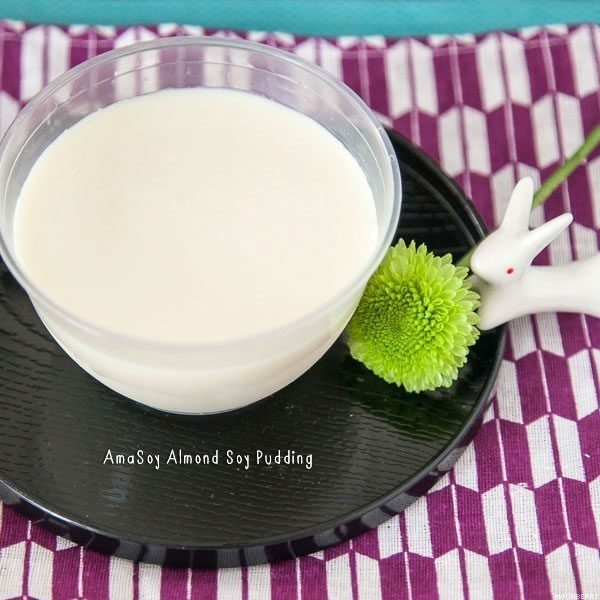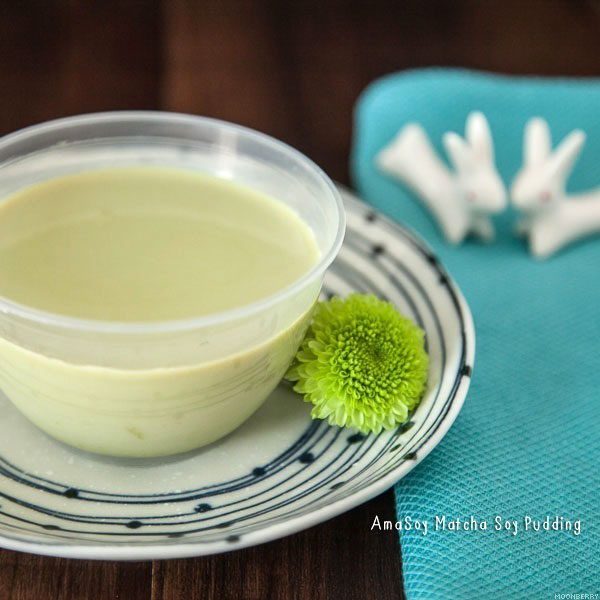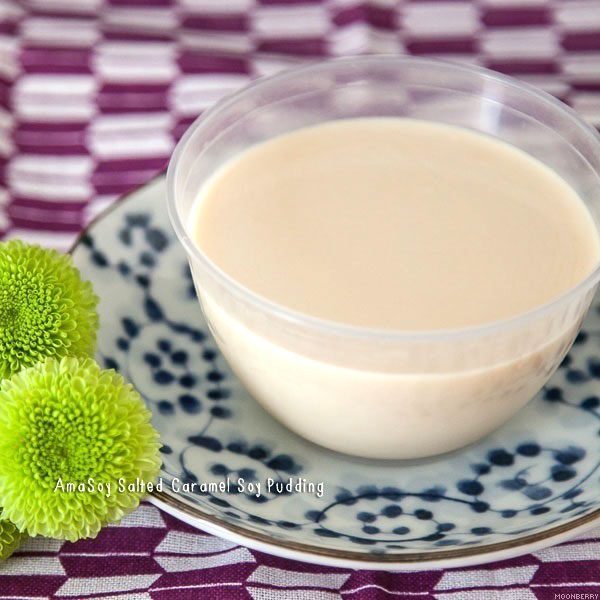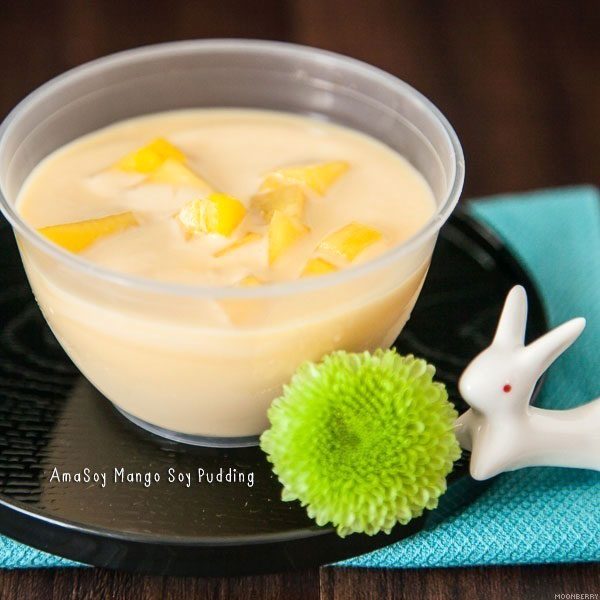 If I were to summarize AmaSoy soy puddings in one word, it'll have to be: delicate.
Yes, I find that the texture and flavors are delicate. Texture wise, these have the right firmness while still retaining its silkiness. Flavor wise, none of the five flavors is overly sweet – just the right amount for this to pass off as tasting natural and wholesome.
The reason why I had such a violently positive reaction when I took my first bite out of this soy pudding, it's because the flavor and texture is such a huge departure from the other soy puddings out there in the market. If no one had told me there's soy in these puddings, I'd have just gone on eating the Matcha, Mango and Salted Caramel ones thinking they are regular jelly.
It's amazing how AmaSoy's chef managed to create a pudding like this. I almost feel that AmaSoy needs to belong in a category of its own – like, a category for jellies that happened to have soy in it.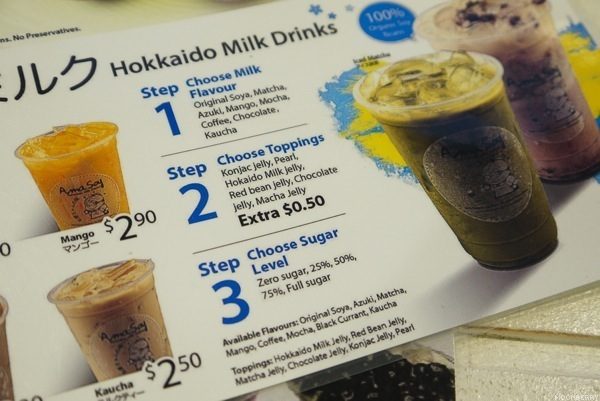 On the menu, AmaSoy also has a series of Hokkaido Milk Drinks which uses premium milk from Hokkaido, known for its outstanding dairy products and rich farming culture. I have heard about these Hokkaido cows and the superior-tasting milk before but I'd never tried before. The Hokkaido Milk Drinks from AmaSoy were my first orientation ever to this high quality milk.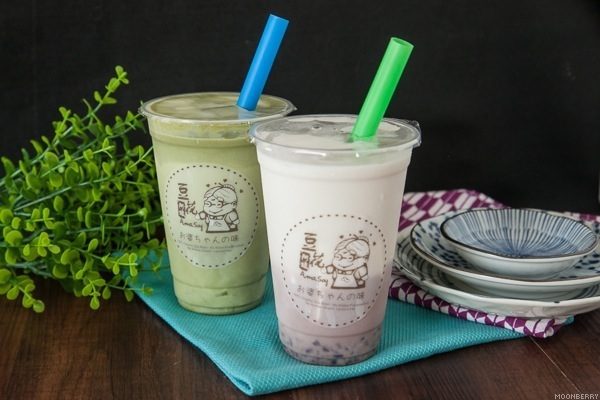 I am happy to report that the Hokkaido Milk Drinks taste smooth and has a silky creamy taste. I tried two flavors:
• Matcha Hokkaido Milk Drink with Matcha Jelly, with 25% Sugar Level.
• Azuki Hokkaido Milk Drink with Hokkaido Milk Jelly (this is naturally sweetened by the azuki/red bean).
I think bubble teas need to step aside, because these Hokkaido Milk Drinks are fantastic and way better in comparison! I love how the milk tastes soooo smooth. The jellies are very nice – good texture and subtle flavor, so for those of you who like toppings in your drinks, I definitely recommend spending the extra 50¢ to add jelly toppings into your AmaSoy Hokkaido Milk Drinks.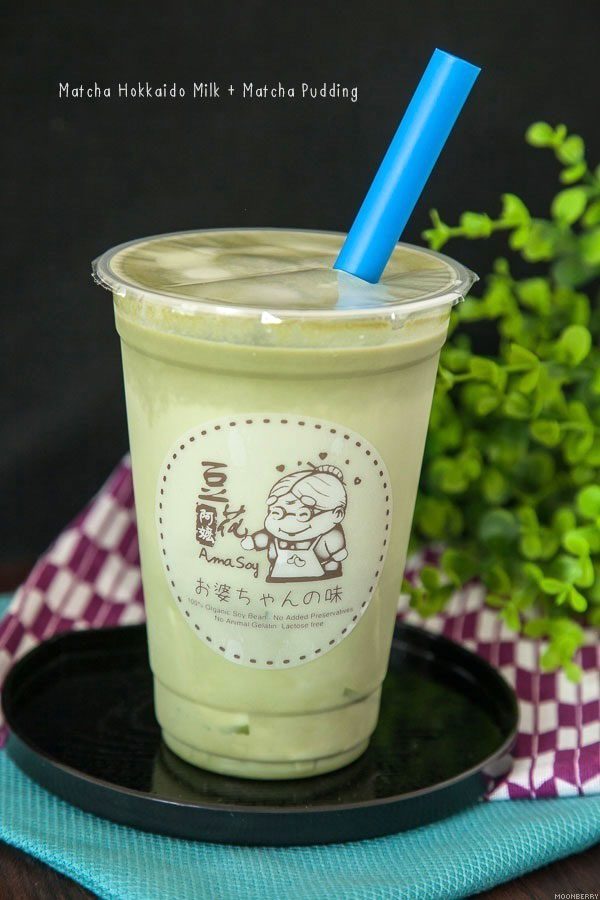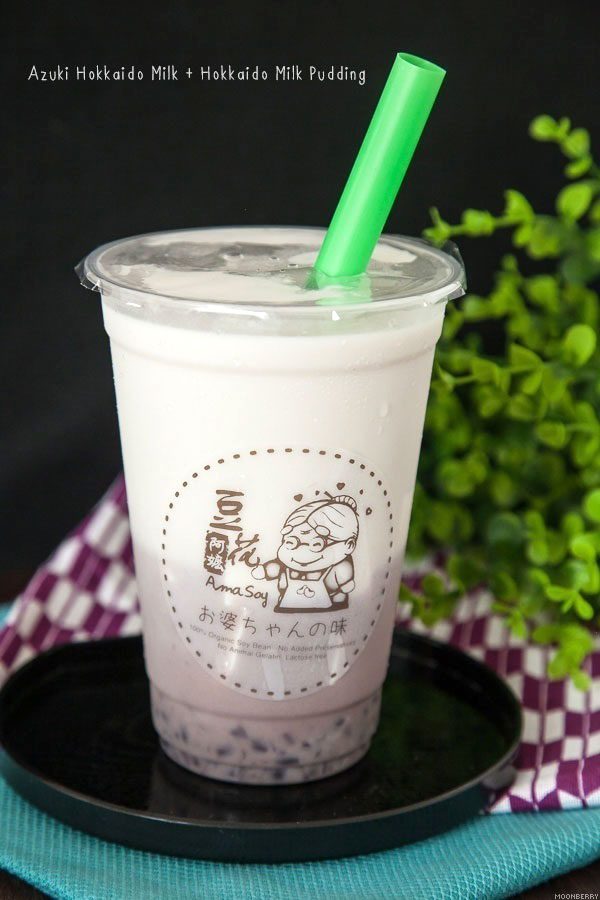 In conclusion, Inspector Soy Skeptic is a convert and enjoyed these AmaSoy products very much!

*** THIS GIVEAWAY IS NOW CLOSED – Thanks for participating! ***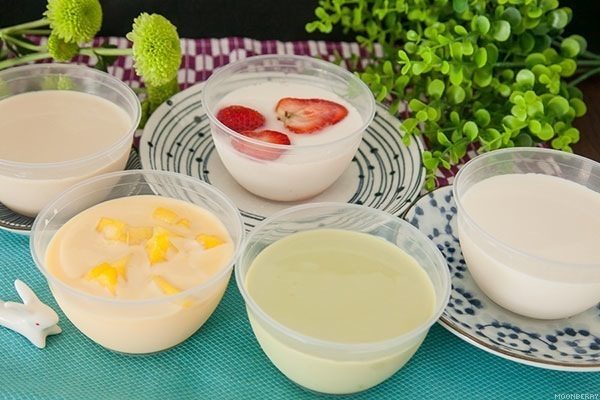 GIVEAWAY DETAILS: AmaSoy is kindly giving away 5 sets of AmaSoy Sampler Set to my blog readers. Each sampler set contains all the flavors of soy puddings featured in this blog post: Original, Almond, Matcha, Mango and Salted Caramel. This means you'll get to sample all the flavors, just like what you see in the photo above. I think you'll really love these soy puddings, so please join the giveaway. And because there are five tubs each to be won by five random winners, this means there are plenty to share. So get your friends, family, colleagues at work, etc. to join in as well! The more, the merrier.
Good luck. :)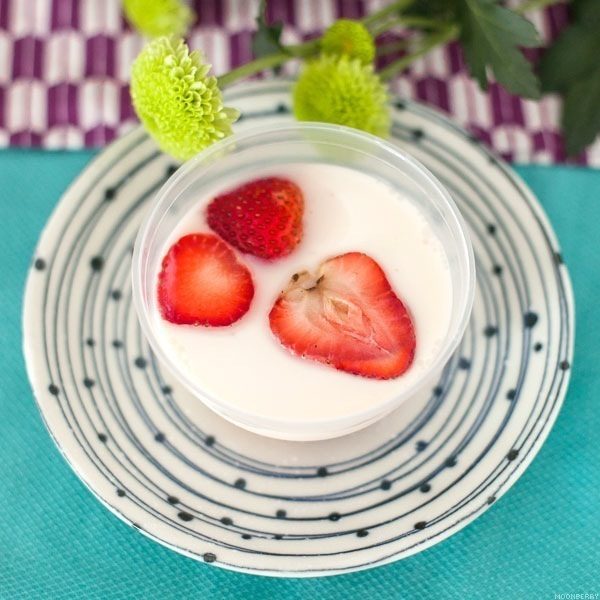 AmaSoy can be found at the following retail outlets:
Great World City #B1-16/17 (inside Food Junction)
Orchard – Ion Orchard #B4-64 Orchard Turn
Serangoon – Serangoon NEX, 23 Serangoon Central #02-04/06
Jurong – Jurong Point 2 #03-42/47 (Soy Puddings only)
Tampines – Tampines One, 10 Tampines Central 1, #04-15 (Soy Puddings only)
More product info can be found on the AmaSoy Facebook Page.