17 Jun 2014
---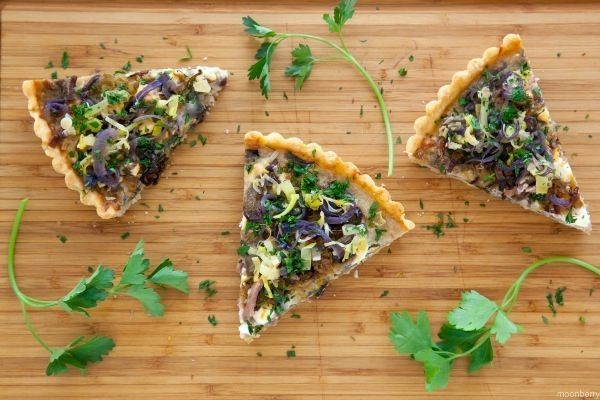 It can be said that I had 走火入魔 the other night when I was trying to succumb to Cabernet-induced sleep but instead was tossing and turning in bed, with a frenetic surge of brain activity – specifically contemplating what can be done with the surplus of lup cheong (ie. Chinese sausages) that was inhabiting my fridge.
The thirteen packets of different varieties which I had gotten for a client photoshoot would be a waste to toss but there was no way in hell I'd want to eat lup cheong fried rice or claypot rice all week. Those two things are way predictable and been there, done that for me. So my mind churned, churned, churned… thinking of what fun ideas I can come up with and figure out recipes that I can call my own by using lup cheong.
And then I had a flash of inspiration. Lup Cheong Pancakes! Butternut Squash Lup Cheong Mash! Lup Cheong Bean Stew! Lup Cheong Cream of Leek Soup! Hmmm, leek. Now that's an idea. After wrestling with a bit of sleeplessness, I drifted off to Lalaland with a foggy idea of marrying lup cheong to leek.
A few days later, I got to work in the kitchen. Been meaning to make onion and leek tart for a while now, but the thought of making the tart crust from scratch had always been too daunting. But ever since the exceptionally successful attempt making a pear and almond tart the week prior, I was emboldened and feeling confident enough to give pâte brisée (the French term for shortcrust pastry) another go.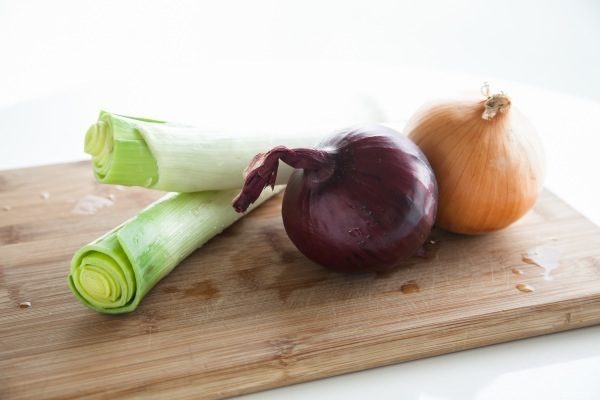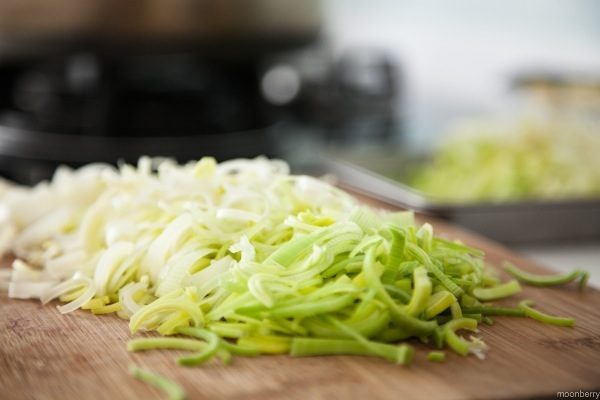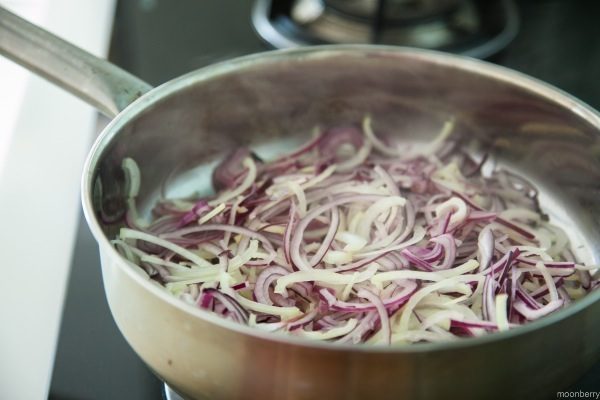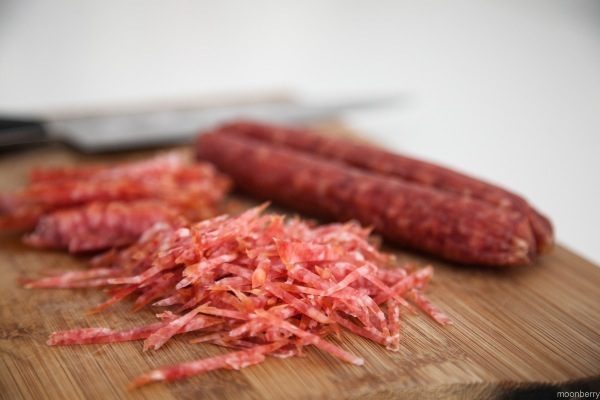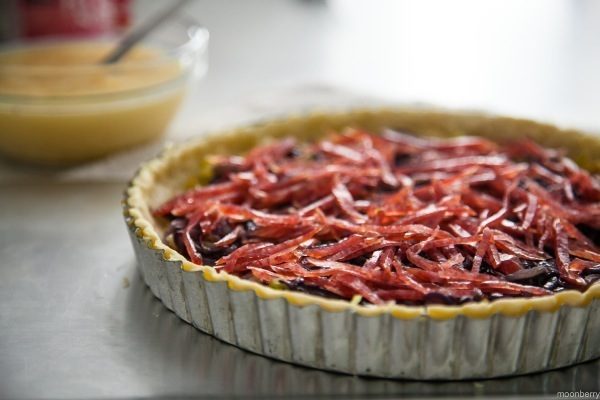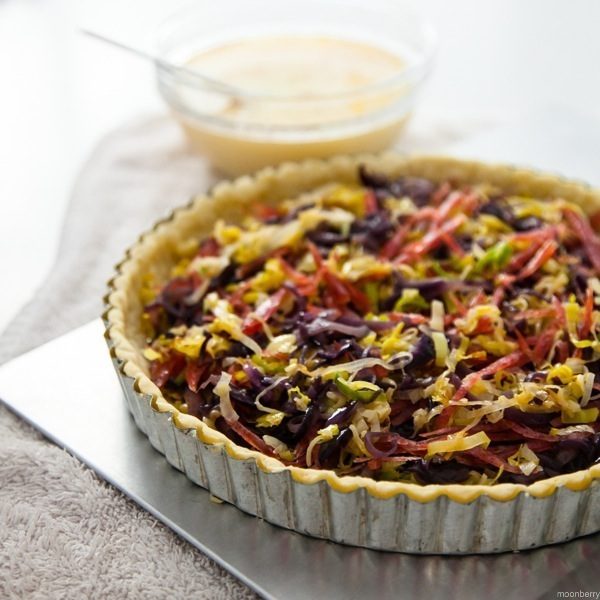 In hindsight, this tart was much easier and took a shorter time to make. And the result turned out pretty good, the lup cheong provides a sweet touch that complements the rest of the savory ingredients. It also plays well with the bits of goat cheese, creating a medley of flavors that's mild enough and not too overpowering. Visually, the colors are gorge-gorge-gorgeous!
Caramelized Onion and Leek Tart with Lup Cheong and Chevre
Tart
1½ cups flour (170 grams)
8 tablespoons cold butter, cut into small pieces
¼ teaspoon salt
1 egg
cold water
1. Combine the flour and salt in a food processor.
2. Gradually add the butter in short pulses. It should turn crumbly, like a coarse meal.
3. Blend in the egg.
4. Add water in small amounts, just until the dough combines.
5. Roll into a ball, flatten, cover with plastic wrap and refrigerate for at least an hour. It can also be refrigerated overnight or frozen for up to a month.
6. Preheat the oven to 375°F (190°C). Bring the dough to room temperature and place it on a lightly floured surface. Roll it out and place in a greased 9-inch pie plate or tart pan. Press on the bottom and sides for a smooth surface, and trim and crimp the edges, allowing for some overhang to compensate for shrinkage during baking.
7. Pierce the bottom of the dough with a fork to reduce puffing while cooking. Place parchment paper on top and fill with pie weights or a mixture of rice and beans to further discourage rising while cooking. Bake approximately 15 minutes or until the crust begins to dry and lightly color. Remove the parchment and weights and cook another 10–15 minutes until golden.
8. Remove and cool.
Filling
2 leeks
2 red onions
3 tablespoons butter
4 ounces goat cheese, diced
1 cup cream
2 eggs
1 cup chinese sausage 'lup cheong', julienned
olive oil
sugar and balsamic vinegar (if desired)
salt and pepper
1. Slice the onions in half and then lengthwise.
2. Coat the bottom of a heated pan with olive oil and 1 tablespoon of butter, and then add the sliced onions. Stir occasionally but not frequently to allow caramelization to occur. Add salt after about 10 minutes. A dash of sugar or swirl of balsamic vinegar will speed the caramelization process and add to the sweetness. If the onions start to dry out, add a little water. Keep over low heat until the onions turn rich brown.
3. While the onions cook, wash the leeks and cut off and discard the dark green leaves. Slice lengthwise and then across. Rinse again.
4. Heat 2 tablespoons of butter and sauté the leeks until soft, about 10 minutes.
5. When both items have finished cooking, assemble with julienned 'lup cheong' into tart shell. Add diced goat cheese.
6. In a bowl, whisk the cream, eggs and salt and pepper, and then pour the mixture into the tart.
7. Bake for approximately 20 minutes in the center of the oven, and then transfer to the top for another 10–15 minutes, until the mixture is set and browned and bubbly. Transfer the pan to a rack to let the tart rest and cool before serving.
Follow @moonberry on Instagram.