5 May 2012
---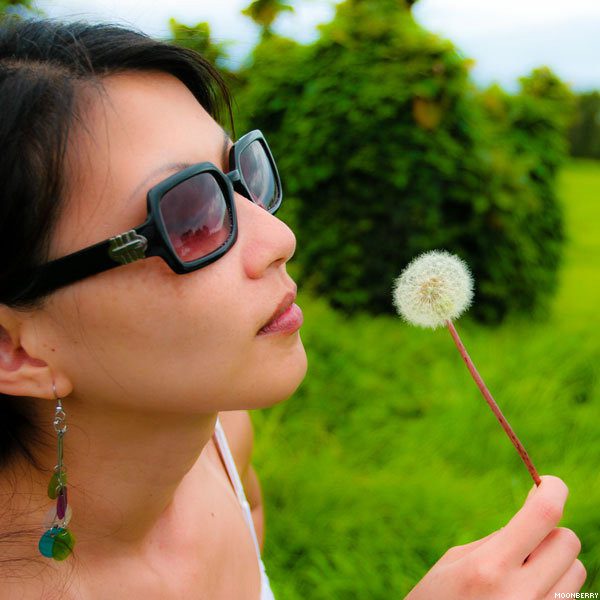 Once in a while, I get really excited to chance upon a skincare/beauty brand that embraces the philosophy of purity, nature and eco-consciousness.
Because it supports the values that I strive to possess in leading my life with authenticity and wellness. Mindful living, if you haven't already heard. I feel that we've not been given life for the purpose of being constantly stressed out and sweating over the small stuff all the time.
Because we don't live in a vacuum and we need to co-exist with nature, enjoying its wonderful gifts while protecting it as much as we can. I feel that we often take nature for granted and don't appreciate it enough.
Because I believe that beauty should be beyond skin deep and it should blossom from a peaceful, contented and joyful source from deep within us. I feel that skincare and body wellness are integrated elements, cultivated from the inside out to create an everlasting harmony and wellness totality.
It's a way of life and one needs to be mindful, being conscious and aware. Practice kindness and gratitude. Being centered and in-tuned with our inner selves. I try. I try.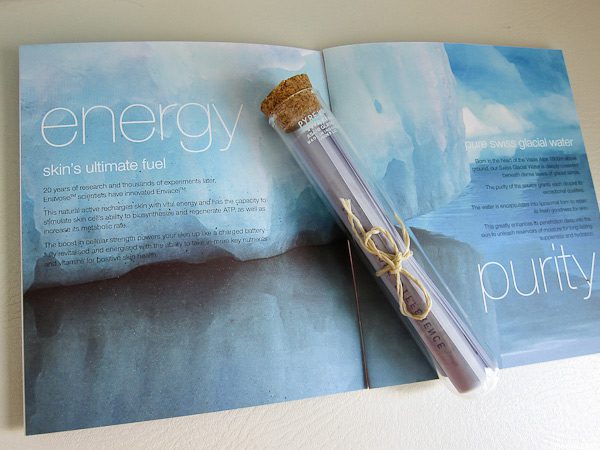 It is definitive of a woman being her most beautiful when she is fully in the present and evoking life.
This is when we see her aliveness living inside out.
— Aliveness Lives. Enavose motto.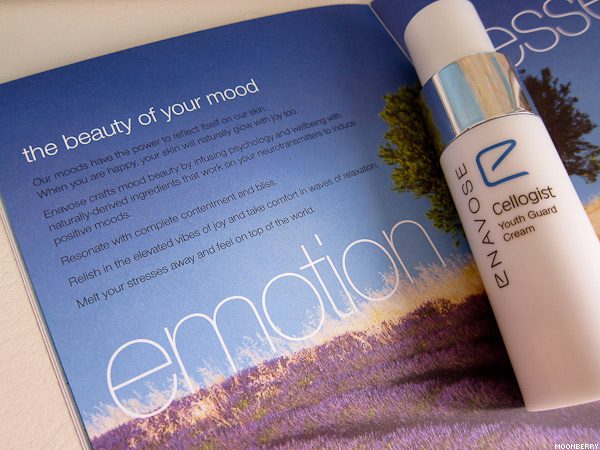 I discovered Enavose, a Switzerland brand that believes in skincare with integrity. Not only does the company celebrates the ancient wisdom of Mother Nature's wondrous resources by using garden ingredients, traditional herbs, spices, pure glacial water and natural minerals in their products, they are also committed to discovering new and pioneering botanicals that will create their own heritage as well. In place of parabens, Enavose products have a natural preservative system made up of anti-microbial spices such as wasabi, radish and ginger to preserve the freshness of each product. Enavose products also contain absolutely no SLES, mineral oils, animal testing and allergenic fragrances.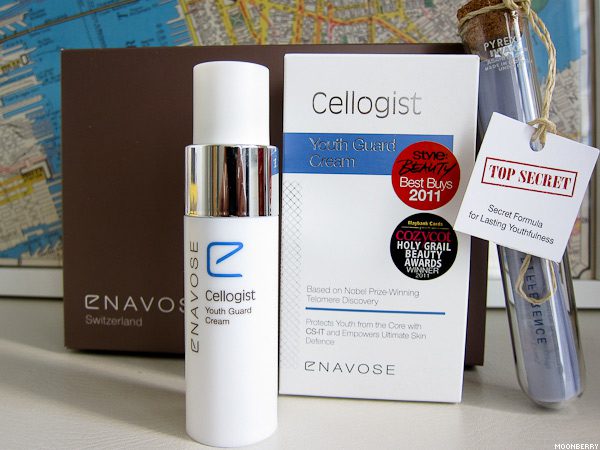 One of Enavose's star products is the award-winning Cellogist Youth Guard Cream. The Youth Guard Cream is an ultra luxurious treatment that envelops skin in a protective veil. Expertly concocted to nourish skin from deep within, the cream bolsters skin's natural restorative mechanism and effectively fights against environmental and internal stresses that are responsible for premature ageing.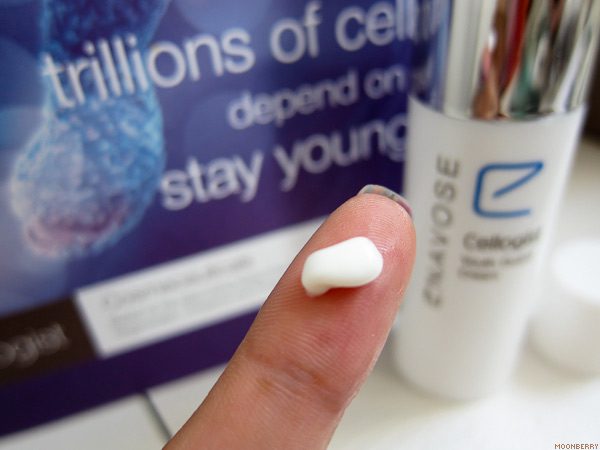 A powerhouse antioxidant trio of Rice, Pomegranate and Resveratrol works in synergistic harmony with our exclusive technology to rejuvenate, firm, hydrate and restore collagen production. The cream works superbly to guard skin's youth.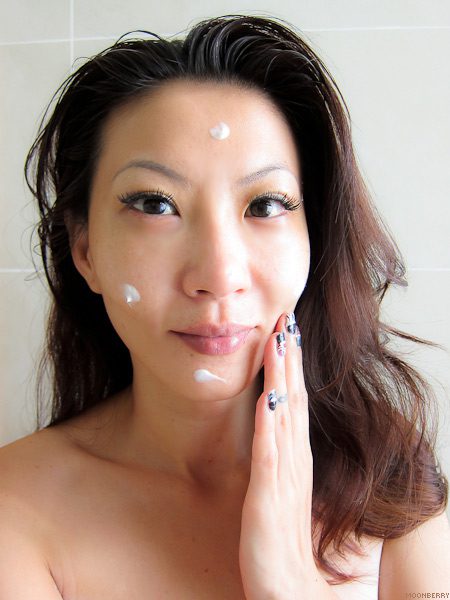 To be used morning and night on cleansed face, this cream goes on… creamy. I think a pea-sized amount goes a long way. Beauty tip: If you have oily or acne-prone skin, use this product sparingly on your face and pamper your neck instead! We certainly don't want crepe-y neck so it will definitely benefit from this Youth Guard Cream too.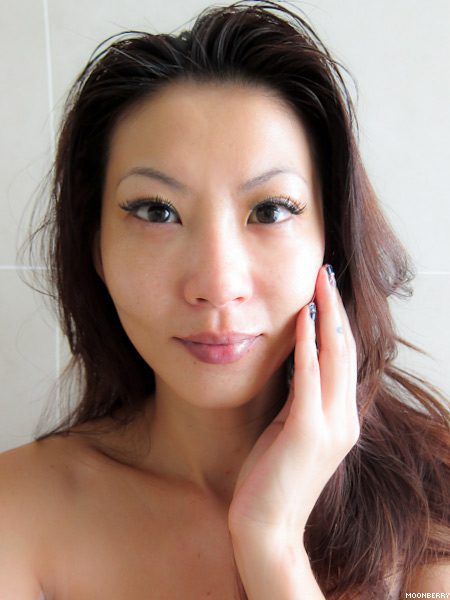 Please excuse the I-just-rolled-off-the-bed-and-hopped-outta-the-shower photos above, because that's what they are. :x Nothing starts the day as wonderfully as putting on eco-friendly, paraben-free, youth-guarding cream on a cleansed face. :*D Heh!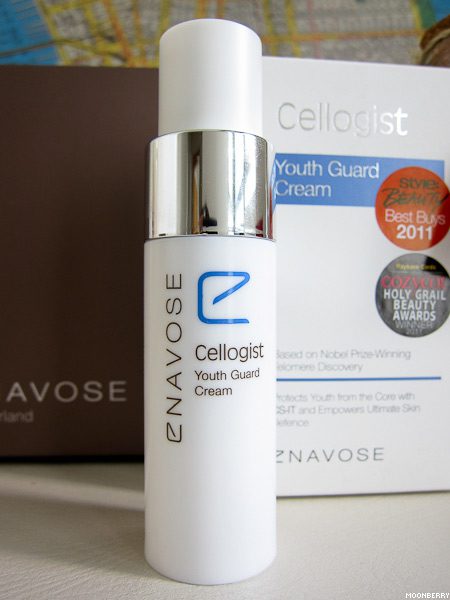 The Cellogist Youth Guard Cream and other Enavose products can be found at its concept store located at Suntec City or the beauty counter at Tangs VivoCity Beauty Hall. Or, if you are an avid online shopper like me, the products can also be purchased online at http://www.enavose.com with free shipping!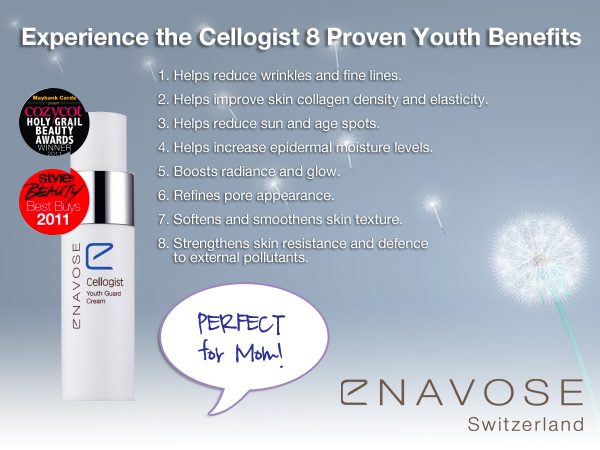 Mother's Day is around the corner, and I think moms everywhere will definitely appreciate this Cellogist Youth Guard Cream for its 8 proven youth benefits. It will make a lovely gift!
Mother's Day Lucky Draw! (3 May – 11 May 2012)
Enavose is treating a lucky mother and daughter pair to a pampering day out! Spend some quality time with mum over a relaxing spa session at The Ultimate Spa at Pacific Plaza, followed by a luxurious high tea session at Goodwood Park. Receive complimentary Enavose products and vouchers too! Total value of the prize is worth SG$380.
Simply spend $100 to qualify for one chance in the lucky draw. Multiple entries allowed, with accompanying purchase of min $100. Results will be revealed on 11 May, 2012. Winners are allowed to pick one date within the month of May for their spa and high tea session. They are only allowed to bring their mum / daughter to redeem the prize.
Find out more about Enavose by visiting the website and being a Facebook fan.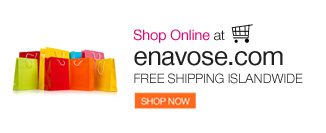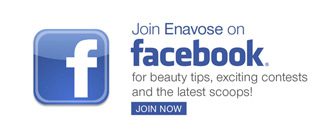 ♥ℳ