17 Aug 2013
---
My Bintan day trip continues!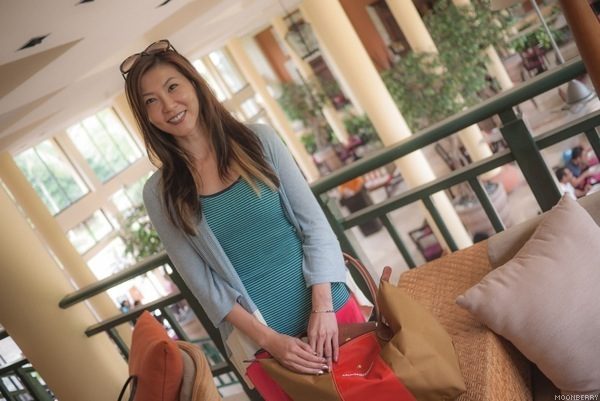 Following up on Part 1, my friend Evonne and I went on a Luxury Spa Day Getaway For Two organized by Bintan Resorts International in conjuction with the Great Bintan Sale. This all-in holiday package includes:
Economy Class Ferry Tickets between Singapore and Bintan Resorts (round-trip)
Pick-up from ferry terminal and transfer to Resort Spa
Welcome Drink
90 mins session of Body Massage (60 mins Treatment + 30 mins Refreshment & Relaxation Time)
Wellness Set Lunch
Free & Easy shopping at Spa Shop & Gallery
Transfer to ferry terminal for return ferry trip to Singapore
We experienced the luxury spa session at Angsana Bintan. After chilling at the lobby for a bit, sipping our iced lemongrass drink, we proceeded to the Angsana Spa and made our treatment selection.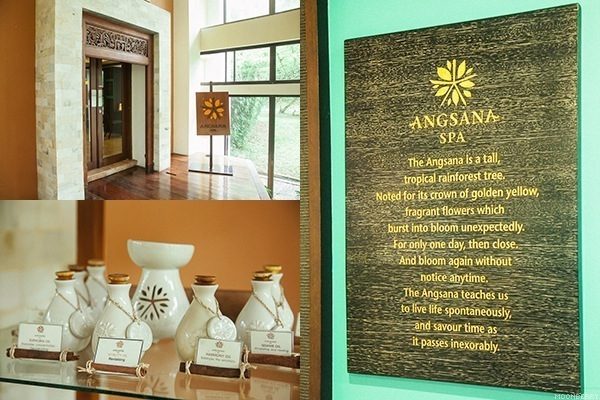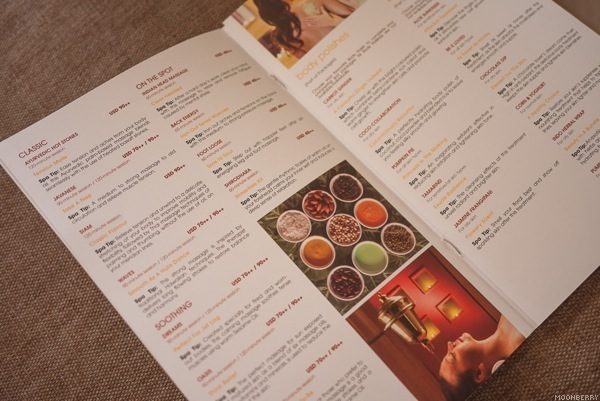 There were four 90-minute treatments to pick from: Fusion, Javanese, Waves and Dreams. Even though the treatments are listed as 90-minute sessions, the actual massage time is 60 minutes and then 30 minutes of relaxation. I went for Javanese massage, which aids circulation and relieves muscle tension. Gawd knows my shoulders and neck are perpetually fatigued and achy, so this massage was a good choice for me.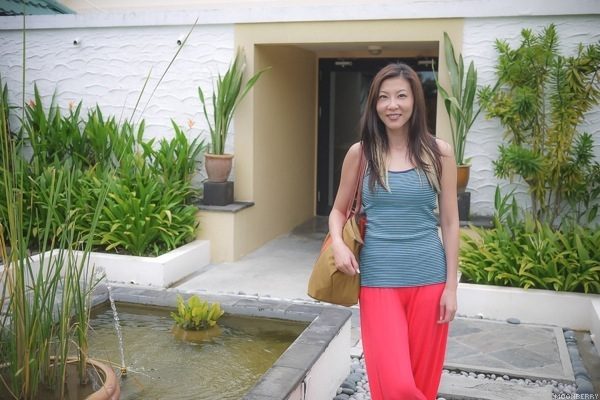 Our treatment room was on the second floor with an outdoor deck and the spa manager escorted me on this zig zag stone path. So I asked her whether the treatment room is indoors or outdoors, and this was where I got confused. She said "outdoors and air-conditioned". Huh?!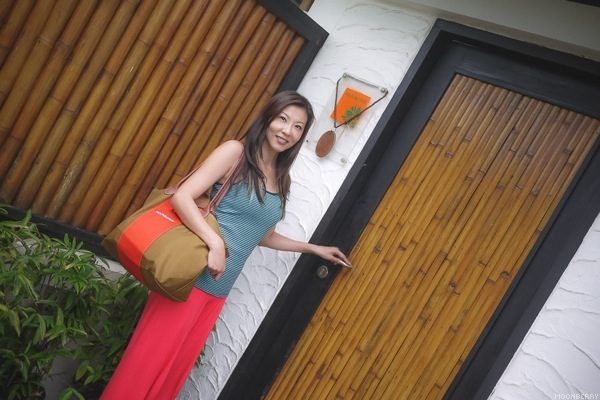 Then I found out that the treatment rooms were individual villas! We got one of the larger rooms that was facing the beach. It was extremely spacious, with floor to ceiling windows and outdoor balconies on three sides of the room. There was also a bathtub in the room, an en suite bathroom, and an outdoor shower! The gorgeous setting – especially the beach view – was spectacular. So this was what the spa manager meant by "outdoors and air-conditioned". The treatment room was set up to have as much outdoor views as possible while still enclosed in the comfort of air-conditioning.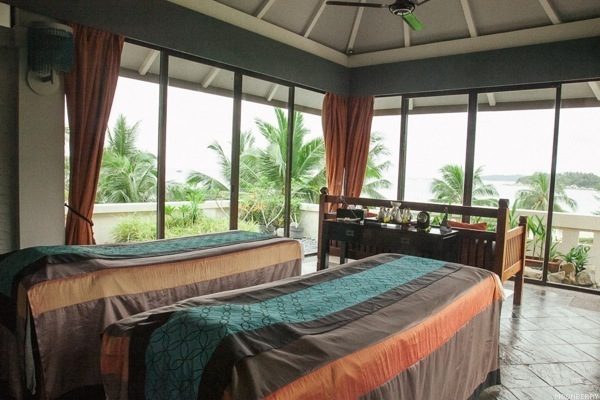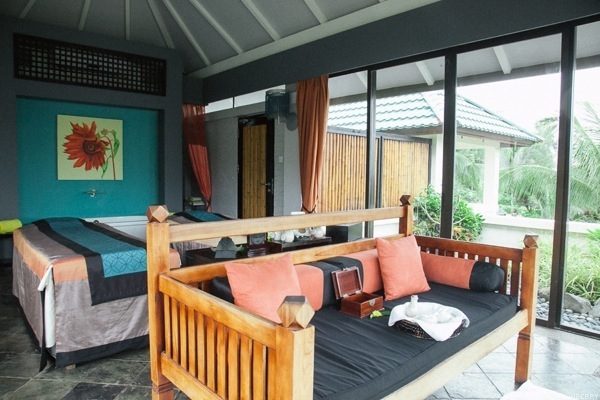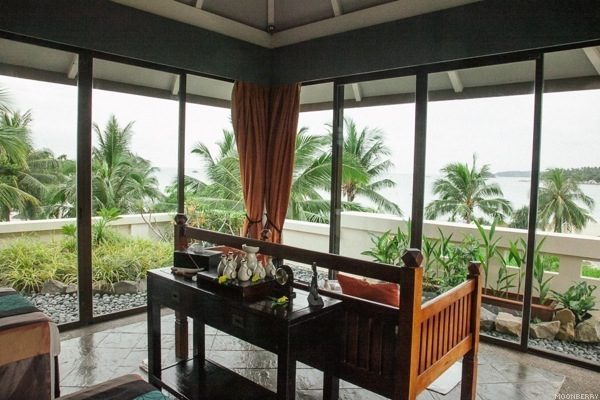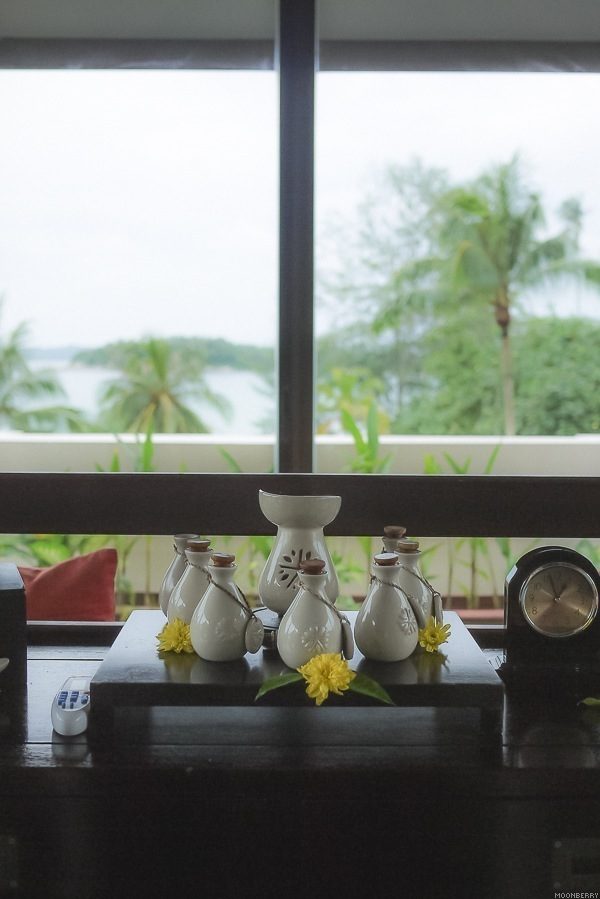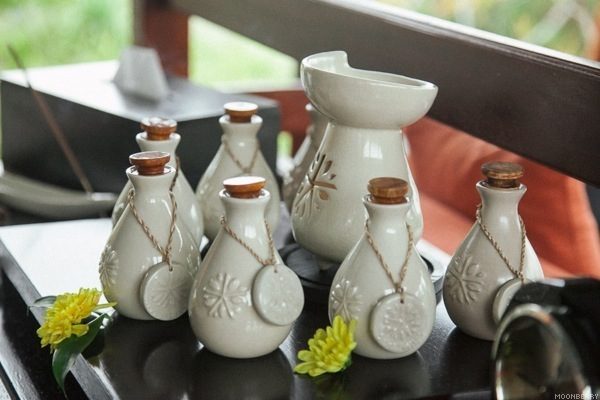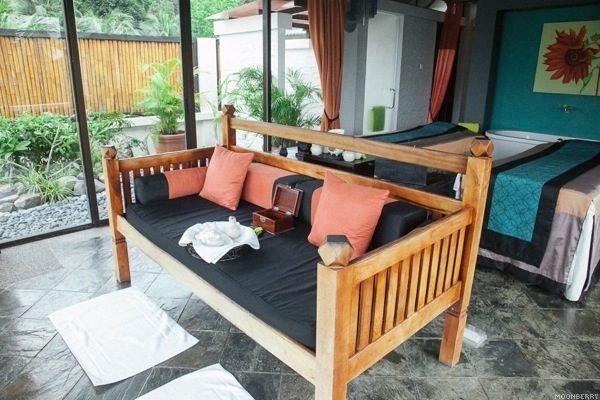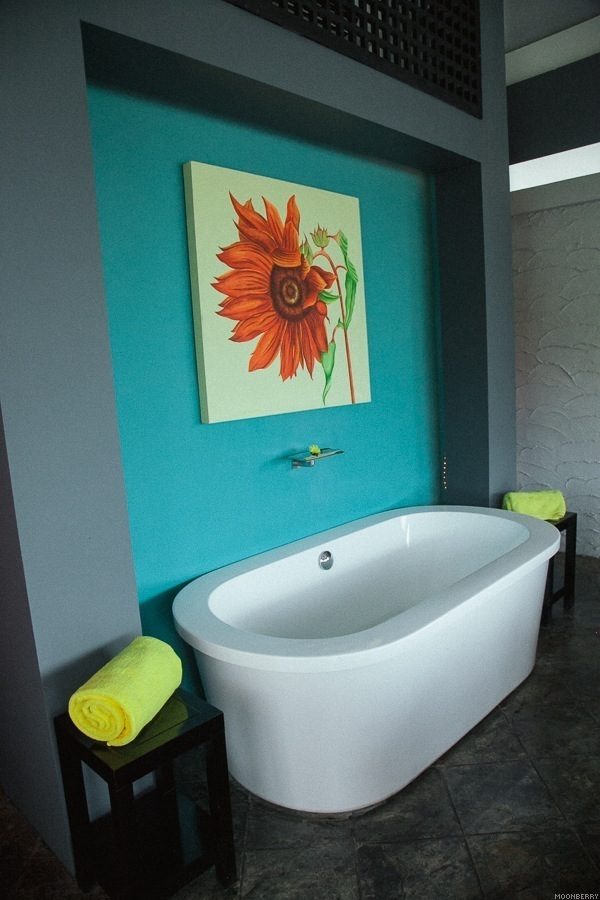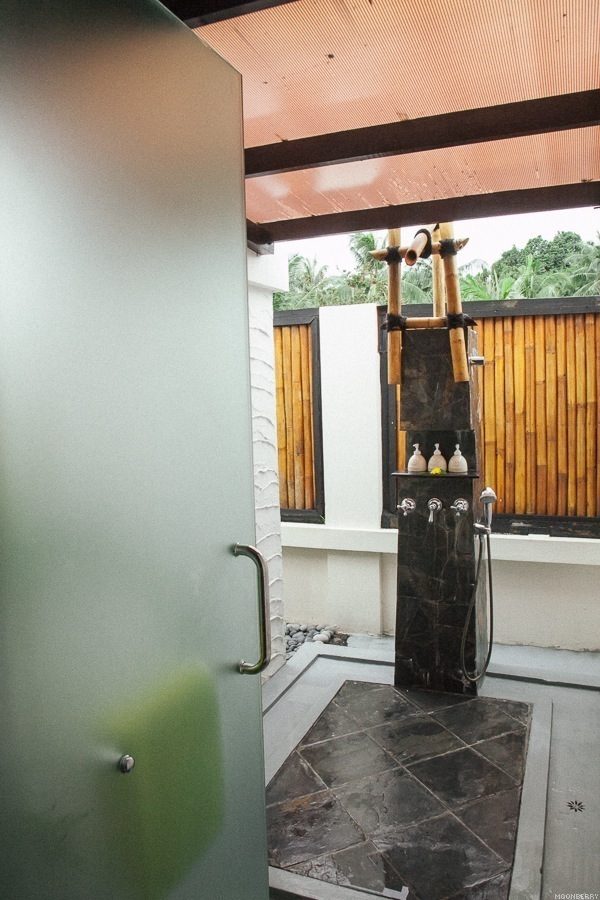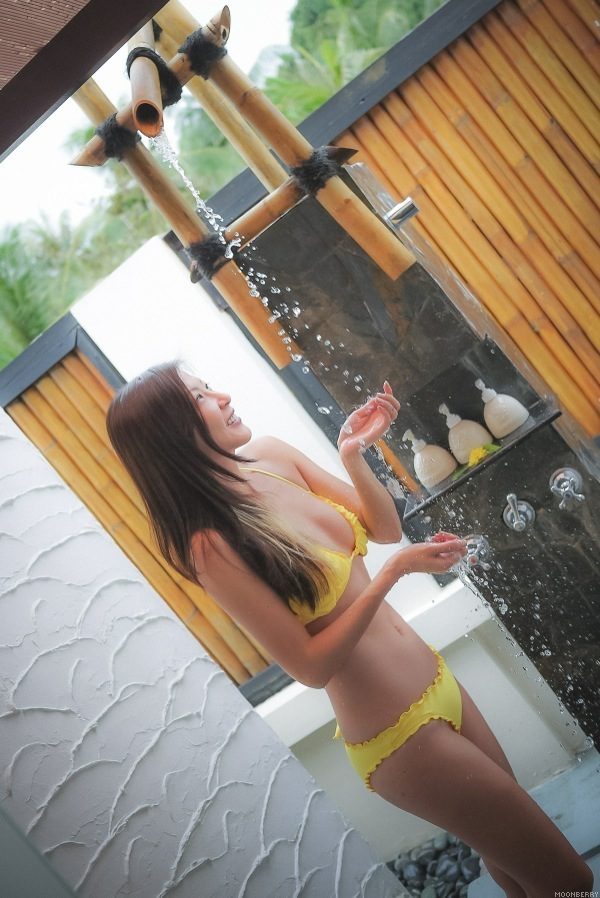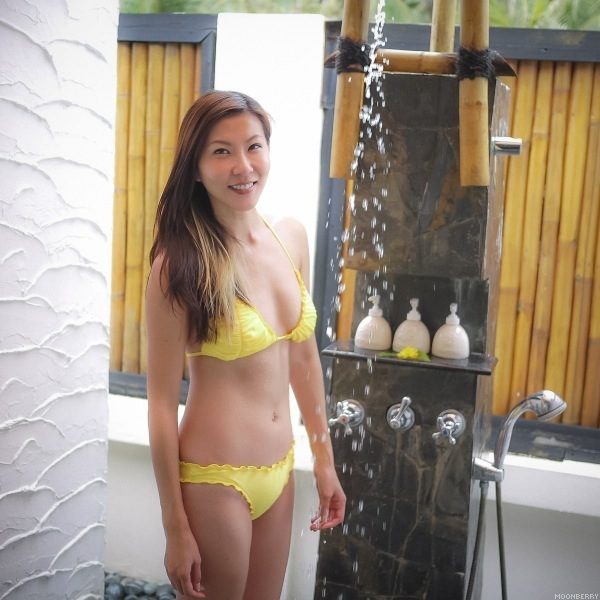 I love outdoor showers so I had a quick one pre-massage. The water trickling down from the bamboo was a nice tropical touch but personally I prefer strong water pressure and a wider spray head. Maybe if I had a bit more time and also shampooed, I could maximize the experience and enjoy the outdoor shower better (I didn't want to get my hair wet).
After the shower, I changed into the sarong provided and then my therapist Emily gave us a choice of two massage oils. One was Bergamot-based, the other was Eucalyptus-based. Both smelled great and soothing, I picked the Eucalyptus one coz that scent generally has an instant calming effect on me.
At this time, I was also asked about my preferences in terms of the massaging pressure, which areas needed to be concentrated on, which areas were sensitive, etc.
Medium-strong, neck and shoulders, none.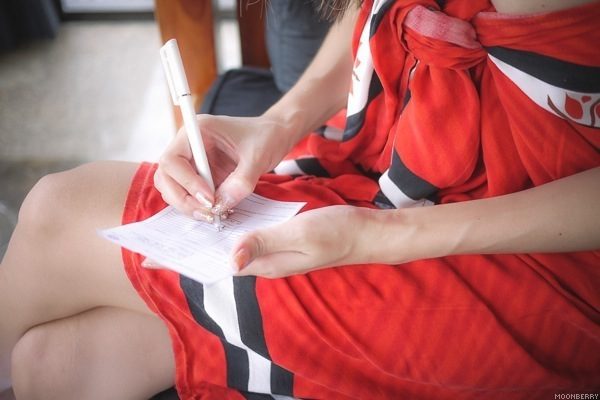 Filled out and signed an "item check-in" form that listed our belongings in the room – a security measure. I appreciated this, but wouldn't it have been easier to just install a locker inside the treatment room? (Something which I noticed was missing from the treatment room.) Either way, this was standard procedure so I quickly did it as I wanted to begin my massage asap!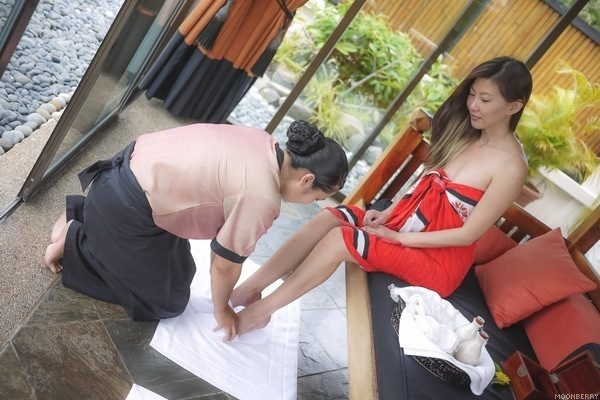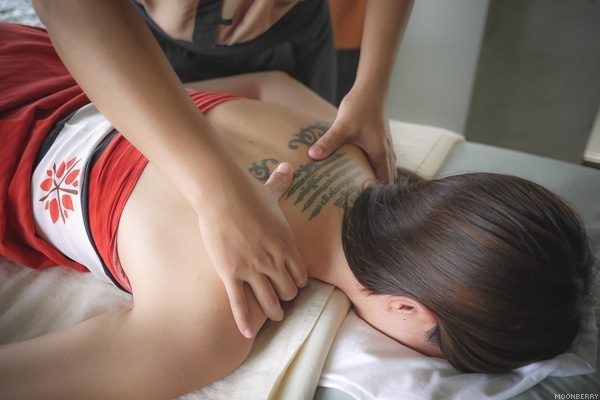 I had little idea of what happened after I got onto the massage bed. The Javanese massage was sooooooooooo good and the pressure that therapist Emily exerted was spot-on, it was a matter of minutes before I completely konked out. I haven't had a massage this good in a while now and I enjoyed this tremendously. I think I've written before that my neck and shoulders are so tense that for years, every therapist I encountered would knead the crap outta it and they became more achy after the massages. But Angsana Spa's therapist Emily did such a good job in relieving the muscle tension that I felt relieved and my posture was immediately better post-massage.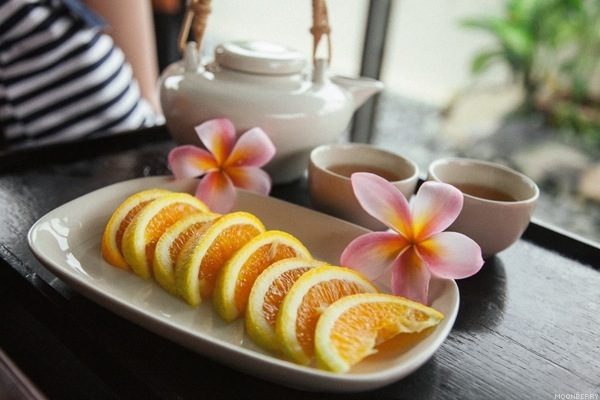 When the massage concluded, Evonne and I enjoyed warm herbal tea and some sliced oranges while staring out at the sea. Ahhhhhh~ enjoying a bit of quiet moment after the really wonderful massage.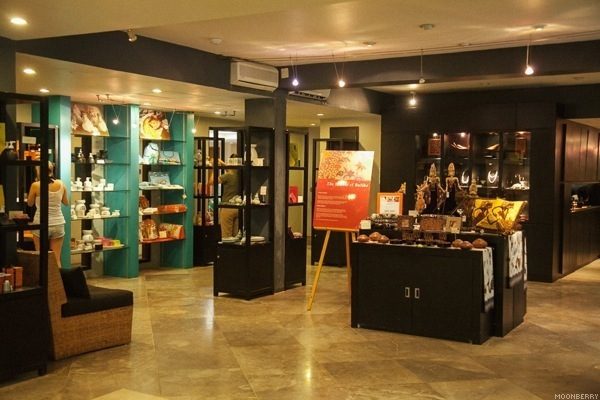 We spent a bit of time at the Spa Shop & Gallery. Both of us liked the porcelain oil burners, I thought they were really pretty but I couldn't think straight…. I was in semi-sleepy state and hadn't completely sobered up from post-massage bliss.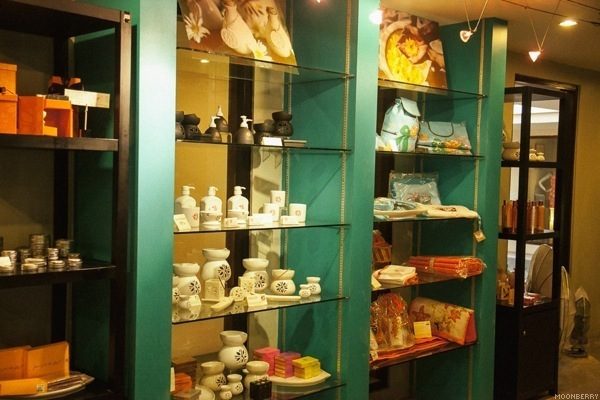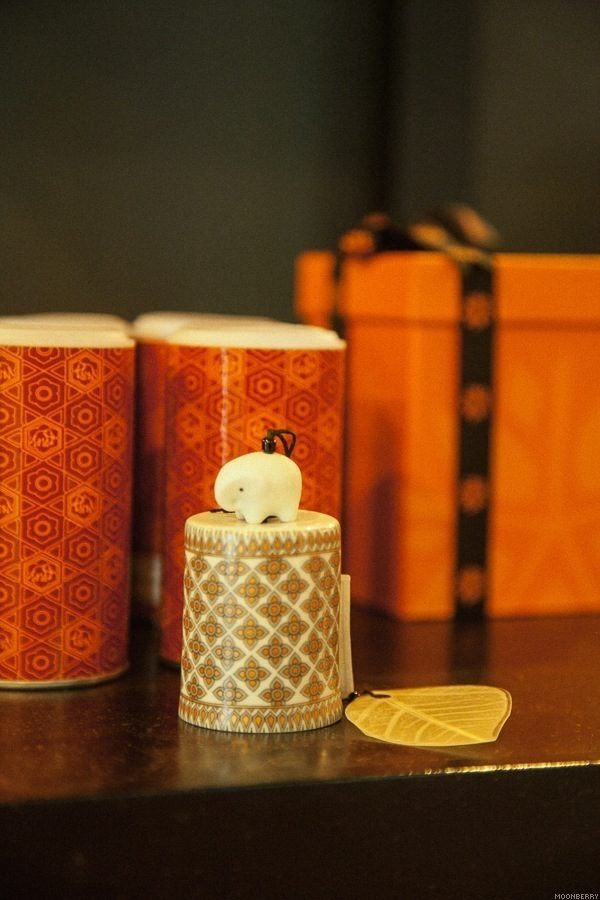 I spotted this adorable porcelain windchime with a tiny elephant on top. It was super cute and I was so tempted to bring one home, but then I had no where to hang it. Oh wellz.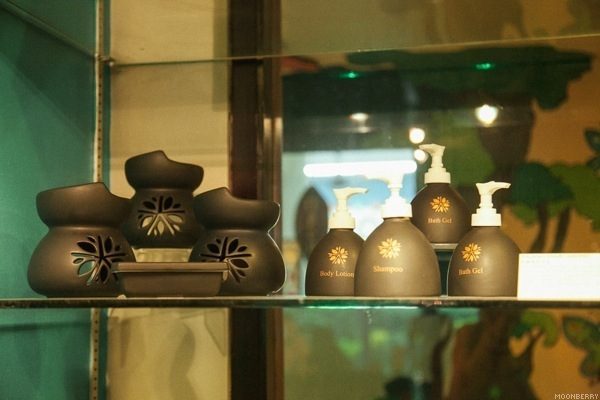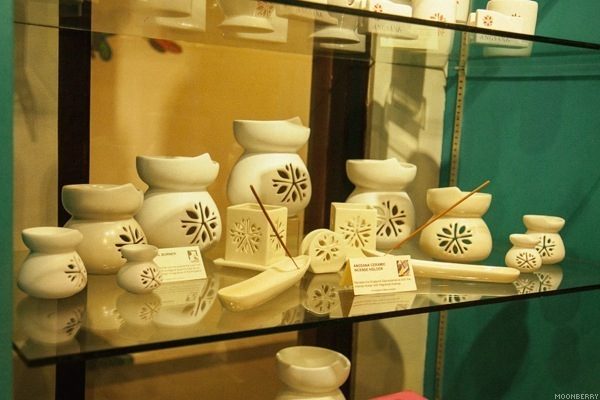 By this time, Evonne and I were both supremely relaxed and soothed from the awesome massage. But I was famished!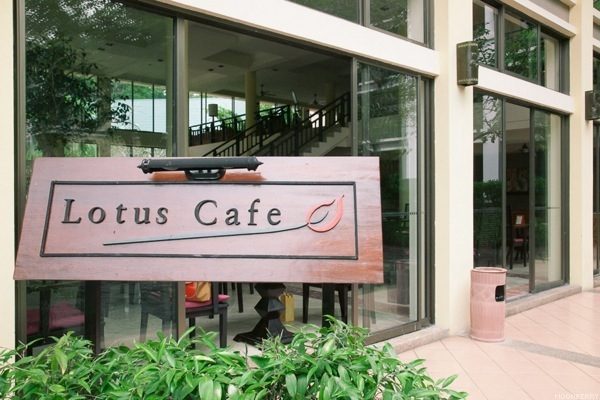 Our luxury spa day trip package includes lunch, remember? The restaurant at Angsana Bintan resort is Lotus Cafe – an equally spacious alfresco dining area that is one floor below the lobby and connected by grand stairs.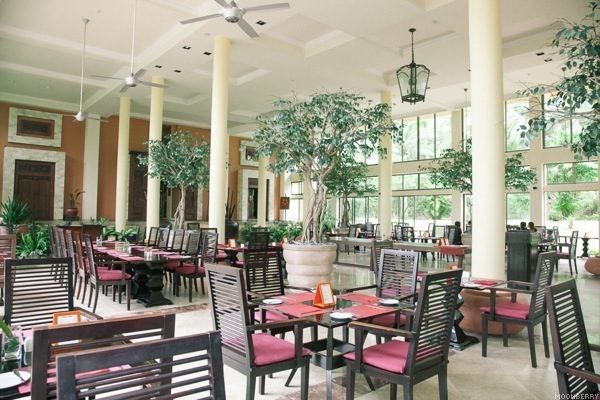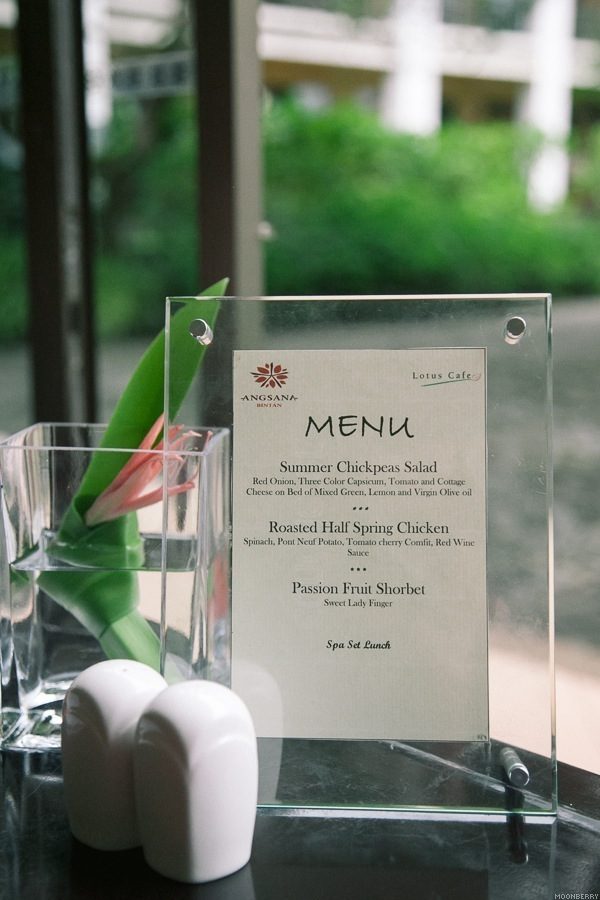 The Wellness Lunch three-course prix fixe spa set lunch: Summer Chickpeas Salad, Roasted Half Spring Chicken and Passion Fruit Sorbet.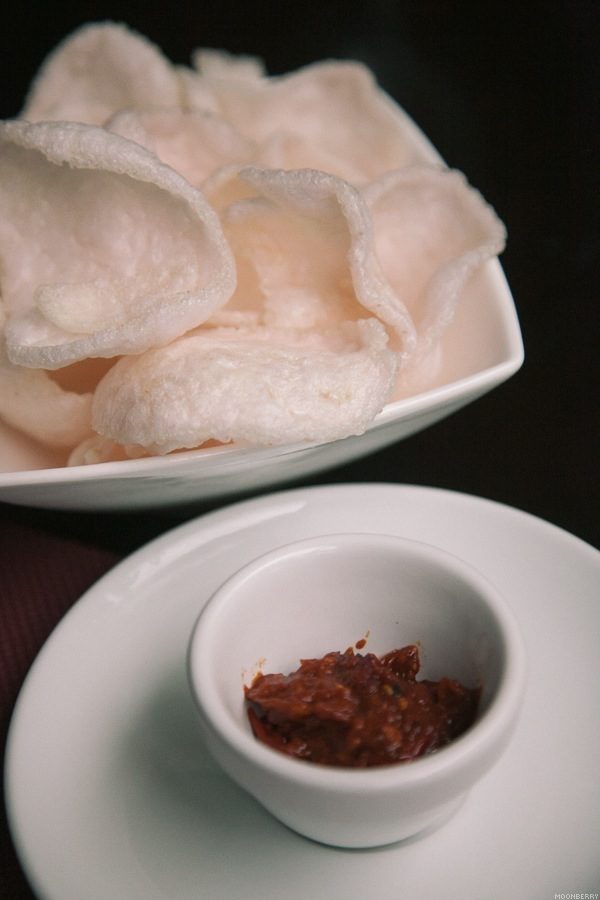 Drinks are additional, however this starter of prawn crackers and sambal was on the house. Gosh, that sambal was laced with crack! I don't normally eat too spicy but this sambal was freshly pounded, I could taste the chilis yet it wasn't terrribly spicy. It didn't have the bitterness that some sambals have either.  it was SO delicious I finished the first cup and asked for a refill.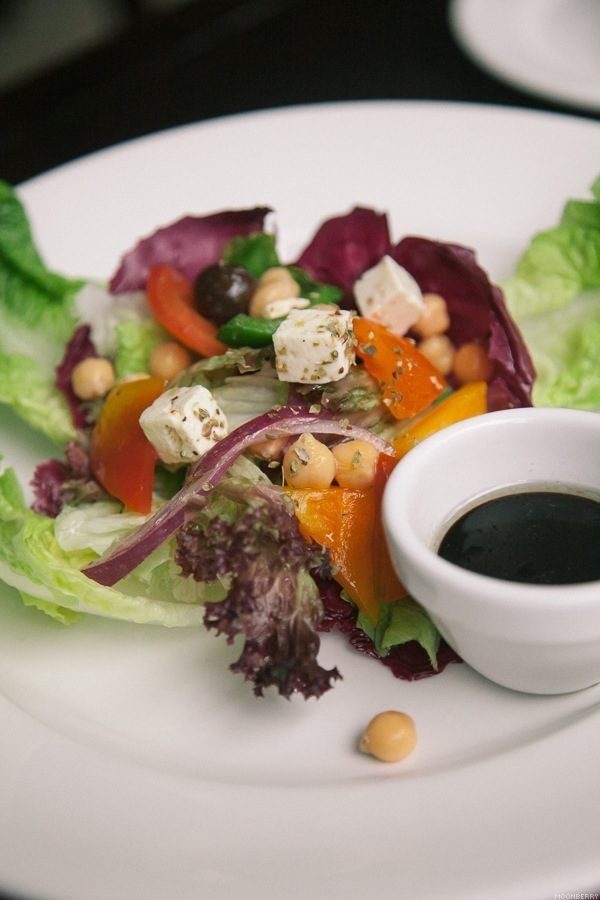 Summer Chickpeas Salad. This was a healthy starter, which I guess was appropriate for a spa set lunch. The colors are beautiful and I love chickpeas.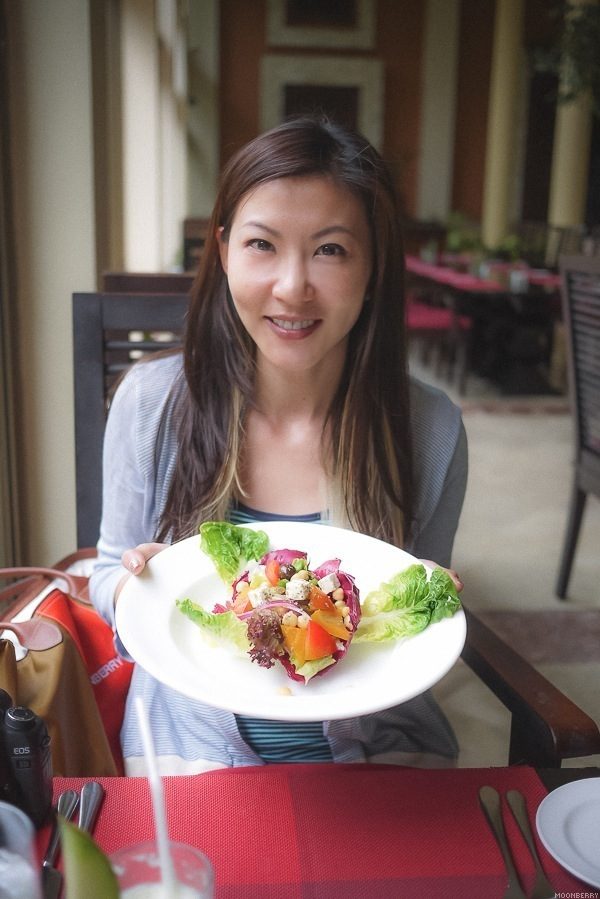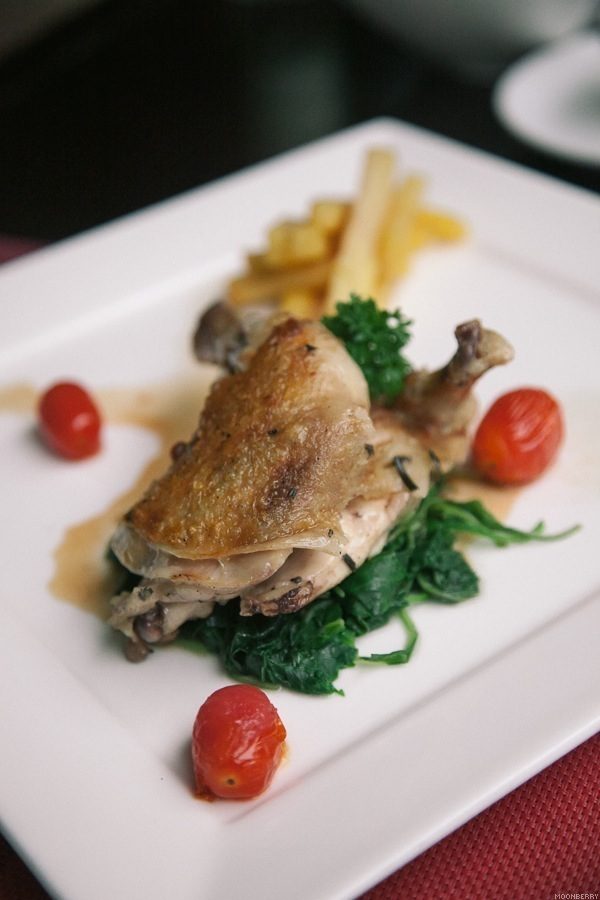 Roasted Half Spring Chicken. I liked this quite a bit, especially the spinach and cherry tomatoes. As for the chicken, I slathered the sambal all over it. So good!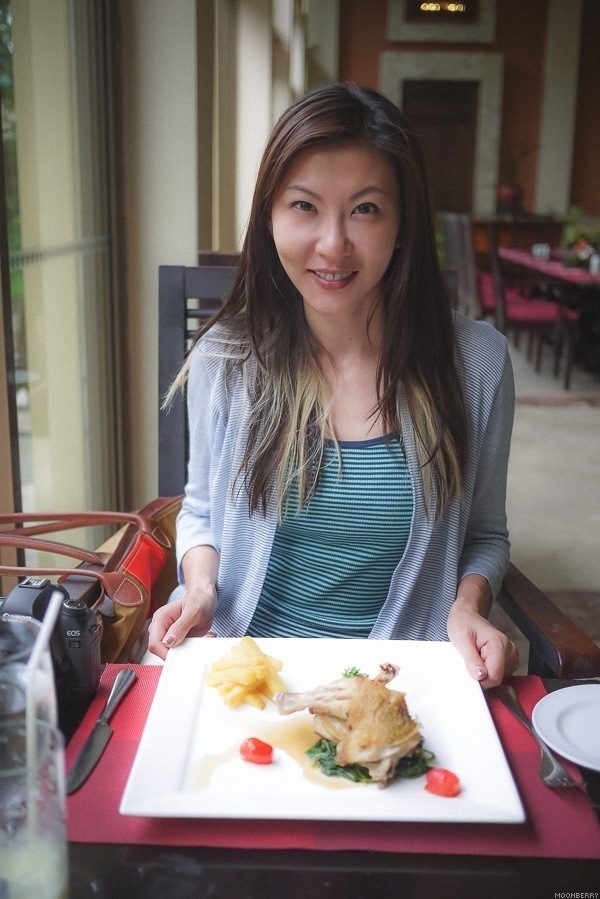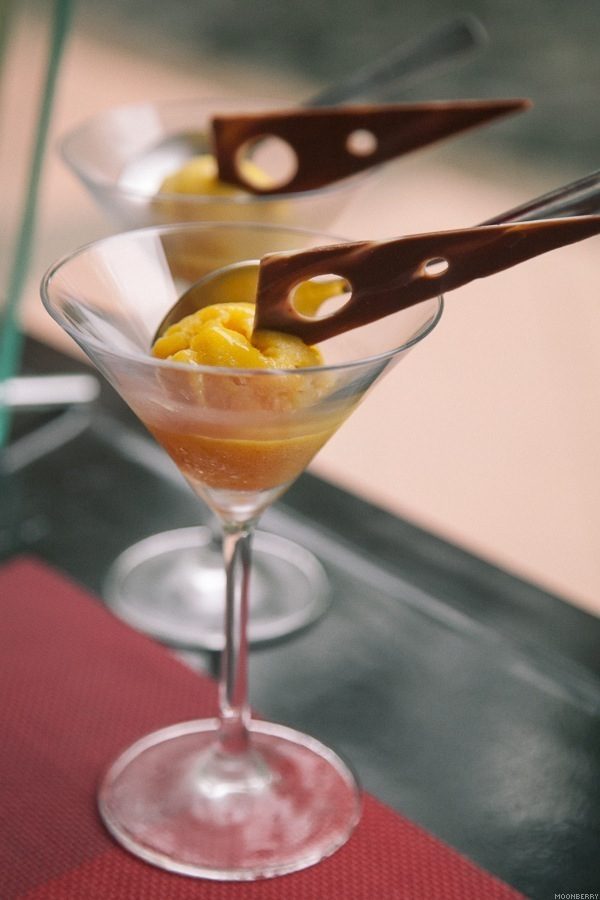 Passionfruit Sorbet. I found this too tart – I always do when it comes to passionfruit sorbet, but it was a nice palate cleanser and certainly an instant perk-me-up as I could seriously use a pillow by this time.
All in all, I've had food from other spas before and they weren't nearly as filling or satisfying as this set at Angsana. I had no complaints about the food.
Meanwhile, food comatose was beginning to kick in big time but alas… it was time for Evonne and I to head back to the ferry terminal and catch our ride back to Singapore.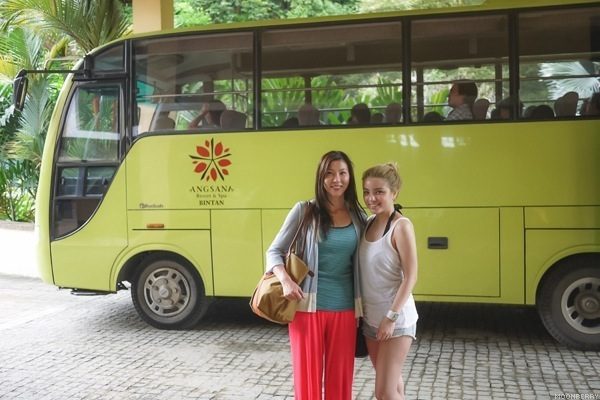 This turned out to be a great spa escapade and we both agreed that the massage was excellent! The beach-facing treatment room was awesome, the service was friendly, my therapist Emily was amazing, the food was good (give me more of that sambal please), the ferry transportation wasn't all that bad either and getting from Singapore to Bintan didn't take all that long. I say it was a pretty good day trip. I like that it was fuss-free as everything in the itinerary was timed appropriately and wasn't packed with too many extra activities. Objective: relaxation. Met!
If you recall, this luxury package including round trip ferry and land transportations, spa treatment and lunch was priced at S$140++ at Angsana Bintan (or S$190++ at Banyan Tree Bintan) – that's quite a good value, don't you think? Especially if you need to quickly getaway for one day and decompress, recharge, rejuvenate, regain sanity without spending too much.
Girly getaway. Romantic escapade. Mother-daughter bonding trip. The possibilities are endless for this spa holiday package. There are also other holiday packages offered by Bintan Resorts International, see below.
∞
This experience has been generously sponsored by Bintan Resorts International to share information about the Great Bintan Sale.
Bintan Resorts International is having its first ever "Great Bintan Sale" offering a handful of pan-Bintan island holiday packages for visitors. With savings of up to 60% normal ala carte prices, these holiday packages include accommodation, ferry, land transfer and a selection of activities for those traveling as a family, as a couple, or with friends. The Great Bintan Sale begins 15th August – 15th September 2013. Travel dates valid from 16th August – 15 December 2013. To see full details of the packages and to take advantage of the special prices, visit bintan-resorts.com.