7 Mar 2015
---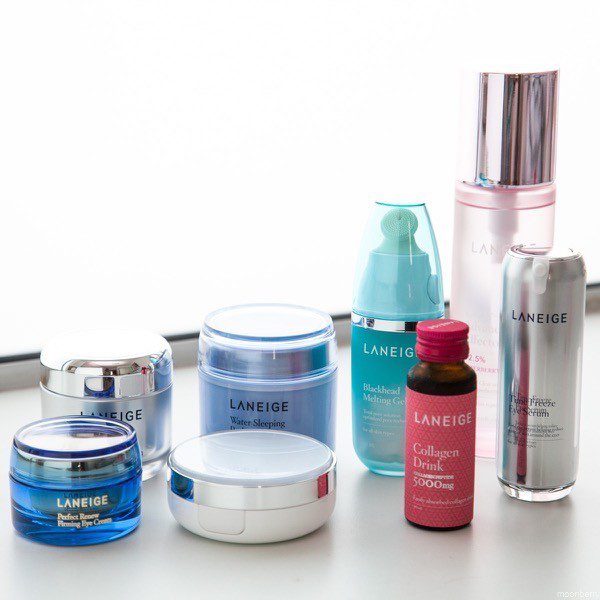 Laneige skincare review! I couldn't visit Seoul and not come back with Korean skin care products, now can I? Originally I wasn't planning to buy any skincare or beauty products as I've majorly regressed in this department. Admittedly these days I can't be arsed to put on or do anything to my face. However, there's something I couldn't help noticing about Korean women when I was there… everyone there have such a glowing appearance with dewy-looking hydrated skin! :0 Like, clear complexions were staring me in the face wherever I went (pardon the pun, heh). While I'm pretty sure genetics, diet, climate, aesthetic upgrades, personal auras, makeup, and whatever else have something to do with that, it struck me that I have severely neglected my skin and ought to resume looking after it again.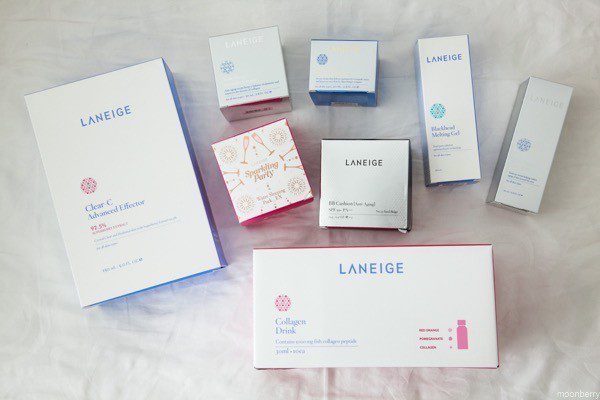 BOOYAH! Laneige must be doing its global marketing right because it is one of the very few Korean brands that first registered on my radar, considering I don't live in Korea. Even though I know of the brand, I am not familiar one bit with the various product lines so I did my homework and found out from the Laneige website that there are as many as eight different product lines targeting specific skincare issues. I was wondering whether there'd be a big price difference between the best Laneige products sold in Singapore and in Korea, but found out that the difference isn't much – a few bucks at most.
In addition to the Laneige skin care products I bought in Seoul, Laneige Singapore has kindly sent me the new Collagen Drink and Clear C Advanced Effector for review (thank you!).
Blackhead Melting Gel
I was drawn to the massaging scrubber applicator on the bottle, that's why I got this. I also haven't gone for a proper facial in the last year due to intense traveling so lawd knows how much micro-gunk I have accumulated on the pores of my nose. I have used this product several times this week and basically on clean face, I applied the clear gel onto my nose and massaged the area with a circular motion. There's a slight warming sensation that the gel produces. The instructions says wait for 20 seconds for blackheads to melt, before rinsing the gel off thoroughly with lukewarm water.
This Blackhead Melting Gel
is a more gentle approach than using nose pore strips and I find that even though blackheads are not visibly removed, the tip of my nose doesn't look as oily or shiny after using this product for a week. I think only a proper (and painful) extraction during facial can rid the blackheads completely and once I have a clean slate, I can use this for at-home maintenance.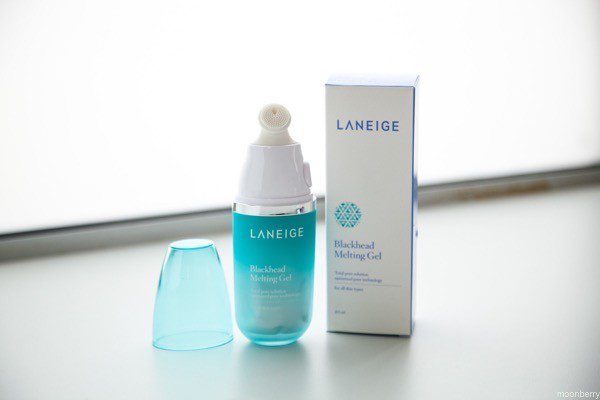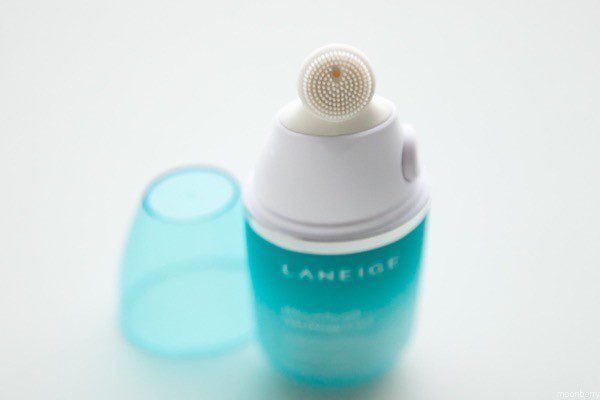 Water Sleeping Pack_EX
I have heard so much about this best-selling Laneige star product for years, highly recommended by beauty editors worldwide and I finally bought a jar of my own. It's a mask that you put on right before you go to bed and sleep with it, allowing its moisturizing and antioxidant properties to rehydrate the skin while you zzz. This new and improved formulation contains apricot extracts that help brighten skin tone and also a patented aromatic essence compound of essential oils that calms the mind and body (I didn't know that! Anything that helps me get good sleep at night is always a plus in my book).
I like the light pudding-like gel texture and it glides readily onto my thirsty skin like a gleaming oasis in the middle of the desert. It's nice knowing that there's a moisture barrier on my skin while I sleep. This can only be used once or twice weekly so I haven't reaped the full benefits yet as I've only started using it for one week (ie. twice, maybe thrice). The times after I've used it I woke up the next morning with the appearance of dull skin tone improving slightly. I have also noticed a difference in hydration level coz my skin feels softer to the touch. Bouncy almost.
Not sure why the packaging box says Sparkling Party. I was sorta expecting the gel to give off a fizzy sensation on my skin when I used it, but no. Anyhoo considering how everyone and their mamas are raving about it, I'm surprised this product isn't very expensive; Amazon.com lists the first generation Laneige Water Sleeping Pack for just US$21 with free shipping
.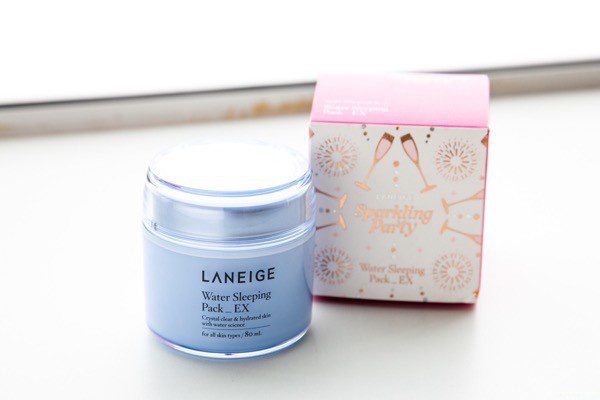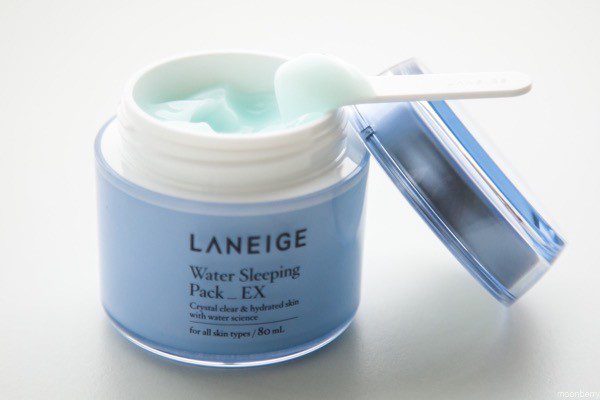 Time Freeze Intensive Cream
I haven't used this yet but hope to do so soon. The Laneige Time Freeze line contains technology that targets and rejuvenates old collagen in the skin, to improve skin elasticity. From the pea-sized bit that I tried at the store, I find the texture to be creamy and smooth. That's all I can say about this Time Freeze Intensive Cream
 since I haven't introduced it to my face yet.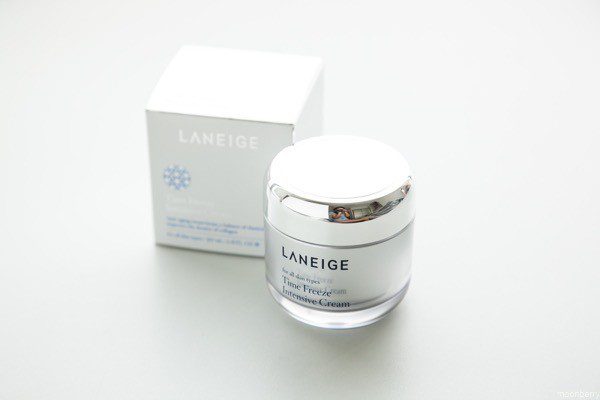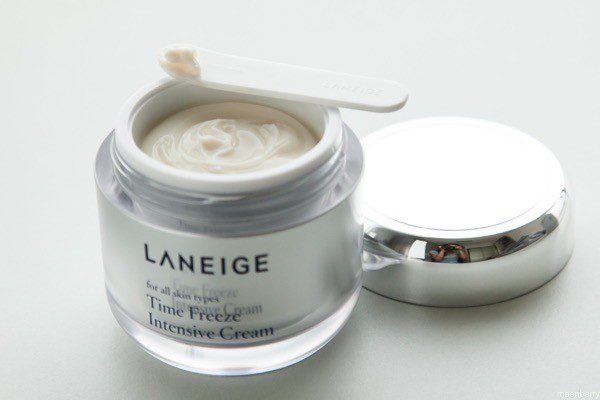 Time Freeze Eye Serum
Formulated with the same technology that targets old collagen in the skin, this eye serum is supposed to improve eyelid elasticity and eye-contour wrinkles. Still unopened, cool space age-looking bottle feels sturdy in the hand although it contains only 20ml and the bottle makes it look as if there's a lot of product contained inside. This Laneige Time Freeze Eye Serum
is not cheap and I have high hopes that it will work well for me.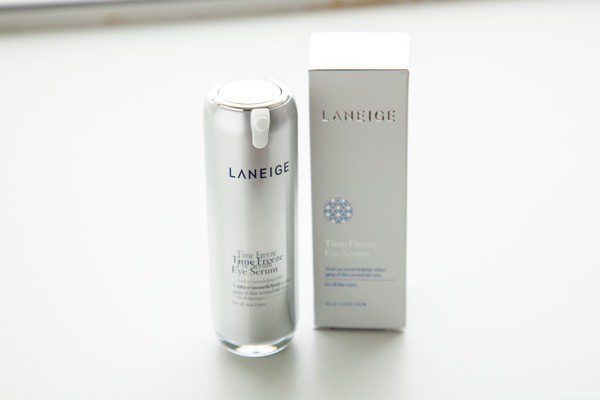 Perfect Renew Firming Eye Cream
The Laneige Perfect Renew line contains a patented complex of antioxidants, bio-peptides, and cell-revitalization chargers to keep skin looking young. I haven't used this eye cream
yet as I have a gabajillion tubes from other brands that I'm trying out. So far, the itsy bit that I sampled on my fingers feel quite light and watery, so I imagine it will keep the skin around my eyes hydrated and firm. Will use this in tandem with the Time Freeze Eye Serum above.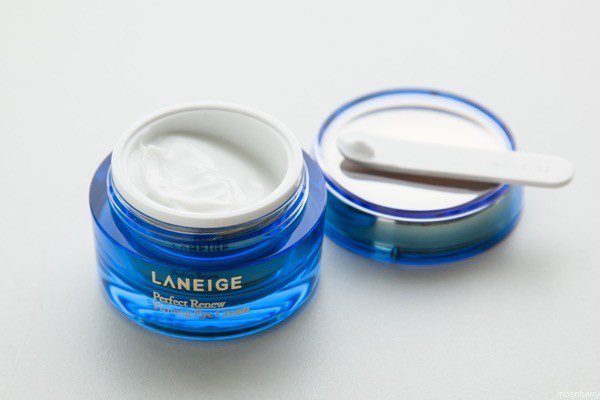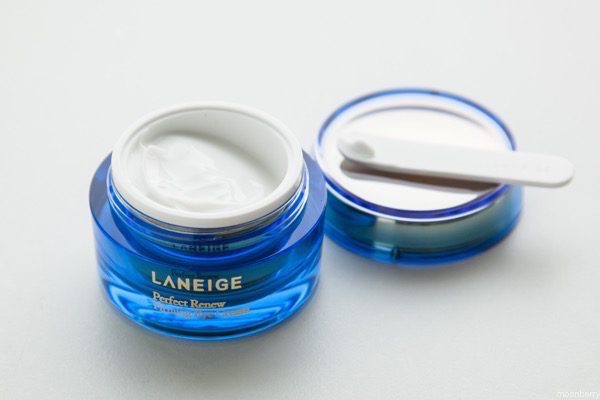 BB Cushion [Anti-Aging] SPF50+ PA+++
I am raving about this BB cushion compact and have already used three different types (Original Snow, 6-in-One with Melacrusher, Pore Control). I've been telling so many people about how much I love using this Laneige product, highly recommending it. I was intending to pick one up in Seoul since my current one is about to run out, but I saw this version with anti-aging properties so I got this one instead. I also bought the regular kind and gave it to my sister. This is the fourth Laneige BB cushion compact that I will be using, it has wrinkle care and collagen technology from the Laneige Time Freeze line to promote smooth, firm skin. Can't wait to start using this as soon as I'm done with my current one (Pore Control).
BB cushion compact is awesome and there are so many other Korean brands around for this item. I can totally see why it's very popular. I love how convenient it is to use because it can be applied in a jiffy and the puff spreads the product evenly. Remember back in the days when BB creams were gray, one shade fits all (no, it doesn't and shouldn't be), and we had to use fingers to smear and blend it on our faces? Streaky, uneven results. Yeah, we have come a long way since the time BB creams first came into the market. While I haven't tried other brands of cushion compact yet, I know that the Laneige ones contain SPF50+ and water/perspiration-resistant, the last two factors are critical for daily use in Singapore which is why I'm so hooked on this product. My friend overseas sent me this Taobao link of a DIY BB cushion compact case; just pour your own fave BB cream into the empty case and voila! However I really like how the exclusive Laneige puff is cooling when it comes in contact with the skin so I'm going to continue using this brand for now.
I use #23 Sand Beige, btw, which in Korea is the darkest color I saw in stores. -__-!? At the Laneige Singapore website, there are two other darker colors beyond Sand Beige so I can heave a sigh of relief and continue deluding myself that maybe I am not that tanned…? I'm purrrrrty sure I wasn't born tanned and this "tropical" skin tone doesn't run in the family since my sister is so much fairer than me! I swear, if I knew then what I know now, I'd have earnestly made an effort to stay out of the sun in my 20's.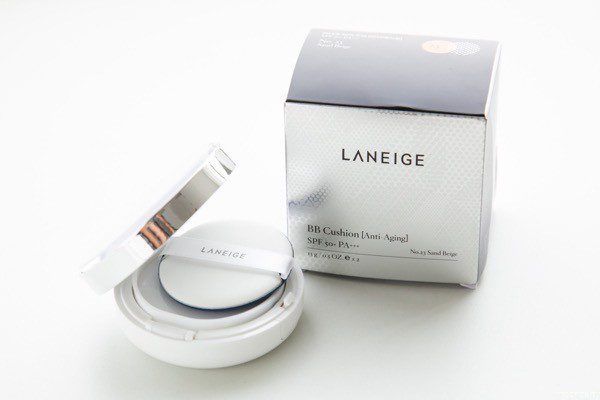 Laneige Clear C Advanced Effector
This is a gift from Laneige Singapore and I've begun using it twice daily. This product is a toner, which I don't normally use/still not accustomed to using, and it comes with dual-textured cotton pads. After cleansing the face, pump the liquid onto the cotton pad, blot using textured-side for daytime, pat using smooth-side for evening. This boosting essence contains superberry extract, a combination of Acerola and Acai Berry, and has 4x more antioxidants than Vitamin C. Despite the name, it doesn't smell fruity but it does have a light floral fragrance.
I've been using this in tandem with Laneige Original Essence White Plus Renew
which contains Melacrusher. As the name suggests, Melacrusher crushes dark spots and evens out skin tone. The brand promises that combined use of these two products will produce 3.5x stronger brightening effect so yes please… lemme have that, thank you.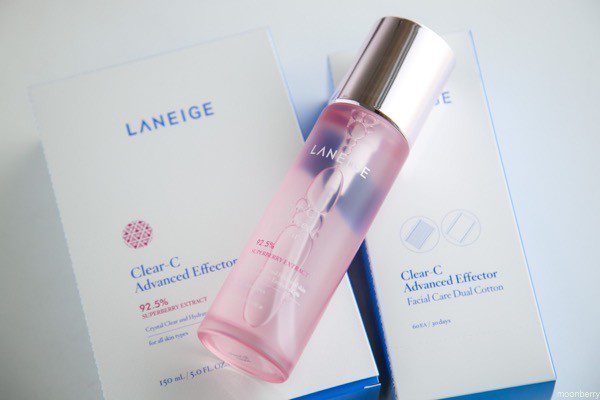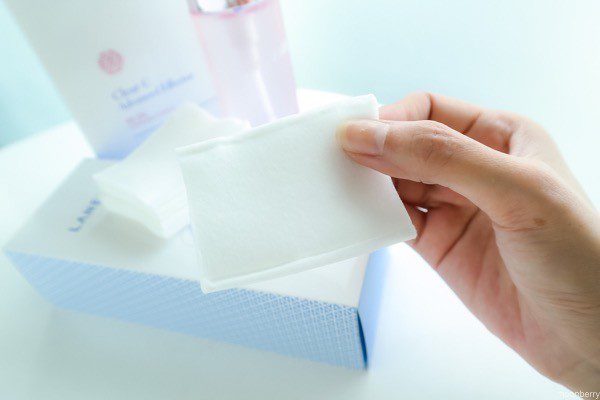 Laneige Collagen Drink
This preservative/coloring/sugar-free collagen drink derived from bonito contains pomegranate and Sicilian red orange extracts – yum! This new product will be available 31 March 2015 onwards at Laneige stores island-wide, at S$52/box of 10 bottles. Thanks to Laneige Singapore for letting me have first dips in sampling this. In order to see its effects, you have to drink a bottle once a day continuously for 30 days. Not that I have a problem with that since I enjoy drinking this. It's neither too sweet nor syrupy-thick, and tastes great after being refrigerated. Thing is, I haven't even finished drinking from the first box because some evenings I forget to reach into my fridge for it. Time is a very disorienting concept for me these days as one day blurs into the next at such a rapid pace; I often feel I'm sleepwalking from one day, one week, one month, to yet another because there are so many darn things I have to juggle at once. Besides, once I'm done washing the dishes and cleaning my kitchen countertop after dinner, I don't step into my kitchen anymore. Maybe I should set an alarm or something, or sip this right after dinner as dessert.
So far so good although I can only attest that this tastes fantastic and I like it. So much so that I'd love to drink two at one go, except that I was told 5000mg is the optimal amount of collagen that the body can absorb per day so drinking more than a bottle would simply be a waste. As for whether it lives up to the efficacy claim or not, I can't give a fair testimonial since I haven't been drinking this daily like I'm supposed to.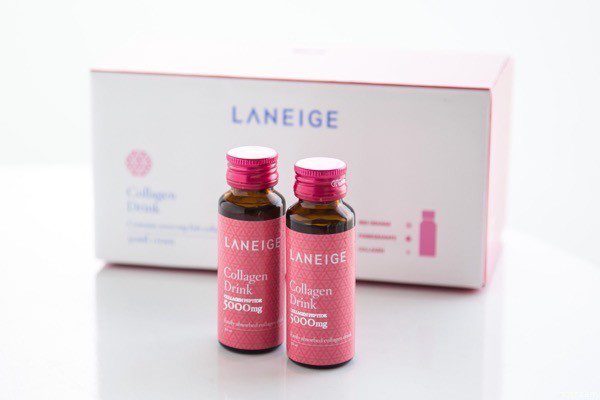 I haven't reviewed beauty products on this blog as much as before anymore, and now you know why. Coz I haven't been using much skincare and the random few that I'm using aren't really worth writing about. I just slap them onto my face and haven't bothered to think about what they're doing to my skin. But I must say that clear and bright complexion is something that every girl should aspire to have. Yep, plastic surgery is indeed very prevalent in Korea and I detected it everywhere on people's faces. After staring at seeing the women in Seoul and also looking at those around me now, I've come to the realization that having surgical alterations to your features isn't as important as looking after your skin properly first and having a complexion that's hydrated, luminous, and supple. Think about it, you can have gorgeous eyes, small V-shaped face, and cute nose, but if your complexion is dull, ashy, your skin looks dry, patchy, spotty with acne scars and stubborn pigmentation, ridden with giant pores, those pretty features won't be quite as stunning. Like porcelain with a veil of crud over it. Is that attractive to you?
In the airport bus when I first arrived in Seoul, an ajumma sat down next to me. She must've been in her late fifties, dressed elegantly in a dark wool coat and a fluffy coiffure. She glanced at me in a dismissive way with her nose slightly turned up (what'd I do!?), so I responded by silently scoffing back at her. During the bus ride, after tippety-tapping on her Samsung Galaxy phone, LINE-ing with who knows who, she dozed off. I stared at studied her face and yes, she had slight wrinkles and she wasn't gonna fool anyone into thinking she's a spring chicken. But I honestly found her beautiful for her age because her skin was radiant, even-toned and looked firm. I kid you not. I'd almost say her complexion is flawless, as far as that word can be applied realistically to someone in the ajumma demographic. I want to know what laser treatments she's getting and what products she's using! Or is it the kimchi?!? Then I quickly turned to look out the window again before I went overboard in trying to find pores on her face.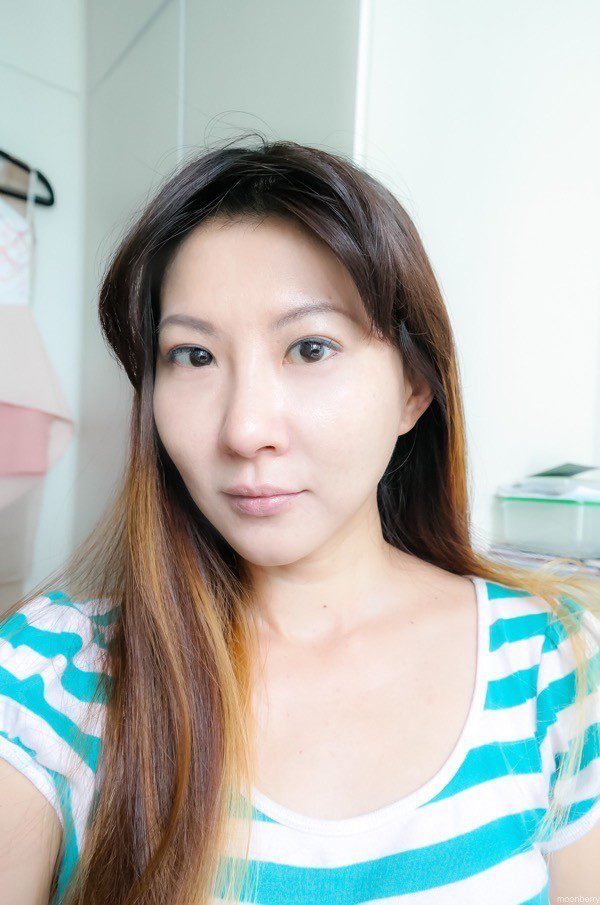 I am certainly not done with skincare issues and I'm still lazy when it comes to putting on makeup thickly properly. I dislike spending too much time on this sorta thing and I am caring less and less. But I owe it to myself to be conscientious coz one day I'm going to be an ajumma too, man. My ultimate motive is, of course, to be able to get away with using minimal makeup where possible and having clear complexion can facilitate that. I've nothing against makeup, it's just too time-consuming and fussy.
Gee, I'm using so many Laneige products currently that my bathroom counter is like a shelf at the store. Laneige should engage me as their spokesperson, hur hur. }:)
On my wish list:
Laneige Multiberry Yogurt Repair Pack
because at the store I put a tiny dab on the back of my hand and it smelled aaaaaahmayzingggg. Like I have invisible berry cake frosting on my hand. Yummy!
Laneige Watery Cushion Concealer
. Since this is using the same cushion mechanics and I'm loving the BB cushion compact so much, I imagine this should be just as nice and moisturizing to use. I didn't want to try this at the store due to obvious hygienic concerns though (duh). I use a concealer stick primarily under my eyes and the ones I have can be drying so I'm still on the lookout for something better. Kinda hoping this will be the one?
Laneige Water Supreme Primer Base No.40 Light Purple SPF15 PA+
I think this may be good to use as I like the idea of having additional hydration layer on my face which will in turn extend the longevity of my BB cushion application. I'm not sure if purple is the right shade to get, but it is supposedly designed to block sallowness. On the color wheel, purple is directly opposite of yellow after all.
xo,
MB.