1 Oct 2012
---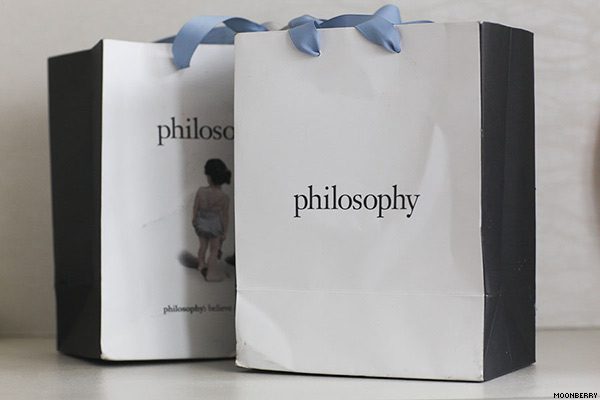 This October I am embarking on a 4-week skincare journey with Philosophy. As I have written before, Philosophy is a popular skincare brand in the US and I first heard of this brand many years ago from my sister. At the time, Philosophy products weren't available in Asia and she'd ask me to buy for her from US. The products are now available in Singapore (yay!) and I am getting to know the products more intimately through my 4-week skincare journey using ONLY their products. I am excited to document this and share my journey with my blog readers.
Philosophy is a brand that approaches personal care from a skin care point of view, while celebrating the beauty of the human spirit. Philosophy promises to bring its customers products that inspire them to live a better life by being better to themselves. Their products are based on a rich, scientific heritage, coupled with inspirational messaging to create a fresh, approachable attitude toward beauty.
I like the approach of being better to ourselves, this is in line with my personal philosophy of mind-body wellness and staying on the path of leading an authentic life. Meaning, cut the BS, be good to yourself and keep it real.
Many friends have wondered what my bathroom shelf looks like ever since I won the Best Beauty Blog in Singapore Blog Awards 2011. I did receive many product samples (with much gratitude) and also continued to buy my own both locally and overseas whenever I travel. So as you can imagine, my bathroom shelf is definitely overflowing with skincare and beauty products. I try to keep them all as organized as possible but yeah, the space is pretty cluttered in spite of my OCD-ness.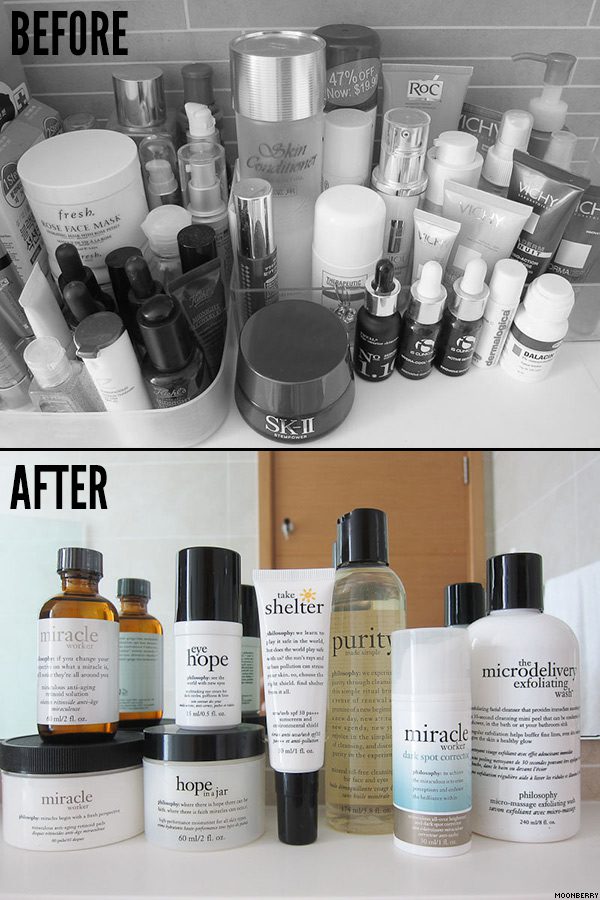 I have over a dozen products from many brands in the before photo. I cleared them all away temporarily as I will be using only Philosophy products that have been customized for my skincare needs in the next 4 weeks. Just this action alone of clearing some space in my bathroom is inspiring in itself and makes me feel good already. From over a dozen products down to only …. seven.
Simplification.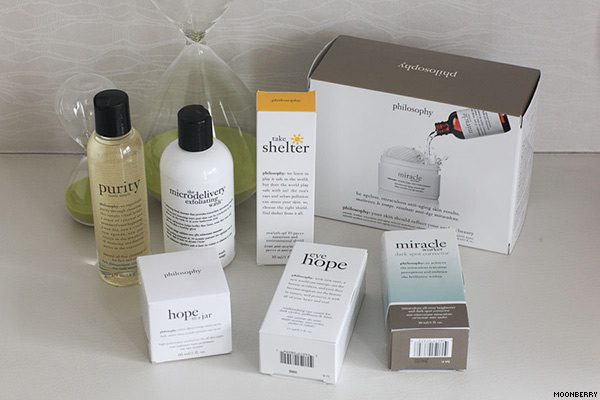 The seven Philosophy products that I will be using this month are shown above. I am going back to the basics.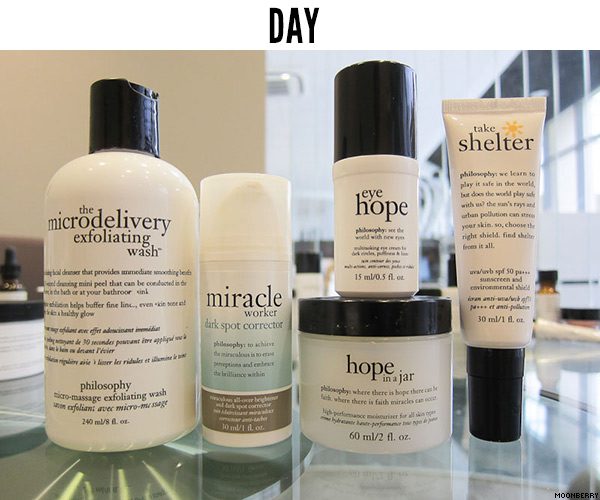 My daily Philosophy skincare regime (day) uses the following products in these steps:
1. the microdelivery micro-massage exfoliating wash
2. miracle worker dark spot corrector
3. eye hope multitasking eye cream
4. hope in a jar moisturizer
5. take shelter sunscreen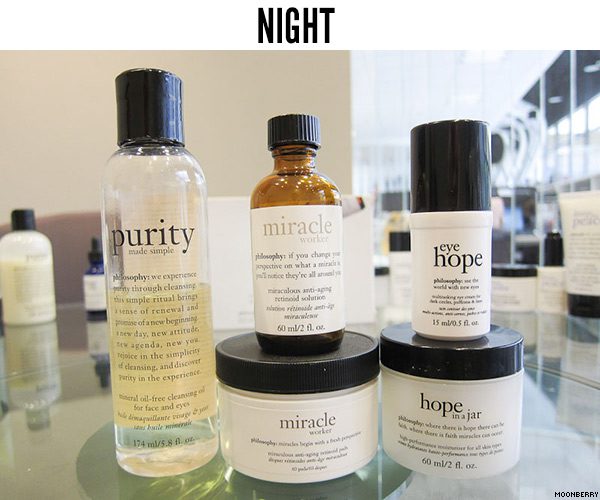 My daily Philosophy skincare regime (night) uses the following products in these steps:
1. purity made simple mineral oil-free facial cleansing oil
2. miracle worker miraculous anti-aging retinoid pads
3. eye hope multitasking eye cream
4. hope in a jar moisturizer
These products have been customized for me to address my skincare concerns.
Boy oh boy, when it comes to skincare concerns I have no idea where to begin. Anti-aging? Lifting and firming? Lackluster dull skin? Blemishes? Enlarged pores? Fine lines? Dark spots? Uneven skin tone? Dark circles around eyes? You name it, and I am concerned with them all.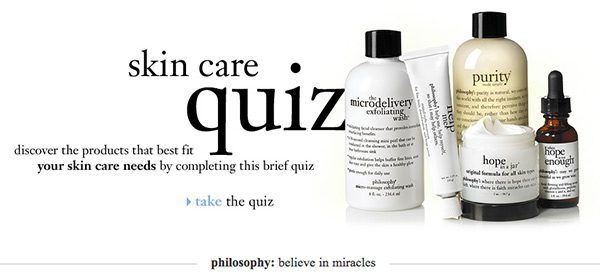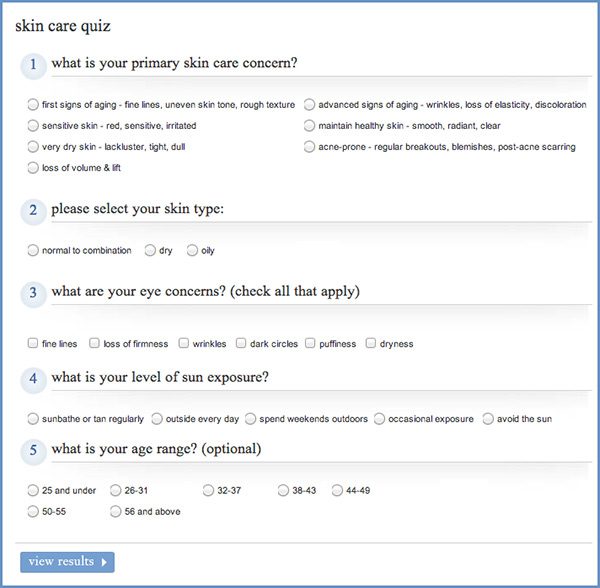 My primary concern at this time though would be anti-aging and lackluster tired-looking skin (I still can't keep it to one only, hahah – good thing some of these Philosophy products are multi-taskers). I have been very diligent in keeping my skin pigmentation at bay and underwent several laser treatments along with chemical peels regularly at an aesthetic clinic. However, it is also essential to have proper daily maintenance at home, so the Philosophy products specially prescribed to me will help me to improve skin radiance as well as keep skin soft, supple and youthful-looking.
At the end of this 4-week journey, I am going to see a miracle! :)
Stay tuned for more.