16 Nov 2012
---

Here's the conclusion of my Philosophy 4-week skincare journey. If you have missed the products I've reviewed in the earlier weeks, you can catch up on them here: Week 1, Week 2, Week 3.
One word: HOOKED.
I don't know whether other so-called beauty bloggers receive complementary samples of beauty products, try out new brands via Vanity Trove, Bellabox,  etc. do they go out to purchase full size products after out of their own pockets and continue using them or not. I find that it's normal consumer behavior to go out and buy the products that work, right? After I got on this skincare journey, I am really loving Philosophy products and so I went online to the US site to acquire more items (that are yet unavailable in Singapore).
Thru the website (that ships to Singapore, yay!), I acquired the following Philosophy products to add to my daily regimen:
The Great Mystery: one-minute daily facial
 Full of Promise: treatment duo for uplifting days and volumizing nights
 The Oxygen Boost: daily energizing oxygen elixir
 Kiss Me: exfoliating lip scrub
 Kiss Me Tonight: intense lip therapy
By the way, before I carry on, please let me clarify that I was referring to myself when I wrote above on "so-called beauty blogger" because honestly, I don't consider myself as one. I am aware that I do have several beauty reviews here on this blog. However, I am certainly not as qualified as many other legit beauty bloggers out there who are extremely passionate about beauty products. With that said, care of self and looking good (both inside and out) is part of authentic living, riiiiggghhttt? That's the main reason why I do beauty reviews in this space. I hope I haven't offended anyone out there who aspires to be a beauty blogger, and ended up being referred to as "so-called" by me. :P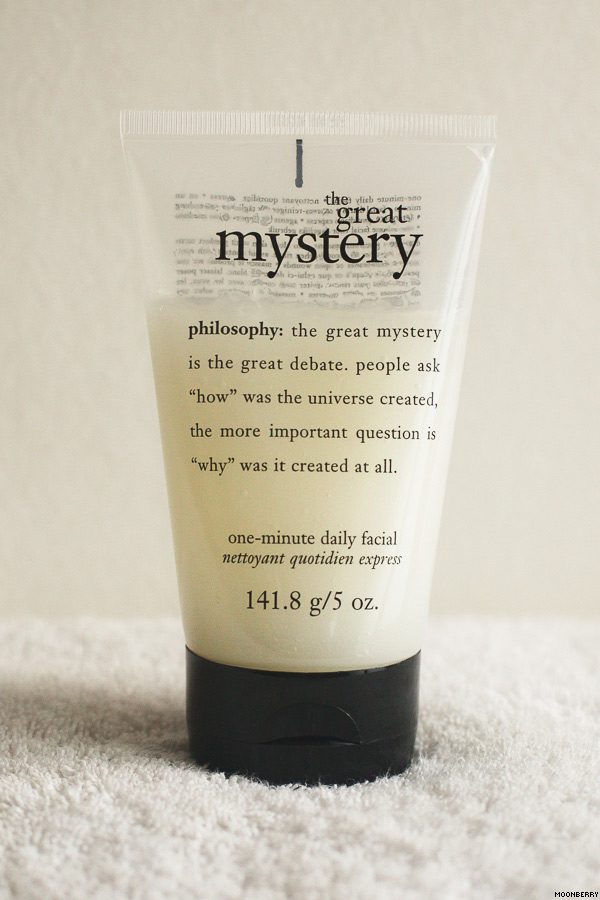 The Great Mystery is a daily one-minute facial gel that I massage on my cleansed face in the evenings, prior to hopping into the shower. It comes out of the tube as a thick cream-colored gel and it turns white when it's massaged onto the face, releasing a very soothing aroma of lavender oil. I love this facial tremendously as I feel that it's a nice quick way to relax after a long day of hustle and bustle. It's like a mini spa treatment. After I wash it off in the shower, my skin feels really soft and supple. This can be used all the way down to the neck and décoletté also. Mmmmm, mega mega love.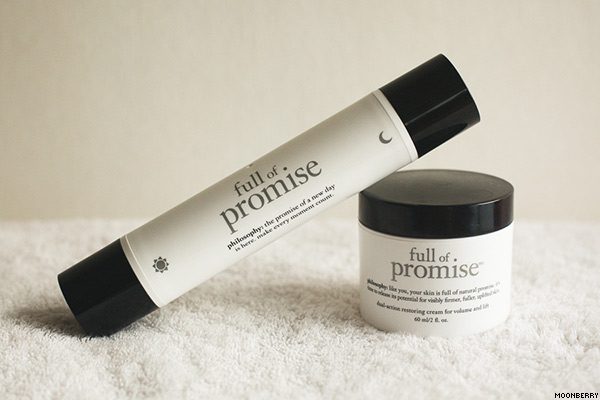 Full of Promise consists of a serum duo for day and night, as well as a restoring cream. So far I've only used both for evenings only as I'm using other Philosophy products for daytime, namely Hope in A Jar. This duo though, helps to restore skin's youthfully sculpted appearance. Facial contours are more defined; skin looks lifted, volumes are visibly restored and a more youthful look is revealed. I particularly love the silky texture of the serum, it glides on really smoothly on the skin and leaves a matte finish. As for the cream, it is thicker compared to Hope in A Jar so I like to use it at night before going to sleep. I definitely have noticed that skin looks plumper, fuller and happily hydrated with just one application.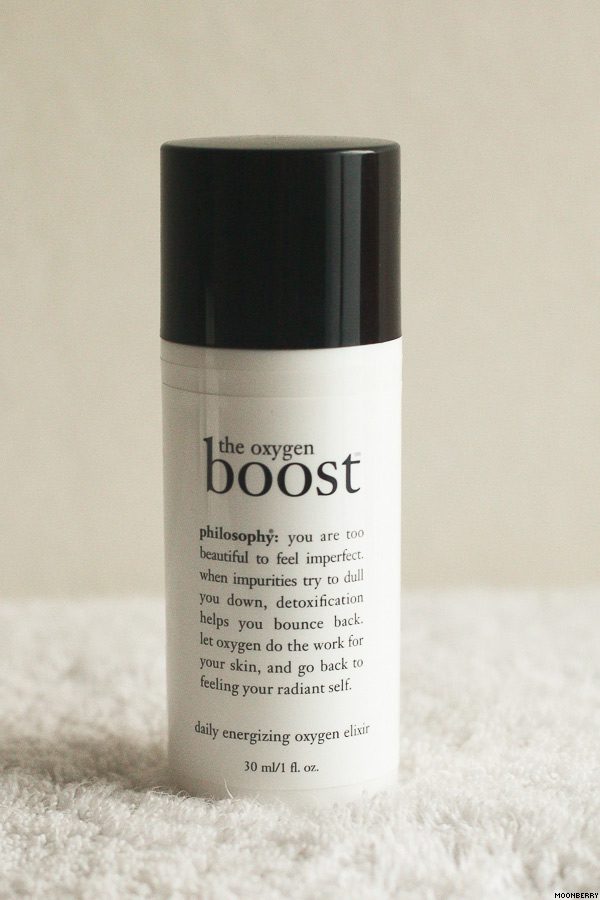 The Oxygen Boost contains antioxidants and natural botanicals to help protect skin against environmental attack. I like how this gives a veil of oxygen on my face and helps energize, detoxify and clarify skin. I find that my skin is relatively more radiant and this works beautifully with the Miracle Worker which I reviewed in Week 3.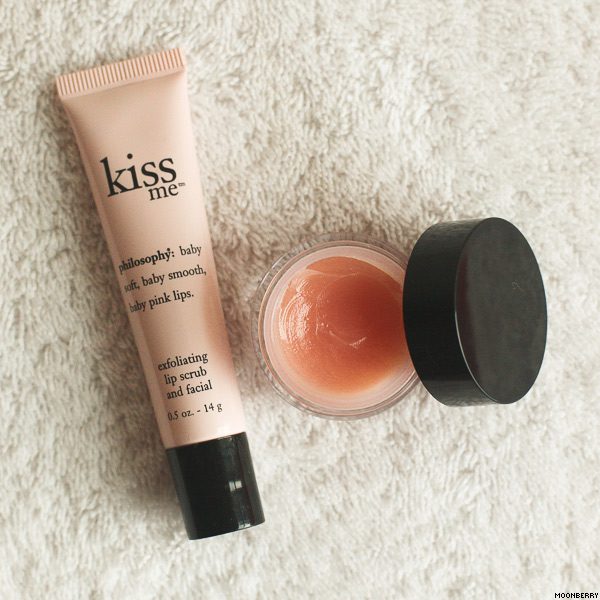 I figured I shouldn't neglect my lips so I went ahead and bought this Kiss Me exfoliating lip scrub and Kiss Me Tonight intense lip therapy. I'm a lip balm junkie and always pack a tube of Burt Bee's lip balm in my bag whenever I go out. I think chapped lips are very uncomfortable, not to mention unsightly to look at and also painful. These two products help me to maintain soft lips and I especially like how the lip scrub contains soft grainy beads that I rub gently with a finger across my lips to exfoliate the dead skin. Both products are fragrance-free, by the way. The scrub is minty which I love as it gives me the sensation of plumped up lips. :p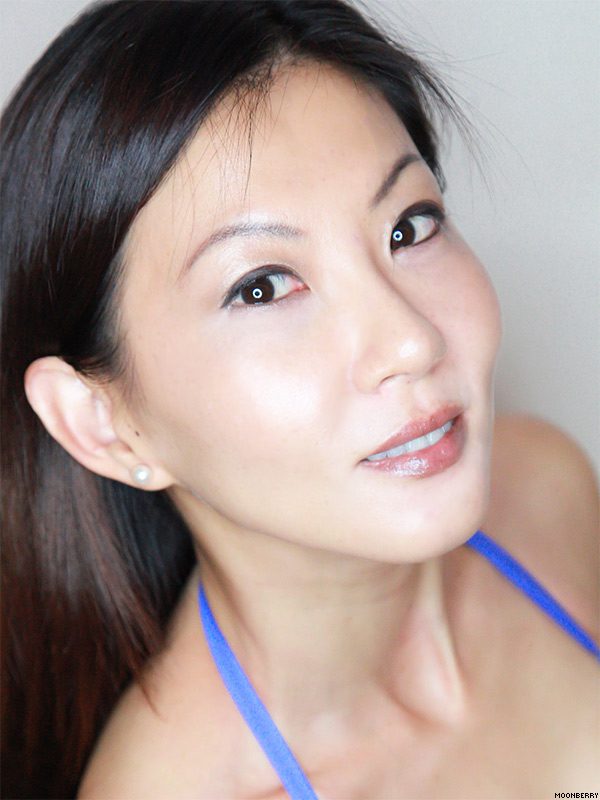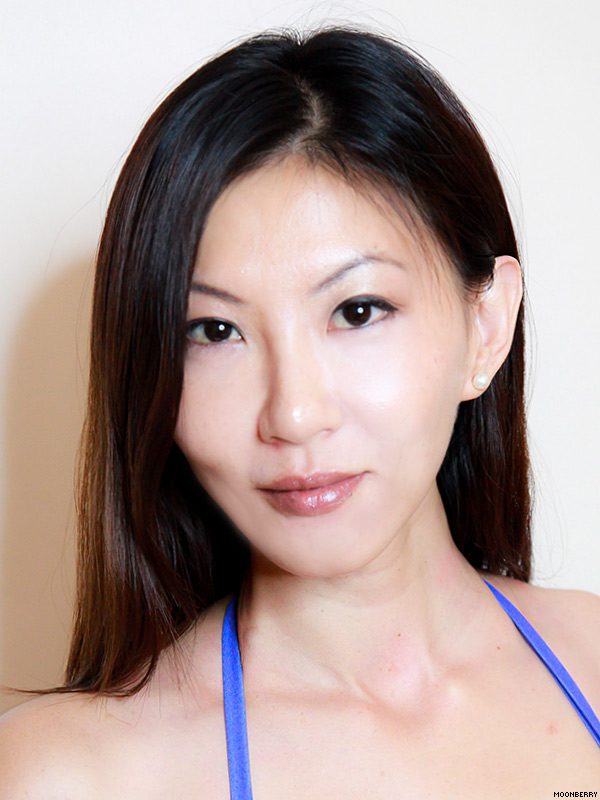 I am getting lazier and lazier these days when it comes to applying makeup and would rather put on none if I can help it. But of course, I suffer from uneven skintone just like most people out there so a thin layer of coverage in the form of BB cream and/or light foundation is inevitable. I still get the occasional breakouts during that time of the month (GGRRRRRR) and I haven't quite successfully adjusted my sleeping hours yet (still keeping late nights), so… my complexion is quite the mess usually and I get damn frustrated. BUT! Ever since I started using Philosophy products, I do feel that many of these products work nicely for me and have improved the condition of my skin. Putting on makeup is much more enjoyable because the canvas (ie. my face) isn't as frustrating and noticeably I don't have that annoying shine as much at the end of the day. Let's just say that I feel happier and more comfortable with my face after I got on this Philosophy regimen. Otherwise, why would I bother to splurge US$200+ on additional products, right? (Admittedly even though product prices for Philosophy in US and SG are comparable – thanks to the conversion rates, I did have to pay for shipping and that cost alone could've gotten me an extra bottle of something. Either way, I say it's money well-spent because I really love The Great Mystery one minute facial gel as well as the Full of Promise products. :) :) :)
Last but not least, I enjoy reading the thoughtful text blurbs in front of every Philosophy products while I'm using them. It is a small act but meaningful because the messages in them are so positive and uplifting. That's why I love Philosophy products and I am hooked. In between sampling other brands, I am definitely gonna be sticking to this set for a while.
Hooked, baby, hooked.
-MB.
PS: I read on the Philosophy Singapore FB page that they just opened a new concept store at Tangs Orchard. How exciting is that! I hope that they will continue bringing in more and more products from the US, so that I don't have to pay for shipping to get the products I want. Ahem. :P