25 May 2014
---
The gastronomy deities have smiled upon me at last. After bearing my private rants on how there isn't an honest-to-goodness F&B establishment in Singapore with imaginative fare  that's fun, that excites, that doesn't suck my purse dry, blablableah… they sat me down at Portico and reinvigorated my New Yorker expectations of eating out in Singapore.
Tucked inside a quiet private commercial compound with tranquil garden landscaping, Portico – the Italian word for "porch", is an all-day dining cafe, restaurant and bar serving modern Western dishes accented with offbeat touches and surprising details.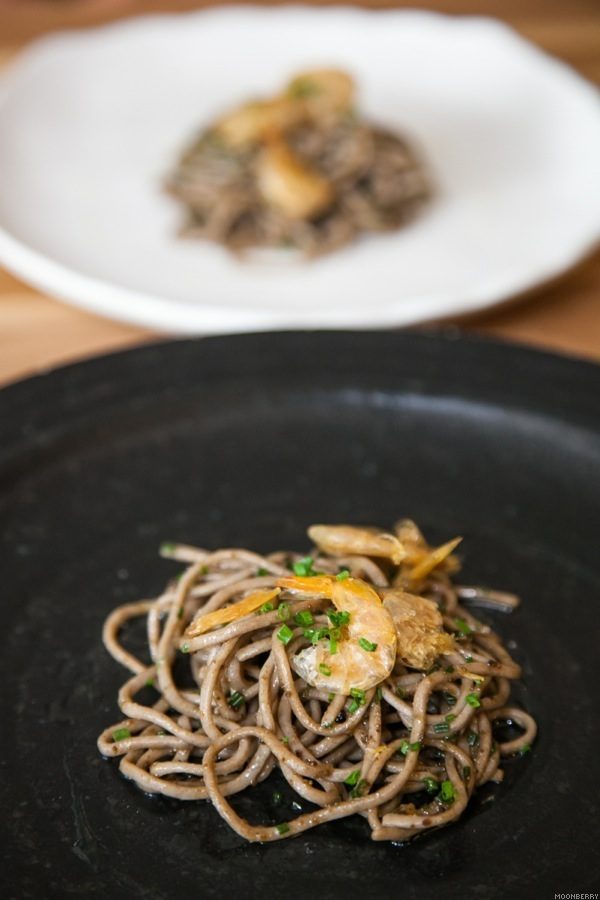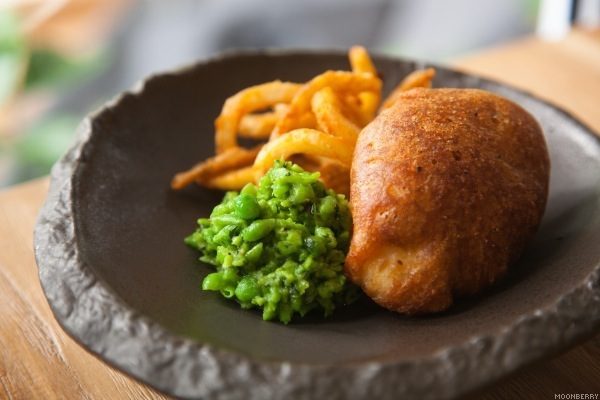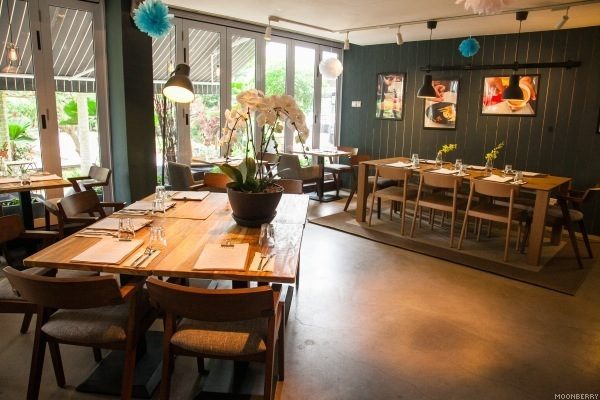 Executive Chef Leandros Stagogiannis and his original creations using fresh seasonal ingredients and artisanal touches wowed me over and beyond. From the Crispy Soft Shell Crab served with a piquant tomato, ginger, garlic, and coriander salsa, to the appetizing Cold Kombu Soba Noodles with Truffle and Crispy Brown Shrimp, I was delighted by the textural contrasts and flavors in so many of the dishes which I had there.
Now, if you have been following me on Instagram, you'd have known that two months ago I spent time in New York and was stuffing my face with sweetbreads. I've been a sucker for that stuff for years and it isn't easy to come by anywhere. If you must know, sweetbread is the culinary name for the thymus or pancreas of a calf, so no – it is not bread that's sweet and therefore also cannot be found in bakeries. But let's not overthink it, while I admit it is an acquired taste for most, I find the spongy texture most interesting and deliciously enhanced by either robust sauces or textural play with other ingredients. Imagine my pleasant surprise when I spotted Crispy Sweetbread with Onion Purée and Heart of Palm Salad on Portico's menu. Right here in Singapore! So here at Portico, golden nuggets of breaded sweetbread sat daintily on creamy onion purée with a dusting of coffee powder, and flirting with strips of crunchy heart of palm (another fave of mine that I don't get to see and eat enough of).
Another surprising menu item I found was the Sea Bass Fish and Chips. I generally shy away from fish and chips, for no reason other than me not finding it sexy. But I changed my mind after having Portico's version. A meaty chunk of sea bass, just caught that same morning and delivered straight to the kitchen, was coated with an ethereally-light beer batter and it gave off the sound of a fluffy cr-rrr-risp when I bit into it. Music to my ears. Succulently sweet, tender and bursting with freshness, this fish and chips (curly fries in this instance) with a side of crushed peas and fresh mint couldn't get any sexier. Yet, it wasn't pretentious in the least bit.
More textural play was happily discovered in the Red Wine Braised Wagyu Beef Cheek. Expectedly hearty, this fork-tender beef in rich red wine jus was brilliantly served with little balls of Asian pear that effectively cut through the full-bodied flavor with fruity crunchy sweetness.
For the less hungry, the Grape and Quinoa Salad with Sugar Snap Peas and Fresh Raspberries was a pleasant alternative that definitely satisfied. Don't knock this salad till you try it, believe you me, it tastes just as good and bright as it looks (and I am inspired to recreate this at home, complete with the slivers of steamed watermelon and all).
The sugar snap peas made its appearance again in one of the desserts: Dragon Fruit, Mango and Sugar Snap Peas Fruit Salad with Lychee Shaved Ice. So cheerfully refreshing, with edible Cornflower to boot too!
Speaking of corn, the presentation of deconstructed dessert Manjari H2O Ganache and Sweet Corn Sorbet with Roasted Hazelnuts and Cashew Praline was art on a plate. This was definitely way too pretty to eat but I did, of course, especially after being told that Chef Stagogiannis made the ganache using a water technique, yielding a very punctuated chocolate flavor which married so well to the sweet-salty corn sorbet.
Last but not least, the most unexpected combination of lemon and onion. Whaaaaaaat!!!? My mind was about to explode (belly to follow) and I was definitely blown away by the Tart Aux Citron and Onion Ice Cream. Even though I found the tart shell too dry and the lemon cream somewhat too tart, that didn't dampen my enthusiasm for this dessert. Onion ice cream! Who'd have thunk? Paired with lemon tart and a sprinkling of fried shallots and baby basil leaves, the flavors in this were dazzling.
Peektures: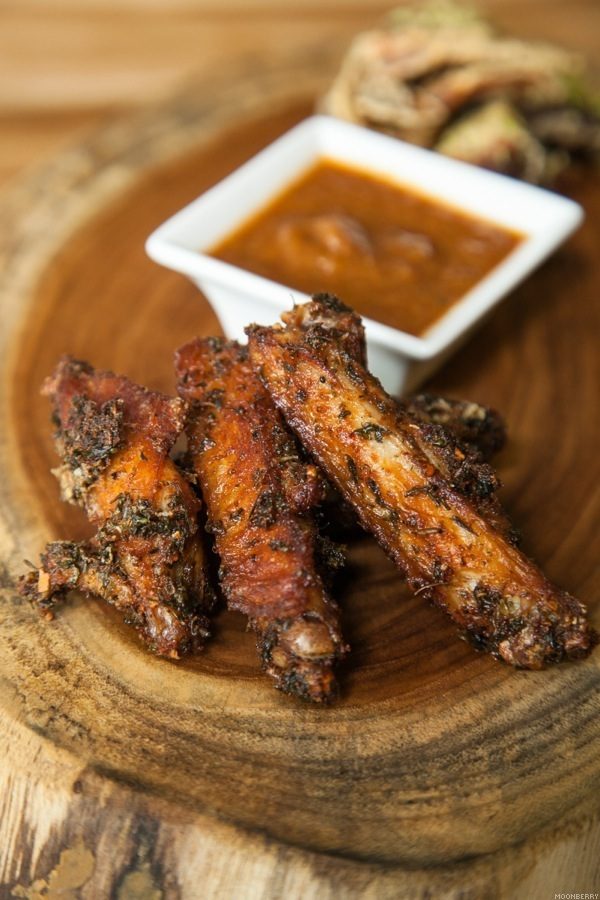 Fried Herb-crusted Chicken Wings, served with tomato and ginger, garlic and coriander chilli salsa.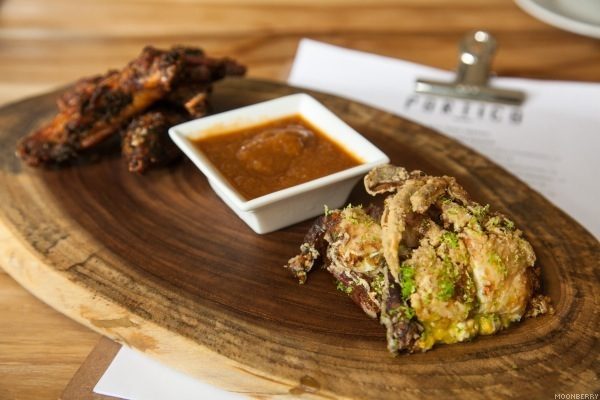 Crispy Soft Shell Crab, kaffir royale, served with tomato and ginger, garlic and coriander chilli salsa.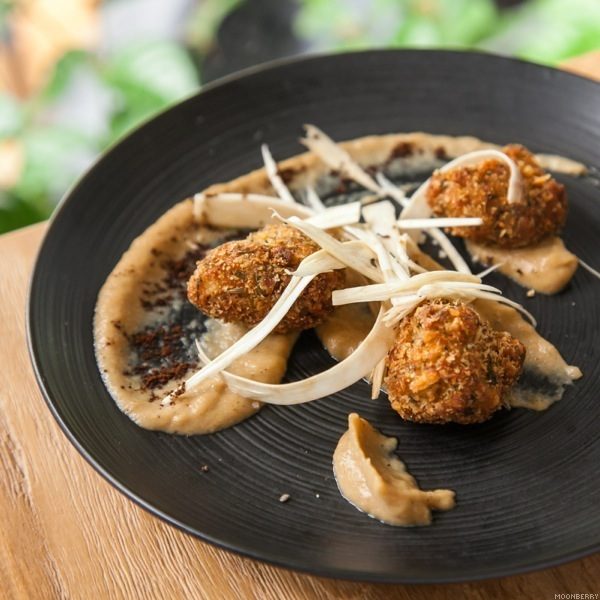 Crispy Sweetbread, Onion Purée and Heart of Palm Salad.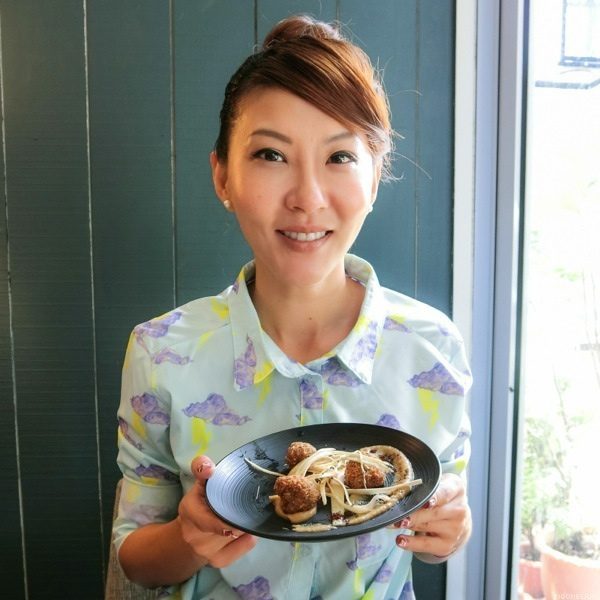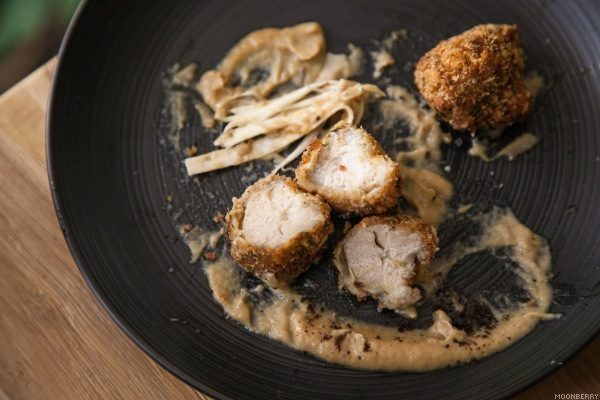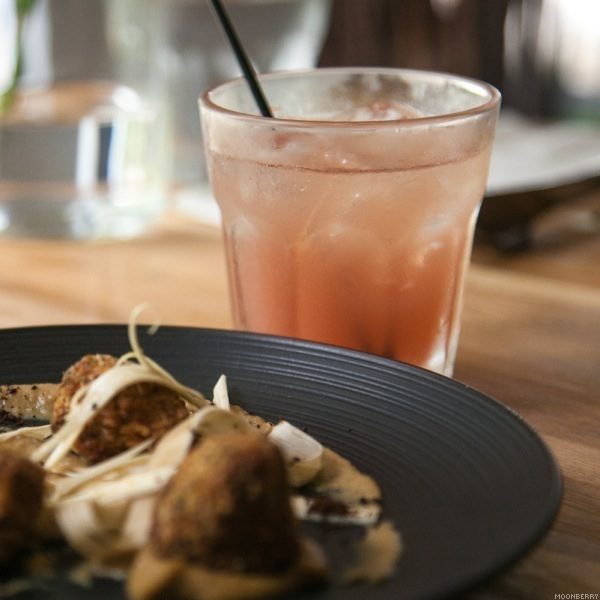 Pink Porn Swizzle, pink guava cocktail.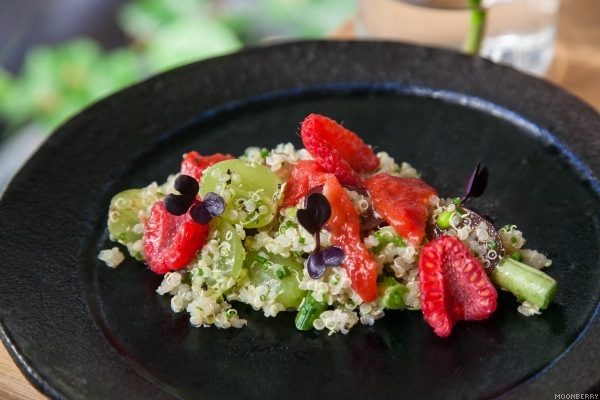 Grape and Quinoa Salad, Sugar Snap Peas and Fresh Raspberries.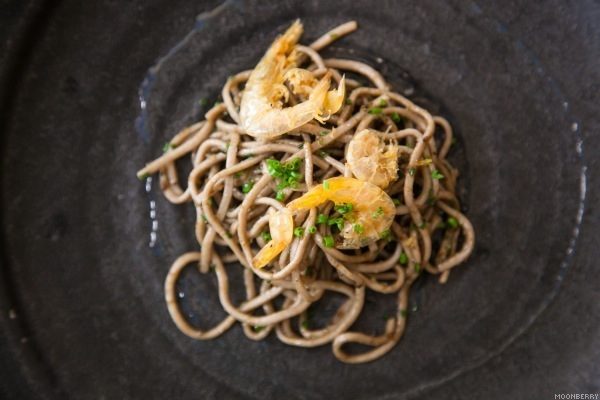 Kombu Soba Noodles, Truffle and Crispy Brown Shrimp.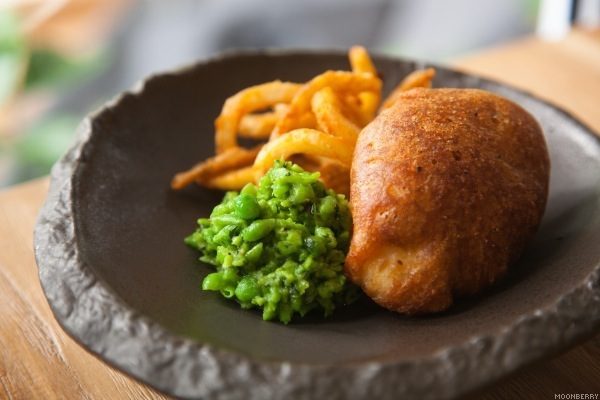 Sea Bass Fish and Chips, Crushed Peas and Fresh Mint.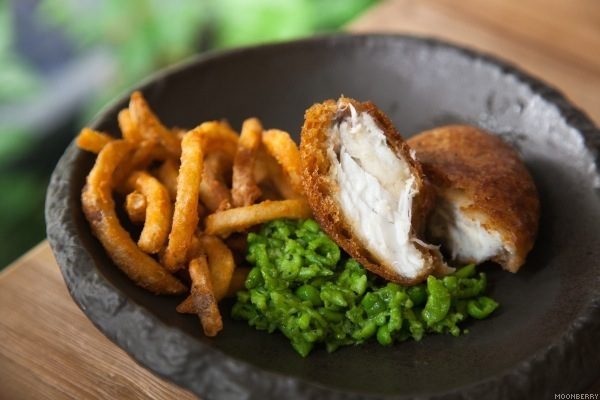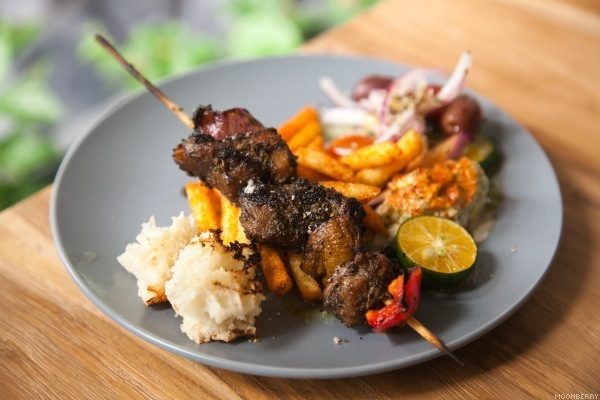 Hungarian Pork Belly Kebab and Paprika Fries, Crusty Bread and Tsatziki.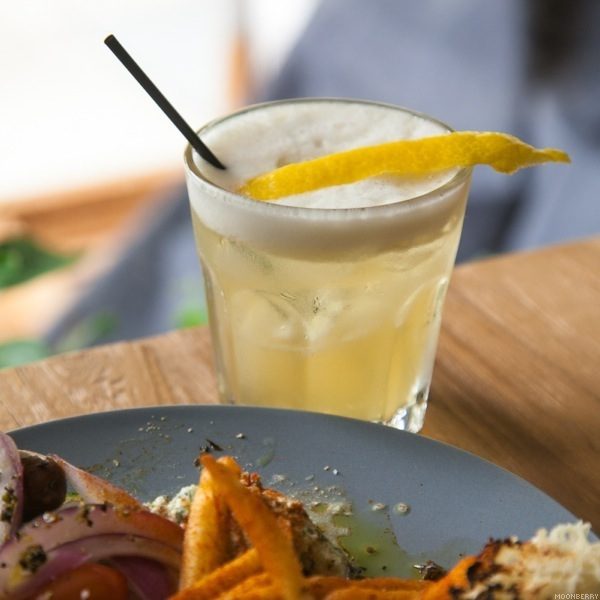 Chamoflage, the Portico sour.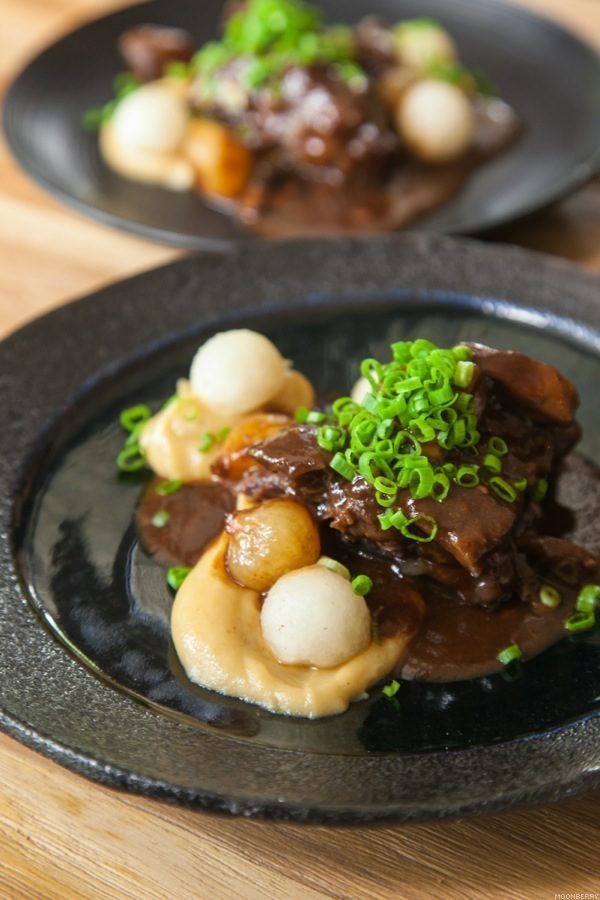 Red Wine-braised Wagyu Beef Cheek and Bourguignon Sauce.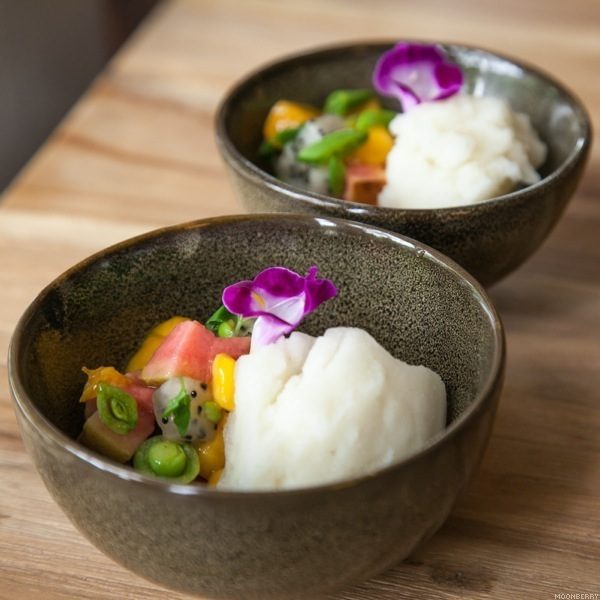 Dragon Fruit, Mango and Sugar Snap Pea Fruit Salad, Lychee Shaved Ice.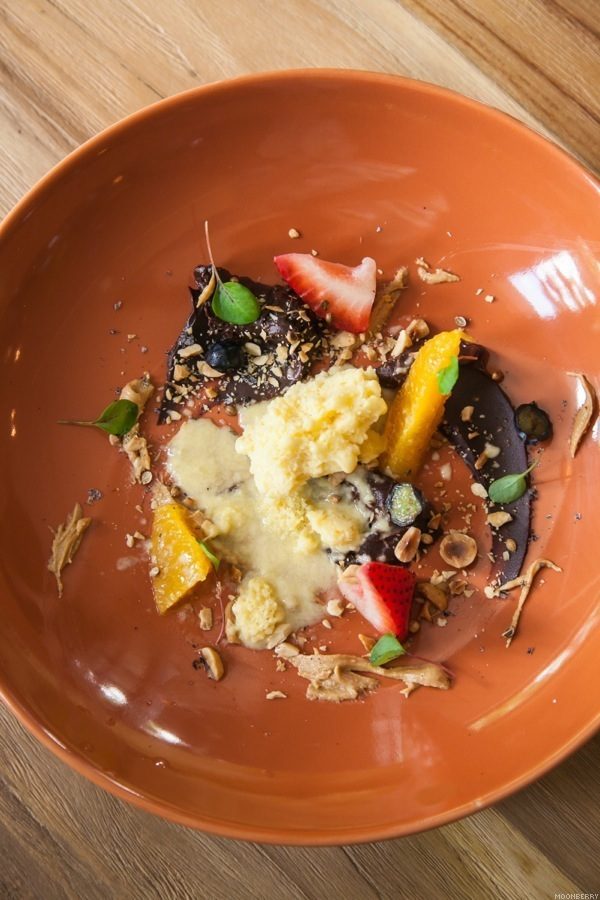 Manjari H20 Ganache and Sweet Corn Sorbet, Roasted Hazelnuts and Cashew Praline.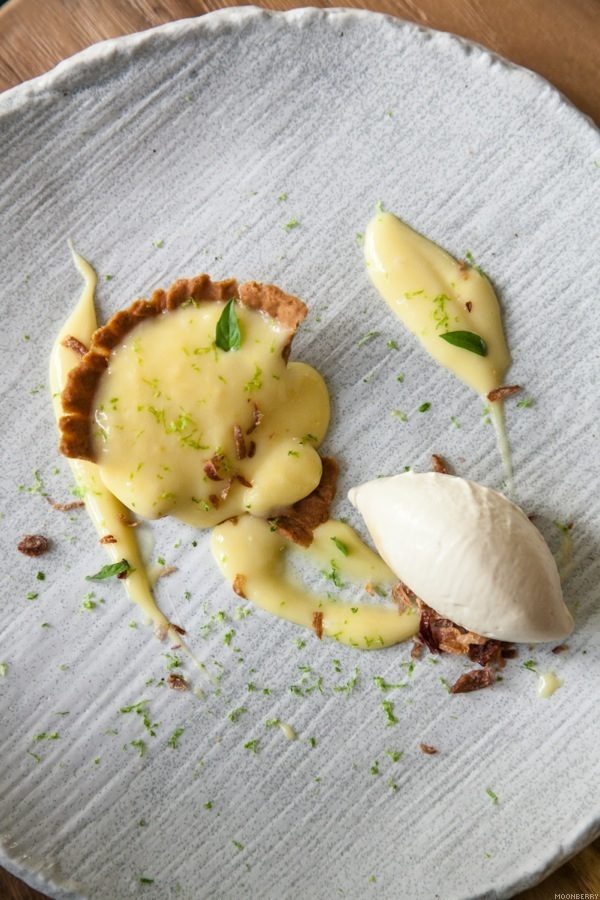 Tart Aux Citron and Onion Ice Cream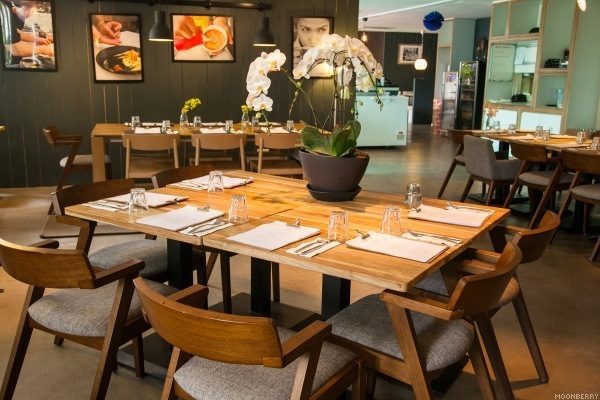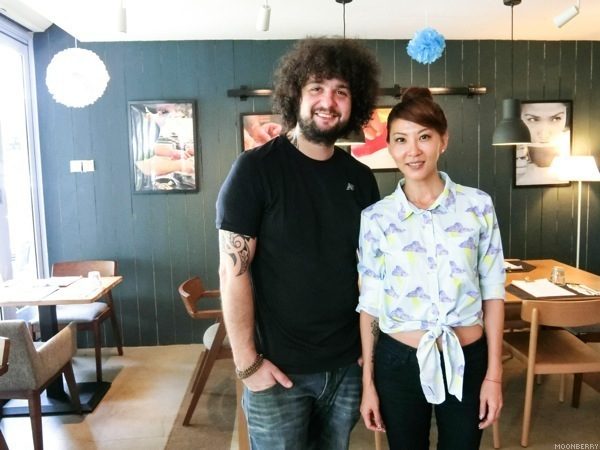 This is the kind of place I'd bring my New Yorkers to – every one of them discerning foodies spoilt for choices in our good ole' Big Apple, where I can confidently say to them: "Yo, the food here's exciting and it is reasonably priced without compromising on quality or creativity!". I also like that it's quiet and cozy, with plenty of outdoor space. I will very much return to Portico again and look forward to the full breakfast menu and Saturday brunch menu that Chef Stagogiannis will be serving soon (currently in incubation stage).
Portico
991B Alexandra road, #01-10
Singapore 119970
Tel: (+65) 6276-7337