30 Mar 2013
---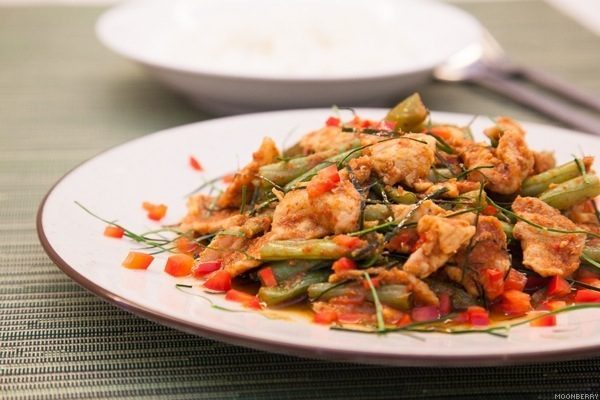 Prik Khing – one of my fave Thai dishes – is a type of Thai curry that is drier than other Thai curries such as red curry as it is fried in oil and does not contain liquid coconut milk. The paste is a thick curry presenting a vivid red color due to phrik (chili peppers). Confusingly enough, the Thai name would indicate that ginger (khing) is used in this dish, which in fact is not the case. Recipes for the phrik khing curry paste usually include lemongrass, garlic and galangal.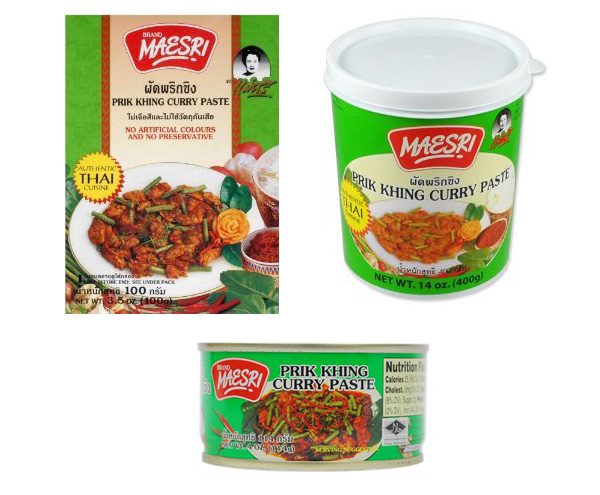 Even though there are Prik Khing dishes with either pork, chicken or shrimp, the version that I'm used to eating for many years is with pork and it's served over rice. Maesri is the brand that's commonly found in Asian grocery stores; this brand's exported to the US so that's the only one which I recognize. I bought a packet when I was recently in BKK and made this dish at home not long ago. It's super simple to make, just a handful of ingredients chopped up and thrown into the wok for a quick stir-fry.
If you're inclined to make the Prik Khing curry paste from scratch, I've included the recipe all the way below. Be prepared to put in some elbow grease pounding this with a mortar and pestle! I'm happy with the packet version for now. ;)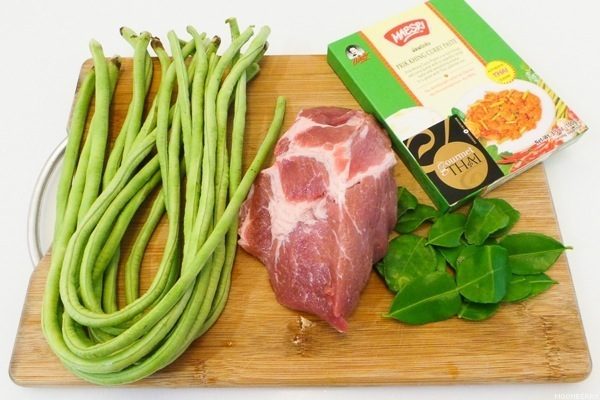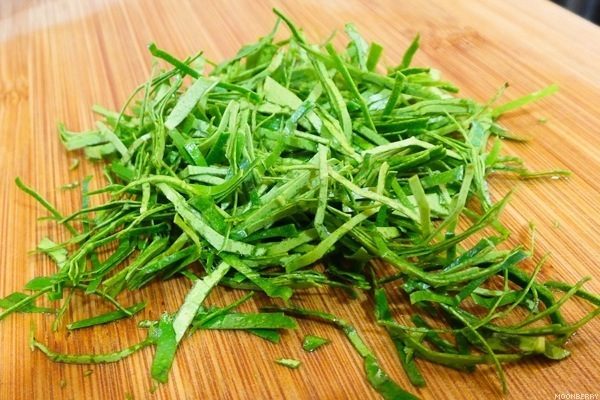 I love the Kaffir Lime Leaf chiffonade (ie. sliced thinly into ribbons) topping. This isn't just garnish, folks. Very aromatic and gives a nice citrus-y oomph to the curry!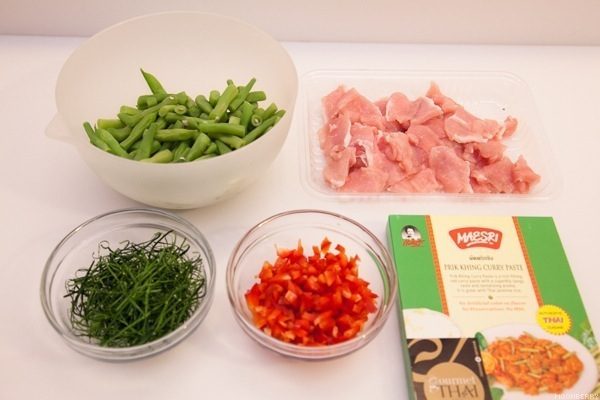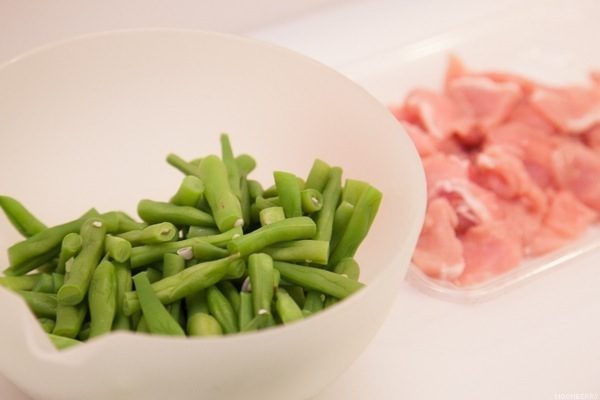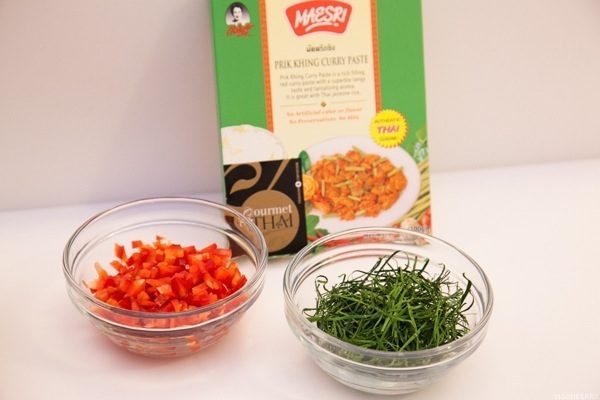 This is a flavorful and robust curry dish, even though it may not look it. I like using a slightly fattier cut of pork (eg. pork neck) to contrast with the crunchy texture of the green beans.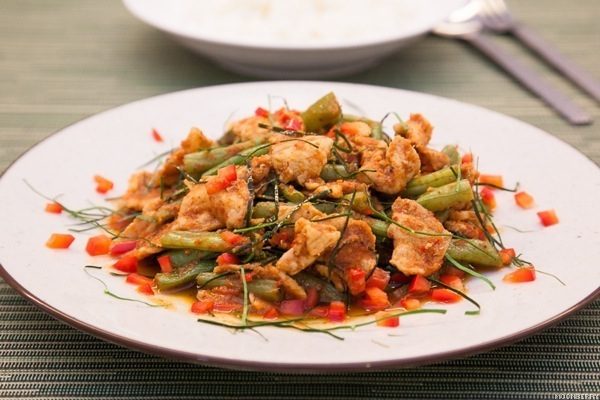 A one-dish meal that's quick and easy to whip up for a night in – especially when these days I am *still* running very short on time. However, taking a short break from my work to cook is a good distraction. By the way, don't be alarmed at the gooey liquid oozing below the dish. That's not oil, it's excess liquid that was sweated out by the green beans.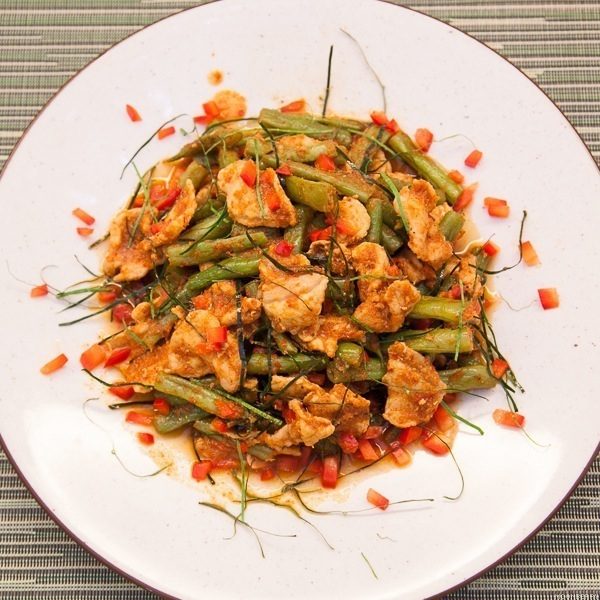 Ingredients for Prik Khing Curry Paste
– 10 small dried red chillies (soaked and drained)
– 4 red Thai bird's eye chillies
– 1 ½ tablespoon galangal
– 2 tablespoons garlic
– 3 tablespoons shallot
– 2 tablespoons lemongrass
– 2 tablespoons coriander root/stem
– 1 teaspoon kaffir lime zest (or lime zest)
– 1 teaspoon shrimp paste
– ½ teaspoon white peppercorns
– ½ salt
(you can choose to deseed the chillies to reduce the heat)
[source]
Enjoy! :)
-MB.