2 Sep 2013
---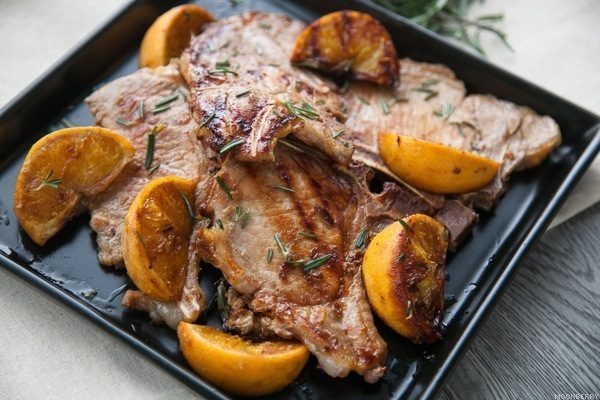 A colorful and easy Sunday night dinner! While herb and citrus pairing generally goes extremely well with fish or poultry, I decided to marinade some pork chops using the rosemary and some oranges that I bought earlier during the week. I left the pork chops to marinade overnight so that the flavors were absorbed well. Grilling over the stove-top using a grill pan was easy and fast.
I love the result! The pork chops were flavorful and juicy, while the grilled orange wedges added a yummy caramelized sweetness to the overall dish.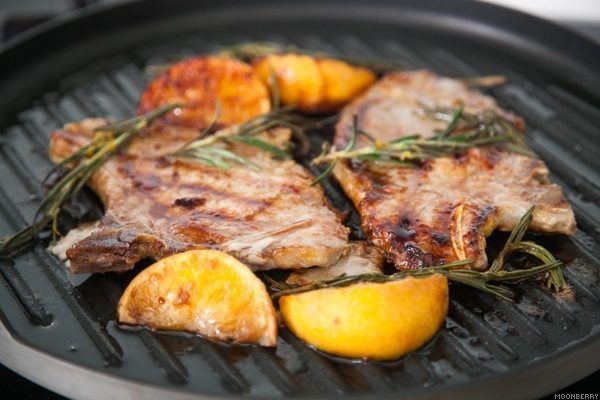 Grilled Orange Rosemary Pork Chops
Ingredients
2 Oranges (1 zested and juiced, 1 cut into 8 wedges)
1/4 cup Cider Vinegar
3/4 cup Honey
4 bone-in Pork Chops
5 sprigs Rosemary
Salt and Pepper
Method
1. In a bowl, whisk together orange zest and juice, vinegar, honey, and 1/4 teaspoon pepper. Place pork, orange wedges, and rosemary in a zip-lock bag and coat with marinade. Refrigerate pork at least two hours or up to overnight.
2. Remove pork, orange wedges, and rosemary from marinade; season pork with salt and pepper. Transfer marinade to a small saucepan, simmer over low heat until reduced by half, about 5 minutes.
3. In a grill pan, grill pork and oranges for 3 minutes. Flip pork, brush with reduced marinade, and add rosemary. Grill until pork is lightly charred and cooked through, 5 to 7 minutes. Brush with more reduced marinade and serve.
Happy eats,
-MB.