16 Jul 2013
---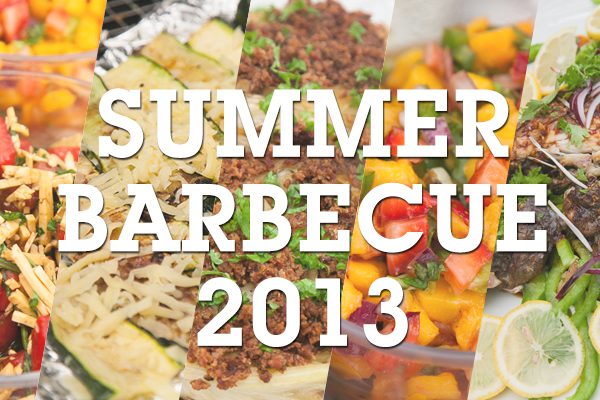 Over the weekend I threw a B-B-BBQ – say what? Yep that's my hyphenated abbreviation for "Business Bonding Barbecue" and as the words suggest, I hosted it for my company peeps and our business friends to bond over grilled food. It wasn't planned to be a large party, which was excellent as it motivated me to try out a bunch of new recipes that I had been filing. Several days before the event, I messaged my colleagues informing them in advance that this wouldn't be a local Singaporean-style BBQ, ie. sans chicken wings, otah and satay – so that they could manage their expectations in terms of the food which I'd be preparing.
I'm pretty happy I managed to pull it all off solo, from hoisting heavy grocery bags onto the bus and off it, chopping up herbs, seasoning and marinating food until well over 2 AM the night before, to lugging large serving platters and bags of charcoal down to the barbecue pit area. When it comes to hosting dinner parties and such, much of the enjoyment for me begins from the time I start thinking of the menu, shopping for the ingredients and preparing them.
Wait, actually I don't quite enjoy shopping for ingredients so much anymore now that I'm in Singapore because in order to get a good cut of meat at some butcher somewhere, I need a car and I don't have one. I fucken' hate that and I sorely miss the convenience of (a) having a damn car, (b) acquiring fresh seafood close enough to my apartment, (c) ditto butchery. Oh well, it could've been much worse. At least I live in a country where if I wasn't so lazy to trek across the island, spend over an hour back-forth and bleeding round-trip taxi fare, I could actually still get overpriced frozen beef short ribs imported from Australia and decent lobsters that are still alive and kicking in a tank. Anyway, it's not like I don't have three (four?) neighborhood supermarkets within twenty minutes walking distance and they are relatively well-stocked. Incomparable to aisles and aisles like in America though where salad dressings and condiments alone can take up a couple of long aisles. I just hate the walking part, especially when I have heavy groceries to carry alone. It makes me damn friggin' grumpy. I digress.
So initially I had wanted to make burgers from scratch and also serve fancy hot dogs, but … my neighborhood supermarket stocks limited type of beef cuts/varieties (if even) and for a party of 15, I'd probably need about 6 lbs of ground beef at least. They didn't have that quantity; I saw there were only three styrofoam packets of ground beef weighing average of 250 grams each. -_-" As for hot dogs, I personally have always loved serving Italian sausages with grilled onions and peppers, but of course my neighborhood supermarket doesn't have those.
In the end, I crossed a few things off my original menu list and made adjustments, ending up with:
Meats
• Rib Eye Steak and Australian Rump Steak*
• Hot and Spicy Jalapeno Sausages*
Seafood
• Grilled Prawns (contributed by colleague)*
• Indonesian Style Grilled Sea Bass and Red Snapper
Vegetables
• Nacho Libre Corn
• Grilled Zuchinni with Cheese
• Grilled Cabbage, crumbled bacon and Worchestershire
• Mushroom Medley
Sides/Condiments
• Watermelon Feta Basil Salad in Balsamico
• Strawberry Mango Salsa
(First three items marked with an asterisk = I don't have photos of them so I won't be elaborating.)
Without further ado, let's jump right into the food.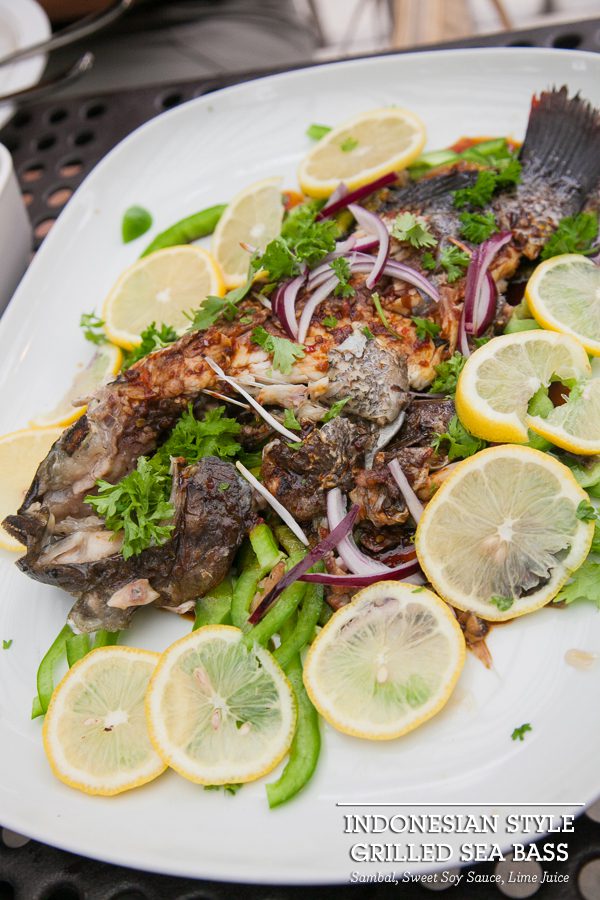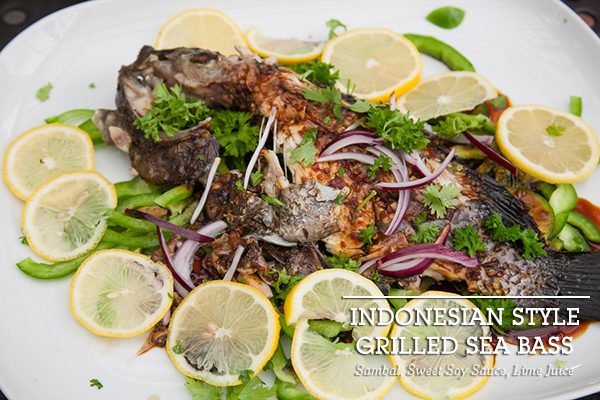 Indonesian Style Grilled Sea Bass and Red Snapper
I bought three whole fish altogether, one sea bass and two red snappers. I sprinked salt and pepper, coating both sides then drizzling olive oil before wrapping in foil and grill for about 15 minutes. To make the Indonesian-style sauce: mix sambal, sweet soy sauce and lime juice. Pour generously over grilled fish and serve over a bed of sliced green peppers and lemons.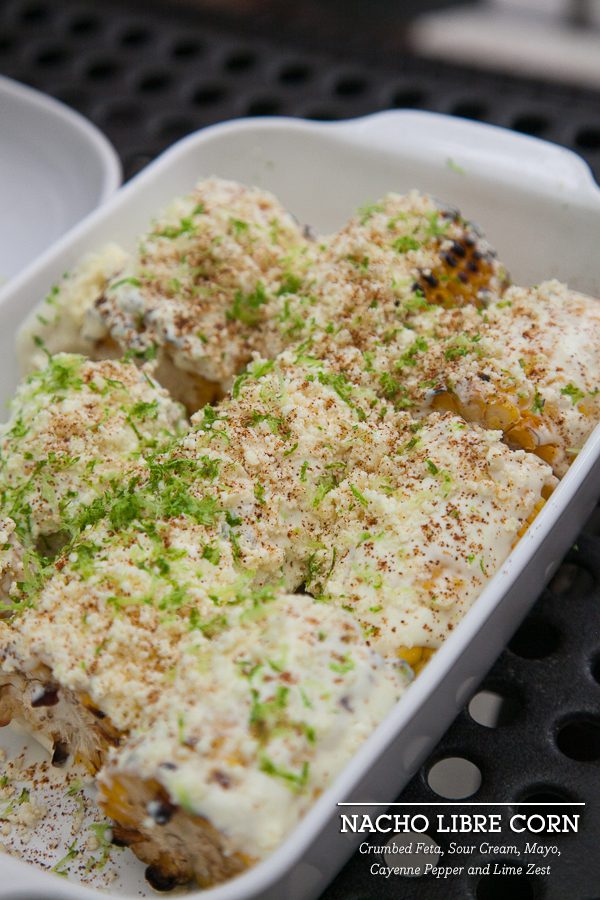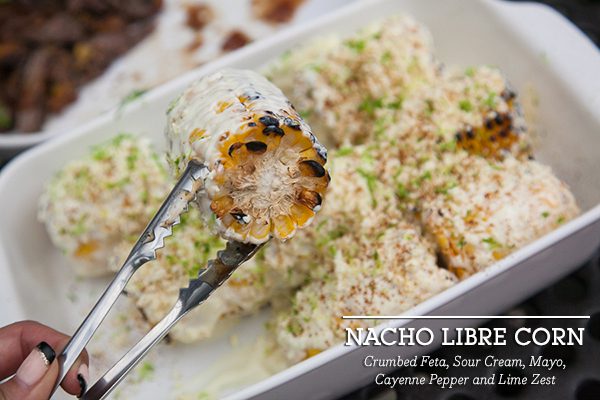 Nacho Libre Corn
Grill corn until brown on all sides. Brush generously with mixture of mayo and sour cream. Roll in crumbled feta cheese, sprinkle cayenne pepper and lime zest. Squeeze fresh lime juice before eating.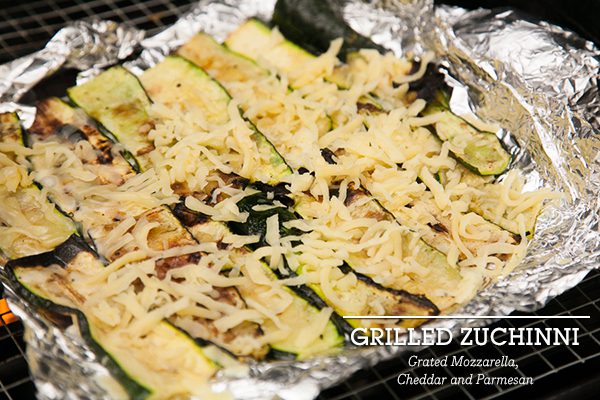 Grilled Zuchinni with Grated Mozzarella, Cheddar and Parmesan
These are extremely simple to make and delicious! Slice zuchinnis into broad thin stips, drizzle olive oil, sprinkle salt and pepper, then brown on grill. Remove from heat and while still hot, quickly sprinkle grated cheeses. Serve immediately. (For a shortcut, use ready-to-use grated cheeses in a packet such as the Pizza Mix or Italian Mix.)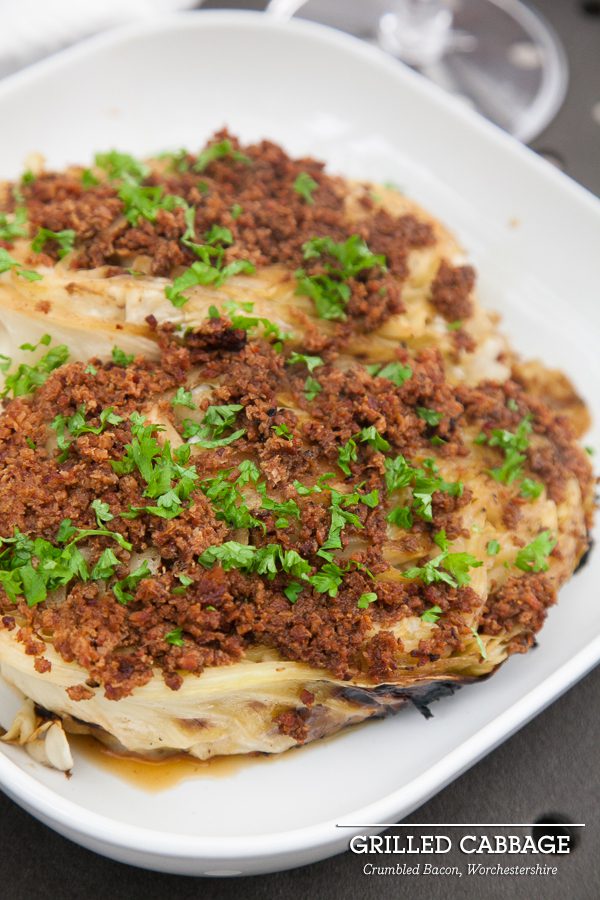 Grilled Cabbage with Crumbled Bacon and Worchestershire
First time making this and it turned out delicious. I used Australian Honey Cabbages. Chop whole cabbages into halves, drizzle olive oil, salt, pepper, crumbled bacon bits and Worchestershire sauce generously. Wrap in foil completely, place on grill for about ten to fifteen minutes. When the foil packet is soft, you know that the cabbage is ready. You can use ready-to-use bacon bits; what I did was pan fry bacon slices until it's almost crispy, drain the oil and blitz the cooked bacon slices with a food processor.
This is really yummy and I plan to make this again next time using oven. The bacon bits and Worchestershire sauce is a great flavor combination that enhances the natural sweetness of the cabbage.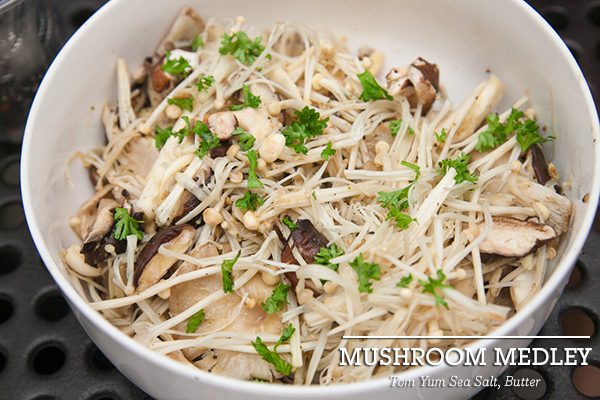 Mushroom Medley with Tom Yum Sea Salt and Butter
Pick a few of your fave mushrooms (shown: Enoki mushroom, oyster mushroom and Shiitake mushroom), slice into strips, put inside a foil packet together with a pat of butter, salt, pepper and Tom Yum Sea Salt. Grill the foil packet for about ten minutes or so, then serve.
Speaking of Tom Yum Sea Salt, I bought this while in Bangkok – it's a mix of dried Tom Yum herbs in a grinder; the flavor is rather mild but it gives off a very fragrant Tom Yum aroma. I haven't seen it anywhere else outside of Thailand but you can DIY a substitute by mixing Knorr Tom Yum bouillon cubes with sea salt.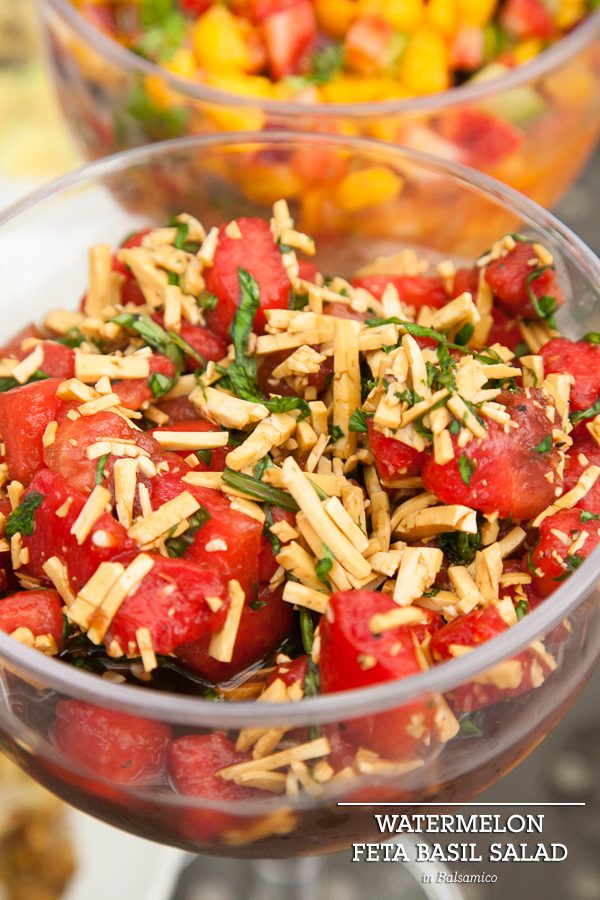 Watermelon Feta Basil Salad in Balsamico
I'm happy and thankful that one of the neighborhood supermarkets stocks Feta cheese, although who buys them I don't know. Anyhoo, watermelon and Feta cheese go so well together in terms of flavor and texture! For this refreshing salad, I cut the watermelon into cubes, sliced the Feta cheese thinly, made basil chiffonade (ie. sliced into ribbons) and mix them all together with a splash of Balsamic vinegar. Add salt to taste. Serve chilled.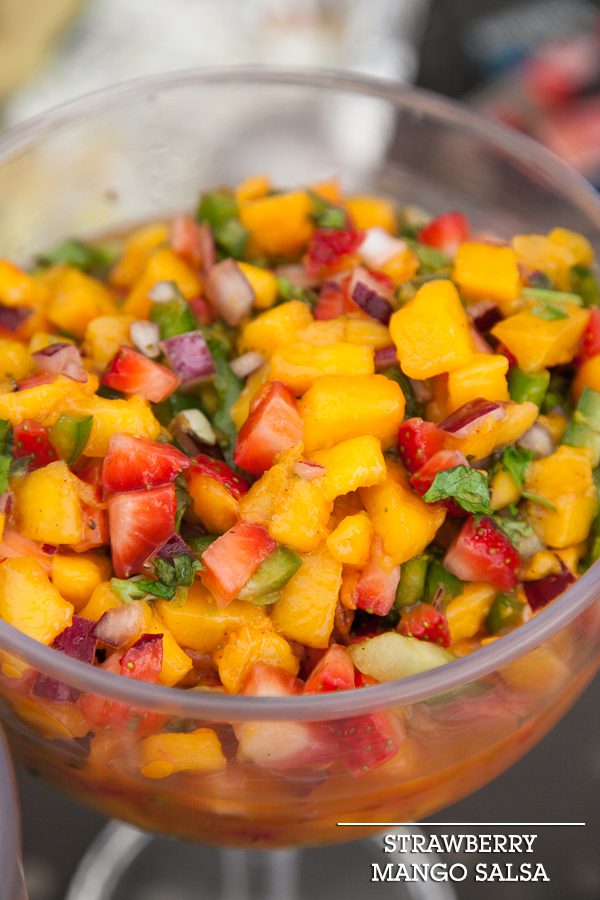 Strawberry Mango Salsa
I've made mango salsa many times in one variation or another. Last time I added pickled herring – yah I know how weird that sounds, but it turned out exceptionally well as the brininess complemented the tropical sweetness of the mango. This time, I decided to pair strawberries with the mango, for additional sweetness and also color. So here's how to do it: Dice strawberries, mango, green bell pepper, red onion. Chop up some cilantro. Mix everything together gently so that you don't mush up the mango. Add fresh lime juice, salt, pepper, cayenne pepper and some honey if you want to kick up the sweetness (sometimes the mango isn't naturally sweet enough). Serve chilled.
∞ ∞ ∞ ∞ ∞ ∞ ∞
I have a reputation amongst my pals in NYC for being an Asian Martha Stewart and not to brag or anything (although I may have just done so) because I like to throw dinner parties that celebrate food in style. I like the food to look presentable, taste good, and for the experience to be memorable and special. I love grilled food and wish one day I'll have room for a proper gas grill so that I can use it for normal meals too. I have a portable small Weber grill now but it uses charcoal and it doesn't make sense to have several hours' worth of heat just to sear a slab of steak for one person. Such as a waste of energy.
All in all, I am mighty pleased with this barbecue. Namely because it's a small crowd, therefore manageable in terms of food quantity and timing of the actual grilling during the party. Taking photos while hosting and cooking can get super tricky sometimes… multitasking woes. As most barbecues here begin at sundown (cooler) and go well into the late evening, I'm psyched that this time I was able to catch whatever remained of available natural light and took as many food photos as I could – too bad I missed out some as I staggered the grilling into batches so that food could be served warm.
The previous barbecue I threw was last year's July 4th potluck – abbreviated as #BBSBBQ for "Bikini & Boardshorts Barbecue"; I didn't get a chance to take pix last year as I was scrambling around hosting but you can read about it here, here and here. Yah okay, next year I will stop this stupid abbreviation bizniz. Maybe. :P
Happy eats,
-MB.