26 May 2010
---
I am from the ghettos of Queens; to be exact – Elmhurst and I'm hella proud of it. There's never been a shortage of good Asian food (especially Chinese) in either Elmhurst or Flushing. Hotpot, noodle soups and dimsum are classified as a regular affair between my friends and I. However, I can't quite say I have had gourmet Cantonese cuisine before. So when I found out it was World Gourmet Summit 2010 in Singapore I had to check it out. One of the participating restaurants which caught my interest was Golden Peony at the Conrad Centennial Hotel and so I went. Boy, what a treat it was!!! :)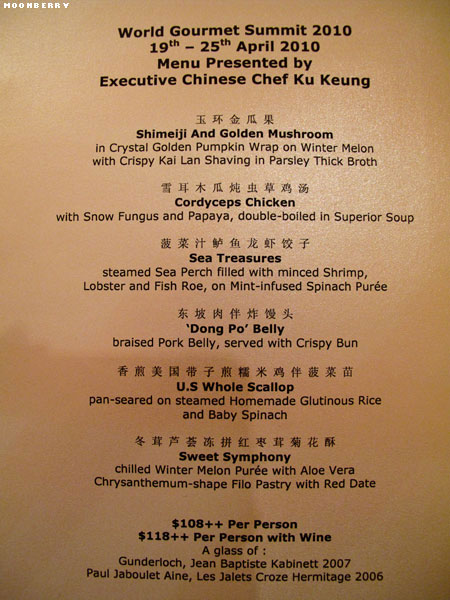 Special menu designed by Chef Ku Keung for this event. I also had a glass of Gunderloch, Jean Baptiste Kabinett 2007 which was really yummy! Went really well with the meal.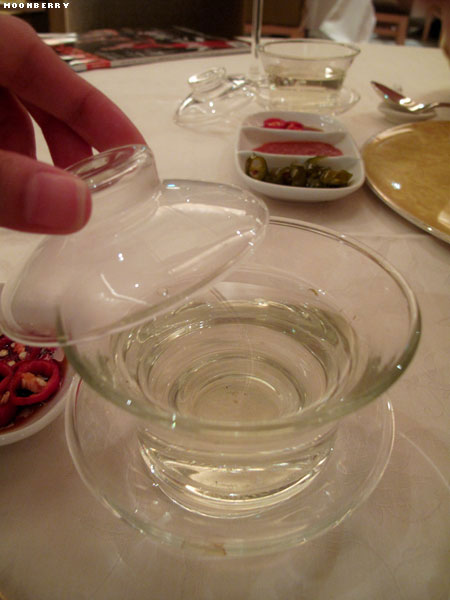 I love this transparent teacup with matching lid and saucer. I want to get these as the Chinese counterpart to my Bodum glasses! Where to buy, where to buy?
Enjoying the relaxed ambiance inside the dining area. It was very quiet, not crowded at all and felt almost like a private dining event. ;)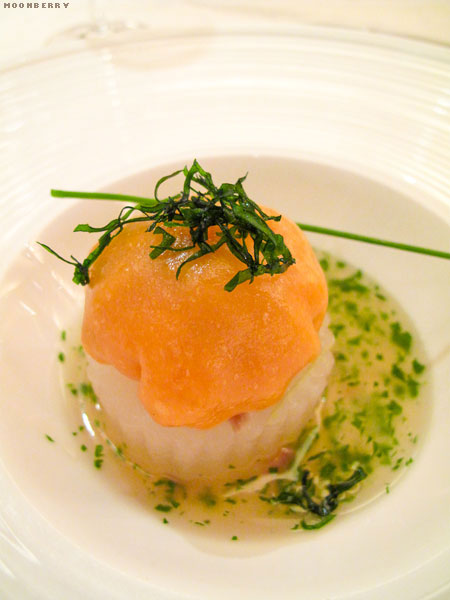 Shimeji and Golden Mushroom in Crystal Golden Pumpkin Wrap on Winter Melon with Crispy Kai Lan Shaving in Parsley Thick Broth.
This was a nice, non-threatening starter as the dish itself wasn't salty, there was no MSG and the natural flavour of the Winter Melon really whetted my appetite.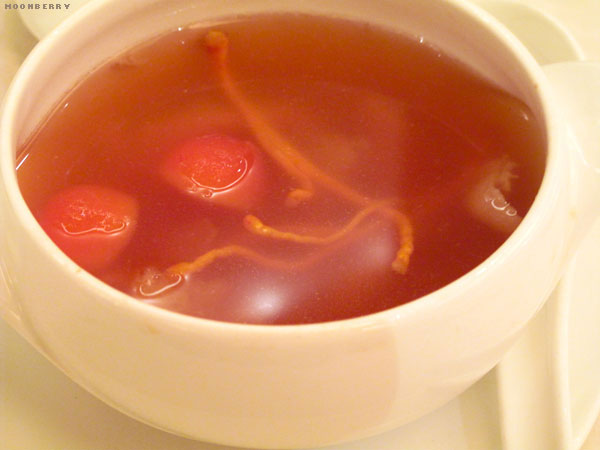 <
Cordyceps Chicken with Snow Fungus and Papaya, double-boiled in Superior Soup.
My favourite dish of the evening (I've been in a soupy mood lately, must be all that cool air from the spring showers). I don't think I've eaten Cordyceps before, and they reminded me of Golden Needle Buds (金針)… sorta stringy and soft in texture. This was one *KICK ASS* soup! I love it much!!! I could have another bowl easily.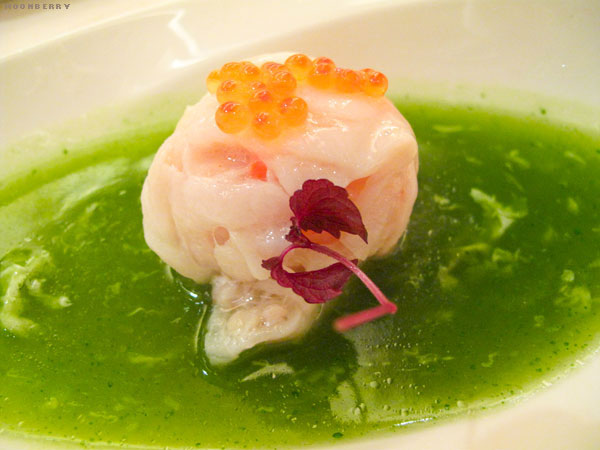 Sea Treasures: Steamed Sea Perch filled with Minced Shrimp, Lobster and Fish Roe, on Mint-infused Spinach Puree.
I classify this as ultra fancy "har gow". Nice combination of textures, with the fish wrapped around the ground shrimp, then topped with the roe and swimming in the spinach puree. I almost licked the plate, coz it was so tasty. ;p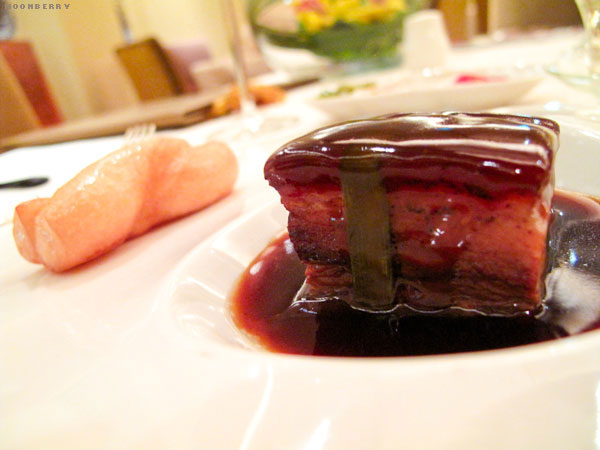 'Dong Po' Belly: Braised Pork Belly, served with Crispy Bun.
This piece of pork belly totally melted in the mouth and the gelatinous top layer of fat didn't go down all icky, like in some other places where the same cut of pork belly can get really fatty. The braising was done extremely well, I thought, because it's not easy to braise this to the point of tenderness yet still holding its shape without any physical disintegration. The sauce was also delicately flavoured, not overly sweet or greasy.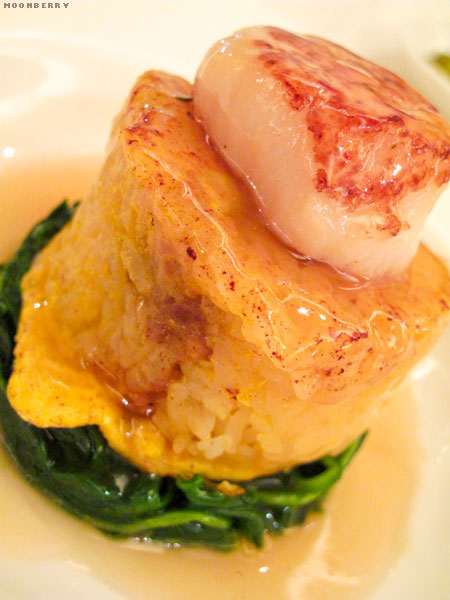 U.S. Whole Scallop: Pan-seared on Steamed Homemade Glutinous Rice and Baby Spinach.
I was getting really stuffed at this point and started picking at this dish. Basically it's Lor Mai Gai without the lotus leaf wrapping, on a bed of spinach and topped with scallop. Delicious, but I couldn't finish it.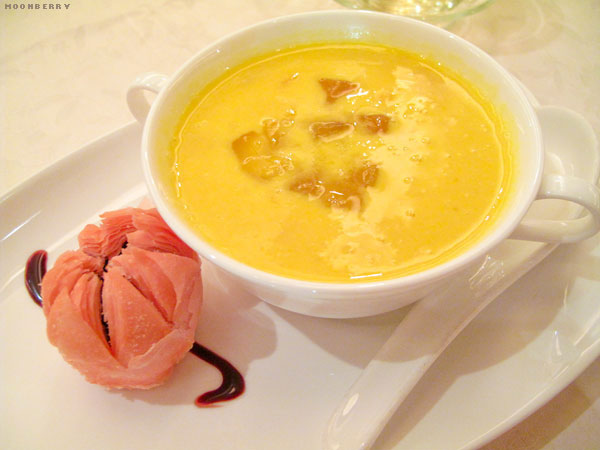 Sweet Symphony: Chilled Winter Melon Puree with Aloe Vera and Chrysanthemum-shaped Filo Pastry filled with Red Date.
I can't decide whether this "Tong Shui" is heavy or light. The flavour of the winter melon puree was mild but it was milky at the same time; a bit like a liquefied custard or something.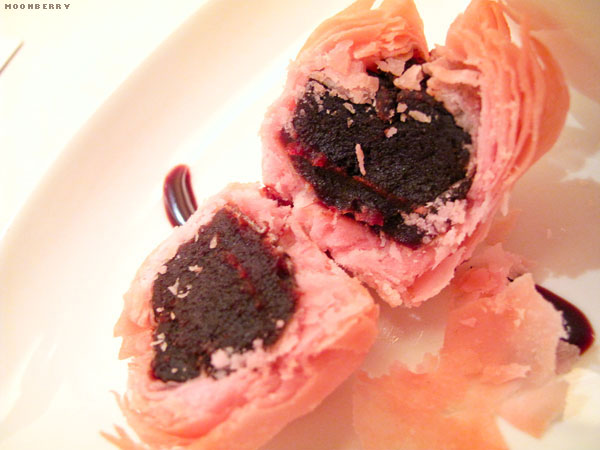 Chrysanthemum-shaped Filo Pastry filled with Red Date.
THIS I totally love love love love. The Red Date filling was ultra sweet and sticky (ahem, Veronica!) but paired with the super flaky and crispy filo pastry, the whole thing was a party in the mouth. :) :) :) :) :) Gimme more! more! more! Went really well with Chinese Tea.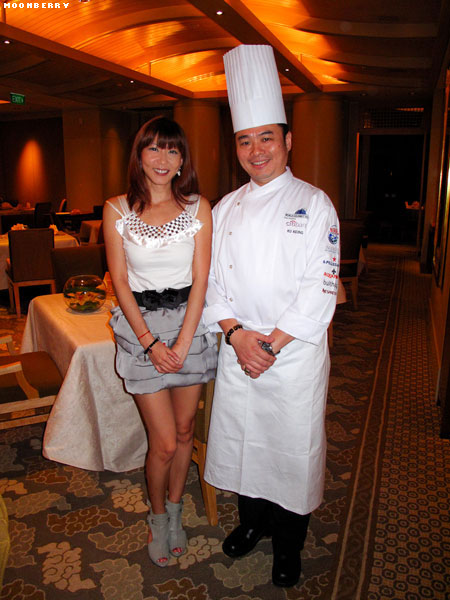 With Executive Chef Ku Keung.