14 Sep 2013
---
Having a trim and shapely lower body is absolutely essential for a sexy silhouette. Slim thighs, perky butt, flat tummy, slender hips – which girl doesn't want that?
I hauled my mermaid self to BottomSlim earlier this week as I have been eating really well in the last couple of months and all that the goodness have gone towards my hips. My butt and thighs have become a permanent parking lot for all the rich food. While I can certainly drag myself to the treadmill and start running, HAHAHA~ who am I kidding!? :X Sometimes I'm skinny, other times not so skinny and have water retention, bloatedness, blubbery thighs. Even though exercise and diet certainly can mitigate these and help maintain overall body in tip-top shape, some areas are difficult to reduce via exercises alone. As far as I can see, many women who are ultra fit have muscular frames that look too harsh and overly athletic, and that's not quite what I want. *coffs* excuses *coffs*
Having a slender and slimmer lower body looks and feels good because it alters one's silhouette to look more feminine as well as appear taller. Having a perky butt and slim thighs are key to rocking short hotpants and skirts. I, for one, enjoy wearing shorts and short dresses because it's comfortable to dress that way in Singapore's warm weather.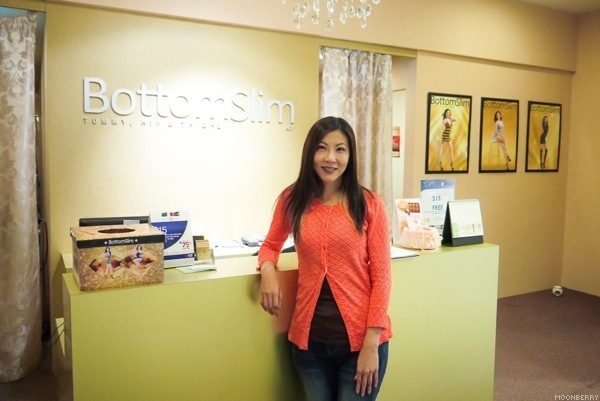 BottomSlim specializes in body shaping solutions for the lower body: tummy, hip and thighs. It is the pioneer in Singapore to be offering this service and helps women of all shapes and sizes to address concerns in the lower body areas. Using proprietary and non-surgical slimming techniques and equipment, unsightly lumps, bumps and bulges are banished to achieve an attractive silhouette. BottomSlim programs are tailored to each individual needs by a professional consultant along with advice on diet and lifestyle changes for better results.
Unique program includes trimming techniques, thermal cellulite treatments and muscle toning combined with a range of topical creams and gels. BottomSlim's signature treatment – Tummy, Hip and Thigh Slimming Therapy utilizes muscular electro-stimulation to activate fat digesting enzymes for tissue lipolysis to tone the loose muscles whilst reducing the circumference of the tummy, hip and thighs.
For those who hardly work out, ahem – like me, BottomSlim is one way to target stubborn areas at your lower half body such as lumps, bulges, stretchmarks and cellulite. For those who regularly work out – good for you! However, BottomSlim can also help eliminate those manly-looking calves and bulging muscles to make your gams look shapelier and more feminine.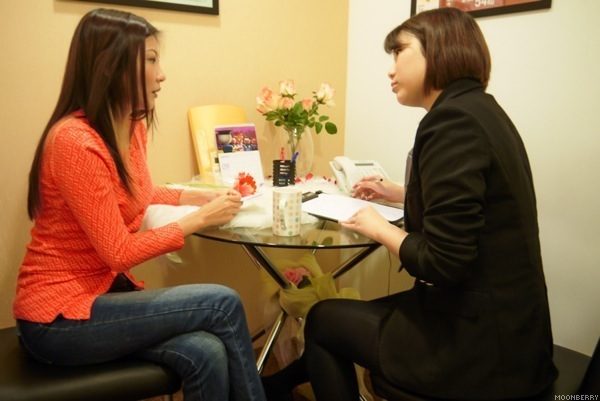 At BottomSlim, careful analysis is performed before personalizing a series of treatments to meet the customer's unique needs. Here's my specialist Jasmine going through a preliminary questionnaire about my medical history, health condition and lifestyle habits. Healthy, yes I am. Fit, uhm… no, not exactly.
I glanced up at the two testimonials hanging on the wall on successful weight loss results, the girl on the left went from 74kg to 54 kg while the girl on right slimmed down from 71kg to 59kg. While my personal objective at this BottomSlim session certainly wasn't weight loss, it was interesting to read their stories and the inch-loss journeys. I can only imagine the boost of confidence these gals got after slimming down so dramatically and flaunting svelte figures that attest to their hardwork and dedication.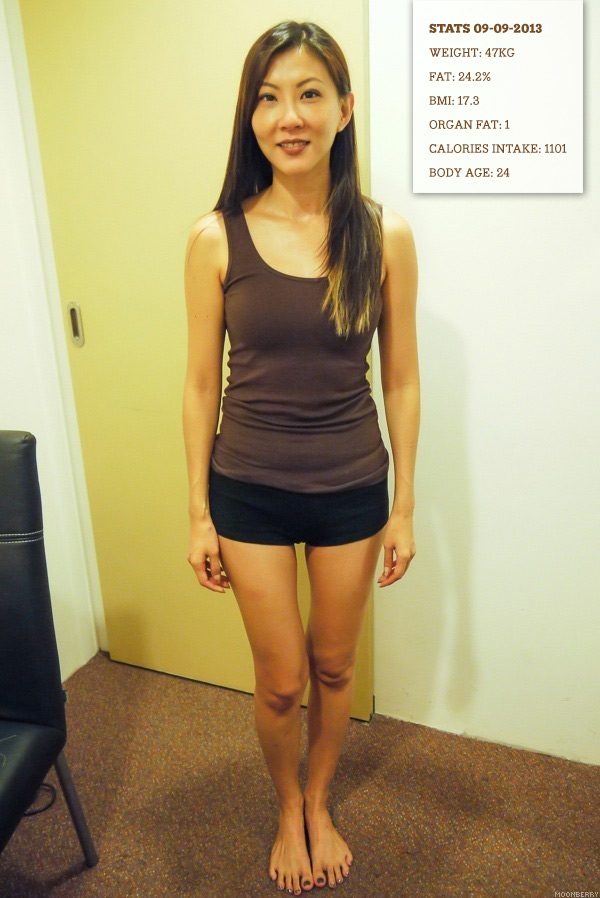 The consultation at BottomSlim also included a body analysis, which when I refer back to my last weigh-in using my BMI weighing scale at home, I noticed a discrepancy in my body fat content (22.1% in March vs. 24.2% in September). Okay, that's not too bad considering how much butter I've been eating thanks to all that baking frenzy I did in recent weeks. BMI number was about the same, but organ fat = 1%!? Huh?
The best part was when I was told my body age is 24! Muwahahaha~ *glee glee*
But uhm, what's with those offensive bulges in my inner thighs!!?! THEY MUST BE ANNIHILATED.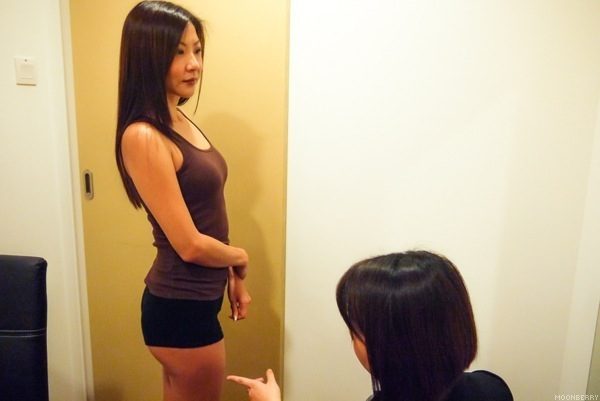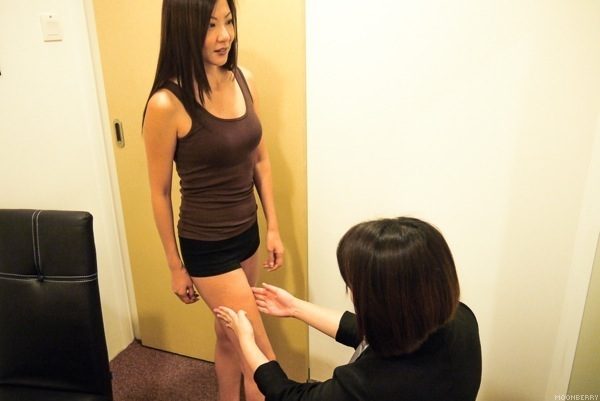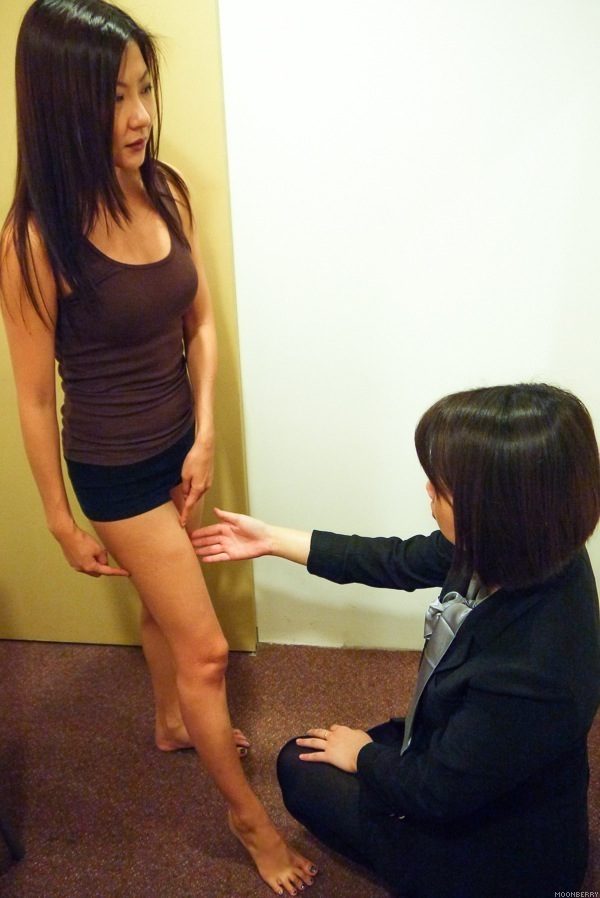 BottomSlim specialist Jasmine pointing out the problematic jelly thighs and making recommendations on how to improve the shape via firming, tightening and lifting. You can clearly see the skin there isn't looking as smooth as it should be and *GASPS* there's orange peel texture whenever I pinch my upper thighs really hard. Uh huh, who says skinny girls don't have orange peel? That's the price I've paid for hardly working out. I'm glad that mine isn't severe though, however it's better if I don't have them at all.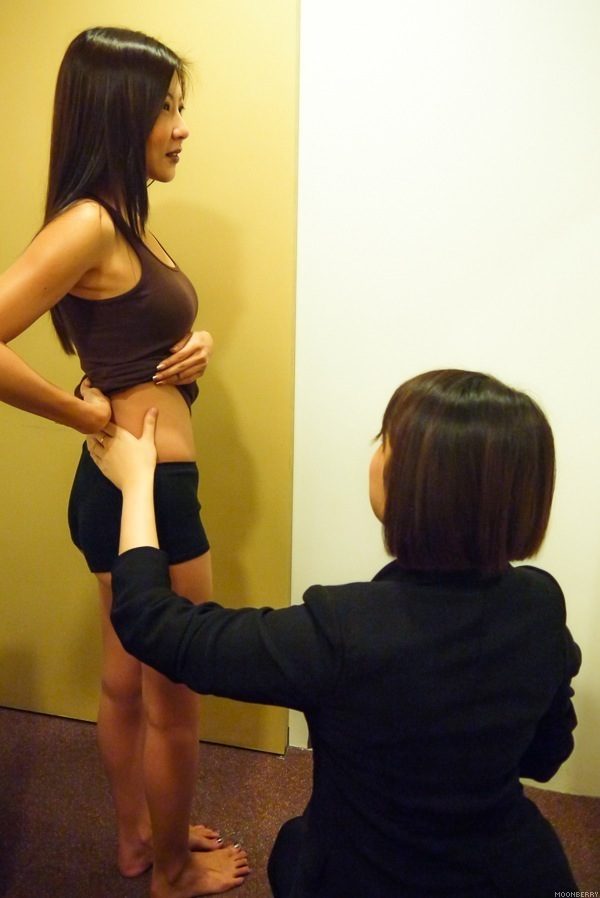 Jasmine also observed that the sides of my tummy which were bloated from water retention can also be addressed by BottomSlim treatments.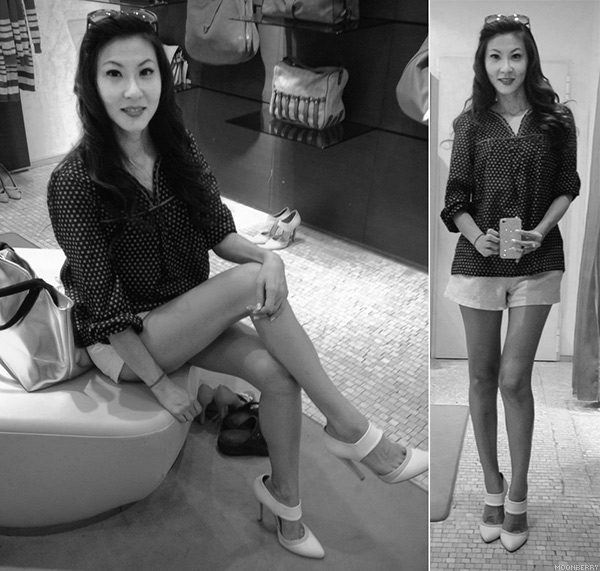 THIS was what my legs looked like when I was at Milan last year, so I think it's still attainable again. Just a bit of modifications here and there such as getting rid of the inner bulges, firming up the shape and smoothening the silhouette once again.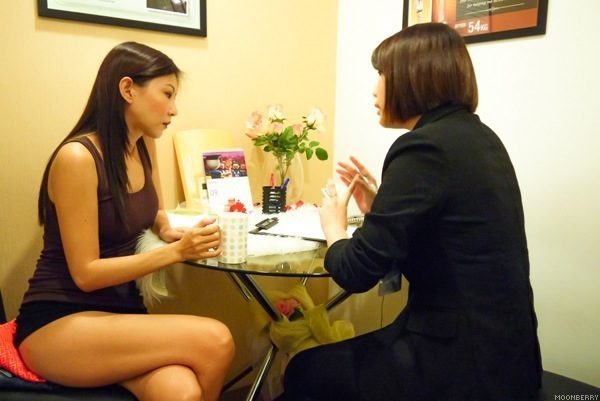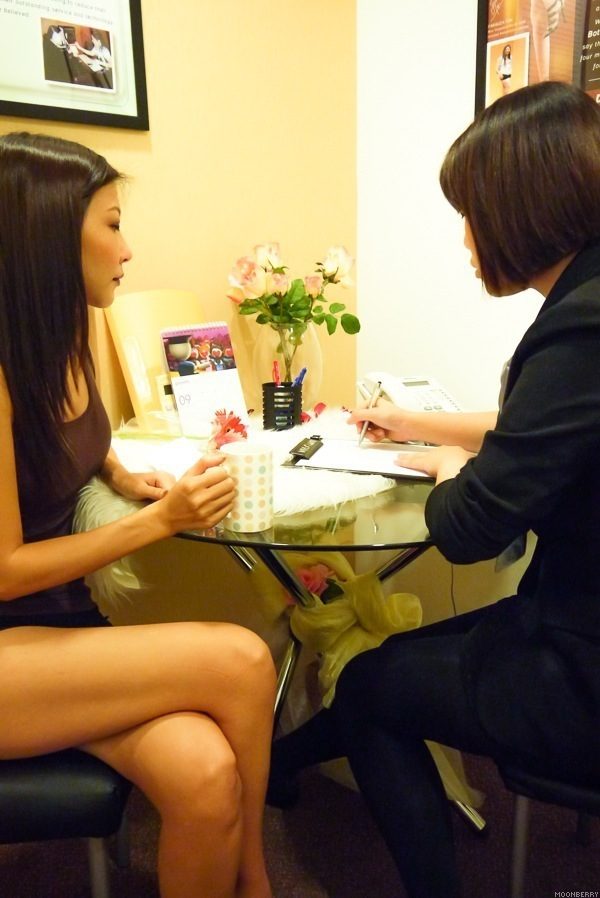 Four BottomSlim treatments were prescribed to me:
1. VTX 10 for back thighs.
2. URF Treatment for back thighs.
3. Sonic Wave for front thighs and tummy.
4. Tummy, Hip and Thigh Trimmer (BottomSlim's signature treatment).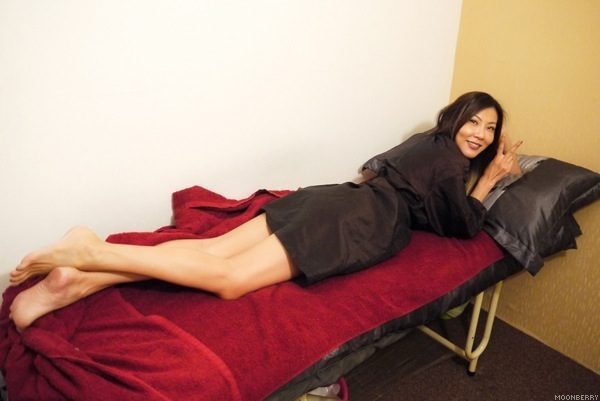 I was more than eager to start the treatments, especially after seeing those bulges in my inner thighs, ugh! Damn them.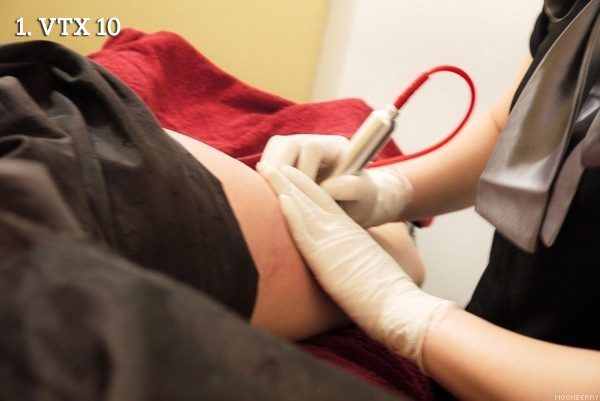 The first treatment was a 20-minute session of VTX 10 to break down the stubborn fat cells in my thighs. Here you see Jasmine manually rolling this torturing device on the back of my thighs. I kid you not, this rolling motion particularly killed me on the outer edge of my thighs where the lympathic nodes are. I was wincing, grimacing and screaming murder.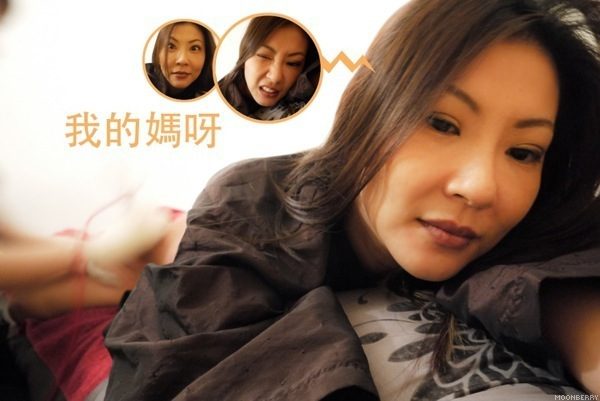 BUT! I knew this was gonna happen. Because whenever I get massages, as soon as the therapist presses the outer edge of my thighs, I start yowling. No pain, no gain. Lymphatic drainage (and the pain that comes with it) is good. I must be a masochist because the pain actually started feeling good afterwards, like a really gratifying massage and I was glad I endured that first few minutes of hell. Plus, while I was screaming and wriggling around, I had the thought that these few short minutes were nothing compared to running on the treadmill for an hour – it's unlikely to be as effective anyway. I'd do anything to evade the treadmill man… so I was kinda sad when the 20 minutes were over. (Yeah, I wanted it to last a bit longer.)
I actually would go back to BottomSlim to get this treatment again and get the the friggin' cellulite pummelled outta my thighs. I really would! I'd die for the first few minutes of this hardcore VTX 10 but happily reborn with smooth silky slender thighs. :)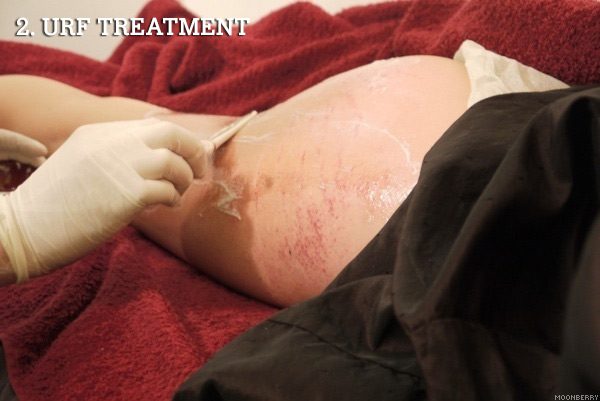 Next treatment was the URF that liquefied and tightened. My outer thigh looked bruise but that's okay. I imagined the fat cells surrendering and melting away under the torturing device earlier. :P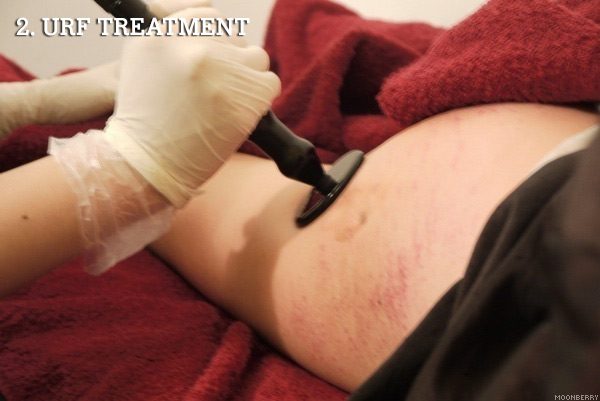 The 20-minute URF Treatment was a smooth gliding process and the device emitted heat. That was very comfortable to me, I was ready to fall asleep.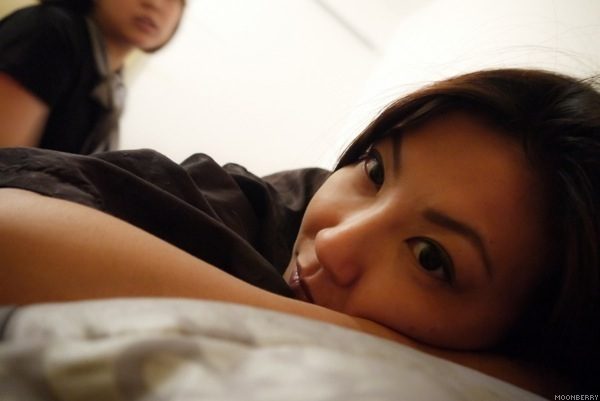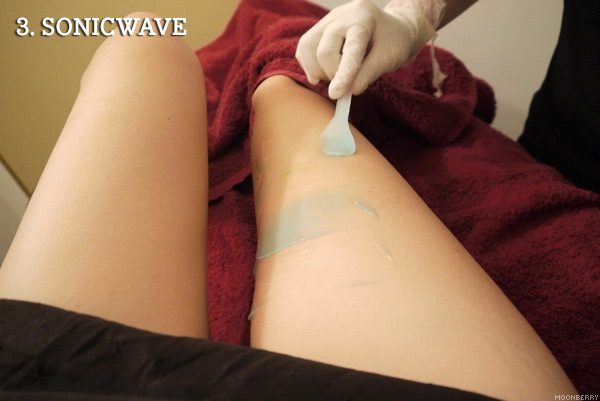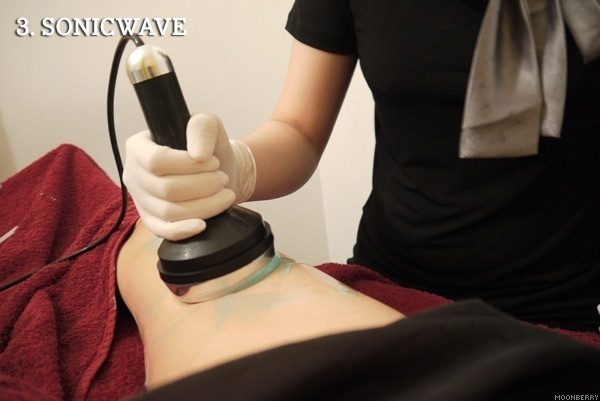 The next 20-minute session was SonicWave for the front of my thighs and tummy. A cool minty gel was applied and then this iron-like device was gliding back and forth over the targeted areas. I didn't enjoy this as much because the gel was cold and I am averse to chills, so I requested an extra blanket from Jasmine who covered me up like a dumpling with only the areas being worked on exposed.
I'd take heat over cold ANY DAY. I don't take to chills very well at all. Please scroll up and refer to my body fat percentage, thank you.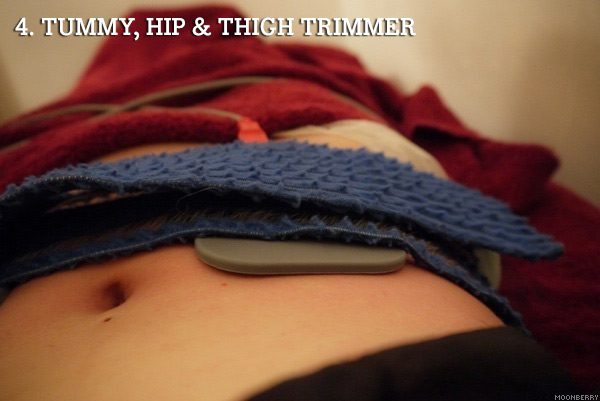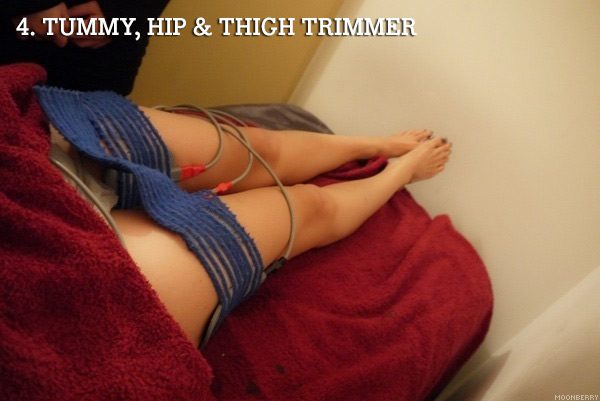 Last but not least, another 20-minute session of Tummy, Hip and Thigh Trimmer where these areas were strapped on with a soft pad that sent gentle electrical pulses down into the dermis layer. By this time I was completely zonked out and had a good nap.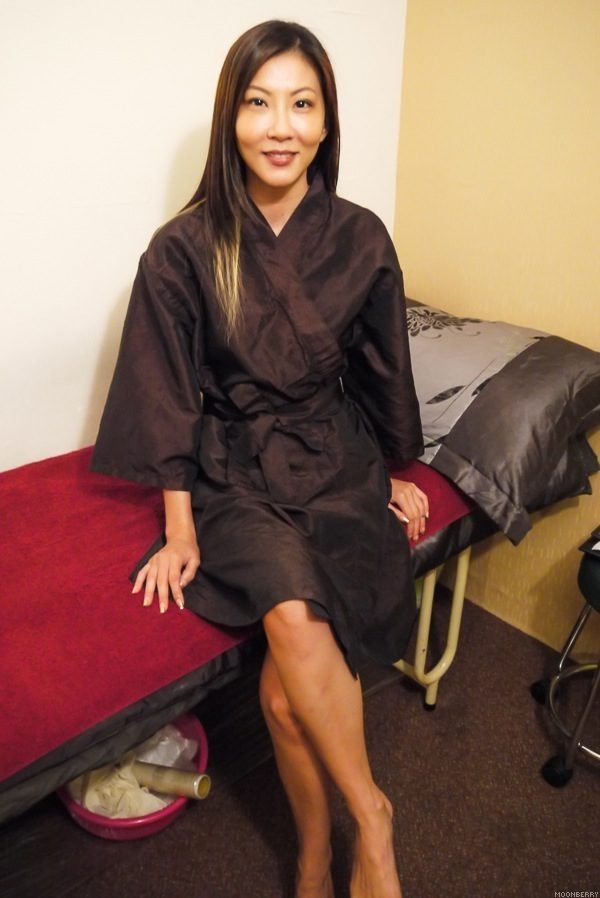 When I woke up, my customized BottomSlim treatments had concluded and I felt pretty good all over. I was super thirsty after this BottomSlim session and downed three full glasses of water when I got home, then knocked out like a light by 9pm. It's advisable to drink plenty of water after treatments that involve lymphatic drainage so that the body can flush out the toxins.
Day 2: Even though my outer thighs still had visible bruises, they weren't anything I was shocked at. I get gua sha (Meridian Scraping) regularly so the bruising were similar and I knew that they would dissipate in a few days without any discomfort or complications. Meanwhile, my thighs felt smoother to the touch (like, less ripply), appeared trimmer and the skin was tighter. When I pinched my thighs really hard, a slight orange peel effect was still visible though so it'd take a few more sessions (paired with exercise and diet) before they can effectively be completely banished.
Now your turn to try BottomSlim:
Leave your details HERE to sign up for either:
1 Free Body Analysis + Customized Spot Reduction Treatment
OR
$28 for 4 Signature Tummy, Hip and Thighs Trimmer Treatments + 1 Fat Blaster (U.P. $ 1488)
Terms and Conditions:
– Females above 18 years old and above only
– Treatment voucher applicable for non-promotional services only
– Strictly by appointment only.
– Promotion valid for 2 months
Locations: Ngee Ann City, City Square Mall, Square 2 (Novena), Parkway Parade, Nex Mall, Jurong East.
Find out more about the treatments at the BottomSlim website.
xo,
-MB.